El Paso to host USBC Open Championships in 2015
09/10/11
USBC News
The
2015 United States Bowling Congress Open Championships
is headed to El Paso, Texas (pictured), marking the first time in a decade the tournament will travel to a brand new host city.
The 2015 event will be the 112th edition of the USBC Open Championships, which has been held in 48 cities in 26 states since its inception in 1901. The last time the tournament ventured to a new city was 2005, when it was held in Baton Rouge, La., also its first visit to Louisiana.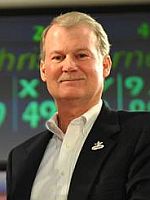 Surveys show that many Open Championships bowlers like to see new cities, and the 2005 event featured a sellout field of 13,222 five-player teams.
"The city of El Paso really rolled out the red carpet for the bowlers and staff during the Women's Championships in 2010, and we're excited about being able to return with the Open Championships in 2015," said USBC Executive Director
Stu Upson
(right). "The event has been to many different places over the years, and it will be great to add another amazing city to the list."
After a successful 2010 USBC Women's Championships at the El Paso Convention and Performing Arts Center, the city of El Paso made a strong proposal to hold the 2015 Open Championships in the same venue. The offer was accepted with the full support of the USBC Board of Directors.
"The venue in El Paso played a huge role in the history of the Women's Championships as the event's first convention-center build," said
Brian Lewis
(left), USBC's Managing Director of Tournaments. "Along with the Intercollegiate Team Championships, Queens and other events, our previous stay in El Paso couldn't have been any smoother, and we know our return to El Paso will be another success."
Known as "The Sun City" because of more than 300 days of sunshine each year, El Paso treated the bowlers and their families to a fantastic experience during the 2010 Women's Championships, and officials are confident that Open Championships bowlers will have the same great stay in west Texas.
"Hosting the 2010 Women's Championships was a very special and rewarding opportunity for El Paso, and we look forward to showing the Open Championships competitors what The Sun City has to offer," said
Bill Blaziek
, general manager of the El Paso Convention and Visitors Bureau. "We learned a lot last year, and we hope to make USBC's next visit even more memorable."
USBC Open Championships Future Sites:
2012 - Baton Rouge, La.
2013 - Reno, Nev.
2014 - Reno, Nev.
2015 - El Paso, Texas
2016 - Reno, Nev.
 
Related Articles
Reno to host
USBC Open and Women's Championships
in 2013 and 2014
Reno to host
2011 USBC Open Championships