International Bowling Museum and Hall of Fame Satellite Museum rolls into Reno
04/17/12
IBMHOF News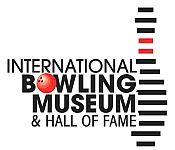 With the grand opening of the
International Bowling Museum and Hall of Fame's first satellite museum
at the National Bowling Stadium, more than 5,000 years of bowling history has rolled into Reno.
The IBMHOF teamed up with the Reno-Sparks Convention and Visitors Authority to bring this exhibit to The Biggest Little City in the World. The RSCVA helps to promote convention and tourism business for Washoe County.
The IBMHOF satellite museum is housed on the first floor of the famed "Taj Mahal of Tenpins" and features hall-of-fame portraits as well as artifacts collected and preserved by the IBMHOF.
The new museum is an extension of the IBMHOF, which is located at the International Bowling Campus in Arlington, Texas. Reno has been home to many of bowling's greatest moments since the NBS opened its doors in 1995, and it was a natural fit to display another segment of bowling's rich tradition.
"Reno's National Bowling Stadium is a historic and iconic venue for our sport, making it a perfect place for the hall of fame to have a presence," IBMHOF President Keith Hamilton said. "We look forward to tens of thousands of visitors enjoying the new satellite museum and are thrilled to help further enhance the bowling experience in Reno."
The opening of the satellite museum coincided with the beginning of the
2012 United States Bowling Congress Women's Championships
, which welcomed the first of more than 6,100 teams on April 14. In the 93-year history of the event, Reno has hosted the USBC Women's Championships seven times, with six of those appearances being at the NBS.
Reno also will be the home of the USBC Open and Women's Championships in 2013 and 2014, marking the first time the storied events have visited the same city during the same year. The NBS will welcome the Open Championships both years, while the Women's Championships will take place on 44 specially-constructed lanes across town at the Reno-Sparks Convention Center.
The IBMHOF satellite museum will be open for public viewing during regular NBS hours and is free of charge to tour.