Wisconsin bowlers Fritton, Kaul win inaugural Hall of Fame Xtravaganza
06/05/12
IBMHOF News
By Jom Goodwin, Stars & Strikes magazine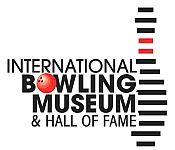 In an event filled with fellowship and laughter,
Eric Fritton
and
Michael Kaul
from Wisconsin are the winners of the inaugural
Hall of Fame Xtravaganza
event held at the incredible Red Rock Resort and Red Rock Bowling Center in Las Vegas May 31-June 2.
Fritton and Kaul accumulated a total of 980 points over the two day eight game event featuring a unique format to win the $5,000 top prize. The team of Andy and Wes Johnston from Ohio finished second with a point total of 950 to earn $4,000.
"This was one of the toughest challenges I have ever seen" said Kaul. "Trying to get an even count without striking is tough." Fritton agreed that the Xtravaganza format challenged the players and made it fair for everyone. "I played a lot of low ball growing up, and I think that helped us in this event," he said.
The format for the event was designed to accommodate bowlers of all abilities and most agreed it was challenging. Bowlers were required to get even counts in game one and odd counts in game two. Game three was "low ball" with everyone trying to pick off the corner pins for the lowest count possible; and game four was "Target Score"; the challenge being to get as close as possible to a pre-selected number.
The reactions of the players were classic, with frowns for strikes when trying for low counts, and jumps for joy on getting a single pin in the low ball game.
"I wish we had video of the bowlers reactions" said tournament director
John Losito
. "They were having so much fun." Xtravaganza event chairman
Pat Ciniello
was also pleased with the event. "I think we hit a home run," said Ciniello. "I can't wait until next year."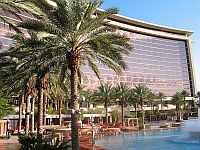 Xtravaganza finalists were treated to a 4 day 3 night stay at one of the best hotel resorts in the world, and they won more than $25,000 in cash and prizes. The event had more than a dozen industry sponsors including
Brunswick
, Ebonite and
Storm
. Each had their bowling ball experts on site to demonstrate their products and give tips during practice.
The photo on the left shows Red Rock Resort from the pool side. On the right is the entrance of Red Rock Lanes. Click on the image to enlarge it.
A great time was had by all, but the real winner was the
International Bowling Museum and Hall of Fame
. A contribution of $15,000 was made to the IBMHF from the event.
And the best news is that this was the first of a 10-year annual commitment from Station Casinos to host this annual event. "I think we have a diamond in the rough, said
David Garber
, Director of Corporate Bowling Sales.
"We are looking forward to seeing where this event goes in the years to come. Based on this start, I think it will be sold out every year. Everyone did a great job on this first event."
The Xtravaganza is an event presented by the IBMHF and sponsored by the Bowling Proprietors' Association of America (BPAA), the United States Bowling Congress (USBC), Station Casinos Lanes of Las Vegas, Strike Ten Entertainment (STE), Storm, Brunswick,
Ebonite
, and industry sponsors Jack Link's Beef Jerky and Musselman's Apple Sauce.
 
Related Articles
Rash and Company
to make appearance at Hall of Fame Xtravaganza
All in for
Bowling's Xtravaganza
event
International Bowling Museum and Hall of Fame introducing
Bowling's Hall of Fame Xtravaganza
 
1st Annual Xtravaganza - Final Results
Red Rock Lanes, Las Vegas, NV - June 2, 2012
| | | | | | | | |
| --- | --- | --- | --- | --- | --- | --- | --- |
| Pos | Players | City | State | Day 1 | Day 2 | Final | Prize |
| 1. | Eric Fritten- Michael Kaul | Appleton / Milwaukee | WI | 498 | 482 | 980 | $5,000.00 |
| 2. | Andy Johnston-Wes Johnston | Lima | OH | 476 | 474 | 950 | $4,000.00 |
| 3. | Peter Davis-Greg Martin | Edmonds /Seattle | WA | 457 | 492 | 949 | $3,000.00 |
| 4. | Harry Mickelson-Ed Roberts | Braintree / Yakima | MA /WA | 454 | 488 | 942 | $2,000.00 |
| 5. | Gary Evans-Randy Niehaus | Rockford | IL | 471 | 470 | 941 | $1,000.00 |
| 6. | Ernest Silva-Dorraine Araiza | Harlingen | TX | 488 | 442 | 930 | $950.00 |
| 7. | Walter Kruetzer-Mike Kruetzer | Louisville | KY | 500 | 428 | 928 | $800.00 |
| 8. | Paula Vidad- John Debenedetta | Las Vegas / Sun City | NV / CA | 453 | 467 | 920 | $750.00 |
| 9. | Melissa Goodwin-Gary Goodwin | Howell | MI | 452 | 466 | 918 | $700.00 |
| 10. | Marc Ciniello-Jerry Hudson | Bonita Springs / Howell | FL / MI | 479 | 436 | 915 | $650.00 |
| 11. | Fred Nelson-Mary Nelson | Naples | FL | 450 | 450 | 900 | $575.00 |
| 12. | Ed Novak-Michael Strnad | Riverside | IL | 444 | 456 | 900 | $575.00 |