WTBA releases Bulletin No. 1 for 1st World Senior Championships
10/22/12
2013 WSrC
Red Rock Lanes in Las Vegas, Nev., USA (Aug. 10-16, 2013)
The World Tenpin Bowling Association has released Bulletin No. 1 for the
1st World Senior Championships
, which will be held Aug. 10-16, 2013 at 72-lane Red Rock Lanes inside the famous Red Rock Resort and Casino in Las Vegas, Nevada, United States.
To participate in the first edition of the championships for men and women 50 years of age or above, players must be
born December 31st, 1963 or before
.
Bulletin No. 1 contains information preliminary schedule, the official hotel, the bowling center, various facilities and services, various fees and forms and deadlines.
Click
here
to download Bulletin No. 1 (MS document).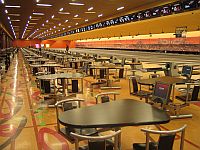 "This will be the first opportunity for senior bowlers to win world champion medals," WTBA President and CEO
Kevin Dornberger
said. "Red Rock is one of the most stunning bowling centers in the entire world, and we look forward to them hosting the best senior bowlers in the world."
The format on the World Senior Championships will pattern after the WTBA World Youth Championships, with four men and four women eligible from each country. The competitors will face off for medals in Singles, Doubles, Team, All-Events and Masters.
WSrC Schedule at a glance
Saturday, Aug., 10, 2013 Ball Registration / Last day of arrival, Team Managers' Meeting
Sunday, Aug., 11, 2013 Official Practice, Opening Ceremony
Monday, Aug., 12, 2013 Singles - Men & Women
Tuesday, Aug., 13, 2013 Doubles - Men & Women
Wednesday, Aug., 14, 2013 Team - Men & Women first Block
Thursday, Aug., 15, 2013 Team - Men & Women second Block
Friday, Aug., 16, 2013 Masters - Men & Women, Farewell Banquet
Red Rock Lanes opened in 2007 to much fanfare as one of the most expensive bowling centers ever built. Red Rock Vice President
Bryan Lindsey
said they look forward to hosting the World Senior Championships.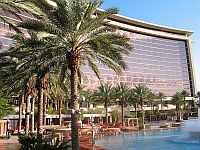 "When the top senior bowlers in the world descend upon Las Vegas for the World Senior Championships, they will have a world-class experience at Red Rock Resort," Lindsey said.
Click on the image to enlarge it.
"Red Rock Lanes is second to none with cutting edge technology, sharp decor and one-of-a-kind VIP lanes. In addition to bowling, Red Rock Resort offers more than a dozen dining options ranging from a quick bite to upscale, state-of-the-art gaming, movie theaters and stunning pool area. This will be more than a competition, it will be a complete travel experience for competitors and their guests."
The World Tenpin Bowling Association, which is made up of 115 bowling federations, governs the sport throughout the world. For more information on WTBA, go to
WorldTenpinBowling.com
.
 
Related Articles
Inaugural
World Senior Championships
to be held August 2013 in Las Vegas