Giannis Stathatos wins qualifying in 3rd IDM Bucharest International Bowling Open
11/25/12
Romania
Greek leads a group of 22 players into Sunday's finals; Bettina Lund is sole woman remaining; Eric Evripidou finishes atop "B bowler" leaderboard, hits cutoff number for 22nd place with 1267 (211.17 ave.); Orlanda, Mäkelä advance through Desperado Squad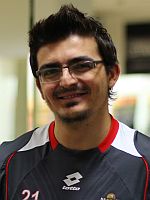 Giannis Stathatos
(pictured left) of Greece won the qualifying of the 3rd IDM Bucharest International Bowling Open en route to lead a group of 24 players into Sunday's finals at IDM Club in Bucharest, Romania.
The top 8 players of the overall qualifying standings, who received one bye for the finals, remained unchanged in Saturday's squads 21-24.
Stathatos, who averaged 229.17 in the 13th of 24 qualifying squads, led a field of 127 players, 116 men and 11 women, from 16 countries with 1375 six-game total.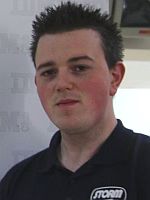 Catalin Gheorghe
(above right) of Romania, who tied Stathatos in Squad 20, finished in second place due to the lower last game, 204 to 226. His fellow countryman
Viorel Simut
was third with 1359, followed by
Vassilis Stefopoulos
and
Takis Karetsos
of Greece in fourth and sixth place with 1351 and 1342, respectively.
England's
Matt Miller
(left) was sandwiched between the two Greek bowlers in fifth place with 1350. Rounding out the top 8 were
Romeo Gagenoiu
of Romania (1336) and PBA bowler
Ronnie Russell
(right), United States (1323).
Stathatos, Gagenoiu, Russell and Miller were automatically qualified for the finals by virtue of finishing 1-4 after Thursday's qualifying. Russell led Squad 22 but failed to improve with 1298.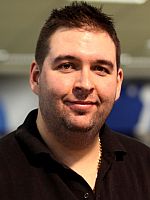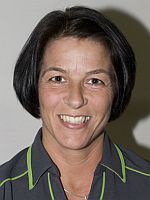 Mike Quarry
rolled the highest series Saturday in Squad 23 with 1319 to improve his top score by ten pins. The Englishman remained in ninth place missing a bye by six pins.
Two-time European Bowling Tour's women's point ranking champion and long-time Danish national team member,
Bettina Lund
(right), Denmark, led Squad 21 on Saturday morning with 1265 including six games between 199 and 237 and added 49 pins handicap to leap into 10th place with 1313 total.
Slava Oseredko
was the 11th and last bowler, who surpassed the 1300-mark, when the Ukrainian led the last qualifying squad 24 with 1305 including high games of 247 and 234.
Eric Evripidou
of Cyprus beat out
Mikko Ylitalo
of Finland and
Ryan Press
of Ireland for the 22nd and last place to advance by one pin with 1267 or an average of 211.67. Evripidou was also the sole "B bowler" (average of less than 180), who survived the first cut en route to pocket a 350 Euro bonus.
Joining the top 22 in the finals were
David Orlanda
of Romania and
Juho Mäkelä
(right) of Finland, who led the one-game Desperado Squad with 255 and 246, resp.

The
3rd IDM Bucharest International Bowling Open
will be held Nov. 19-25 at 14-lane IDM Club in Bucharest, Romania (
Oil Pattern
). The tournament offers total prize fund of
15.000 Euro
in the open division and additional 1.800 Euro for bowlers with less than 180 average.
The tournament winner will receive the
2.500 Euro top prize
, the runner-up earns 1.500 Euro and the third and fourth place finishers get 1.000 Euro apiece.
The
qualifying
of the Bucharest Open ran from Monday, Nov. 19 through Saturday, Nov. 24 and concluded with the Desperado Squad early Sunday morning. Women receive 8 pins handicap each game.
A total of
24 players qualified for the finals
on Sunday, Nov. 25 including the top 4 of a separate leaderboard of the squads contested Monday through Thursday, the top 18 of the overall qualifying standings and the top 2 of the one-game Desperado Squad.
Players seeded 9th to 24th will bowl six games scratch with the top 8 advancing to the second round. The remaining 16 players will bowl another six games scratch to cut to the top eight, who will determine the champion in best-of-three games match play format.
 
Related Articles
Friday night squad
shakes up leaderboard at Bucharest Open
Giannis Stathatos
takes lead as qualifying at Bucharest Open reaches halfway point
Catalin Gheorghe
leads day three qualifying at the 3rd IDM Bucharest Open
Romeo Gagenoiu
becomes first player who cracks the 1300-bar in Bucharest
Marius Piticariu
sets the pace in 3rd IDM Bucharest International Bowling Open
 
Standings after Qualifying and Desperado Squad
The top 22 including the top 4 of a separate leaderboard of squads 1-16 (highlighted in yellow) plus the top 2 of the Desperado Squad (places 23 and 24) advance to the finals. The top 8 receive one bye.
| | | | | | | | | | | | | |
| --- | --- | --- | --- | --- | --- | --- | --- | --- | --- | --- | --- | --- |
| Pos | Player | Country | G1 | G2 | G3 | G4 | G5 | G6 | Pins | Avg. | Hc | Total |
| 1. | Giannis Stathatos | Greece | 216 | 231 | 241 | 251 | 210 | 226 | 1375 | 229.17 | | 1375 |
| 2. | Catalin Gheorghe | Romania | 199 | 225 | 222 | 267 | 258 | 204 | 1375 | 229.17 | | 1375 |
| 3. | Viorel Simut | Romania | 192 | 249 | 244 | 215 | 268 | 191 | 1359 | 226.50 | | 1359 |
| 4. | Vassilis Stefopoulos | Greece | 234 | 195 | 236 | 236 | 216 | 234 | 1351 | 225.17 | | 1351 |
| 5. | Matt Miller | England | 257 | 221 | 160 | 196 | 237 | 279 | 1350 | 225.00 | | 1350 |
| 6. | Dimitrios Karetsos | Greece | 251 | 190 | 216 | 268 | 226 | 191 | 1342 | 223.67 | | 1342 |
| 7. | Romeo Gagenoiu | Romania | 174 | 214 | 263 | 242 | 211 | 232 | 1336 | 222.67 | | 1336 |
| 8. | Ronnie Russell | United States | 177 | 237 | 257 | 226 | 187 | 239 | 1323 | 220.50 | | 1323 |
| 9. | Mike Quarry | England | 205 | 237 | 256 | 227 | 190 | 204 | 1319 | 219.83 | | 1319 |
| 10. | Bettina Lund | Denmark | 201 | 201 | 211 | 216 | 199 | 237 | 1265 | 210.83 | 48 | 1313 |
| 11. | Slava Oseredko | Ukraine | 218 | 172 | 247 | 234 | 229 | 205 | 1305 | 217.50 | | 1305 |
| 12. | Georgios Stefanidis | Greece | 207 | 152 | 198 | 248 | 247 | 246 | 1298 | 216.33 | | 1298 |
| 13. | Marius Piticariu | Romania | 181 | 269 | 237 | 224 | 204 | 183 | 1298 | 216.33 | | 1298 |
| 14. | Chris Sloan | Ireland | 242 | 226 | 204 | 255 | 157 | 212 | 1296 | 216.00 | | 1296 |
| 15. | Petteri Salonen | Finland | 236 | 193 | 207 | 210 | 222 | 224 | 1292 | 215.33 | | 1292 |
| 16. | Patsaouras Epameinondas | Greece | 167 | 244 | 244 | 206 | 224 | 203 | 1288 | 214.67 | | 1288 |
| 17. | Paul Stott | Ireland | 210 | 278 | 194 | 165 | 172 | 266 | 1285 | 214.17 | | 1285 |
| 18. | Yuri Grynik | Ukraine | 197 | 192 | 222 | 205 | 205 | 259 | 1280 | 213.33 | | 1280 |
| 19. | Oleksandr Kondratyev | Ukraine | 175 | 242 | 233 | 191 | 202 | 235 | 1278 | 213.00 | | 1278 |
| 20. | Kostas Kiryakou | Cyprus | 165 | 222 | 244 | 196 | 258 | 184 | 1269 | 211.50 | | 1269 |
| 21. | Anze Grabrijan | Slovenia | 193 | 241 | 193 | 216 | 210 | 215 | 1268 | 211.33 | | 1268 |
| 22. | Eric Evripidou | Cyprus | 212 | 233 | 225 | 212 | 198 | 187 | 1267 | 211.17 | | 1267 |
| 23. | David Orlanda | Romania | 255 | | | | | | 255 | | | 255 |
| 24. | Juho Mäkelä | Finland | 246 | | | | | | 246 | | | 246 |
| 25. | Mikko Ylitalo | Finland | 194 | 254 | 202 | 173 | 211 | 232 | 1266 | 211.00 | | 1266 |
| 26. | Ryan Press | Ireland | 227 | 246 | 232 | 195 | 191 | 175 | 1266 | 211.00 | | 1266 |
| 27. | Paolo Zeppi | Italy | 201 | 216 | 234 | 221 | 204 | 179 | 1255 | 209.17 | | 1255 |
| 28. | Liliane Vintens | Belgium | 220 | 211 | 168 | 206 | 178 | 223 | 1206 | 201.00 | 48 | 1254 |
| 29. | Erodotou Neokles | Cyprus | 221 | 236 | 194 | 191 | 143 | 267 | 1252 | 208.67 | | 1252 |
| 30. | Alexandros Kopsialis | Greece | 210 | 205 | 222 | 195 | 195 | 221 | 1248 | 208.00 | | 1248 |
| 31. | Tommy Petersen | Greece | 197 | 216 | 224 | 223 | 183 | 200 | 1243 | 207.17 | | 1243 |
| 32. | Ioan Ionescu | Romania | 222 | 169 | 182 | 182 | 267 | 220 | 1242 | 207.00 | | 1242 |
| 33. | Cristian Calagiu | Romania | 162 | 182 | 202 | 241 | 195 | 253 | 1235 | 205.83 | | 1235 |
| 34. | Marius Briciu | Romania | 200 | 198 | 158 | 255 | 224 | 192 | 1227 | 204.50 | | 1227 |
| | Juho Mäkelä | Finland | 179 | 158 | 234 | 233 | 180 | 236 | 1220 | 203.33 | | 1220 |
| 35. | Antonis Zafras | Greece | 237 | 188 | 204 | 188 | 203 | 197 | 1217 | 202.83 | | 1217 |
| 36. | Brett Pachoulis | Greece | 207 | 206 | 215 | 173 | 203 | 212 | 1216 | 202.67 | | 1216 |
| 37. | George Venetis | Greece | 226 | 190 | 210 | 186 | 194 | 208 | 1214 | 202.33 | | 1214 |
| 38. | Marius Balan | Romania | 170 | 204 | 180 | 261 | 201 | 196 | 1212 | 202.00 | | 1212 |
| 39. | Charis Panayiotou | Cyprus | 192 | 209 | 190 | 231 | 201 | 189 | 1212 | 202.00 | | 1212 |
| 40. | Florian Mihailescu | Romania | 218 | 177 | 217 | 184 | 194 | 220 | 1210 | 201.67 | | 1210 |
| 41. | Valentin Piros | Romania | 195 | 194 | 224 | 189 | 200 | 206 | 1208 | 201.33 | | 1208 |
| 42. | Kostas Liratzis | Greece | 241 | 212 | 160 | 211 | 186 | 198 | 1208 | 201.33 | | 1208 |
| | David Orlanda | Romania | 225 | 207 | 197 | 180 | 199 | 194 | 1202 | 200.33 | | 1202 |
| 43. | Kostas Kyriakos | Greece | 230 | 167 | 182 | 198 | 197 | 224 | 1198 | 199.67 | | 1198 |
| 44. | Arpad Vass | Romania | 193 | 146 | 190 | 256 | 226 | 186 | 1197 | 199.50 | | 1197 |
| 45. | Florin Gheorghe | Romania | 201 | 200 | 221 | 164 | 185 | 222 | 1193 | 198.83 | | 1193 |
| 46. | Dimitrov Nikolai | Bulgaria | 204 | 164 | 205 | 208 | 209 | 196 | 1186 | 197.67 | | 1186 |
| 47. | Michalis Bouzas | Greece | 206 | 237 | 194 | 190 | 168 | 191 | 1186 | 197.67 | | 1186 |
| 48. | Todor Lichev | Bulgaria | 183 | 200 | 152 | 236 | 190 | 224 | 1185 | 197.50 | | 1185 |
| 49. | Tomaso Radi | Italy | 151 | 227 | 258 | 158 | 200 | 191 | 1185 | 197.50 | | 1185 |
| 50. | Mihaita Gogoasa | Romania | 160 | 244 | 220 | 184 | 188 | 187 | 1183 | 197.17 | | 1183 |
| 51. | Nafsika Deligianni | Greece | 164 | 200 | 188 | 170 | 195 | 213 | 1130 | 188.33 | 48 | 1178 |
| 52. | Paris Alvanos | Greece | 200 | 181 | 140 | 222 | 208 | 225 | 1176 | 196.00 | | 1176 |
| 53. | Christian Ieva | Italy | 185 | 172 | 180 | 187 | 200 | 246 | 1170 | 195.00 | | 1170 |
| 54. | Alex Diamantis | Greece | 192 | 204 | 203 | 235 | 134 | 200 | 1168 | 194.67 | | 1168 |
| 55. | Vasilis Dalesis | Greece | 153 | 202 | 226 | 219 | 167 | 190 | 1157 | 192.83 | | 1157 |
| 56. | Catalin Predescu | Romania | 210 | 147 | 192 | 206 | 203 | 193 | 1151 | 191.83 | | 1151 |
| 57. | Iosif Mertyris | Greece | 162 | 187 | 247 | 218 | 142 | 190 | 1146 | 191.00 | | 1146 |
| 58. | Maria Ursu | Romania | 179 | 194 | 189 | 183 | 194 | 156 | 1095 | 182.50 | 48 | 1143 |
| 59. | Ion Ioancea | Romania | 172 | 190 | 168 | 189 | 199 | 222 | 1140 | 190.00 | | 1140 |
| 60. | Lucian Paraschiv | Romania | 168 | 197 | 139 | 226 | 178 | 227 | 1135 | 189.17 | | 1135 |
| 61. | Dan Stefan | Romania | 176 | 179 | 231 | 184 | 155 | 200 | 1125 | 187.50 | | 1125 |
| 62. | Oliver Vardo | Romania | 200 | 171 | 196 | 193 | 172 | 192 | 1124 | 187.33 | | 1124 |
| 63. | Marin Udriste | Romania | 166 | 169 | 196 | 225 | 203 | 160 | 1119 | 186.50 | | 1119 |
| 64. | Theofilos Ioannou | Cyprus | 152 | 182 | 230 | 206 | 169 | 178 | 1117 | 186.17 | | 1117 |
| 65. | Boris Bozhilov | Bulgaria | 151 | 184 | 171 | 234 | 178 | 198 | 1116 | 186.00 | | 1116 |
| 66. | Ion Bejan | Romania | 176 | 181 | 236 | 174 | 189 | 156 | 1112 | 185.33 | | 1112 |
| 67. | Bogdan Piciu | Romania | 192 | 171 | 167 | 177 | 205 | 192 | 1104 | 184.00 | | 1104 |
| 68. | Carlo Ieva | Italy | 163 | 187 | 173 | 195 | 226 | 158 | 1102 | 183.67 | | 1102 |
| 69. | Alexandru Arbanas | Romania | 165 | 196 | 200 | 194 | 168 | 178 | 1101 | 183.50 | | 1101 |
| 70. | Anze Lajovic | Slovenia | 183 | 182 | 188 | 186 | 195 | 166 | 1100 | 183.33 | | 1100 |
| 71. | Shahaf Rubinstein | Israel | 184 | 182 | 192 | 163 | 210 | 168 | 1099 | 183.17 | | 1099 |
| 72. | Mihai Ionescu | Romania | 170 | 196 | 178 | 173 | 180 | 199 | 1096 | 182.67 | | 1096 |
| 73. | Florin Leahu | Romania | 180 | 189 | 193 | 156 | 202 | 176 | 1096 | 182.67 | | 1096 |
| 74. | Gabriel Deaconu | Romania | 199 | 204 | 156 | 194 | 177 | 166 | 1096 | 182.67 | | 1096 |
| 75. | Jose Antonio Ramirez | Spain | 230 | 206 | 158 | 169 | 163 | 169 | 1095 | 182.50 | | 1095 |
| 76. | Daniele Rezzi | Italy | 158 | 189 | 161 | 208 | 203 | 175 | 1094 | 182.33 | | 1094 |
| 77. | Stavrou Loizos | Cyprus | 152 | 213 | 167 | 193 | 166 | 200 | 1091 | 181.83 | | 1091 |
| 78. | Ion Fatu | Romania | 165 | 211 | 155 | 192 | 178 | 179 | 1080 | 180.00 | | 1080 |
| 79. | Andrea Fedeli | Italy | 184 | 174 | 153 | 174 | 195 | 198 | 1078 | 179.67 | | 1078 |
| 80. | Mariana Meteksinova | Bulgaria | 151 | 213 | 145 | 151 | 175 | 191 | 1026 | 171.00 | 48 | 1074 |
| 81. | Manolis Drakos | Greece | 203 | 178 | 185 | 194 | 120 | 193 | 1073 | 178.83 | | 1073 |
| 82. | Andrei Stoican | Romania | 155 | 207 | 189 | 164 | 189 | 168 | 1072 | 178.67 | | 1072 |
| 83. | Laura Piros | Romania | 161 | 180 | 184 | 184 | 145 | 169 | 1023 | 170.50 | 48 | 1071 |
| 84. | Mihai Iftime | Romania | 174 | 189 | 178 | 209 | 157 | 164 | 1071 | 178.50 | | 1071 |
| 85. | Sirmatenia Michailidou | Greece | 150 | 210 | 178 | 161 | 159 | 161 | 1019 | 169.83 | 48 | 1067 |
| 86. | Andreas Economides | Cyprus | 179 | 197 | 167 | 165 | 175 | 183 | 1066 | 177.67 | | 1066 |
| 87. | Ger van Loon | Netherlands | 176 | 200 | 182 | 191 | 135 | 182 | 1066 | 177.67 | | 1066 |
| 88. | Ian Duff | England | 128 | 232 | 177 | 210 | 142 | 177 | 1066 | 177.67 | | 1066 |
| 89. | Cristian Zamfir | Romania | 167 | 186 | 199 | 186 | 181 | 147 | 1066 | 177.67 | | 1066 |
| 90. | Gyozo Varga | Romania | 179 | 184 | 200 | 179 | 134 | 183 | 1059 | 176.50 | | 1059 |
| 91. | Alexandru Neagu | Romania | 178 | 212 | 147 | 174 | 152 | 194 | 1057 | 176.17 | | 1057 |
| 92. | Dimitar Popov | Bulgaria | 176 | 186 | 150 | 179 | 189 | 170 | 1050 | 175.00 | | 1050 |
| 93. | Costin Preda | Romania | 163 | 162 | 187 | 208 | 141 | 188 | 1049 | 174.83 | | 1049 |
| 94. | Raluca Gindac | Romania | 188 | 193 | 166 | 135 | 155 | 158 | 995 | 165.83 | 48 | 1043 |
| 95. | Konstantinos Stergiadis | Greece | 149 | 195 | 163 | 172 | 197 | 166 | 1042 | 173.67 | | 1042 |
| 96. | Daniel Albu | Romania | 235 | 169 | 155 | 123 | 165 | 189 | 1036 | 172.67 | | 1036 |
| 97. | Jozsef Vass | Romania | 163 | 184 | 148 | 169 | 168 | 203 | 1035 | 172.50 | | 1035 |
| 98. | Palano Rosario | Italy | 190 | 209 | 133 | 146 | 159 | 196 | 1033 | 172.17 | | 1033 |
| 99. | Dimitris Anastasiou | Greece | 139 | 167 | 170 | 179 | 158 | 216 | 1029 | 171.50 | | 1029 |
| 100. | Doru Taras | Romania | 156 | 169 | 164 | 185 | 206 | 145 | 1025 | 170.83 | | 1025 |
| 101. | Bogdan Stoian | Romania | 169 | 203 | 181 | 165 | 150 | 155 | 1023 | 170.50 | | 1023 |
| 102. | Cristian Orlanda | Romania | 207 | 186 | 159 | 134 | 178 | 158 | 1022 | 170.33 | | 1022 |
| 103. | Onu Liviu Stan | Romania | 168 | 156 | 177 | 144 | 188 | 180 | 1013 | 168.83 | | 1013 |
| 104. | Dragos Dumitrascu | Romania | 195 | 164 | 163 | 135 | 230 | 120 | 1007 | 167.83 | | 1007 |
| 105. | Florin Giurca | Romania | 162 | 169 | 128 | 205 | 165 | 171 | 1000 | 166.67 | | 1000 |
| 106. | Cristian Tusz | Romania | 155 | 182 | 188 | 161 | 192 | 114 | 992 | 165.33 | | 992 |
| 107. | Alina Orlanda | Romania | 179 | 118 | 125 | 167 | 158 | 196 | 943 | 157.17 | 48 | 991 |
| 108. | Corneliu Antimirescu | Romania | 211 | 147 | 159 | 156 | 147 | 169 | 989 | 164.83 | | 989 |
| 109. | Alex Telejman | Romania | 148 | 167 | 134 | 144 | 181 | 213 | 987 | 164.50 | | 987 |
| 110. | Victor Dumitrascu | Romania | 172 | 175 | 133 | 160 | 186 | 161 | 987 | 164.50 | | 987 |
| 111. | George Kontoulis | Greece | 95 | 170 | 156 | 168 | 227 | 159 | 975 | 162.50 | | 975 |
| 112. | Peter Kleitou | Cyprus | 151 | 176 | 192 | 154 | 139 | 147 | 959 | 159.83 | | 959 |
| 113. | Kinga Szabo | Romania | 151 | 172 | 141 | 151 | 143 | 152 | 910 | 151.67 | 48 | 958 |
| 114. | Ivan Navarro | Spain | 144 | 185 | 145 | 153 | 155 | 171 | 953 | 158.83 | | 953 |
| 115. | Jozsef Bogazi | Romania | 111 | 142 | 158 | 142 | 154 | 237 | 944 | 157.33 | | 944 |
| 116. | Cristian Popescu | Romania | 126 | 177 | 176 | 151 | 154 | 157 | 941 | 156.83 | | 941 |
| 117. | Tudorita Dumitru | Romania | 152 | 160 | 117 | 133 | 174 | 149 | 885 | 147.50 | 48 | 933 |
| 118. | Atilla Fejer | Romania | 162 | 209 | 129 | 169 | 117 | 137 | 923 | 153.83 | | 923 |
| 119. | Lorant Verzar | Romania | 122 | 155 | 141 | 189 | 138 | 149 | 894 | 149.00 | | 894 |
| 120. | Marius Binda | Romania | 121 | 127 | 155 | 144 | 152 | 162 | 861 | 143.50 | | 861 |
| 121. | Adrian Dobre | Romania | 144 | 144 | 126 | 158 | 156 | 117 | 845 | 140.83 | | 845 |
| 122. | Geza Karaman | Romania | 109 | 161 | 141 | 154 | 141 | 122 | 828 | 138.00 | | 828 |
| 123. | Kalman Matyas | Romania | 143 | 129 | 151 | 128 | 123 | 135 | 809 | 134.83 | | 809 |
| 124. | Petrisor Iancu | Romania | 121 | 111 | 145 | 119 | 114 | 181 | 791 | 131.83 | | 791 |
| 125. | Attila Gabos | Romania | 96 | 156 | 139 | 120 | 128 | 130 | 769 | 128.17 | | 769 |
| 126. | Razvan Iordache | Romania | 116 | 182 | 139 | 108 | 114 | 109 | 768 | 128.00 | | 768 |
| 127. | Ion Grecu | Romania | 157 | 139 | 154 | 124 | 135 | 0 | 709 | 118.17 | | 709 |