Sean Rash surges to the top of the leaderboard after two rounds at USBC Masters
02/21/13
2012-13 PBA Tour #11
Sean Rash
(pictured left) of Montgomery, Ill., surged to the top of the leaderboard Wednesday after two rounds of qualifying at the
2013 United States Bowling Congress Masters
.
The 2007 Masters champion has a 10-game pinfall total of 2,381 (238.1 average) to lead a field of 468 of the top bowlers in the world at Brunswick Zone Carolier in North Brunswick, N.J. The Masters, which features a total prize fund of $325,000, will conclude with the
live ESPN finals on Sunday at 3 p.m. Eastern
.
Rash put together his second consecutive strong day to start the Masters. After firing 1,218 in Tuesday's opening round (5th place), Rash came back with 1,163 in the second round. He closed out Wednesday's block with games of 233 and 259 to take the lead.
"The pattern is starting to get flatter and with that the lanes are going to get tougher," said Rash, who is the reigning Professional Bowlers Association Player of the Year. "Shot making becomes important and spare shooting becomes important. I had a great game plan from practice, I bowled good yesterday and had another good block today."
With one more round of qualifying to go Thursday, Rash said he will try to gather as much information as possible before the Masters heads to match play.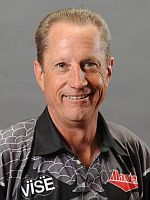 "I get to bowl on fresh (oil) tomorrow again and most of match play is going to be on fresh," Rash said. "I want to know as much as possible, and I'm still trying to learn. Tomorrow's a different day with different ball motions and following different people. I still have to make great shots and fill frames."
Finland's
Osku Palermaa
(left), who had a share of the lead after the first round, sits in second place with 2,376. Hall of Famer
Pete Weber
(right) of St. Ann, Mo., leaped one spot into third place with 2,344, while
Tom Daugherty
(below left) of Wesley Chapel, Fla., jumped from 93rd to fourth with 2,326 behind the field-best 1263 series Wednesday.
Rounding out the top 5 is
Mika Koivuniemi
(right), a native Finn who lives in Hartland, Mich., with 2,318.
All competitors will bowl 15 games of qualifying over three days before the field is cut to the top 63 plus defending champion
Mike Fagan
of Dallas for the double-elimination match-play bracket starting Friday.
Ildemaro Ruiz
(below left) of Venezuela and
Charles Anderson
, Sloatsburg, N.Y., are currently tied for 63rd place at 2,151.
The top five players at the conclusion of the bracket competition will compete in the live two-hour championship round on ESPN.
The Masters, which features a first-place prize of
$50,000
, is a major event on the PBA Tour and is part of the World Tenpin Bowling Association World Bowling Tour for the third consecutive season.
All qualifying and match play rounds of the Masters are being covered live on Xtra Frame, the PBA's online bowling channel.
 
Related Articles
Osku Palermaa, Ryan Ciminelli
lead USBC Masters after first round
Mike Fagan
looks to accomplish rare feat at 63rd USBC Masters
2012-13 PBA Tour
Schedule & Champions
2013 World Bowling Tour
Schedule & Champions
2013 WBT Point Rankings by Bowlingdigital -
Men
and
Women
 
2013 USBC MASTERS - Standings after Qualifying Round Two
Players with position, hometown and 10-game total
1, Sean Rash, Montgomery, Ill., 2,381
2, Osku Palermaa, Finland, 2,376
3, Pete Weber, St. Ann, Mo., 2,344
4, Tom Daugherty, Wesley Chapel, Fla., 2,326
5, Mika Koivuniemi, Hartland, Mich., 2,318
6, Ryan Ciminelli, Cheektowaga, N.Y., 2,314
7, D.J. Archer, Friendswood, Texas, 2,305
8, Jason Sterner, McDonough, Ga., 2,298
9, Mike Edwards, Tulsa, Okla., 2,288
10, Rhino Page, Dade City, Fla., 2,284
11, Dan MacLelland, Canada, 2,281
12, Michael Haugen Jr., Phoenix, 2,279
13, Scott Newell, Deland, Fla., 2,277
14, Brian LeClair, Albany, N.Y., 2,273
15, Wes Malott, Pflugerville, Texas, 2,271
16, Tommy Jones, Simpsonville, S.C., 2,268
17, Jon VanHees, Charlestown, R.I., 2,263
18, Todd Book, Russells Point, Ohio, 2,262
19, Scott Norton, Mission Viejo, Calif., 2,260
20, Josh Blanchard, Gilbert, Ariz., 2,257
20, Allen Rice II, Salem, Ala., 2,257
22, Parker Bohn III, Jackson, N.J., 2,255
23, Mike Moore, Orlando, Fla., 2,254
24, Mike Scroggins, Amarillo, Texas, 2,244
25, Matt McNiel, Prior Lake, Minn., 2,238
26, Walter Ray Williams Jr., Ocala, Fla., 2,236
26, Craig LeMond, Jasper, Ind., 2,236
28, John Szczerbinski, North Tonawanda, N.Y., 2,233
28, Martin Larsen, Sweden, 2,233
30, Nathan Bohr, Wichita, Kan., 2,224
31, Devin Golden, Coopersburg, Pa., 2,216
31, Mike Dias, Lafayette, Colo., 2,216
33, Shigeo Saitoh, Japan, 2,211
33, Brian Kretzer, Dayton, Ohio, 2,211
35, Shannon Pluhowsky, Dayton, Ohio, 2,210
35, Lee Vanderhoef, Greenville, S.C., 2,210
37, Walter McKnight, Brick, N.J., 2,206
38, Ronnie Russell, Marion, Ind., 2,204
39, Jeff Kubasak, Staten Island, N.Y., 2,201
40, Chris Barnes, Double Oak, Texas, 2,199
41, Doug Kent, Newark, N.Y., 2,194
41, Marshall Kent, Yakima, Wash., 2,194
43, Manuel Otalora, Colombia, 2,193
43, Troy Lint, Leola, Pa., 2,193
45, Patrick Allen, Wesley Chapel, Fla., 2,191
46, Matt Gasn, Laurel, Md., 2,186
47, Tommy Dakouvanos, Belford, N.J., 2,185
48, Brian Ziesig, Levittown, N.Y., 2,184
49, Eddie VanDaniker Jr., Chatsworth, Calif., 2,183
50, Brian Valenta, Lockport, Ill., 2,179
51, Timothy Foy Jr., Salisbury, Md., 2,178
52, Tom Baker, King, N.C., 2,177
53, Dick Allen, Columbia, S.C., 2,176
54, Chris Loschetter, Avon, Ohio, 2,163
55, Stuart Williams, England, 2,161
55, John Janawicz, Winter Haven, Fla., 2,161
57, Jack Jurek, Lackawanna, N.Y., 2,160
58, Michael Markis, Tafton, Pa., 2,159
59, Joe Costanzo, Bethpage, N.Y., 2,155
60, Daniel Dunleavy, Staten Island, N.Y., 2,154
61, Robert Andersson, Sweden, 2,152
61, Kyle King, Glendale, Ariz., 2,152
63, Ildemaro Ruiz, Venezuela, 2,151
63, Charles Anderson, Sloatsburg, N.Y., 2,151
65, Kurt Pilon, Warren, Mich., 2,147
65, Quentin Collins, Jamaica, N.Y., 2,147
65, Vinny D'Ambrosio III, Staten Island, N.Y., 2,147
68, Michael Machuga, Erie, Pa., 2,143
69, Danny Wiseman, Baltimore, 2,139
70, Jason Howard, Baltimore, 2,135
71, Gary Faulkner, Norfolk, Va., 2,134
72, Isao Yamamoto, Japan, 2,132
73, Jason Belmonte, Australia, 2,127
74, Andres Gomez, Colombia, 2,124
75, Geoffrey Young, Bel Aire, Kan., 2,123
75, Kyle Bigelow, Troy, Ohio, 2,123
77, Ryan Shafer, Horseheads, N.Y., 2,118
78, Jeff Piroozshad, Coral Springs, Fla., 2,117
79, Frankie Calca, Elmont, N.Y., 2,116
80, Bill Crane III, Mishawaka, Ind., 2,115
81, Jack Castellano, Centereach, N.Y., 2,114
81, John Nolen, Waterford, Mich., 2,114
83, Bryan Viator, Friendswood, Texas, 2,109
84, Jimmy Johnson, Wilmington, Del., 2,106
84, Tom Smallwood, Saginaw, Mich., 2,106
86, Gerald Marrs, Huntley, Ill., 2,105
87, Mike Taylor, Havertown, Pa., 2,104
88, Oleksandr Kalika, Ukraine, 2,103
88, Steve Novak, Bay City, Mich., 2,103
90, Zachary Wilkins, Canada, 2,102
90, Stephen Pavlinko Jr., Sewell, N.J., 2,102
92, Joe Paluszek, Bensalem, Pa., 2,099
92, Kevin Kullman, Tinley Park, Ill., 2,099
94, Jesse Buss, Belvidere, Ill., 2,098
95, Joe Scianna, Oakdale, N.J., 2,096
95, Mike Centrone, Carmel, N.Y., 2,096
97, Dom Barrett, England, 2,095
98, Johnathan Bower, Middletown, Pa., 2,093
98, Tom Hess, Urbandale, Iowa, 2,093
100, John Brockland, St. Charles, Mo., 2,091
101, Anthony Pepe, Jackson Heights, N.Y., 2,090
102, Norm Duke, Clermont, Fla., 2,088
102, John Petraglia, Jackson, N.J., 2,088
104, Aaron Groendyk, Grandville, Mich., 2,086
104, Dino Castillo, Carrollton, Texas, 2,086
106, Missy Parkin, Fullerton, Calif., 2,083
106, Rusty Thomsen, Morgan, N.J., 2,083
106, Steven Badovinac, Parker, Colo., 2,083
109, R.J. Pollard, Versailles, Ind., 2,082
110, Bill O'Neill, Langhorne, Pa., 2,080
111, E.J. Tackett, Huntington, Ind., 2,078
112, Adam Chase, Seaford, N.Y., 2,076
112, Brian Robinson, Morgantown, W.Va., 2,076
114, Alex Cavagnaro, Massapequa, N.Y., 2,075
115, Jonathan Crowder, Edison, N.J., 2,074
116, Bryan Goebel, Shawnee, Kan., 2,073
117, Eric Copping, Websterville, Vt., 2,072
118, Lonnie Waliczek, Wichita, Kan., 2,069
118, Tetsuya Kobayashi, Japan, 2,069
120, Travis Celmer, Wernersville, Pa., 2,068
121, Williams Pautz, LeSueur, Minn., 2,066
122, Jimmie Dillingham, Bonney Lake, Wash., 2,062
122, Hugh McGainey, Baltimore, 2,062
124, Casey Creutz, Jackson, N.J., 2,059
125, Kevin Beers, Reinholds, Pa., 2,058
126, Woody Ross II, Warner Robins, Ga., 2,057
126, Brett Spangler, Niles, Ohio, 2,057
126, Robert Mockenhaupt, Rutherford, N.J., 2,057
126, Jack Zuniga, Tulsa, Okla., 2,057
126, Eugene McCune, Munster, Ind., 2,057
126, Rodney Alston, Philadelphia, 2,057
132, Brian Boghosian, Agawam, Mass., 2,056
133, Sammy Ventura, Syracuse, N.Y., 2,055
134, Mykhaylo Kalika, Ukraine, 2,054
135, Ronnie Sparks Jr., Ecorse, Mich., 2,053
135, Mike McDonnell, Chesterfield, Va., 2,053
137, Ryan Friend, Staten Island, N.Y., 2,052
138, Paul Pinto, Philadelphia, 2,050
138, Ricky Schissler, Henderson, Colo., 2,050
140, Jimmy Clark, Corinna, Maine, 2,049
141, Ronnie Horton, Christiansburg, Va., 2,048
142, Tony Reynaud, Harwinton, Conn., 2,047
142, Matt Meyer, Alexandria, Minn., 2,047
144, Jim Rogers, Brick, N.J., 2,046
145, Alejandro Reyna, Costa Rica, 2,045
145, Mike Albert, Little River, S.C., 2,045
147, Richard Holmes, Culpeper, Va., 2,044
148, Chris Fisher, Brooklyn, N.Y., 2,043
148, Thomas Coco, Cortland Manor, N.Y., 2,043
150, Tomoyuki Sasaki, Japan, 2,042
150, Kyle Paxson, Orlando, Fla., 2,042
152, Matt Russo, Millstone Township, N.J., 2,041
153, Christopher Keane, New City, N.Y., 2,040
153, Joe Novara, Holtsville, N.Y., 2,040
155, Randy Weiss, Columbia, S.C., 2,039
155, Julio Cesar Blancas, Mexico, 2,039
155, Rick Steelsmith, Wichita, Kan., 2,039
158, Rob Hoffman, Freehold, N.J., 2,035
159, Mike Fagan, Dallas, 2,034
159, Michael Austin, Magnolia, Texas, 2,034
161, Eric Cornog, Cherry Hill, N.J., 2,032
162, Allen Nichols, Loganville, Ga., 2,031
163, Jake Peters, Decatur, Ill., 2,029
163, Paul Moor, England, 2,029
165, Humberto Vazquez, Mexico, 2,026
166, Joseph Bofrone, Columbia, Md., 2,025
167, Jim Wolcott, Hendersonville, Tenn., 2,020
167, Sam Maccarone, Glassboro, N.J., 2,020
167, Adam Barta, Girard, Ohio, 2,020
167, Mitch Sacks, Jersey City, N.J., 2,020
167, Carl Zbranak, Beachwood, N.J., 2,020
167, Tyson Branagan, Bedford, Texas, 2,020
173, Jazreel Tan, Singapore, 2,016
173, Drew Balta, Swisher, Iowa, 2,016
175, Greg Young, Viera, Fla., 2,015
176, Stephen Haas, Enola, Pa., 2,013
176, Brad Miller, St. Charles, Mo., 2,013
176, Liz Johnson, Cheektowaga, N.Y., 2,013
179, Mark Sullivan, Indianapolis, 2,012
179, Matthew O'Grady, South Amboy, N.J., 2,012
181, Michael Askins, Gainesville, Ga., 2,011
182, Scott Halvarson, Lakewood, Wash., 2,009
182, Michael Calhoun, Wyandotte, Mich., 2,009
182, Matthew Paine, Richfield, Minn., 2,009
185, Tommy Gollick, Oberlin, Pa., 2,007
186, Amleto Monacelli, Venezuela, 2,006
186, Greg Ostrander, Freehold, N.J., 2,006
186, Fabrizio Cerutti, Plainview, N.Y., 2,006
186, David Kipperman, Rocky Hill, Conn., 2,006
186, Brad Muri, Billings, Mont., 2,006
191, Fero Williams, Adelphi, Md., 2,005
191, Matt Taylor, Knightdale, N.C., 2,005
191, Brian Himmler, Cincinnati, 2,005
194, Craig Auerbach, Sunrise, Fla., 2,004
195, Rob Gotterbarn Jr., Garden City South, N.Y., 2,002
195, Leon Platt, Summerville, S.C., 2,002
195, Jeffery Hicks, Allen Park, Mich., 2,002
195, Brian Gunn, Chicago, 2,002
199, David McGowan, Ringgold, Ga., 2,001
200, Joe Krajkovich, North Brunswick, N.J., 2,000
201, Stephen Hardy, Raymond, N.H., 1,999
201, Noel Vega, Forest Hills, N.Y., 1,999
201, William Bittenbender, Burlington, N.J., 1,999
201, Mike Wolfe, New Albany, Ind., 1,999
201, Brian Chec, Wheatland, Pa., 1,999
206, Gary Faulkner Jr., Memphis, Tenn., 1,998
206, Christopher Blackmore, Fairfax, Va., 1,998
208, Mike Carmean, Georgetown, Del., 1,997
208, Michael Norris, Melvindale, Mich., 1,997
210, Nick Kokenos, St. Clair Shores, Mich., 1,994
210, Eddie Santiago, Tuckahoe, N.Y., 1,994
212, Toby Sambueno, Saginaw, Mich., 1,993
212, Jeff Leaphart, Columbia, S.C., 1,993
214, Kris Koeltzow, Wheat Ridge, Colo., 1,990
215, Frank Guccione, Castle Rock, Colo., 1,989
215, Ron Dixon, Boynton Beach, Fla., 1,989
217, Brian Waliczek, Birch Run, Mich., 1,988
218, Nobuhito Fujii, Japan, 1,987
219, Tim McAuliffe, Staten Island, N.Y., 1,986
220, Brett Cunningham, Clay, N.Y., 1,984
221, Jason Ciszewsik, Parlin, N.J., 1,983
221, Josh Chambliss, Hanahan, S.C., 1,983
223, Anthony LaCaze, Melrose Park, Ill., 1,980
224, Robert Smith, Voorhees, N.J., 1,979
225, Craig Nidiffer, Trenton, Mich., 1,978
226, Mike Dolan, Fond du Lac, Wis., 1,975
226, Garret Maxey, Greeley, Colo., 1,975
226, Diandra Asbaty, Chicago, 1,975
226, Tim Davidsson, Sweden, 1,975
230, Billy Trudell, Coventry, R.I., 1,970
230, Marty Berke, Allentown, Pa., 1,970
230, Carl Kurilich, Parma, Ohio, 1,970
233, Miles Coplan, Manchester, N.H., 1,967
234, Tony Todd, Myrtle Beach, S.C., 1,966
235, Tony Ament, Monroe, N.J., 1,965
235, Andrew Stewart, Galloway Twp., N.J., 1,965
237, Zack Brown, Raleigh, N.C., 1,964
237, Jim Emens Jr., Rochester, N.Y., 1,964
237, Donald Beck, Fishers Island, N.Y., 1,964
240, Wayne Porr, Sinking Springs, Pa., 1,963
240, John Pierce, Denton, Texas, 1,963
242, Kelly Kulick, Union, N.J., 1,962
242, Keith Laing, Los Angeles, 1,962
244, Kenneth Gray, North East, Md., 1,959
244, Chris Kramer, Richlandtown, Pa., 1,959
246, Chris Williams, North Las Vegas, Nev., 1,958
246, Jaime Gonzalez, Colombia, 1,958
246, Josh Schneidman, Bay Shore, N.Y., 1,958
249, Randy Kenny, Maple Shade, N.J., 1,957
249, Ken Simard, Greenville, S.C., 1,957
251, Michael Murtha, West Des Moines, Iowa, 1,956
251, Brian O'Mara, Webster, N.Y., 1,956
253, Takashi Kudoh, Japan, 1,954
254, Ray Edwards, Middle Island, N.Y., 1,953
255, Andrew Graff, Las Vegas, 1,952
255, Ryan Wyandt, West Lawn, Pa., 1,952
255, Andrew Suscreba, Clifton, N.J., 1,952
255, Sean McAuliffe, Staten Island, N.Y., 1,952
259, Martin Paulsson, Sweden, 1,950
260, Bryson Rogers, Durham, N.C., 1,949
261, William Barlow, Edgewood, Md., 1,946
261, Joe Biscardi, Wantagh, N.Y., 1,946
261, Ernest Lukacs Jr., Manville, N.J., 1,946
264, Darren Andretta, New Hyde Park, N.Y., 1,944
264, Charles Hayslett III, Apple Valley, Minn., 1,944
266, Jessica Abel, Wichita, Kan., 1,943
267, Yuta Shirahama, Japan, 1,942
268, Rick Banister, Vandenburg, Calif., 1,941
269, Paul Smith, Clinton, Conn., 1,940
270, Dean Richards, Tacoma, Wash., 1,939
270, Yoichi Nakayama, Japan, 1,939
270, Austin Boulds, Wichita, Kan., 1,939
273, Miguel Lopez, Wichita, Kan., 1,938
273, J.T. "Action" Jackson, Sherman Oaks, Calif., 1,938
275, Kelvin Wiggins, Rocky Mount, N.C., 1,936
276, Evan Nash, Kennewick, Wash., 1,934
277, Joseph Nawn, Upper Darby, Pa., 1,932
278, Victor Hnatczenko Jr., Philadelphia, 1,931
279, Aaron Williams, Pennsauken, N.J., 1,929
280, Kevin Magnan, Canada, 1,928
280, David Knight Jr., Folcroft, Pa., 1,928
282, Brandon Robertson, Spotswood, N.J., 1,925
283, Dale Barshewski Jr., Keansburg, N.J., 1,923
284, Ernest Lukacs, Manville, N.J., 1,921
284, Ron Papp, Bordentown, N.J., 1,921
286, Justin Warhol, Sound Beach, N.Y., 1,920
286, Bradley Powell, Fox River Grove, Ill., 1,920
288, Duane Steinmetz, Evans, Colo., 1,919
289, Clay Adams, Carmel, N.Y., 1,918
290, Timothy Gillick, Milford, Conn., 1,916
290, Van Tilley, Debary, Fla., 1,916
290, Billy Bertuch III, Yonkers, N.Y., 1,916
293, Luke Walker, Dumont, Colo., 1,915
293, Brian Knauer, Federalsburg, Md., 1,915
293, Mike Armstrong Jr., Battle Ground, Wash., 1,915
296, Chris Thornhill, Salisbury, Md., 1,914
297, Frank Verni, Bronx, N.Y., 1,912
298, Darryl Carreon, Woodbridge, Va., 1,910
299, Robert Lee, Japan, 1,909
300, Kamron Doyle, Brentwood, Tenn., 1,907
301, Kevin Brophy, Oakhurst, N.J., 1,906
302, Ryan Yelle, South Easton, Mass., 1,905
303, Elysia Current, Ephrata, Pa., 1,904
303, Cassandra Leuthold, Black Hawk, S.D., 1,904
305, David Pelkey, Burke, N.Y., 1,902
306, Kenneth Bland Jr., Lorton, Va., 1,901
306, Kenny Ryan, Ocean, N.J., 1,901
308, Joseph Vrobel, Crest Hill, Ill., 1,899
309, Geoff Wetzler, Tolland, Conn., 1,898
310, Richard Horsley, Morrisville, N.C., 1,897
311, Michael LoBianco, Brick, N.J., 1,895
312, Richard Salcedo, Elmhurst, N.Y., 1,894
313, Kazumi Shioyama, Japan, 1,892
313, Justin Lesser, LaPorte, Ind., 1,892
313, Scott Falatovich, Hillsborough, N.J., 1,892
316, Mike Hastings, Millsboro, Del., 1,891
316, Greg Rottengen, Washington, N.J., 1,891
318, Anthony Trethewey, Lexington, Ky., 1,890
319, Adam Kirtley, Apopka, Fla., 1,889
320, Robert Fusik III, East Windsor, N.J., 1,888
321, Steven Arehart, Chesapeake, Va., 1,887
322, Philip Karwoski Sr., South Hadley, Mass., 1,881
323, Dan Furman, Schenectady, N.Y., 1,879
324, Jeremy Domingo, Sewell, N.J., 1,875
325, Charles Bonis Jr., Port Chester, N.Y., 1,874
326, David Shinn, West Columbia, S.C., 1,872
327, Mauricio Chaparro, Colombia, 1,871
328, George Gohagan III, Roswell, Ga., 1,870
329, Herbert Hiigh Jr., Bailey, N.C., 1,868
329, John Furey, Freehold, N.J., 1,868
331, John Wenman, Middletown, Md., 1,866
332, Kyle King, Canton, S.D., 1,865
332, Chris DosSantos, Fairhaven, Mass., 1,865
332, Fran Luzzi, Port Jervis, N.Y., 1,865
335, Ken Yokobosky, Fredon, N.J., 1,864
335, Jerry Anderson, Smithton, Ill., 1,864
335, Noel Pabilonia, Jersey City, N.J., 1,864
338, Alexander Marx, Toms River, N.J., 1,861
339, Richard Avery, Simpsonville, S.C., 1,858
340, Thomas Parker III, Columbus, 1,856
341, Clara Guerrero, Colombia, 1,855
342, Hayward Marlow, Bronx, N.Y., 1,854
342, Jonathan Sellers, Stratford, Conn., 1,854
344, Ryan Pudlowski, North Versailles, Pa., 1,853
345, Thomas McLane, Lusby, Md., 1,852
345, Monte Baker, Bozeman, Mont., 1,852
347, Dale Aivaz Jr., Yonkers, N.Y., 1,851
348, Megan Kelly, Dayton, Ohio, 1,850
349, Pedro Agapito, Monticello, N.Y., 1,845
349, Mike Klosin, Windham, N.H., 1,845
351, Hideaki Aizawa, Japan, 1,843
351, Gary Goldberg, Paxton, Mass., 1,843
351, Takayoshi Akiba, Japan, 1,843
354, Conan Mackey, Oskaloosa, Iowa, 1,839
355, Craig Coplan, Manchester, N.H., 1,837
356, Joseph Truchan Jr., Ringwood, N.J., 1,836
356, Justin Bychkowski, Fairfield, Conn., 1,836
358, Gary Smalling, Johnson City, Tenn., 1,834
358, Jason Smalling, Bluff City, Tenn., 1,834
360, Evan Ruoti, West Valley City, Utah, 1,832
360, Robert Lint, Johnstown, Pa., 1,832
362, Kevin Bandrowski, Lancaster, Pa., 1,828
363, Andrew Diley, Conway, S.C., 1,827
363, Kenji Kawashima, Japan, 1,827
365, Shane Reid, Enfield, Conn., 1,826
366, Rich Poznanski, Union, N.J., 1,825
367, Darian LeMay, East Brunswick, N.J., 1,824
368, Brandon Hinderer, York, Pa., 1,823
368, James Grago, Rome, N.Y., 1,823
370, Connor LeClair, Athens, N.Y., 1,821
370, Doug Scheidig, Royersford, Pa., 1,821
372, Brian DiCicco, Agawam, Mass., 1,820
373, Brian Lohse, Corinth, Texas, 1,816
373, Frankie Mazzella, Staten Island, N.Y., 1,816
375, Steve Creech, Corbin, Ky., 1,815
376, Tyler Coplan, Manchester, N.H., 1,811
377, Michael Stevens, Howell, N.J., 1,809
378, Lowell Schoonmaker, Middletown, N.Y., 1,807
379, Matthew Carpenter, Woonsocket, R.I., 1,806
380, Josh Malanoski, West Mifflin, Pa., 1,804
380, Dave Penfold, Hebron, Ind., 1,804
380, Robert Greene, Oxford, Conn., 1,804
383, Nicholas Biglasco, Clark, N.J., 1,803
384, Gary Matten, Westminster, Colo,, 1,802
385, Dave Shampaner, East Brunswick, N.J., 1,799
386, Bobby Benton, Accident, Md., 1,797
386, Nobuyuki Fukuchi, Japan, 1,797
388, Jack Cook, Denville, N.J., 1,796
389, Ryan Chall, East Brunswick, N.J., 1,795
389, Steven Stayrook, Berwyn, Pa., 1,795
391, Mark Cornelius, Peru, Ind., 1,791
392, Frank Szabo, Lawrenceville, Ga., 1,790
393, Brian Turschman, Cary, Ill., 1,789
393, Brian Sulzbach, Levittown, N.Y., 1,789
393, Brandon Boyer, Hudson Falls, N.Y., 1,789
396, Ryan Ool, Middletown, N.Y., 1,787
397, Michael Smith, Howell, N.J., 1,786
398, Cody Vaughn, Arvada, Colo., 1,785
398, Ed Cutter, Manassas Park, Va., 1,785
398, David O'Sullivan, Sanford, Fla., 1,785
401, Jason Nicholas, Wantagh, N.Y., 1,783
401, Billy Young Jr., Edgewood, Md., 1,783
403, Ralph Ehrlich, N. Massapequa, N.Y., 1,781
404, Duteche Aine, North Brunswick, N.J., 1,780
405, Zach Simon, Scottsdale, Ariz., 1,779
405, Danny Buchman, Maple Shade, N.J., 1,779
405, Rob Sperling, Livingston, N.J., 1,779
408, Steven Maruffi, Brooklyn, N.Y., 1,775
409, Michael Houtz, Myerstown, Pa., 1,773
410, Clifford (Phoenix) White, Great Mills, Md., 1,772
411, Geordin Krupski, Newtonville, N.J., 1,771
412, Mike Gossman, Emmaus, Pa., 1,768
413, Troy Long, Northumberland, Pa., 1,765
413, Joseph Marinucci, Gaithersburg, Md., 1,765
415, Michael Vella, Coram, N.Y., 1,764
416, Mike Deckelman, Milford, Del., 1,761
416, Tony Bennett, Worcester, Mass., 1,761
418, Scott Salem, Oradell, N.J., 1,758
419, Emmanuel Rigas, Sarasota, Fla., 1,757
419, Michael Dutkiewicz, Nicholson, Pa., 1,757
421, Jeffrey Smith, Annville, Pa., 1,755
422, Matt Blackstone, Hot Springs, Ark., 1,753
423, Domenico Curra, Mahopac, N.Y., 1,748
424, John Barrett, Hazlet, N.J., 1,747
425, Ken Karamichael, New Brunswick, N.J., 1,745
426, Damar Been, Eastchester, N.Y., 1,734
427, John Conroy, Mahopac, N.Y., 1,732
427, Jonathan Burke, Wappingers Falls, N.Y., 1,732
429, Greg Eskow, Syosset, N.Y., 1,731
430, Jerome Olson, Denver, 1,730
431, Kevin Dziuba, Howell, N.J., 1,728
431, Leon DeMasi, Rose Valley, Pa., 1,728
433, Benjamin Zakrocki, Philadelphia, 1,725
434, Shawn Aiello, Hawthorne, N.J., 1,724
434, Steven Green, Brooklyn, N.Y., 1,724
436, Melissa Kammerer, Staten Island, N.Y., 1,720
437, Michael Robey, Morrisville, Pa., 1,714
438, Thomas Paisley Jr., Hazleton, Pa., 1,708
439, Robert Butler Jr., Staten Island, N.Y., 1,707
440, Patrick Donohoe Jr., Hampstead, N.H., 1,695
441, Eddie Wu, New York, 1,692
442, Eric Laflam, Milton, Vt., 1,689
442, Rashad Franze, Baltimore, 1,689
444, Leo Mulligan, Columbia, N.J., 1,685
445, Joseph Ferrazzano, Beaver Falls, Pa., 1,674
446, Collin Raineri, Gilbertsville, Pa., 1,667
446, Artavius Clark, Oxen Hill, Md., 1,667
448, Jonathan Glattstein, North Bergen, N.J., 1,666
449, Steven Fred, Williamstown, N.J., 1,660
450, Joseph Caloger, Milford, Pa., 1,657
451, Brian Horton, Hastings on the Hudson, N.Y., 1,656
452, Raphael Morin, Canada, 1,653
453, Bruce Smallacombe, Jermyn, Pa., 1,649
454, Michael Gibbons, Randolph, Mass., 1,647
455, Ercillo Costa, Denver, 1,641
456, Alex Quesada, Brooklyn, N.Y., 1,638
457, Shawn Fallon, Cranbury, N.J., 1,633
458, Rich Kaluzny, Parlin, N.J., 1,630
458, Shawn Tucker, New Brunswick, N.J., 1,630
460, Lee Groscost, Mentor, Ohio, 1,628
461, Ric Licardo, Ft. Belvoir, Va., 1,601
462, Stanley Harris, Chesapeake Beach, Md., 1,570
463, Bill Kempton, Cohasset, Mass., 1,547
464, Ricky LaRue, Tuscaloosa, Ala., 1,515
465, Atef Darghali, Warren, Mich., 1,463
466, Nicholas Vieta, Portage, Mich., 1,413
467, Ed Rabbitt, South Norwalk, Conn., 1,165 (DNF)
468, Neil Senkowsky, Worton, Md., 762 (WD)
 
Round Two Results
Players with position, hometown and 5-game total
1, Tom Daugherty, Wesley Chapel, Fla., 1263
2, Todd Book, Russells Point, Ohio, 1215
3, Matt Gasn, Laurel, Md., 1209
4, Ronnie Russell, Marion, Ind., 1204
(tie), Doug Kent, Newark, N.Y., 1204
6, Jason Sterner, McDonough, Ga., 1196
7, Mika Koivuniemi, Hartland, Mich., 1188
8, Scott Newell, Deland, Fla., 1183
9, D.J. Archer, Friendswood, Texas, 1182
10, Shannon Pluhowsky, Dayton, Ohio, 1173
11, Tommy Jones, Simpsonville, S.C., 1168
12, Patrick Allen, Wesley Chapel, Fla., 1167
13, Sean Rash, Montgomery, Ill., 1163
14, Mike Scroggins, Amarillo, Texas, 1156
15, Walter Ray Williams Jr., Ocala, Fla., 1151
16, Manuel Otalora, Colombia, 1150
(tie), Zachary Wilkins, Canada, 1150
18, Wes Malott, Pflugerville, Texas, 1146
19, Nathan Bohr, Wichita, Kan., 1143
20, Parker Bohn III, Jackson, N.J., 1138
21, Troy Lint, Leola, Pa., 1137
22, Devin Golden, Coopersburg, Pa., 1135
23, Jack Jurek, Lackawanna, N.Y., 1134
24, Michael Haugen Jr., Phoenix, 1132
(tie), Eddie VanDaniker Jr., Chatsworth, Calif., 1132
26, Shigeo Saitoh, Japan, 1131
27, Osku Palermaa, Finland, 1130
(tie), Kevin Beers, Reinholds, Pa., 1130
29, Robert Andersson, Sweden, 1128
30, Ildemaro Ruiz, Venezuela, 1127
31, Josh Blanchard, Gilbert, Ariz., 1126
32, Scott Norton, Mission Viejo, Calif., 1124
33, Jeff Piroozshad, Coral Springs, Fla., 1118
(tie), Norm Duke, Clermont, Fla., 1118
35, Jason Howard, Baltimore, 1114
36, Pete Weber, St. Ann, Mo., 1111
37, John Szczerbinski, North Tonawanda, N.Y., 1108
38, Jack Castellano, Centereach, N.Y., 1107
39, Jeff Kubasak, Staten Island, N.Y., 1106
40, Isao Yamamoto, Japan, 1104
41, Oleksandr Kalika, Ukraine, 1100
42, Dan MacLelland, Canada, 1096
(tie), Aaron Groendyk, Grandville, Mich., 1096
(tie), Fero Williams, Adelphi, Md., 1096
45, Jimmy Johnson, Wilmington, Del., 1095
46, Matt McNiel, Prior Lake, Minn., 1094
(tie), Mike Taylor, Havertown, Pa., 1094
(tie), Stephen Pavlinko Jr., Sewell, N.J., 1094
49, Tim McAuliffe, Staten Island, N.Y., 1092
50, Craig LeMond, Jasper, Ind., 1091
51, Walter McKnight, Brick, N.J., 1089
(tie), Chris Barnes, Double Oak, Texas, 1089
(tie), Jimmy Clark, Corinna, Maine, 1089
(tie), Randy Weiss, Columbia, S.C., 1089
55, Chris Loschetter, Avon, Ohio, 1088
(tie), Stuart Williams, England, 1088
57, Tom Baker, King, N.C., 1086
(tie), Andres Gomez, Colombia, 1086
59, Gary Faulkner Jr., Memphis, Tenn., 1084
60, Lee Vanderhoef, Greenville, S.C., 1080
61, Mike Edwards, Tulsa, Okla., 1078
62, Dick Allen, Columbia, S.C., 1076
(tie), Woody Ross II, Warner Robins, Ga., 1076
64, Tommy Dakouvanos, Belford, N.J., 1075
(tie), Tomoyuki Sasaki, Japan, 1075
66, Alejandro Reyna, Costa Rica, 1074
67, Jon VanHees, Charlestown, R.I., 1073
(tie), Jake Peters, Decatur, Ill., 1073
69, Jazreel Tan, Singapore, 1072
(tie), Toby Sambueno, Saginaw, Mich., 1072
71, Kevin Bandrowski, Lancaster, Pa., 1071
72, Brian LeClair, Albany, N.Y., 1070
(tie), Mike Moore, Orlando, Fla., 1070
(tie), Daniel Dunleavy, Staten Island, N.Y., 1070
(tie), Jesse Buss, Belvidere, Ill., 1070
(tie), Bill O'Neill, Langhorne, Pa., 1070
77, Ryan Ciminelli, Cheektowaga, N.Y., 1068
78, E.J. Tackett, Huntington, Ind., 1067
(tie), Jim Wolcott, Hendersonville, Tenn., 1067
80, Geoffrey Young, Bel Aire, Kan., 1066
81, Takashi Kudoh, Japan, 1064
82, Brett Spangler, Niles, Ohio, 1062
(tie), Paul Pinto, Philadelphia, 1062
(tie), Tony Ament, Monroe, N.J., 1062
85, Brian Ziesig, Levittown, N.Y., 1061
86, Bryan Viator, Friendswood, Texas, 1060
(tie), Wayne Porr, Sinking Springs, Pa., 1060
88, Mike Dias, Lafayette, Colo., 1059
(tie), Ronnie Sparks Jr., Ecorse, Mich., 1059
(tie), Christopher Keane, New City, N.Y., 1059
91, Mark Sullivan, Indianapolis, 1058
92, Kurt Pilon, Warren, Mich., 1057
(tie), Joe Scianna, Oakdale, N.J., 1057
94, Joe Costanzo, Bethpage, N.Y., 1056
(tie), Dino Castillo, Carrollton, Texas, 1056
96, Evan Nash, Kennewick, Wash., 1055
97, Allen Rice II, Salem, Ala., 1054
(tie), John Nolen, Waterford, Mich., 1054
(tie), Sammy Ventura, Syracuse, N.Y., 1054
100, Eric Copping, Websterville, Vt., 1053
(tie), Stephen Hardy, Raymond, N.H., 1053
102, Kyle Bigelow, Troy, Ohio, 1052
(tie), Noel Vega, Forest Hills, N.Y., 1052
(tie), Anthony LaCaze, Melrose Park, Ill., 1052
105, Brian Kretzer, Dayton, Ohio, 1051
(tie), Quentin Collins, Jamaica, N.Y., 1051
(tie), Travis Celmer, Wernersville, Pa., 1051
(tie), Julio Cesar Blancas, Mexico, 1051
(tie), Frank Guccione, Castle Rock, Colo., 1051
110, Mike McDonnell, Chesterfield, Va., 1050
(tie), Eric Cornog, Cherry Hill, N.J., 1050
112, Marshall Kent, Yakima, Wash., 1049
113, Vinny D'Ambrosio III, Staten Island, N.Y., 1048
114, Tom Smallwood, Saginaw, Mich., 1047
(tie), David McGowan, Ringgold, Ga., 1047
116, Joe Paluszek, Bensalem, Pa., 1046
117, Tony Todd, Myrtle Beach, S.C., 1045
118, Martin Larsen, Sweden, 1043
119, Rob Gotterbarn Jr., Garden City South, N.Y., 1042
120, Gary Faulkner, Norfolk, Va., 1041
121, Rhino Page, Dade City, Fla., 1040
(tie), Dom Barrett, England, 1040
(tie), Kenneth Bland Jr., Lorton, Va., 1040
124, Sam Maccarone, Glassboro, N.J., 1039
125, Adam Chase, Seaford, N.Y., 1038
(tie), Stephen Haas, Enola, Pa., 1038
127, Michael Markis, Tafton, Pa., 1037
(tie), Mykhaylo Kalika, Ukraine, 1037
(tie), Rob Hoffman, Freehold, N.J., 1037
(tie), Matt Taylor, Knightdale, N.C., 1037
131, Danny Wiseman, Baltimore, 1034
(tie), Alex Cavagnaro, Massapequa, N.Y., 1034
133, Michael Machuga, Erie, Pa., 1032
(tie), Mike Centrone, Carmel, N.Y., 1032
(tie), Humberto Vazquez, Mexico, 1032
(tie), Adam Barta, Girard, Ohio, 1032
137, Charles Anderson, Sloatsburg, N.Y., 1031
(tie), Mitch Sacks, Jersey City, N.J., 1031
139, Carl Zbranak, Beachwood, N.J., 1029
(tie), Megan Kelly, Dayton, Ohio, 1029
141, Bill Crane III, Mishawaka, Ind., 1028
(tie), Johnathan Bower, Middletown, Pa., 1028
(tie), Missy Parkin, Fullerton, Calif., 1028
(tie), Amleto Monacelli, Venezuela, 1028
145, Lonnie Waliczek, Wichita, Kan., 1027
(tie), Kyle Paxson, Orlando, Fla., 1027
147, Brian Robinson, Morgantown, W.Va., 1026
(tie), Ricky Schissler, Henderson, Colo., 1026
(tie), Mike Dolan, Fond du Lac, Wis., 1026
150, R.J. Pollard, Versailles, Ind., 1025
(tie), Brian Boghosian, Agawam, Mass., 1025
(tie), Dean Richards, Tacoma, Wash., 1025
153, Leon Platt, Summerville, S.C., 1023
(tie), Luke Walker, Dumont, Colo., 1023
155, Jason Belmonte, Australia, 1021
(tie), Kazumi Shioyama, Japan, 1021
157, Ryan Friend, Staten Island, N.Y., 1019
158, Tony Reynaud, Harwinton, Conn., 1018
159, Joe Krajkovich, North Brunswick, N.J., 1017
160, Craig Nidiffer, Trenton, Mich., 1015
161, Michael Murtha, West Des Moines, Iowa, 1014
162, Jimmie Dillingham, Bonney Lake, Wash., 1013
(tie), Ronnie Horton, Christiansburg, Va., 1013
(tie), Kelly Kulick, Union, N.J., 1013
(tie), William Barlow, Edgewood, Md., 1013
166, Tyson Branagan, Bedford, Texas, 1012
(tie), Paul Smith, Clinton, Conn., 1012
(tie), Ryan Chall, East Brunswick, N.J., 1012
169, Timothy Foy Jr., Salisbury, Md., 1011
(tie), John Janawicz, Winter Haven, Fla., 1011
171, Jeffery Hicks, Allen Park, Mich., 1009
(tie), Brian Waliczek, Birch Run, Mich., 1009
173, Williams Pautz, LeSueur, Minn., 1008
(tie), Randy Kenny, Maple Shade, N.J., 1008
(tie), Kevin Brophy, Oakhurst, N.J., 1008
176, Martin Paulsson, Sweden, 1006
(tie), Joe Biscardi, Wantagh, N.Y., 1006
(tie), Brian Knauer, Federalsburg, Md., 1006
179, Matt Russo, Millstone Township, N.J., 1004
(tie), Brian Himmler, Cincinnati, 1004
(tie), Darren Andretta, New Hyde Park, N.Y., 1004
182, Frankie Calca, Elmont, N.Y., 1003
(tie), Jonathan Crowder, Edison, N.J., 1003
(tie), Robert Mockenhaupt, Rutherford, N.J., 1003
185, Mike Fagan, Dallas, 1001
(tie), Zack Brown, Raleigh, N.C., 1001
(tie), Victor Hnatczenko Jr., Philadelphia, 1001
188, Jack Zuniga, Tulsa, Okla., 1000
(tie), Richard Holmes, Culpeper, Va., 1000
(tie), Drew Balta, Swisher, Iowa, 1000
191, Jim Rogers, Brick, N.J., 999
192, Matt Meyer, Alexandria, Minn., 998
(tie), Christopher Blackmore, Fairfax, Va., 998
(tie), Ron Dixon, Boynton Beach, Fla., 998
195, Gerald Marrs, Huntley, Ill., 997
(tie), Jessica Abel, Wichita, Kan., 997
197, Kris Koeltzow, Wheat Ridge, Colo., 996
(tie), Bryson Rogers, Durham, N.C., 996
199, Steve Novak, Bay City, Mich., 994
(tie), Brett Cunningham, Clay, N.Y., 994
(tie), Kelvin Wiggins, Rocky Mount, N.C., 994
202, Kevin Kullman, Tinley Park, Ill., 993
(tie), Eugene McCune, Munster, Ind., 993
(tie), Scott Halvarson, Lakewood, Wash., 993
(tie), William Bittenbender, Burlington, N.J., 993
(tie), Nick Kokenos, St. Clair Shores, Mich., 993
(tie), Brandon Robertson, Spotswood, N.J., 993
208, Kyle King, Glendale, Ariz., 992
(tie), Michael Calhoun, Wyandotte, Mich., 992
(tie), Robert Smith, Voorhees, N.J., 992
211, Ryan Shafer, Horseheads, N.Y., 991
(tie), John Brockland, St. Charles, Mo., 991
(tie), Andrew Diley, Conway, S.C., 991
214, Keith Laing, Los Angeles, 990
215, Mike Albert, Little River, S.C., 989
(tie), Ryan Yelle, South Easton, Mass., 989
(tie), Adam Kirtley, Apopka, Fla., 989
218, John Petraglia, Jackson, N.J., 988
(tie), Robert Lee, Japan, 988
220, Jim Emens Jr., Rochester, N.Y., 987
221, Bryan Goebel, Shawnee, Kan., 986
222, Billy Trudell, Coventry, R.I., 985
(tie), Mike Armstrong Jr., Battle Ground, Wash., 985
(tie), Clifford (Phoenix) White, Great Mills, Md., 985
225, Brian O'Mara, Webster, N.Y., 984
226, Hugh McGainey, Baltimore, 982
227, Michael Askins, Gainesville, Ga., 981
(tie), Matthew Paine, Richfield, Minn., 981
229, Rick Steelsmith, Wichita, Kan., 980
(tie), Allen Nichols, Loganville, Ga., 980
(tie), Tommy Gollick, Oberlin, Pa., 980
(tie), Timothy Gillick, Milford, Conn., 980
233, Casey Creutz, Jackson, N.J., 979
234, Jason Ciszewsik, Parlin, N.J., 978
(tie), Richard Salcedo, Elmhurst, N.Y., 978
236, Brian Valenta, Lockport, Ill., 976
(tie), Kenneth Gray, North East, Md., 976
(tie), Aaron Williams, Pennsauken, N.J., 976
239, Greg Ostrander, Freehold, N.J., 975
(tie), Herbert Hiigh Jr., Bailey, N.C., 975
241, Nobuhito Fujii, Japan, 974
242, Josh Chambliss, Hanahan, S.C., 971
(tie), Darryl Carreon, Woodbridge, Va., 971
244, Miguel Lopez, Wichita, Kan., 970
(tie), Van Tilley, Debary, Fla., 970
246, Chris Fisher, Brooklyn, N.Y., 968
(tie), Eddie Santiago, Tuckahoe, N.Y., 968
(tie), Frank Verni, Bronx, N.Y., 968
249, Andrew Stewart, Galloway Twp., N.J., 967
250, Brad Miller, St. Charles, Mo., 966
(tie), Marty Berke, Allentown, Pa., 966
252, Rusty Thomsen, Morgan, N.J., 964
(tie), Chris Thornhill, Salisbury, Md., 964
254, Joe Novara, Holtsville, N.Y., 963
(tie), Liz Johnson, Cheektowaga, N.Y., 963
(tie), Garret Maxey, Greeley, Colo., 963
(tie), Chris Williams, North Las Vegas, Nev., 963
258, Rodney Alston, Philadelphia, 962
259, Billy Bertuch III, Yonkers, N.Y., 961
(tie), Troy Long, Northumberland, Pa., 961
261, Paul Moor, England, 960
(tie), Fabrizio Cerutti, Plainview, N.Y., 960
(tie), Ken Karamichael, New Brunswick, N.J., 960
264, Mike Carmean, Georgetown, Del., 959
(tie), Andrew Graff, Las Vegas, 959
(tie), Elysia Current, Ephrata, Pa., 959
(tie), Evan Ruoti, West Valley City, Utah, 959
268, Joseph Bofrone, Columbia, Md., 958
269, Mike Wolfe, New Albany, Ind., 957
(tie), Hayward Marlow, Bronx, N.Y., 957
(tie), Pedro Agapito, Monticello, N.Y., 957
(tie), Connor LeClair, Athens, N.Y., 957
(tie), Brian Turschman, Cary, Ill., 957
274, Miles Coplan, Manchester, N.H., 956
(tie), Clay Adams, Carmel, N.Y., 956
276, Matthew O'Grady, South Amboy, N.J., 955
(tie), Brian Chec, Wheatland, Pa., 955
(tie), Yoichi Nakayama, Japan, 955
(tie), Ernest Lukacs, Manville, N.J., 955
280, Kyle King, Canton, S.D., 954
(tie), Ken Yokobosky, Fredon, N.J., 954
282, Thomas McLane, Lusby, Md., 953
283, Brian Gunn, Chicago, 952
(tie), Ryan Wyandt, West Lawn, Pa., 952
285, Andrew Suscreba, Clifton, N.J., 951
286, Michael Norris, Melvindale, Mich., 950
(tie), Diandra Asbaty, Chicago, 950
(tie), Yuta Shirahama, Japan, 950
(tie), Thomas Parker III, Columbus, 950
290, Anthony Pepe, Jackson Heights, N.Y., 949
(tie), David Shinn, West Columbia, S.C., 949
(tie), Michael Vella, Coram, N.Y., 949
293, Tetsuya Kobayashi, Japan, 948
(tie), Jaime Gonzalez, Colombia, 948
(tie), Mike Hastings, Millsboro, Del., 948
(tie), Craig Coplan, Manchester, N.H., 948
297, Greg Young, Viera, Fla., 947
(tie), Ernest Lukacs Jr., Manville, N.J., 947
(tie), Charles Hayslett III, Apple Valley, Minn., 947
(tie), Rick Banister, Vandenburg, Calif., 947
(tie), Steven Arehart, Chesapeake, Va., 947
302, Sean McAuliffe, Staten Island, N.Y., 946
303, George Gohagan III, Roswell, Ga., 945
304, Michael Austin, Magnolia, Texas, 944
(tie), Monte Baker, Bozeman, Mont., 944
306, Tom Hess, Urbandale, Iowa, 942
(tie), J.T. "Action" Jackson, Sherman Oaks, Calif., 942
308, Ken Simard, Greenville, S.C., 941
(tie), Bobby Benton, Accident, Md., 941
310, Donald Beck, Fishers Island, N.Y., 939
(tie), John Pierce, Denton, Texas, 939
(tie), Ray Edwards, Middle Island, N.Y., 939
313, Mauricio Chaparro, Colombia, 938
314, Brian Lohse, Corinth, Texas, 936
315, Carl Kurilich, Parma, Ohio, 935
(tie), Dan Furman, Schenectady, N.Y., 935
(tie), Shawn Aiello, Hawthorne, N.J., 935
318, Joseph Truchan Jr., Ringwood, N.J., 933
(tie), Doug Scheidig, Royersford, Pa., 933
320, Jeff Leaphart, Columbia, S.C., 932
(tie), Duane Steinmetz, Evans, Colo., 932
(tie), Nobuyuki Fukuchi, Japan, 932
(tie), Robert Butler Jr., Staten Island, N.Y., 932
324, Steven Badovinac, Parker, Colo., 930
(tie), Joseph Nawn, Upper Darby, Pa., 930
(tie), Darian LeMay, East Brunswick, N.J., 930
327, Geoff Wetzler, Tolland, Conn., 929
(tie), Jerry Anderson, Smithton, Ill., 929
329, Hideaki Aizawa, Japan, 928
(tie), Mark Cornelius, Peru, Ind., 928
331, Clara Guerrero, Colombia, 927
(tie), Cody Vaughn, Arvada, Colo., 927
333, David Kipperman, Rocky Hill, Conn., 926
(tie), Richard Avery, Simpsonville, S.C., 926
(tie), Gary Goldberg, Paxton, Mass., 926
336, John Wenman, Middletown, Md., 925
337, Justin Lesser, LaPorte, Ind., 924
(tie), Takayoshi Akiba, Japan, 924
339, Justin Bychkowski, Fairfield, Conn., 923
(tie), Leo Mulligan, Columbia, N.J., 923
341, Kevin Magnan, Canada, 921
(tie), Jonathan Sellers, Stratford, Conn., 921
343, Dale Barshewski Jr., Keansburg, N.J., 919
(tie), Rich Poznanski, Union, N.J., 919
(tie), John Conroy, Mahopac, N.Y., 919
346, Chris Kramer, Richlandtown, Pa., 917
347, Kenji Kawashima, Japan, 916
348, Tim Davidsson, Sweden, 915
(tie), Michael LoBianco, Brick, N.J., 915
350, Brad Muri, Billings, Mont., 914
(tie), Cassandra Leuthold, Black Hawk, S.D., 914
(tie), Michael Stevens, Howell, N.J., 914
(tie), Brian Sulzbach, Levittown, N.Y., 914
354, Kenny Ryan, Ocean, N.J., 911
355, Nicholas Biglasco, Clark, N.J., 909
356, Mike Klosin, Windham, N.H., 908
357, Brian DiCicco, Agawam, Mass., 907
(tie), Emmanuel Rigas, Sarasota, Fla., 907
359, Ryan Pudlowski, North Versailles, Pa., 906
(tie), Jason Nicholas, Wantagh, N.Y., 906
361, Craig Auerbach, Sunrise, Fla., 905
362, Jack Cook, Denville, N.J., 904
363, David Pelkey, Burke, N.Y., 903
(tie), Michael Smith, Howell, N.J., 903
365, Thomas Coco, Cortland Manor, N.Y., 902
(tie), Scott Falatovich, Hillsborough, N.J., 902
(tie), Gary Smalling, Johnson City, Tenn., 902
(tie), Brandon Hinderer, York, Pa., 902
(tie), Josh Malanoski, West Mifflin, Pa., 902
370, David Knight Jr., Folcroft, Pa., 901
(tie), Steve Creech, Corbin, Ky., 901
372, Philip Karwoski Sr., South Hadley, Mass., 899
373, James Grago, Rome, N.Y., 898
(tie), Matthew Carpenter, Woonsocket, R.I., 898
375, Tyler Coplan, Manchester, N.H., 897
376, Joseph Vrobel, Crest Hill, Ill., 895
(tie), Noel Pabilonia, Jersey City, N.J., 895
378, Joseph Marinucci, Gaithersburg, Md., 894
379, Austin Boulds, Wichita, Kan., 893
(tie), Justin Warhol, Sound Beach, N.Y., 893
381, Ron Papp, Bordentown, N.J., 892
(tie), Lowell Schoonmaker, Middletown, N.Y., 892
383, Jeremy Domingo, Sewell, N.J., 890
(tie), Jeffrey Smith, Annville, Pa., 890
385, Bradley Powell, Fox River Grove, Ill., 889
386, Mike Deckelman, Milford, Del., 888
(tie), Matt Blackstone, Hot Springs, Ark., 888
388, Greg Rottengen, Washington, N.J., 887
389, Anthony Trethewey, Lexington, Ky., 886
390, Jason Smalling, Bluff City, Tenn., 885
391, Josh Schneidman, Bay Shore, N.Y., 884
(tie), Duteche Aine, North Brunswick, N.J., 884
(tie), Zach Simon, Scottsdale, Ariz., 884
(tie), John Barrett, Hazlet, N.J., 884
395, Chris DosSantos, Fairhaven, Mass., 883
(tie), Alexander Marx, Toms River, N.J., 883
(tie), Ryan Ool, Middletown, N.Y., 883
(tie), Ralph Ehrlich, N. Massapequa, N.Y., 883
399, Michael Dutkiewicz, Nicholson, Pa., 882
400, Robert Fusik III, East Windsor, N.J., 881
401, Fran Luzzi, Port Jervis, N.Y., 880
402, Gary Matten, Westminster, Colo,, 879
(tie), Jonathan Burke, Wappingers Falls, N.Y., 879
404, Frankie Mazzella, Staten Island, N.Y., 878
405, John Furey, Freehold, N.J., 877
(tie), Brandon Boyer, Hudson Falls, N.Y., 877
407, Richard Horsley, Morrisville, N.C., 876
(tie), Charles Bonis Jr., Port Chester, N.Y., 876
(tie), Ed Cutter, Manassas Park, Va., 876
410, Danny Buchman, Maple Shade, N.J., 873
(tie), Steven Fred, Williamstown, N.J., 873
412, David O'Sullivan, Sanford, Fla., 872
413, Alex Quesada, Brooklyn, N.Y., 871
414, Frank Szabo, Lawrenceville, Ga., 870
(tie), Greg Eskow, Syosset, N.Y., 870
416, Conan Mackey, Oskaloosa, Iowa, 869
417, Ercillo Costa, Denver, 868
418, Brian Horton, Hastings on the Hudson, N.Y., 866
419, Thomas Paisley Jr., Hazleton, Pa., 862
420, Dave Shampaner, East Brunswick, N.J., 861
421, Kamron Doyle, Brentwood, Tenn., 858
(tie), Jerome Olson, Denver, 858
423, Robert Lint, Johnstown, Pa., 856
(tie), Michael Robey, Morrisville, Pa., 856
425, Steven Stayrook, Berwyn, Pa., 855
(tie), Billy Young Jr., Edgewood, Md., 855
427, Kevin Dziuba, Howell, N.J., 853
(tie), Leon DeMasi, Rose Valley, Pa., 853
429, Benjamin Zakrocki, Philadelphia, 852
(tie), Melissa Kammerer, Staten Island, N.Y., 852
431, Shane Reid, Enfield, Conn., 848
432, Steven Maruffi, Brooklyn, N.Y., 847
(tie), Scott Salem, Oradell, N.J., 847
434, Tony Bennett, Worcester, Mass., 845
435, Dave Penfold, Hebron, Ind., 837
436, Bruce Smallacombe, Jermyn, Pa., 832
437, Geordin Krupski, Newtonville, N.J., 831
(tie), Jonathan Glattstein, North Bergen, N.J., 831
439, Steven Green, Brooklyn, N.Y., 826
440, Michael Houtz, Myerstown, Pa., 824
441, Mike Gossman, Emmaus, Pa., 823
(tie), Domenico Curra, Mahopac, N.Y., 823
(tie), Eric Laflam, Milton, Vt., 823
(tie), Rich Kaluzny, Parlin, N.J., 823
445, Raphael Morin, Canada, 822
446, Rob Sperling, Livingston, N.J., 820
447, Damar Been, Eastchester, N.Y., 818
448, Robert Greene, Oxford, Conn., 811
449, Collin Raineri, Gilbertsville, Pa., 808
450, Joseph Ferrazzano, Beaver Falls, Pa., 805
451, Artavius Clark, Oxen Hill, Md., 803
(tie), Bill Kempton, Cohasset, Mass., 803
453, Eddie Wu, New York, 802
454, Shawn Fallon, Cranbury, N.J., 801
455, Shawn Tucker, New Brunswick, N.J., 796
456, Lee Groscost, Mentor, Ohio, 790
457, Joseph Caloger, Milford, Pa., 785
(tie), Ricky LaRue, Tuscaloosa, Ala., 785
459, Dale Aivaz Jr., Yonkers, N.Y., 783
460, Patrick Donohoe Jr., Hampstead, N.H., 759
(tie), Michael Gibbons, Randolph, Mass., 759
462, Stanley Harris, Chesapeake Beach, Md., 753
463, Rashad Franze, Baltimore, 743
464, Ric Licardo, Ft. Belvoir, Va., 732
(tie), Nicholas Vieta, Portage, Mich., 732
466, Atef Darghali, Warren, Mich., 711
467, Ed Rabbitt, South Norwalk, Conn., 288 (DNF)
468, Neil Senkowsky, Worton, Md., (WD)