International Bowling Museum/Hall of Fame satellite in Reno adds new pieces
02/27/13
IBMHOF News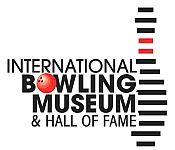 When participants in the 2013 United States Bowling Congress Open and Women's Championships visit the National Bowling Stadium in Reno, Nev., they will notice many changes.
While some affect the actual bowling area, others can be seen in the
International Bowling Museum and Hall of Fame's satellite facility
on the ground floor. They include a Hall of Fame kiosk, large artist rendering of a bowling ball and pin, and the return of the famous American Bowling Congress Hall of Fame plaques.
"It's amazing that we have been able to add such significant and meaningful elements to the satellite in such a short period of time from the opening," said IBM/HF President/Chairman of the Board
Keith Hamilton
.
"Once again, we need to thank the Reno-Sparks Convention and Visitors' Authority and Joe Kelley for seeing this project through."
The IBM/HF and RSCVA combined forces to create and open the satellite venue last April in time for the 2012 USBC Women's Championships. It features artifacts collected and preserved by the IBM/HF.
Similar to one at the International Bowling Campus, the new kiosk features an electronic look into the nearly 500 combined hall of famers from USBC, the Professional Bowlers Association, Bowling Proprietors' Association of America, World Bowling Writers and Women's Professional Bowlers Association.
The touch screen monitor allows visitors to search for people by name, organization, year and why they were inducted. There also are facts and photos on each person with videos and films dating 50 years.
Hard to miss will be the 700-pound, 8-foot tall artist rendering of a bowling ball resting on a pin set in the middle of the room. The bowling ball is made of ceramic tile and presents a great photo opportunity for all to enjoy.
And after the portraits of the former Women's International Bowling Hall of Famers were displayed last year, the ABC men's plaques have been creatively displayed this year.
Visitors can visit the satellite museum free of charge during normal National Bowling Stadium hours. The USBC Open Championships begin there March 1 and the USBC Women's Championships start April 12 at the Reno-Sparks Convention Center.