U.S. team named for 1st World Senior Championships
03/21/13
United States
A star-studded lineup will represent the United States at the inaugural World Tenpin Bowling Association
World Senior Championships
later this year.
The Team USA coaching staff selected the four men and four women who will represent their country at Red Rock Lanes in Las Vegas from Aug. 10-16.
On the men's side, the United States will be represented by United States Bowling Congress Hall of Famer
Del Ballard Jr.
(pictured left) of Keller, Texas,
Ron Mohr
(right) of Eagle River, Alaska,
Hugh Miller
of Mercer Island, Wash., and
Ed Roberts
of Braintree, Mass.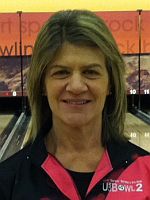 All four members of the women's squad are members of the USBC Hall of Fame as
Lucy Sandelin
(left) of Tampa, Fla.,
Robin Romeo
(right) of Newhall, Calif.,
Anne Marie Duggan
of Edmond, Okla., and
Tish Johnson
of Colorado Springs, Colo., were selected.
The eight players have no shortage of domestic and international experience.
Ballard, a member of Team USA in 2008, is a 13-time PBA champion, while Mohr is a former three-time Team USA member and eight-time winner on the PBA Senior Tour.
Miller's (left) resume includes seven PBA Tour titles and three PBA Senior Tour wins, while Roberts (right), a Team USA member in 1995, has amassed amateur titles around the world.
"Competing as a representative of the United States was undoubtedly one of the major highlights of my career, and the camaraderie and support is unparalleled in any other competition," said Mohr, who earned a gold, silver and bronze medal at the 1989 American Zone Championships for Team USA.
Johnson (below left), a member of Team USA in 2008, has won 25 professional women's titles, including five majors, while Romeo is an 18-time professional tour winner and won the Senior U.S. Women's Open last year.
Duggan (right), who won the USBC Senior Queens in October, has 15 professional titles to her credit, while Sandelin is a 10-time Team USA member who has won numerous international medals for her country.
"When I was a junior bowler, I always heard that bowling was going to be an Olympic sport, and I thought how great it would be to be able to bowl in the Olympics and represent my country," Romeo said. "That never happened, but now I still have a chance to become a Team USA bowler and represent my country."
Countries from around the world will compete in the World Senior Championships and will battle for medals in five events - Singles, Doubles, Team, Masters and All-Events. All participants must be age 50 or older to be eligible.
 
Related Articles
World Tenpin Bowling Association releases
Bulletin No. 1
for 1st World Senior Championships
Inaugural
World Senior Championships
to be held August 2013 in Las Vegas