Pete Weber earns No. 1 seed for Sunday's PBA Tournament of Champions ESPN Finals
03/30/13
2012-13 PBA Tour #12
Hall of Famer is one win away from record-tying 10th major and unprecedented second "Triple Crown"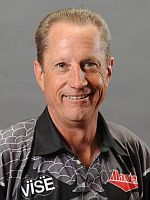 Professional Bowlers Association Hall of Famer
Pete Weber
(pictured left) of St. Ann, Mo., defeated Australian two-handed star
Jason Belmonte
(right) in their final match Friday night, 226-183, to claim the top qualifying position for Sunday's Barbasol PBA Tournament of Champions stepladder finals at Woodland Bowl.
The 50-year-old Weber, who is trying for a record-tying 10th major title and a chance to complete the PBA's Triple Crown for an unprecedented second time, traded leads with Belmonte throughout Friday's competition before reclaiming the lead in the final game.
Weber averaged 236.71 and won 15 of his 24 matches to finish with a 48-game total of 11,812 pins, topping Belmonte by 46 pins for first place.
Weber, who ranks fourth on the all-time PBA Tour titles list with 36, can tie the late Earl Anthony for most PBA major titles if he wins Sunday's title match. Weber has won the U.S. Open a record five times and the PBA World Championship twice; those events are the other two legs in the PBA Triple Crown.
"When we're done Sunday, I'll talk about those things," Weber said. "I thought I was pulling away from everyone, but all of a sudden, here comes Belmo. I would have been content with second, but I'm happy I only have to bowl one game Sunday."
Weber credited his older brother Rich for identifying a minor fix in his timing, which made a big difference in the way he has bowled the past two months.
"(Rich) watches me bowl a lot and he never says anything if I'm bowling well," Weber said. "He hasn't said anything to me in a couple of months, so I must be doing things right."
Belmonte, who won his sixth career title and first major title in the
USBC Masters
in February, had a 14-9-1 match play record and posted a 11,766 pinfall total.
Reigning PBA Player of the Year and defending Tournament of Champions winner
Sean Rash
(above left) of Montgomery, Ill., qualified third with 11,661 pins.
Tommy Jones
(left) of Simpsonville, S.C., advanced from 12th place at the start of play Friday to qualify fourth, 25 pins ahead of Finland's
Osku Palermaa
(right). Palermaa defeated Bill O'Neill of Langhorne, Pa., in their final match, 198-194, to hold onto the fifth berth in Sunday's finals.
The Tournament of Champions finals will air
live on ESPN Sunday at 2:30 p.m. ET
. First prize is $50,000.
 
Related Articles
Australia's
Jason Belmonte
takes PBA Tournament of Champions lead into final round
Finland's
Osku Palermaa
leads Barbasol PBA Tournament of Champions after four rounds
Two-handers
Palermaa, Belmonte
lead TOC field of 24 into round robin match play
Pete Weber
charges into second round lead in PBA Tournament of Champions
Scott Norton
averages 252 for first round lead in Barbasol PBA Tournament of Champions
Russell's dramatic victory in Germany finalizes
Barbasol PBA Tournament of Champions field
2012 Tournament of Champions
was more than a major title for Sean Rash
PBA Tournament of Champions
comes full circle
Barbasol
to sponsor PBA Tournament of Champions
2012-13 PBA Tour Schedule & Champions
 
Barbasol PBA Tournament of Champions - Standings after Round Six
Players with position, hometown and 48-game total including match play bonus pins. The top five players advance to Sunday's ESPN stepladder finals at 2:30 p.m. ET.
| | | | | | | | |
| --- | --- | --- | --- | --- | --- | --- | --- |
| Pos | Player | Hometown/Country | W-L-T | Total | Average | +/- 200 | Pins Back |
| 1. | Pete Weber | St. Ann, Mo. | 15-9-0 | 11812 | 236.71 | 2212 | - |
| 2. | Jason Belmonte | Australia | 14-9-1 | 11766 | 236.06 | 2166 | - |
| 3. | Sean Rash | Montgomery, Ill. | 15-9-0 | 11661 | 233.56 | 2061 | - |
| 4. | Tommy Jones | Simpsonville, S.C. | 16-7-1 | 11500 | 229.27 | 1900 | - |
| 5. | Osku Palermaa | Finland | 12-11-1 | 11475 | 231.25 | 1875 | - |
| 6. | Bill O'Neill | Langhorne, Pa. | 14-10-0 | 11437 | 229.52 | 1837 | -38 |
| 7. | Andres Gomez | Colombia | 15-9-0 | 11320 | 226.46 | 1720 | -155 |
| 8. | Michael Haugen Jr. | Phoenix | 13-9-2 | 11269 | 226.02 | 1669 | -206 |
| 9. | Stuart Williams | England | 13-11-0 | 11217 | 225.56 | 1617 | -258 |
| 10. | Mike DeVaney | Hemet, Calif. | 12-11-1 | 11204 | 225.60 | 1604 | -271 |
| 11. | Dom Barrett | England | 12-12-0 | 11180 | 225.42 | 1580 | -295 |
| 12. | Norm Duke | Clermont, Fla. | 12-12-0 | 11149 | 224.77 | 1549 | -326 |
| 13. | Amleto Monacelli | Venezuela | 12-12-0 | 11116 | 224.08 | 1516 | -359 |
| 14. | Tom Smallwood | Saginaw, Mich. | 11-13-0 | 11013 | 222.56 | 1413 | -462 |
| 15. | Dick Allen | Columbia, S.C. | 8-16-0 | 10998 | 224.13 | 1398 | -477 |
| 16. | Walter Ray Williams Jr. | Ocala, Fla. | 13-11-0 | 10991 | 220.85 | 1391 | -484 |
| 17. | Rhino Page | Dade City, Fla. | 10-14-0 | 10977 | 222.44 | 1377 | -498 |
| 18. | Dave Wodka | Henderson, Nev. | 10-14-0 | 10932 | 221.50 | 1332 | -543 |
| 19. | Anthony LaCaze | Melrose Park, Ill. | 9-15-0 | 10856 | 220.54 | 1256 | -619 |
| 20. | Doug Kent | Newark, N.Y. | 12-12-0 | 10825 | 218.02 | 1225 | -650 |
| 21. | Scott Norton | Mission Viejo, Calif. | 9-15-0 | 10778 | 218.92 | 1178 | -697 |
| 22. | Mike Wolfe | New Albany, Ind. | 9-14-1 | 10764 | 218.31 | 1164 | -711 |
| 23. | Lonnie Waliczek | Wichita, Kan. | 10-14-0 | 10694 | 216.54 | 1094 | -781 |
| 24. | Patrick Allen | Wesley Chapel, Fla. | 8-15-1 | 10515 | 213.75 | 915 | -960 |
300 Games: (7) Mike Scroggins, Scott Norton, Scott Newell (Round One); Pete Weber (Round Two); Jason Belmonte (Round Three); Sean Rash (Match Play Round 1); Andres Gomez (Match Play Round 2)