New format highlights 24th edition of Salute to Bowling
05/11/13
IBMHOF News
International Bowling Museum/Hall of Fame fund-raising event returns to International Bowl Expo in Las Vegas June 26, 2013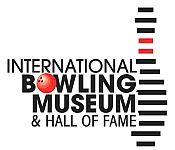 Thanks to a new format and return to the industry's largest venue, the International Bowling Museum and Hall of Fame's major fund-raising event for 2013 could be the best ever.
The
24th edition of Salute to Bowling
will be held June 26 from 6-7:30 p.m. at the Paris Hotel and Casino as part of
International Bowl Expo
in Las Vegas. It will feature a theme of
"Go for the Gold"
as it continues its goal to help fund IBMHOF operations.
"This will be a fun event that we think attendees will really like," said Salute Chair
Mike Aulby
(left). "We'll have our usual silent and live auctions of sports memorabilia and vacation packages. There also will be plenty of great appetizers and a full bar. But the real fun might just be the reverse raffle for the $5,000 top prize."
In a reverse raffle, it's the person whose name is drawn last and who hasn't been selected earlier who wins. Names drawn by Aulby will be read by Professional Bowlers Association Hall of Famer and ESPN commentator
Randy Pedersen
and proprietor and comedian
Jim Stubler
who will serve as emcees.
In another twist, the top prize can be won by up to five people if those finalists unanimously agree to split it.
"We are very pleased to be returning to Bowl Expo for our major annual fund-raiser," said IBMHOF President/Chairman of the Board
Keith Hamilton
(right). "We want to thank the Bowling Proprietors' Association of America for giving us the time during the always-busy Bowl Expo week."
Tickets for Salute to Bowling will be $100 and will include an entry into the drawing for the $5,000 first prize. Tickets may be ordered either with Bowl Expo registration or by contacting Ginny Linton at the IBM/HF at 800-414-2695 or at the
IBMHOF
website.
Originally called Salute to Champions in 1990, the fund-raiser was the brainchild of former Brunswick executive
Jim Bennett
. It started as a black-tie sit-down affair to honor those who had helped the industry. The event moved to Bowl Expo in 2002 and changed format to an auction/cocktail format.
It was part of a special event in 2011 at the International Bowling Campus and held in conjunction with BPAA's Bowling Summit in 2012 before returning to Bowl Expo this year.