World Tenpin Bowling Association releases Bulletin No. 2 for 2013 World Championships
06/10/13
2013 World Championships
24 of 46 participating federations have not yet made room reservations at the host hotel; federations who do not stay at Sunset Station may face consequences such as double entry fee and no arranged transportation to any scheduled activity, hotel or airport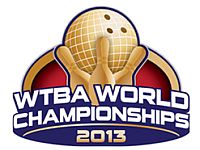 The World Tenpin Bowling Association has released Bulletin No. 2 for the
2013 World Championships
, which will be held from August 16-31 at Strike Zone bowling center, a 72-laner inside Sunset Station Hotel & Casino in Henderson, Nev., in suburban Las Vegas, United States.
The 2013 World Championships will be hosted by four partners: the
World Tenpin Bowling Association
, the
United States Bowling Congress
,
Station Casinos
and the
City of Henderson, USA
.
The event is the first combined World Championships for both men and women since 2003 in Malaysia. The field will consist of 36 men's and 36' women teams with maximum six players each.
Eight teams plus host country United States come from the Pan American Bowling Confederation (PABCON). The Asian Bowling Federation (ABF) will be represented by 12 teams and 15 teams qualified from the European Tenpin Bowling Federation (ETBF).
26 countries will participate in both divisions while the other countries will send a men's or women's team only.
Strike Zone Bowling Center was built in 2003 and has hosted the PABCON Championships, the USBC Masters, the PBA Tournament of Champions and the WTBA International Open in its short existence.
Bulletin No. 2 presents the following items:
Updated Preliminary Schedule
Updated information about Sunset Station Hotel & Casino
Various facilities and services
Fees and Season tickets
Flags and national anthems
Registration form for administration
Unofficial practice
Program book
Activities August 16th and 17th
Forms and deadlines
Download
Bulletin 2
(MS document).
In a letter attached to this Bulletin
WTBA President Kevin Dornberger
(pictured right), United States, noted with some concern that as of June 7 only 21 out of 46 participating federations have booked their confirmation with Sunset Station Hotel & Casino.
In addition to the World Championships, virtually all of the activities surrounding the WC will be held at Sunset Station Hotel & Casino, the host hotel: the Youth and special athlete clinic; Strike Gold, the celebrity Pro-Am involving your athletes, celebrities, special athletes and the general public; the health fair; and the FIQ and WTBA Congresses.
The deadline for registration with Sunset Station is next Monday, June 17, 2013 - that is only seven days away!
Federations, who miss the deadline and are unable to book rooms at Sunset Station or choose to stay at another hotel, may face any of the following consequences:
There will be no arranged transportation for the delegation to the Opening Ceremony, Strike Gold, Official Practice, the WC squad dates, the Closing Reception or any of the other scheduled activities.
There will be no arranged transportation for the delegation from the airport to the hotel, and return.
The federation will be responsible for double entry fee ($500) for each registered athlete, coach and administrator who is not booked with Sunset Station through the room block that expires June 17 (as of official invitation and Bulletin 1)
After the hotel reservation deadline (June 17), Sunset Station will take reservations on an availability basis and the price commitment will have expired, including free breakfast and internet, and the price to book after June 17 will be whatever is set by Sunset Station.
As of June 7, the following federations have not yet made room reservations at Sunset Station Hotel or informed the WTBA they will stay at another hotel:
Austria, Bahrain, Brazil, Canada, Catalonia, Colombia, Costa Rica, Dominican Republic, Greece, Hong Kong, Iceland, Indonesia, Italy, Korea, Latvia, Macau, Malaysia, Mexico, Philippines, Puerto Rico, Russia, Singapore, South Africa, United States and Venezuela.
Contacts:
Questions about the championship contact WTBA Secretary General
Christer Jonsson
.
For all questions about room reservations please contact directly Sunset Station Sales Coordinator
Dino Crupi
.
 
Related Articles
Netherlands Bowling Federation
announces teams for 2013 World Championships
Dutch national squad
starts selection process for 2013 World Championships
Israel Bowling Federation
announces teams for 2013 World Championships in August
The United States Bowling Congress releases
Bulletin 1
for the 2013 Queens
All federations confirm participation
in 2013 Combined World Championships in Las Vegas
WTBA invites
36 men's and 36 women's qualifiers
to World Championships 2013
Field set for
2013 Combined World Championships
 
2013 World Championships - Preliminary Schedule at a Glance
Friday, Aug. 16 Last Day of Arrival, Unofficial Practice, Opening Ceremonies, Music Concert
Saturday, Aug. 17 International Pro-Am, Unofficial Practice, Team Managers Meeting
Sunday, Aug. 18 Official Practice Men and Women
Monday, Aug. 19 Men's Singles Preliminaries and Finals (shorter oil)
Tuesday, Aug. 20 Women's Singles Preliminaries and Finals (shorter oil)
Wednesday, Aug. 21 Men's Doubles Preliminaries and Finals (longer oil)
Thursday, Aug. 22 Women's Doubles Preliminaries and Finals (longer oil)
Friday, Aug. 23 Men's Trios Preliminaries I (shorter oil)
Saturday, Aug. 24 Women's Trios Preliminaries I (shorter oil)
Sunday, Aug. 25 Men's Trios Preliminaries II (longer oil) and Finals
Monday, Aug. 26 Women's Trios Preliminaries II (longer oil) and Finals
Tuesday, Aug.27 Men's and Women's Team Preliminaries I (shorter oil)
Wednesday, Aug. 28 Men's and Women's Team Preliminaries II (longer oil)
Thursday, Aug. 29 Men's and Women's Masters Round 1 & 2; Men's and Women's Team Semifinals
Friday, Aug. 30 Men's and Women's Masters Semifinals and Finals; Men's and Women's Team Finals; Closing Ceremonies and Farewell Banquet
Saturday, Aug. 31 Departure of the Teams; FIQ Congress, Industry Forum; USBC Queens Official Practice
Sunday, Sept. 1 WTBA Congress; USBC Queens first day of competition