Amleto Monacelli moves into USBC Senior Masters lead after Round Two Qualifying
06/12/13
2013 PBA50 Tour #7
Hall of Famer
Amleto Monacelli
(pictured left) of Venezuela surged into the qualifying lead Tuesday after the second round at the 2013 United States Bowling Congress Senior Masters in Las Vegas.
Fresh off a win at last week's
PBA Senior U.S. Open
, Monacelli jumped into the lead with a 10-game total of 2,222 (222.2 average) at South Point Bowling Center.
"I wasn't looking at the scores or even thinking about taking the lead," said Monacelli, a 19-time winner on the PBA Tour. "I just wanted to bowl well. I'm happy I'm in first, but wasn't thinking about it at all."
After starting the tournament Monday with a first-round total of 1,093, Monacelli shot 1,129 in the second round on games of 216, 216, 186, 255 and 256.
"I'm pleased with my score today but not with how I threw the ball," Monacelli said. "I knew what I wanted to do but for some reason I wasn't able to do it every shot. I didn't feel good at all today."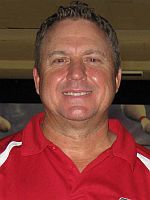 PBA Hall of Famer
Randy Pedersen
(left) of Clermont, Fla., and 2008 Senior Masters champion
Kenny Parks
of Hammond, Ind., are tied for second place with 2,221.
Mark Williams
of Beaumont, Texas, is fourth with 2,206 with PBA Hall of Famer
Pete Weber
(right) of St Ann, Mo. in fifth place with 2,192.
All participants bowl 15 games of qualifying before the cut is made to the double-elimination match-play bracket. The top 63 players plus defending champion Mike Edwards of Tulsa, Okla., will take part in bracket play beginning Thursday morning.
All rounds of the Senior Masters are being broadcast live on BOWL.com's BowlTV. For more information on the event, Click
here
.
 
Related Articles
Sam Carter
takes early lead in USBC Senior Masters qualifying
Mike Edwards
bowling well heading into USBC Senior Masters
2013 PBA50 Tour
Schedule & Champions
 
2013 USBC Senior Masters - Round 2 Qualifying
Players with position, hometown and 10-game total
1, Amleto Monacelli, Venezuela, 2,222
2, Kenny Parks, Hammond, Ind., 2,221
2, Randy Pedersen, Clermont, Fla., 2,221
4, Mark Williams, Beaumont, Texas, 2,206
5, Pete Weber, Saint Ann, Mo., 2,192
6, Thomas Baker, King, N.C., 2,182
7, Joe Goldstein, San Bruno, Calif., 2,160
8, Marc Lineberry, Camanche, Iowa, 2,155
9, Michael Edwards, Tulsa, Okla., 2,149
10, Craig Harrington, Eagle Mountain, Utah, 2,142
11, Kent Wagner, Bradenton, Fla., 2,141
12, Jack Jurek, Lackawanna, N.Y., 2,139
13, Noel Vazquez, Sacramento, Calif., 2,133
14, Don Blatchford, Santa Monica, Calif., 2,131
15, Pete Thomas, Oklahoma City, Okla., 2,130
16, Sam Carter, Ben Lomond, Calif., 2,124
17, Robert Davidson, Mountlake Terrace, Wash., 2,123
18, Wayne Webb, Grove City, Ohio, 2,122
19, Jeffrey Richgels, Oregon, Wis., 2,118
19, Lennie Boresch Jr, Kenosha, Wis., 2,118
21, Tish Johnson, Colo Spgs, Colo., 2,116
22, Barry Zimmerman, Grand Forks, N.D., 2,114
23, Harold Sullins, Chesterfield, Mich., 2,107
24, Roger Kossert, Lithia, Fla., 2,101
25, Hugh Miller, Mercer Island, Wash., 2,099
26, Jimmie Pritts Jr, Methuen, Mass., 2,095
27, Les Shirwindt, Las Vegas, Nev., 2,093
28, Kerry Painter, Henderson, Nev., 2,082
28, Jeff Schrum, Cherryville, N.C., 2,082
30, Walter Ray Williams Jr, Ocala, Fla., 2,081
31, Christopher Keane, New City, N.Y., 2,075
32, Don Jackson, Bonita, Calif., 2,074
33, Rodney Garrick, San Francisco, Calif., 2,070
33, Eric Forkel, Henderson, Nev., 2,070
35, Pete McCordic, Katy, Texas, 2,063
36, Pete Argo Jr, Washington, Ill., 2,060
37, Robert Amoruso, Glenview, Ill., 2,057
38, Robert Brown, Cody, Wyo., 2,055
39, Tom Carter, Rockford, Ill., 2,054
40, Bo Goergen, Sanford, Mich., 2,053
41, Gary Hadley, Santa Fe, N.M., 2,051
42, Mike Dias, Lafayette, Colo., 2,049
42, Robert Lawrence, Del Valle, Texas, 2,049
44, Ron Winger, Las Vegas , Nev., 2,046
45, Steven Skrinski, Kirkland, Wash., 2,039
45, Ricky Woods, Whites Creek, Tenn., 2,039
47, Doug O'Bryant, Ball Ground , Ga., 2,038
48, Ron Schmidt, Whittier, Calif., 2,035
49, Bill Henson, Westerville, Ohio, 2,033
50, Peter Knopp, Bremen, Germany, 2,030
50, Paul McCordic, Sugar Land, Texas, 2,030
52, Charlie Tapp, Portage, Mich., 2,028
53, Ronald Boroff, Mansfield, Texas, 2,027
53, Rohn Morton, Portland, Ore., 2,027
53, Mikie Lucente, Warren, Mich., 2,027
53, Marv Sargent, Temecula, Calif., 2,027
57, Robert Dillman, Albuquerque, N.M., 2,025
57, Jack Nelson, Bismarck, N.D., 2,025
59, Howard Partell, Las Vegas, Nev., 2,024
59, John Petraglia Sr, Jackson, N.J., 2,024
61, Mark McCreary, Livermore, Calif., 2,022
62, Rod Tramp, Porterville, Calif., 2,019
63, Steven Davis, Manteca, Calif., 2,017
64, Robert Worrall II, Colo Spgs, Colo., 2,015
65, Dale Eagle, Laguna Miguel, Calif., 2,012
65, Paul Appling, Camarillo, Calif., 2,012
67, Thomas Martin, Olive Branch, Miss., 2,011
68, Mike Kanada, Camarillo, Calif., 2,010
69, Donald Moser, Murrieta, Calif., 2,008
69, Douglas Kempt, Arcadia, Calif., 2,008
71, Don Robinson, Boise, Idaho, 2,007
72, Richard Abboud, Omaha, Neb., 2,006
73, Ronald Mohr, Eagle River, Alaska, 2,004
73, Rob Rice, Sunnyside, Wash., 2,004
75, David White, Collierville, Tenn., 1,999
76, Phil Prieto, El Paso, Texas, 1,998
77, Robin Romeo, Newhall, Calif., 1,997
78, George Corpuz, Sacramento, Calif., 1,995
79, Craig Schiffler, Melrose, Minn., 1,990
80, Kevin Croucher, Grants Pass, Ore., 1,989
81, Mike Karch, Edgewood, Wash., 1,987
81, Howard Loosbroock, Henderson, Nev., 1,987
83, Bryan Goebel, Shawnee, Kan., 1,986
84, Philip Meinke, Berlin, Germany, 1,984
85, Stan Winters, Simi Valley, Calif., 1,982
86, David Axon, Bellevue, Neb., 1,978
86, Marc Scherlis, San Diego, Calif., 1,978
88, Eugene Captain, Bertha, Minn., 1,975
89, Richard Cook, Olympia, Wash., 1,974
90, Matt Surina, Auburn, Wash., 1,971
91, Darwin Wimer, Mesquite, Nev., 1,967
92, Donald Robinson, Houston, Texas, 1,966
93, Don Sylvia, Lady Lake, Fla., 1,964
94, Steve Pavlinko, Sewell , N.J., 1,961
95, Johnnie Short, Las Vegas, Nev., 1,960
96, Larry Luvisi, Bardstown, Ky., 1,959
97, Steve Jones, Berlin, Md., 1,958
97, Roger Taylor Sr, Marshalltown, Iowa, 1,958
99, Sam Ventura, Syracuse, N.Y., 1,957
99, Bill Evans, Scottsdale, Ariz., 1,957
101, Steve Wright, Cypress, Texas, 1,955
101, Daniel Miyamoto, Mililani, Hawaii, 1,955
103, Robert Harvey, Boise, Idaho, 1,953
103, Rick Minier, Houston, Texas, 1,953
103, Paul Nilsen, Murrieta, Calif., 1,953
106, Ted Staikoff, Black Hawk, S.D., 1,949
106, Joe Salvemini, Silt, Colo., 1,949
108, Lloyd Burleson, San Diego, Calif., 1,948
109, Michael Schmid, Arden Hills, Minn., 1,947
109, David Rhoads, Las Vegas, Nev., 1,947
111, Isaac Amkie, Mexico, 1,946
112, Glen Smith, Seattle, Wash., 1,943
112, Louis Moretti, Las Vegas, Nev., 1,943
114, Terry Metzner, Kentwood, Mich., 1,941
115, Barry Warshafsky, Peabody, Mass., 1,939
115, Sammy Dillard, Murfreesboro, Tenn., 1,939
117, John Younger, High Point, N.C., 1,937
117, Roger Blad, Burnsville, Minn., 1,937
119, Sal Bongiorno, Hollywood, Fla., 1,936
120, Al Rezendes, Aurora, Colo., 1,934
121, Mike Saraiva, Fairfield, Calif., 1,933
122, Kevin Foley, Reno, Nev., 1,932
123, Jeff Jamison, Boulder City, Nev., 1,931
124, Henry Gonzalez, Colorado Springs, Colo., 1,930
125, Richard Campbell, Phippsburg, Maine, 1,928
126, Jeff Moore, Boone, Iowa, 1,927
127, Timothy Myers, Milwaukie, Ore., 1,926
127, Robert Michaux Jr, Detroit, Mich., 1,926
127, William Block, Pembroke Pines, Fla., 1,926
130, Greg Griebel, Merrimack, N.H., 1,925
131, Emilio Mora, Defiance, Ohio, 1,924
132, Dick Selgo Jr, Archbold, Ohio, 1,923
133, Char Hammel, Las Vegas, Nev., 1,922
133, Brad Snell, Mt Prospect, Ill., 1,922
133, Dean Hebner, Vancouver, Wash., 1,922
136, Russell Michaud, Hudson, N.H., 1,921
137, Larry Jordan, Lebanon, Ore., 1,920
137, Fred Ferraro, Shady Shores, Texas, 1,920
139, Bob Learn, Macomb, Mich., 1,918
139, Robert Hamilton, Watkinsville, Ga., 1,918
141, George Lord, Mulberry, Fla., 1,917
142, Bob Kelly, Dayton, Ohio, 1,913
142, Michael Tryniski, Fulton, N.Y., 1,913
144, Kent Gray, Bakersfield, Calif., 1,911
145, David Chew, Brentwood, Calif., 1,910
145, Keith Painter, Woodbridge, Va., 1,910
147, John Reichert, Dalhart, Texas, 1,909
148, Rudy Garcia, Benbrook, Texas, 1,908
148, Dave Gualeni, Las Vegas, Nev., 1,908
150, John Parry, Oak Park, Calif., 1,903
151, Henry Dawson, Elma, Wash., 1,902
152, Dana Rouse, Glendale, Calif., 1,901
152, Randy Turner, Shallowater, Texas, 1,901
154, Timothy Bates, Orlando, Fla., 1,900
154, Lee Stewart, Rehoboth Beach, Del., 1,900
156, Todd Kjell, Roscoe, Ill., 1,898
157, Richard Baker, Henderson, Nev., 1,895
157, Charles Best, Buda, Texas, 1,895
159, Robert Pazur, Venice, Fla., 1,894
160, Dennis Keas, Alda, Neb., 1,893
160, George Gibson, Stuart, Fla., 1,893
162, Lenny Guccione, Las Vegas, Nev., 1,891
162, Greg Waldon, Sun City West, Ariz., 1,891
162, Raymond Cobb, Highland, Calif., 1,891
165, Nelson Sand, Maple Valley, Wash., 1,884
166, Dale Traber, Cedarburg, Wis., 1,881
167, Robert Rudnick Jr, West Seneca, N.Y., 1,879
167, Dennis Rakauskas, Apopka, Fla., 1,879
169, Tim Maiseroulle, Buford, Ga., 1,877
169, Ron Garde, Henderson, Nev., 1,877
171, Thomas Ream, Tampa, Fla., 1,875
172, Kenneth Ball, Avon, N.Y., 1,873
173, Joseph Beck Jr, Montgomery, Ala., 1,871
174, Steven Jansson, Barnes, Wis., 1,868
175, David Bordson, St. Paul, Minn., 1,864
176, Chun Bae, Cedarhurst, N.Y., 1,860
177, Gregory Popham, Crestview Hls, Ky., 1,857
177, Daniel Lockman, Poynette, Wis., 1,857
177, Michael Raleigh, Clyde, Mich., 1,857
180, Phil Mann, Hazen, N.D., 1,856
181, Michael Cristofani, Grass Valley, Calif., 1,849
181, Don Hicks, West Babylon, N.Y., 1,849
183, Barry Cheeney, Davenport, Iowa, 1,847
184, Garry Blanton, Owensboro, Ky., 1,846
184, Van Fenner, Reno, Nev., 1,846
184, Diogenes Perez, New York, N.Y., 1,846
184, Marvin Nezvensky Jr, Pueblo, Colo., 1,846
188, Vaughn Doody, Las Vegas, Nev., 1,845
189, Gary Morgan, Marietta, Ga., 1,843
190, Frank Gallo, Jacksonville, Fla., 1,842
191, Lewis Elting, Carlsbad, Calif., 1,841
192, Fred Cole, Visalia, Calif., 1,839
193, Jeffrey Suma, Auburn Hills, Mich., 1,838
194, Gary Bessette, Foley, Ala., 1,837
195, John Reed, Pueblo, Colo., 1,835
196, Thomas King, Oakdale, N.Y., 1,833
197, Bill Hewlett, Eagle, Idaho, 1,830
198, Ronald Hosler, Denver, Colo., 1,829
199, Len Mawson, Albany, Ore., 1,827
200, James Theyken, San Diego, Calif., 1,822
201, Peter Toth, Simi Valley, Calif., 1,821
202, Jim Gordin, Modesto, Calif., 1,818
203, Jerry Calvin, Thousand Oaks, Calif., 1,817
204, Gary Palma, Binghamton, N.Y., 1,815
205, Gerry Chinn, Castaic, Calif., 1,814
206, Kenneth Racette, San Diego, Calif., 1,812
206, David Shada, Caldwell, Idaho, 1,812
208, Tom Crawford, Hudson Oaks, Texas, 1,811
208, Michael Henry, Brunswick, Ohio, 1,811
210, Jesse Campbell, Savannah, Mo., 1,810
210, Gary Ward, El Paso, Texas, 1,810
210, Bob Markiewicz, San Diego, Calif., 1,810
213, Mitch Vernon, Olympia, Wash., 1,809
214, Barney Harrington, Colorado Springs, Colo., 1,808
215, David Shaw, Sun Prairie, Wis., 1,799
216, Jack Wofford, Flagstaff, Ariz., 1,795
217, Mark Payne, Amarillo, Texas, 1,794
218, Bob LovVron, Terre Haute, Ind., 1,792
219, Robert Callari, Manchester, N.Y., 1,790
220, Rick Darnell, McAllen, Texas, 1,783
221, Edwin Cutter, Manassas Park, Va., 1,780
222, Timothy Pierce, Portland, Ore., 1,776
223, Dave Erickson, McFarland, Wis., 1,774
224, Richard Wilkinson, Bennington, Neb., 1,773
225, Max Shellabarger, Layton, Utah, 1,771
226, Clarence Caldwell, Jacksonville, Fla., 1,770
227, Ector Rodriguez, Penrose , Colo., 1,769
228, Robert Heath, Grand Junction, Iowa, 1,759
229, Brian Miner, Vacaville, Calif., 1,757
229, Edgar Gomez, Bogota, Columbia, 1,757
231, Tom Shepard, Goleta, Calif., 1,753
232, Butch Hrouda, Dickinson, N.D., 1,752
233, J Kent Johnson, Yucca Valley, Calif., 1,749
234, Donnie Crandall, Covina, Calif., 1,746
235, Don Lane, Oakland, Calif., 1,745
236, Rich Cutler, Valley Springs, Calif., 1,742
236, Gary Henderson, Moreno Valley, Calif., 1,742
238, Raymond Korchak, Virginia Beach, Va., 1,734
239, Scott Hockford, New London, Conn., 1,731
240, Thomas Nassar, Omaha, Texas, 1,727
241, Rodney Michael, Florissant, Mo., 1,726
242, Raymond Shuel, Winnipeg Manitoba, 1,720
243, Michael Christenson, Cantonment, Fla., 1,717
244, Frank Rose, Bellaire, Texas, 1,707
244, Clark Dee, Centennial, Colo., 1,707
246, Darrel Curtis, Las Vegas , Nev., 1,703
246, Dennis Frawley, Binghamton, N.Y., 1,703
248, Alan Schafer, Sun City West, Ariz., 1,701
249, Rich Kleinman, Reno, NV , 1,700
250, William Mose, Piscataway, N.J., 1,699
251, Thomas Penna, Bethpage, N.Y., 1,697
252, Douglas Thompson, Aberdeen, S.D., 1,695
253, Dustin Johnson, Chatsworth, Calif., 1,694
254, Glenn Morgan, Carson City, Nev., 1,692
255, John Merrill, Twin Falls, Idaho, 1,688
256, Bill McCorkle, Westerville, Ohio, 1,680
257, Dale Rider, Las Vegas, Nev., 1,675
258, Larry O'Neill, Annandale, Va., 1,669
259, Mark Sabatine, Liverpool, N.Y., 1,659
260, Steven Banks, Oakton, Va., 1,629
261, Roger Vreeland, Roseburg, Ore., 1,616
262, James Giordano, Miami, Fla., 1,566
263, Bob Moeller, Long Grove, Iowa, 1,545
264, Fred Marbaugh, Las Vegas, Nev., 1,533
265, Mark Scime, Winter Garden, Fla., 827
266, Robert Micek, Woodbury, Minn., 357