Puerto Rico, Venezuela tie for the Under 16 Boys Doubles gold medal at PABCON Youth
07/10/13
2013 PABCON Youth
Colombia (U16 Girls) and the United States (U20 Girls & Boys) also claim gold on the second day of competition in Ponce, Puerto Rico
Five gold medals were given in the Doubles event at the 2013 PABCON Youth Championships as teams from Puerto Rico and Venezuela tied for the gold medal in the Under 16 boys division Monday at Bowling Center Caribe in Ponce, Puerto Rico.
Colombia captured its first gold medal of the championships in the girls U16 division while Junior Team USA swept the titles in the girls and boys U20 divisions.
After a tie for the Under 20 boys singles silver medal on the first day, Puerto Rico's
Antonio Izquierdo & Jorge A. Rodriguez
and
Massimiliano Fridegotto & Carlos Granados
of Venezuela shared the gold medal in the U16 boys doubles as both teams toppled 1954 pins, an average of 195.40.
Colombia's
Sebastian Salazar & Mauricio Martinez
were 47 pins behind in third place to take the bronze medal with 1907. It was the second gold medal for Granados after his victory in Singles.
Granados holds a 78-pin lead in All Events with 2088 total or an average of 208.8. Izquierdo moved into second place with 2010 and Martinez jumped from sixth to third place with 1956.
Colombia's
Maria Restrepo & Isabella Correa
(pictured right, r-l) averaged 181.50 for five games to win the gold medal in the Under 16 girls division with 1815 pinfall total.
Estefania Cobo & Paulina Torres
of Puerto Rico were 71 pins behind to take the silver medal with 1744. Bronze went to Aruba's
Shakaina Guerero & Jo Ann Nogueras
with 1691.
Singles champion Cobo maintained a one-pin lead in All Events after 10 of 20 games with 1850, an average of 185. Singles silver medalist Restrepo was second with 1849 followed by Correa, who moved into third place with 1833.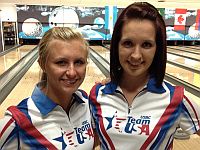 The Junior team USA swept the gold and silver medals in the U20 division. After finishing the girls Singles competition empty-handed,
Sarah Lokker & Mary Wells
(left, l-r) and team mates
Natalie Goodman & Robyn Renslow
(right, l-r) dominated the Doubles event finishing with 2619 and 2592 to win gold and silver.
Mexico's
Raquel Orozco & Sara Pelayo
were 124 pins behind Goodman/Renslow in third place to take the bronze medal with 2468.
Lokker, who posted the field-best 1349 in Doubles, took the lead in All Events with 2587 and an average of 215.58 for 12 games. Singles bronze medalist
Sara Pelayo
of Mexico was second with 2506 and was followed by Singles silver medalist
Juliana Franco
of Colombia in third place with 2489.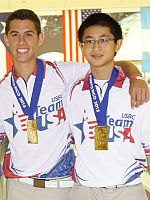 U20 boys Singles champion
Matthew Farber & Wesley Low
(left, l-r) knocked down 2656 pins, an average of 221.33, including a final 481 high game to beat out team mates
Kamron Doyle & Gregory Young
for the gold medal by two pins.
Doyle/Young finished with a 426 game and 2654 total (221.17) and maintained a slim three-pin lead over Canadians
Anthony Carrier & Kevin Maurice
, who finished with a big 478 game but had to settle for the bronze medal with 2651 (220.92).
Doyle used a 1414 series in Doubles to overtake the lead in All Events with 2769 and an average of 230.75 for 12 games. Farber slipped to second place with 2728 and Singles silver medalist
Andre Fors
of Mexico in third place with 2682.
The PABCON Youth Championships continue with the U16 Mixed Doubles and the U20 Trios events.
The
2013 PABCON Youth Championships
for youth bowlers under the age of 16 and under the age of 20 will be held at 24-lane Bowling Center Caribe in Ponce, Puerto Rico from July 6-13, 2013. The championships drew 125 players, 30 in the Under 16 division (13 girls and 17 boys) and 95 in the Under 20 division (38/57) from 17 countries.
Each PABCON member federation was allowed to send up to four boys and four girls in the U20 division and up to two boys and two girls in the U16 division. To be eligible players must not have reached 20 and 16 years of age on Jan. 1st, 2013, respectively.
The Pan American Bowling Confederation (PABCON) currently consist of 28 member federations: Argentina, Aruba, Bahamas, Bermuda, Bolivia, Brazil, Canada, Chile, Colombia, Costa Rica, Cuba, Curaçao, Dominican Republic, Ecuador, El Salvador, Guatemala, Haiti, Honduras, Mexico, Nicaragua, Panama, Paraguay, Peru, Puerto Rico, United States of America, Uruguay, Venezuela, and Virgin Islands.
 
Related Articles
Puerto Rico
wins two gold medals in Singles to start 2013 PABCON Youth Championships
Junior Team USA
roster for PABCON Youth Championships announced
Puerto Rico Bowling Federation releases
Bulletin No.1
for 2013 PABCON Youth Championships
 
2013 PABCON Youth - U16 Girls Doubles
| | | | | | | | | |
| --- | --- | --- | --- | --- | --- | --- | --- | --- |
| Pos | Country/Players | G1 | G2 | G3 | G4 | G5 | Total | Ave. |
| 1. | Colombia | 346 | 380 | 353 | 374 | 362 | 1815 | 181.50 |
| | Maria Restrepo | 188 | 155 | 190 | 177 | 181 | 891 | 178.20 |
| | Isabella Correa | 158 | 225 | 163 | 197 | 181 | 924 | 184.80 |
| 2. | Puerto Rico | 312 | 332 | 357 | 396 | 347 | 1744 | 174.40 |
| | Paulina Torres | 176 | 172 | 156 | 186 | 179 | 869 | 173.80 |
| | Estefania Cobo | 136 | 160 | 201 | 210 | 168 | 875 | 175.00 |
| 3. | Aruba | 305 | 344 | 354 | 336 | 352 | 1691 | 169.10 |
| | Shakaina Guerero | 181 | 187 | 180 | 189 | 202 | 939 | 187.80 |
| | Jo Ann Nogueras | 124 | 157 | 174 | 147 | 150 | 752 | 150.40 |
| 4. | Venezuela | 338 | 348 | 307 | 368 | 327 | 1688 | 168.80 |
| | Gabriela Mudo | 196 | 199 | 185 | 154 | 182 | 916 | 183.20 |
| | Lisvier Cardenas | 142 | 149 | 122 | 214 | 145 | 772 | 154.40 |
| 5. | Costa Rica | 320 | 314 | 346 | 274 | 322 | 1576 | 157.60 |
| | Alexa Fernandez | 153 | 145 | 159 | 128 | 133 | 718 | 143.60 |
| | Erika Quesada | 167 | 169 | 187 | 146 | 189 | 858 | 171.60 |
| 6. | Virgin Islands | 229 | 269 | 231 | 305 | 284 | 1318 | 131.80 |
| | Lamonique Barrios | 110 | 124 | 149 | 165 | 161 | 709 | 141.80 |
| | Dahlia Ferrol | 119 | 145 | 82 | 140 | 123 | 609 | 121.80 |
 
2013 PABCON Youth - U16 Boys Doubles
| | | | | | | | | |
| --- | --- | --- | --- | --- | --- | --- | --- | --- |
| Pos | Country/Players | G1 | G2 | G3 | G4 | G5 | Total | Ave. |
| 1. | Puerto Rico | 385 | 424 | 380 | 382 | 383 | 1954 | 195.40 |
| | Antonio Izquierdo | 161 | 210 | 212 | 202 | 220 | 1005 | 201.00 |
| | Jorge A. Rodriguez | 224 | 214 | 168 | 180 | 163 | 949 | 189.80 |
| (tie) | Venezuela | 358 | 417 | 331 | 438 | 410 | 1954 | 195.40 |
| | Massimiliano Fridegotto | 175 | 231 | 182 | 228 | 186 | 1002 | 200.40 |
| | Carlos Granados | 183 | 186 | 149 | 210 | 224 | 952 | 190.40 |
| 3. | Colombia | 319 | 358 | 365 | 416 | 449 | 1907 | 190.70 |
| | Sebastian Salazar | 147 | 154 | 165 | 173 | 247 | 886 | 177.20 |
| | Mauricio Martinez | 172 | 204 | 200 | 243 | 202 | 1021 | 204.20 |
| 4. | Peru | 343 | 360 | 376 | 399 | 394 | 1872 | 187.20 |
| | Yum Ishikawa | 200 | 171 | 208 | 176 | 208 | 963 | 192.60 |
| | Daiji Yuzuriha | 143 | 189 | 168 | 223 | 186 | 909 | 181.80 |
| 5. | Argentina | 326 | 375 | 332 | 366 | 371 | 1770 | 177.00 |
| | Juan Ali | 154 | 188 | 156 | 224 | 162 | 884 | 176.80 |
| | Fabricio Sanduay | 172 | 187 | 176 | 142 | 209 | 886 | 177.20 |
| 6. | Aruba | 345 | 380 | 303 | 417 | 286 | 1731 | 173.10 |
| | Renald Thiel | 166 | 180 | 146 | 231 | 134 | 857 | 171.40 |
| | Osmar Bislip | 179 | 200 | 157 | 186 | 152 | 874 | 174.80 |
| 7. | Costa Rica | 316 | 324 | 423 | 324 | 328 | 1715 | 171.50 |
| | Alberto Quesada | 189 | 159 | 225 | 180 | 195 | 948 | 189.60 |
| | Tomas Haehner | 127 | 165 | 198 | 144 | 133 | 767 | 153.40 |
| 8. | Virgin Islands | 277 | 275 | 428 | 322 | 302 | 1604 | 160.40 |
| | Dylon Schjang | 138 | 146 | 226 | 199 | 181 | 890 | 178.00 |
| | Diante Brooks | 139 | 129 | 202 | 123 | 121 | 714 | 142.80 |
 
2013 PABCON Youth - U20 Girls Doubles
| | | | | | | | | | |
| --- | --- | --- | --- | --- | --- | --- | --- | --- | --- |
| Pos | Country/Players | G1 | G2 | G3 | G4 | G5 | G6 | Total | Ave. |
| 1. | United States | 488 | 463 | 484 | 378 | 418 | 388 | 2619 | 218.25 |
| | Sarah Lokker | 222 | 243 | 258 | 202 | 221 | 203 | 1349 | 224.83 |
| | Mary Wells | 266 | 220 | 226 | 176 | 197 | 185 | 1270 | 211.67 |
| 2. | United States | 396 | 373 | 445 | 480 | 405 | 493 | 2592 | 216.00 |
| | Natalie Goodman | 174 | 172 | 263 | 244 | 236 | 204 | 1293 | 215.50 |
| | Robyn Renslow | 222 | 201 | 182 | 236 | 169 | 289 | 1299 | 216.50 |
| 3. | Mexico | 366 | 395 | 391 | 467 | 466 | 383 | 2468 | 205.67 |
| | Raquel Orozco | 187 | 189 | 200 | 235 | 189 | 213 | 1213 | 202.17 |
| | Sara Pelayo | 179 | 206 | 191 | 232 | 277 | 170 | 1255 | 209.17 |
| 4. | Puerto Rico | 340 | 434 | 394 | 411 | 455 | 388 | 2422 | 201.83 |
| | Kristie Lopez | 150 | 224 | 205 | 191 | 221 | 188 | 1179 | 196.50 |
| | Cristina Rodriguez | 190 | 210 | 189 | 220 | 234 | 200 | 1243 | 207.17 |
| 5. | Aruba | 416 | 430 | 384 | 431 | 373 | 365 | 2399 | 199.92 |
| | Kamilah Dammers | 215 | 225 | 212 | 206 | 177 | 190 | 1225 | 204.17 |
| | Abigail Dammers | 201 | 205 | 172 | 225 | 196 | 175 | 1174 | 195.67 |
| 6. | Mexico | 338 | 403 | 389 | 374 | 440 | 402 | 2346 | 195.50 |
| | Paola Limon | 179 | 212 | 210 | 168 | 237 | 220 | 1226 | 204.33 |
| | Merlina San Nicolas | 159 | 191 | 179 | 206 | 203 | 182 | 1120 | 186.67 |
| 7. | Colombia | 363 | 295 | 397 | 434 | 385 | 462 | 2336 | 194.67 |
| | Laura Plazas | 167 | 143 | 215 | 199 | 177 | 204 | 1105 | 184.17 |
| | Juliana Franco | 196 | 152 | 182 | 235 | 208 | 258 | 1231 | 205.17 |
| 8. | Colombia | 395 | 338 | 434 | 358 | 374 | 416 | 2315 | 192.92 |
| | Tatiana Mu√Īoz | 211 | 176 | 224 | 172 | 182 | 235 | 1200 | 200.00 |
| | Alexandra Mosquera | 184 | 162 | 210 | 186 | 192 | 181 | 1115 | 185.83 |
| 9. | Canada | 346 | 375 | 418 | 383 | 330 | 415 | 2267 | 188.92 |
| | Brittany Crawford | 165 | 183 | 191 | 179 | 135 | 178 | 1031 | 171.83 |
| | Miranda Panas | 181 | 192 | 227 | 204 | 195 | 237 | 1236 | 206.00 |
| 10. | Aruba | 394 | 342 | 358 | 365 | 373 | 339 | 2171 | 180.92 |
| | Jeadine Luidens | 216 | 192 | 185 | 177 | 209 | 170 | 1149 | 191.50 |
| | Nirvana Tromp | 178 | 150 | 173 | 188 | 164 | 169 | 1022 | 170.33 |
| 11. | Puerto Rico | 381 | 319 | 325 | 389 | 330 | 413 | 2157 | 179.75 |
| | Alexandra Rodriguez | 205 | 153 | 145 | 179 | 162 | 227 | 1071 | 178.50 |
| | Valerie Bermudez | 176 | 166 | 180 | 210 | 168 | 186 | 1086 | 181.00 |
| 12. | Venezuela | 352 | 338 | 412 | 313 | 368 | 327 | 2110 | 175.83 |
| | Angelica Mudo | 168 | 154 | 240 | 161 | 163 | 153 | 1039 | 173.17 |
| | Katherine Romero | 184 | 184 | 172 | 152 | 205 | 174 | 1071 | 178.50 |
| 13. | Venezuela | 372 | 350 | 388 | 329 | 330 | 336 | 2105 | 175.42 |
| | Maria Pascoal | 204 | 191 | 213 | 159 | 154 | 166 | 1087 | 181.17 |
| | Alexandra Hernandez | 168 | 159 | 175 | 170 | 176 | 170 | 1018 | 169.67 |
| 14. | Canada | 342 | 331 | 404 | 244 | 377 | 388 | 2086 | 173.83 |
| | Mykaela Mitchell | 160 | 182 | 237 | 115 | 204 | 199 | 1097 | 182.83 |
| | Evelyn Tanguay | 182 | 149 | 167 | 129 | 173 | 189 | 989 | 164.83 |
| 15. | Dominican Republic | 358 | 294 | 299 | 365 | 330 | 320 | 1966 | 163.83 |
| | Olga Verges | 189 | 141 | 141 | 201 | 161 | 173 | 1006 | 167.67 |
| | Shantalle Hungria | 169 | 153 | 158 | 164 | 169 | 147 | 960 | 160.00 |
| 16. | Curacao | 314 | 313 | 351 | 268 | 350 | 360 | 1956 | 163.00 |
| | Saimy Iba√Īez | 166 | 178 | 173 | 134 | 150 | 157 | 958 | 159.67 |
| | Quianna Macares | 148 | 135 | 178 | 134 | 200 | 203 | 998 | 166.33 |
| 17. | Curacao | 333 | 327 | 353 | 311 | 308 | 303 | 1935 | 161.25 |
| | Deborah Rodriguez | 167 | 169 | 159 | 153 | 149 | 139 | 936 | 156.00 |
| | Ariadna Iba√Īez | 166 | 158 | 194 | 158 | 159 | 164 | 999 | 166.50 |
| 18. | Dominican Republic | 288 | 291 | 234 | 265 | 306 | 282 | 1666 | 138.83 |
| | Edili Campos | 156 | 144 | 123 | 120 | 167 | 145 | 855 | 142.50 |
| | Neisha Marin | 132 | 147 | 111 | 145 | 139 | 137 | 811 | 135.17 |
 
2013 PABCON Youth - U20 Boys Doubles
| | | | | | | | | | |
| --- | --- | --- | --- | --- | --- | --- | --- | --- | --- |
| Pos | Country/Players | G1 | G2 | G3 | G4 | G5 | G6 | Total | Ave. |
| 1. | United States | 400 | 454 | 433 | 457 | 431 | 481 | 2656 | 221.33 |
| | Matthew Farber | 226 | 206 | 174 | 256 | 217 | 258 | 1337 | 222.83 |
| | Wesley Low | 174 | 248 | 259 | 201 | 214 | 223 | 1319 | 219.83 |
| 2. | United States | 404 | 501 | 460 | 386 | 477 | 426 | 2654 | 221.17 |
| | Kamron Doyle | 248 | 258 | 223 | 215 | 245 | 225 | 1414 | 235.67 |
| | Gregory Young | 156 | 243 | 237 | 171 | 232 | 201 | 1240 | 206.67 |
| 3. | Canada | 438 | 411 | 390 | 443 | 491 | 478 | 2651 | 220.92 |
| | Anthony Carrier | 180 | 199 | 168 | 178 | 256 | 215 | 1196 | 199.33 |
| | Kevin Maurice | 258 | 212 | 222 | 265 | 235 | 263 | 1455 | 242.50 |
| 4. | Costa Rica | 433 | 514 | 444 | 365 | 425 | 461 | 2642 | 220.17 |
| | Rodolfo Madriz | 178 | 236 | 199 | 181 | 216 | 237 | 1247 | 207.83 |
| | James Stanley | 255 | 278 | 245 | 184 | 209 | 224 | 1395 | 232.50 |
| 5. | Venezuela | 478 | 407 | 417 | 470 | 423 | 432 | 2627 | 218.92 |
| | Andres Rodriguez | 278 | 220 | 215 | 247 | 239 | 234 | 1433 | 238.83 |
| | Rosbert Infante | 200 | 187 | 202 | 223 | 184 | 198 | 1194 | 199.00 |
| 6. | Canada | 466 | 385 | 491 | 404 | 422 | 450 | 2618 | 218.17 |
| | Mitch Hupe | 236 | 225 | 246 | 213 | 223 | 212 | 1355 | 225.83 |
| | Francois Lavoie | 230 | 160 | 245 | 191 | 199 | 238 | 1263 | 210.50 |
| 7. | Puerto Rico | 396 | 424 | 391 | 438 | 506 | 446 | 2601 | 216.75 |
| | Cristian Azcona | 188 | 233 | 223 | 236 | 227 | 224 | 1331 | 221.83 |
| | Josh Encarnacion | 208 | 191 | 168 | 202 | 279 | 222 | 1270 | 211.67 |
| 8. | Mexico | 424 | 377 | 372 | 455 | 460 | 408 | 2496 | 208.00 |
| | Andre Fors | 226 | 222 | 224 | 223 | 226 | 205 | 1326 | 221.00 |
| | Enrique Kassiani | 198 | 155 | 148 | 232 | 234 | 203 | 1170 | 195.00 |
| 9. | Costa Rica | 453 | 402 | 402 | 403 | 435 | 381 | 2476 | 206.33 |
| | Jose Garcia | 211 | 234 | 157 | 222 | 206 | 181 | 1211 | 201.83 |
| | Juan Rodriguez | 242 | 168 | 245 | 181 | 229 | 200 | 1265 | 210.83 |
| 10. | Aruba | 386 | 429 | 467 | 331 | 337 | 366 | 2316 | 193.00 |
| | Bryan Helmeyer | 170 | 168 | 190 | 142 | 158 | 201 | 1029 | 171.50 |
| | Elias Halabi | 216 | 261 | 277 | 189 | 179 | 165 | 1287 | 214.50 |
| (tie) | Colombia | 399 | 400 | 376 | 349 | 367 | 425 | 2316 | 193.00 |
| | Sebastian Donado | 192 | 245 | 177 | 178 | 171 | 213 | 1176 | 196.00 |
| | Juan Lopez | 207 | 155 | 199 | 171 | 196 | 212 | 1140 | 190.00 |
| 12. | Peru | 383 | 433 | 428 | 368 | 348 | 354 | 2314 | 192.83 |
| | Kenny Kishimoto | 180 | 231 | 192 | 198 | 171 | 184 | 1156 | 192.67 |
| | Shinji Yuzuriha | 203 | 202 | 236 | 170 | 177 | 170 | 1158 | 193.00 |
| 13. | Argentina | 387 | 341 | 374 | 356 | 434 | 409 | 2301 | 191.75 |
| | Franco Gualini | 219 | 184 | 171 | 192 | 178 | 224 | 1168 | 194.67 |
| | Fernando Tapia | 168 | 157 | 203 | 164 | 256 | 185 | 1133 | 188.83 |
| 14. | Colombia | 378 | 360 | 425 | 345 | 408 | 358 | 2274 | 189.50 |
| | Jorge Tello | 175 | 188 | 222 | 184 | 205 | 172 | 1146 | 191.00 |
| | Carlos Savedra | 203 | 172 | 203 | 161 | 203 | 186 | 1128 | 188.00 |
| 15. | Puerto Rico | 372 | 360 | 377 | 381 | 363 | 386 | 2239 | 186.58 |
| | Jorge R. Rodriguez | 179 | 196 | 190 | 205 | 187 | 186 | 1143 | 190.50 |
| | Eisam Hussein | 193 | 164 | 187 | 176 | 176 | 200 | 1096 | 182.67 |
| 16. | Venezuela | 399 | 387 | 399 | 360 | 363 | 327 | 2235 | 186.25 |
| | Alejandro Arenas | 195 | 193 | 212 | 182 | 198 | 173 | 1153 | 192.17 |
| | Lucas Mota | 204 | 194 | 187 | 178 | 165 | 154 | 1082 | 180.33 |
| 17. | Mexico | 384 | 350 | 318 | 386 | 386 | 404 | 2228 | 185.67 |
| | Fabian Lopez | 204 | 166 | 140 | 205 | 211 | 202 | 1128 | 188.00 |
| | Brandon Pelayo | 180 | 184 | 178 | 181 | 175 | 202 | 1100 | 183.33 |
| 18. | Dominican Republic | 381 | 327 | 338 | 415 | 385 | 361 | 2207 | 183.92 |
| | Luis Avila | 171 | 167 | 171 | 178 | 214 | 158 | 1059 | 176.50 |
| | Rolando Sebelen | 210 | 160 | 167 | 237 | 171 | 203 | 1148 | 191.33 |
| 19. | El Salvador | 343 | 324 | 380 | 395 | 328 | 377 | 2147 | 178.92 |
| | Alejandro Velasquez | 185 | 168 | 203 | 225 | 184 | 202 | 1167 | 194.50 |
| | Miguel Mejia | 158 | 156 | 177 | 170 | 144 | 175 | 980 | 163.33 |
| 20. | Aruba | 404 | 303 | 357 | 365 | 305 | 372 | 2106 | 175.50 |
| | Anthony Tjin | 235 | 152 | 167 | 141 | 167 | 177 | 1039 | 173.17 |
| | Jannick Roos | 169 | 151 | 190 | 224 | 138 | 195 | 1067 | 177.83 |
| 21. | Dominican Republic | 359 | 397 | 327 | 339 | 319 | 345 | 2086 | 173.83 |
| | Gregory Morin | 148 | 170 | 162 | 185 | 140 | 157 | 962 | 160.33 |
| | Bernardo Hernandez | 211 | 227 | 165 | 154 | 179 | 188 | 1124 | 187.33 |
| 22. | Curacao | 358 | 356 | 342 | 390 | 255 | 331 | 2032 | 169.33 |
| | Jefferson Verhelst | 200 | 234 | 217 | 233 | 151 | 197 | 1232 | 205.33 |
| | David Palm | 158 | 122 | 125 | 157 | 104 | 134 | 800 | 133.33 |
| 23. | Argentina | 347 | 316 | 313 | 360 | 316 | 358 | 2010 | 167.50 |
| | Martin Favero | 197 | 168 | 147 | 171 | 137 | 180 | 1000 | 166.67 |
| | Agustin Aranguren | 150 | 148 | 166 | 189 | 179 | 178 | 1010 | 168.33 |
| 24. | Virgin Islands | 329 | 291 | 367 | 324 | 316 | 380 | 2007 | 167.25 |
| | Omar Osborne | 169 | 124 | 178 | 169 | 159 | 234 | 1033 | 172.17 |
| | Michael Brooks | 160 | 167 | 189 | 155 | 157 | 146 | 974 | 162.33 |
| 25. | Virgin Islands | 312 | 313 | 343 | 339 | 347 | 342 | 1996 | 166.33 |
| | Jivaun Hall | 148 | 183 | 160 | 196 | 160 | 204 | 1051 | 175.17 |
| | Jared Hall | 164 | 130 | 183 | 143 | 187 | 138 | 945 | 157.50 |
| 26. | Uruguay | 316 | 365 | 308 | 340 | 334 | 326 | 1989 | 165.75 |
| | Marcelo Lamanna | 156 | 202 | 154 | 156 | 167 | 192 | 1027 | 171.17 |
| | Federico Wainstein | 160 | 163 | 154 | 184 | 167 | 134 | 962 | 160.33 |
| 27. | Peru | 372 | 291 | 340 | 319 | 311 | 349 | 1982 | 165.17 |
| | Adrian Guibu | 214 | 127 | 188 | 205 | 151 | 173 | 1058 | 176.33 |
| | Renzo Guibu | 158 | 164 | 152 | 114 | 160 | 176 | 924 | 154.00 |