Last chance to register for the 1st World Senior Championships in Las Vegas
07/11/13
2013 WSrC
World Tenpin Bowling Association extends entry deadline for Aug. 10-16 event and releases Bulletin No. 2; 210 players from 32 federations have registered so far
The World Tenpin Bowling Association has announced that it has extended the entry deadline for the
1st World Senior Championships
. The event will be conducted Aug. 10-16, 2013 at 72-lane Red Rock Lanes inside the famous Red Rock Resort and Casino in Las Vegas, Nevada, United States.
"Some federations have asked for more time to decide if they can participate and we can accept new registrations some more days," WTBA Secretary General
Christer Jonsson
said. As of July 10,
210 players - 124 men and 86 women - from 32 WTBA member federations
have registered for the event.
To participate in the first edition of the championships for men and women 50 years of age or above, players must be
born December 31st, 1963 or before
.
The WTBA, tenpin bowling's governing body, and co-host Red Rock Resort and Casino have also released Bulletin No. 2, which contains the Preliminary Schedule; Information about Red Rock Resort & Casino; Information about Red Rock lanes and oiling conditions; Various facilities and services; Various Fees; Flags and national anthems; Registration form for administration; Unofficial practice; Activities August 16-17; and Forms and deadlines.
Click
here
to download Bulletin No. 2 (MS document).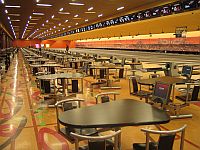 "This will be the first opportunity for senior bowlers to win world champion medals," WTBA President and CEO
Kevin Dornberger
(pictured left) said. "Red Rock is one of the most stunning bowling centers in the entire world, and we look forward to them hosting the best senior bowlers in the world."
The format on the World Senior Championships will pattern after the WTBA World Youth Championships, with four men and four women eligible from each country. The competitors will face off for medals in Singles, Doubles, Team, All-Events and Masters.
Red Rock Lanes opened in 2007 to much fanfare as one of the most expensive bowling centers ever built. Red Rock Vice President
Bryan Lindsey
said they look forward to hosting the World Senior Championships.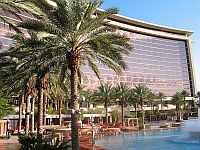 "When the top senior bowlers in the world descend upon Las Vegas for the World Senior Championships, they will have a world-class experience at Red Rock Resort," Lindsey said.
Click on the image to enlarge it.
"Red Rock Lanes is second to none with cutting edge technology, sharp decor and one-of-a-kind VIP lanes. In addition to bowling, Red Rock Resort offers more than a dozen dining options ranging from a quick bite to upscale, state-of-the-art gaming, movie theaters and stunning pool area. This will be more than a competition, it will be a complete travel experience for competitors and their guests."
The World Tenpin Bowling Association, which is made up of 115 bowling federations, governs the sport throughout the world. For more information on WTBA, go to
WorldTenpinBowling.com
.
 
Related Articles
U.S. team
named for 1st World Senior Championships
World Tenpin Bowling Association releases
Bulletin No. 1
for 1st World Senior Championships
Inaugural
World Senior Championships
to be held August 2013 in Las Vegas
 
2013 World Senior Championships - Schedule of Events

Red Rock Lanes in Las Vegas, Nev., USA (Aug. 10-16, 2013)

Sunday, Aug. 11, 2013
09:30-10:30 Lane maintenance
10:30-12:00 Official practice (squad A)
12:30-13:30 Lane maintenance
14:00-15:30 Official practice (squad B)
16:00-17:00 Opening ceremony

Monday, Aug. 12, 2013
07:30-08:30 Lane maintenance
08:30-12:00 Men's and Women's Singles (Squad A)
12:00-13:00 Lane maintenance
13:00-16:30 Men's and Women's Singles (Squad B)
16:30-17:00 Lane maintenance
17:00-18:00 Men's and Women's Singles Semifinals and Finals
18:00-18:30 Singles Medal Ceremony

Tuesday, Aug. 13, 2013
07:30-08:30 Lane maintenance
08:30-12:00 Men's and Women's Doubles (Squad A)
12:00-13:00 Lane maintenance
13:00-16:30 Men's and Women's Doubles (Squad B)
16:30-17:00 Lane maintenance
17:00-18:00 Men's and Women's Doubles Semifinals and Finals 18:00-18:30 Doubles Medal Ceremony

Wednesday, Aug. 14, 2013
08:00-09:00 Lane maintenance
09:00-12:00 Men's and Women's Team (first block)
12:00-14:00 Lane maintenance 14:00-17:00 Men's and Women's Team (second block)

Thursday, Aug. 15, 2013
08:00-09:00 Lane maintenance
09:00-11:00 Men's and Women's Team Semifinals and Finals
11:00-11:30 Team Medal Ceremony
11:20-12:30 Lane maintenance
14:00-16:30 Men's and Women's Masters Round 1
16:30-17:00 All-Events Medal Ceremony

Friday, Aug. 16, 2013
07:30-08:30 Lane maintenance
08:30-11:00 Men's and Women's Masters Round 2
11:00-12:00 Lane maintenance
12:00-13:00 Men's and Women's Masters Semifinals and Finals
13:00-13:30 Masters Medal Ceremony
14:30 Farewell Celebration
19:00 Opening ceremony for 2013 Combined World Championships (Sunset Station)