Parker Bohn III named first Tony Reyes Community Service Award winner
01/14/14
PBA News
Hall of Famer recognized primarily for his work with two charities and scholarship tournament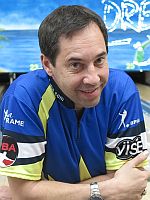 Professional Bowlers Association Hall of Famer
Parker Bohn III
(pictured left) of Jackson, N.J., is the first Tony Reyes Community Service Award recipient, named in honor of the late PBA Tour champion in honor of his off-the-lanes activities, PBA Commissioner Tom Clark announced today.
The
Tony Reyes Community Service Award
will be awarded annually to a PBA member who has performed outstanding community service and made charitable and/or educational contributions over the course of the previous PBA Tour season.
Reyes (right; archive photo), a popular PBA Tour titlist, died in September 2012 of injuries sustained in a traffic accident near his home in San Bruno, Calif. An eight-time regional tournament winner, he was also one of only 22 players to have rolled a 300 game on a PBA Tour telecast.
"There's no more fitting recipient of the first Tony Reyes Award than Parker," said Clark (left). "Throughout his entire career Parker has established himself as one of the sport's great ambassadors through his selfless charity work."
Bohn, a 33-time PBA Tour champion, was honored for his work primarily with two charitable endeavors he established – the Striking Out Sandy fundraiser and his annual Parker Bohn III Scholarship Tournament – as well as his involvement with High Hopes of New Hampshire, a program he has been involved with for the past 10 years.
"When Tom Clark notified me that I won the award I was speechless," Bohn said. "To win this award in the name of Tony, who was a great friend not only to me but literally everyone, left me feeling very humble.
"Tony was a friend to everyone on and off the lanes. He was one of those special people who was always trying to improve himself not only as a bowler but as a person."
The
Striking Out Sandy
fundraising project benefited those who were affected by the devastating hurricane that ravaged the East Coast in November of 2012. One aspect of the fundraiser encouraged bowling fans to either pay a flat donation or pledge money for every strike Bohn threw during the 2012 World Series of Bowling.
In addition, Bohn (pictured left with his family after winning the 2012 PBA World Championship) treated kids and families affected by the storm to a field trip in June of 2013 that included a tour of a local bowling center, a day of bowling and lunch.
"The smiles we gave to the kids were priceless, you'd think I was Santa Claus," Bohn said.
Bohn hosts his annual
Parker Bohn III Scholarship Tournament
over the Labor Day weekend. Since its inception 15 years ago, the tournament has awarded nearly $70,000 in scholarships.
"A lot of kids I talk to would like to have bowling as a career but I always tell them that their education should be their priority," Bohn said. "A good education is something that can't be taken away from you and it opens doors. Not only have my scholarship tournament, but all scholarships awarded through bowling, had a very positive impact on the lives of young people."
Bohn has been a fixture with
High Hopes of New Hampshire
, a program similar to Make-A-Wish in fulfilling wishes of children with very serious or life-threatening medical conditions. The High Hopes organization conducts a three-day bowling event that includes clinics, pro-ams and a singles tournament as well as autograph and photo sessions with Tour players that raises funds for the children.
"The credit for that great event really needs to go to (former Tour player and proprietor) Steve Hardy. I'm just honored to be involved with it," Bohn said. "He puts on an awesome weekend for everyone involved."
Representative of the many comments included from the nominations received for the award was one from Christine Ruess who said, "The hours that Parker puts into all his community service areas are too numerous to count. The countless hours are a testament to his devotion to the sport and helping others."
Typical of Bohn, he deflected a lot of credit aimed at himself and focused instead on contributions others are making on behalf of their communities.
"I'm honored to win the first Tony Reyes Award, but people should know that a lot of PBA players give of their time and effort to get involved with charities at all levels," Bohn said. "When it comes down to it, we're blessed to be able to do what we do and if we have the opportunity to put a smile on the faces of those less fortunate, we're happy to do it."
 
Related Articles
PBA Tour Champion
Tony Reyes
dies from injuries suffered in car accident