Chris Warren's rehabilitation seems to be on course in PBA50 Northern California Classic
06/16/15
2015 PBA50 Tour #7
After one-and-a-half year recovery from broken leg six-time PBA Tour winner averages 246 to lead field of 101 after first round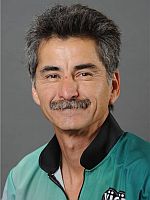 When six-time PBA Tour champion
Chris Warren
(pictured left) of Grants Pass, Ore., broke his right leg in December 2013, he wasn't sure what the future would hold for his bowling career.
But, after a fourth-place finish in the recent
Suncoast PBA Senior U.S. Open
and averaging 246 to take the first round lead in the PBA50 Northern California Classic presented by MOTIV, his rehabilitation seems to be on course.
Warren, who hadn't bowled in topflight competition until the Senior U.S. Open two weeks ago, bowled a 1,968 eight-game pinfall Monday at Harvest Park Bowl in Brentwood, Calif., with games of 258, 225, 225, 279, 257, 208, 227 and 289 to hold a 42-pin lead over one-time PBA Tour winner
Bob Spaulding
of McKinney, Texas, in second with 1,926.
"I'm taking it a day at a time," said Warren, who broke his leg severely during a roller skating accident. "I had some luck today. My shot making was about 70 percent but my carry was about 90 percent so I feel fortunate to score as well as I did today.
"The first day of the tournament isn't bad but we'll have to see what happens after that," said the 51-year-old Warren, who was planning to start his PBA50 Tour career a year ago. "The leg can get a little swollen after a while. After bowling 50 games to get to the finals in the (Senior) U.S. Open it was pretty sore."
Rounding out the top five after Monday's first round were last week's
PBA50 Fountain Valley Open
winner
Brian LeClair
(left), Delmar, N.Y., 1,908;
James Hansen
, Anchorage, Alaska, 1,876, and
Nick Morgan
, Sacramento, Calif., 1,863.
Defending champion
Hall of Famer
Tom Baker
(right) of King, N.C., finished the first round in 18th with 1,782.
The 101-player field will return for another eight-game qualifying round Tuesday which will determine 34 players who will advance to match play on Wednesday. The top five after match play will advance to the stepladder finals scheduled for 6 p.m. PT.
Xtra Frame, PBA's online bowling channel, is providing live coverage of the PBA50 Northern California Classic.
 
Related Articles
2015 PBA50 Tour
Schedule & Champions
 
PBA50 Northern California Classic - First Round Standings
Players with position, hometown and 8-game total; ss-denotes PBA60 players ages 60 and over; a-denotes amateur
1, Chris Warren, Grants Pass, Ore., 1,968
2, Bob Spaulding, McKinney, Texas, 1,926
3, Brian LeClair, Delmar, N.Y., 1,908
4, James Hansen, Anchorage, Alaska, 1,876
5, Nick Morgan, Sacramento, Calif., 1,863
6, Dave Arnold, Elk Grove, Calif., 1,860
7, ss-Bill Henson, Westerville, Ohio, 1,848
8, (tie) Amleto Monacelli, Venezuela, Todd Kjell, Roscoe, Ill., Joe Goldstein Sr., San Bruno, Calif., and
Brian Voss, Centennial, Colo., 1,838
12, Pete Weber, St. Ann, Mo., 1,832
13, Harry Sullins, Chesterfield Twp., Mich., 1,824
14, Tony Majcher, Rolling Meadows, Ill., 1,815
15, Robert Harvey, Boise, Idaho, 1,810
16, Mike Dias, Lafayette, Colo., 1,787
17, Bob Learn Jr., Erie, Pa., 1,783
18, ss-Tom Baker, King, N.C., 1,782
19, ss-Edward Silva, Manteca, Calif., 1,780
20, John Burkett, Southlake, Texas, 1,779
21, (tie) Ron Mohr, Las Vegas, and Warren Nelson, Middleburg, Fla., 1,767
23, ss-a-Terry Leong, Las Vegas, 1,766
24, Tom Carter, Columbus, Ohio, 1,762
25, Mark McCreary, Livermore, Calif., 1,761
26, ss-Ray Cobb, Highland, Calif., 1,752
27, ss-Dan Sasaki, Richmond, Calif., 1,747
28, Brian Cooper, Henderson, Nev., 1,742
29, (tie) ss-Gerald Calvin, Thousand Oaks, Calif., and Walter Ray Williams Jr., Oxford, Fla., 1,741
31, Doug Kempt, Arcadia, Calif., 1,736
32, Darron Peters, Temecula, Calif., 1,733
33, ss-Stan Winters, Simi Valley, Calif., 1,731
34, Noel Vazquez, Sacramento, Calif., 1,730
35, Craig Miller, Tracy, Calif., 1,725
36, a-Al Bella, Pittsburg, Calif., 1,723
37, ss-Don Blatchford, Santa Monica, Calif., 1,721
38, Kevin Croucher, Grants Pass, Ore., 1,720
39, ss-Ron Winger, Las Vegas, 1,718
40, ss-a-Sam Carter, Ben Lomond, Calif., 1,717
41, ss-Kerry Painter, Henderson, Nev., 1,709
42, Mike Scroggins, Amarillo, Texas, 1,702
43, Terry Metzner, Kentwood, Mich., 1,698
44, Brian Tinsley, Medford, Ore., 1,697
45, ss-Lew Elting, Carlsbad, Calif., 1,696
46, ss-Dale Eagle, Laguna Niguel, Calif., 1,688
47, ss-Fred Cole, Visalia, Calif., 1,687
48, (tie) a-John Dorsett, Concord, Calif., and Junior Self, Martinez, Calif., 1,685
50, Pat Nolan, Japan, 1,680
51, Rodney Garrick, San Francisco, 1,678
52, Rory Peterson, Sacramento, Calif., 1,676
53, Scott Hansel, Stockton, Calif., 1,670
54, Christopher Keane, Cape Coral, Fla., 1,666
55, Rob Rice, Sunnyside, Wash., 1,664
56, (tie) ss-Galen Keas, Alda, Neb., and ss-Frank Gallo Jr., Jacksonville, Fla., 1,659
58, ss-Bill McCorkle, Westerville, Ohio, 1,656
59, ss-Thomas Ream, Tampa, Fla., 1,654
60, Dave Dayton, Reno, Nev., 1,652
61, ss-a-Paul Herrera, San Jose, Calif., 1,648
62, Glenn Morgan, Carson City, Nev., 1,646
63, ss-John Petraglia, Jackson, N.J., 1,645
64, a-Larry Dyson, Stockton, Calif., 1,644
65, Joe Beck, Montgomery, Ala., 1,636
66, Parker Bohn III, Jackson, N.J., 1,634
67, Eric Forkel, Henderson, Nev., 1,627
68, (tie) ss-a-Dennis Jones, Fremont, Calif., and ss-Steve Stein, Staten Island, N.Y., 1,614
70, (tie) Mike Watson, Grass Valley, Calif., and Dave Bolles, Stockton, Calif., 1,612
72, ss-Jim Gordin, Modesto, Calif., 1,605
73, ss-Bill Nichols, Roseville, Calif., 1,597
74, ss-Michael Henry, Brunswick, Ohio, 1,594
75, ss-Ted Staikoff, Black Hawk, S.D., 1,574
76, (tie) Joseph Jimenez, Rowland Heights, Calif., and a-Steve Adams, Grass Valley, Calif., 1,563
78, Dick Baker, Henderson, Nev., 1,558
79, Duane Wilson, Brentwood, Calif., 1,557
80, Mike Hastings, Millsboro, Del., 1,546
81, ss-a-David Chew, Brentwood, Calif., 1,544
82, (tie) Brian Miller, Springfield, Ohio, and a-Scott DeSelms Sr., Castro Valley, Calif., 1,539
84, Eddie Katz, Lakewood, Calif., 1,528
85, Kevin Foley, Reno, Nev., 1,527
86, ss-Paul McCordic, Sugar Land, Texas, 1,513
87, Keith Pridgeon, Antioch, Calif., 1,503
88, Rich Kleinman, Reno, Nev., 1,499
89, John Austin, Friendswood, Texas, 1,497
90, Timothy Bell, Sacramento, Calif., 1,495
91, ss-Don Lane, San Francisco, 1,494
92, ss-Tim Pierce, Portland, Ore., 1,490
93, ss-a-Phillip Spruill, San Francisco, 1,481
94, Larry Galloway, Lakewood, Calif., 1,474
95, ss-Mike Saraiva, Napa, Calif., 1,470
96, ss-Chuck Best, Buda, Texas, 1,467
97, (tie) ss-Glen Nakagawa, Highland Village, Texas, and ss-Dave Schultz, West Bend, Wis., 1,457
99, a-Kenneth Daily, Danville, Calif., 1,410
100, a-Christopher Sargent, Crockett, Calif., 1,368
101, Lauri Karppala Jr., Folsom, Calif., 1,248