Mitch Beasley defeats wife to win PBA Midwest Regional title
07/16/15
2015 PBA Spare Shots #28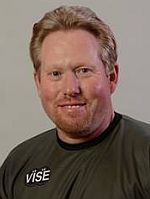 In a first for the Professional Bowlers Association,
Mitch Beasley
(pictured) of Nashville, Tenn., defeated his wife,
Inngellimar Beasley
, 224-212, to win the PBA Shock Top Midwest Region Open at Plaza Lanes in St. Charles, Mo., Saturday. It was the first time in PBA history that a husband and wife bowled for a PBA title.
Mitch Beasley, a 21-year veteran of PBA competition, started the championship match with six strikes and held on despite a pair of unconverted splits to win his 17th PBA Regional title and the $2,200 first prize when Inngellimar, a lefthander, left solid 7 pins in the eighth, ninth and 10th frames to nullify her rally. Inngellimar added the $1,200 runner-up prize to the family's bank account.
The previous week, Inngellimar, a 19-year member of Venezuela's national women's bowling team, won the PWBA Gastonia South Open presented by the PBA for her first professional title.
In the other half of a weekend doubleheader in St. Charles, amateur
Shea Bittenbender
of St. Charles nipped Blake DeMore of Springfield, Mo., 213-212, to win the PBA St. Charles Lanes Midwest Region Open at St. Charles Lanes on Sunday.
Mitch Beasley, 46, said he and Inngellimar, 39, met for the first time during the PBA World Series of Bowling VI last October in Las Vegas, and got married a month later. Eight months later, Mitch figured it was only a matter of time before the couple would have a showdown on the lanes.
"I made a comment a couple of weeks earlier that I was going to have to beat my wife for a title," Mitch laughed. "I was kinda joking about it, but that's what happened. I was actually fortunate my wife didn't beat me.
"The first thing everyone told me was that I was going to be sleeping on the couch for a week," he added. "During match play before the finals, she beat me, 250-220. She threw the last eight strikes to smoke me."
To reach the title match, Inngellimar defeated amateur Neil Cooley of Lincoln, Neb., 243-200, in the semifinal game after Cooley defeated Tom Hess of Urbandale, Iowa, 219-216, in the first stepladder match.
 
Entries rolling in for GEICO PBA WSOB VII, PBA South Point Fall Classic
Entries opened July 8 for the
GEICO PBA World Series of Bowling VII
, set for Dec. 7-19 in Reno, Nev., and among the rush of first-day entries were players from Australia, Dubai, Spain and Ecuador.
Among the early entries, most indicated they intend to enter the new PBA South Point Bowling Plaza Fall Classic, Oct. 19-26, in Las Vegas.
Entries for both events are limited and will be processed on a first-come basis. WSOB VII can accommodate a field of
312 players
; the Fall Classic will be limited to
120 individuals (60 doubles and/or five-player teams)
.
The entry fee for the GEICO WSOB VII is $1,000 for members and $1,200 for non-members. Players must have a reservation confirmation number for a room at the Silver Legacy at the time of entry.
World Series entries
must be submitted to PBA Membership Services Manager Mary von Krueger (email:
[email protected]
; cell: 206-332-9688). PBA members will have first priority.
Fall Classic entries
can be submitted online through PBA.com. Click on "schedules" followed by "PBA Tour" and select the appropriate event for the entry form. PBA
West Region entries
should be submitted to West Region Manager Gary Mage (email:
[email protected]
; cell: 360-600-1229).
 
PBA Modern Classics library adds 2011 U.S. Open to PBA's YouTube collection
One of the most exciting U.S. Open finals in history will be the newest addition to the
PBA Modern Classics library
Friday on PBA's YouTube channel.
The
68th Lumber Liquidators U.S. Open
features
Norm Duke
(pictured left with the eagle trophy) of Clermont, Fla., winning his 34th PBA Tour title (to tie the legendary Mark Roth) and his seventh career major at Brunswick Zone-Carolier in North Brunswick, N.J.
The title match involves Duke's stunning 225-216 victory over Mika Koivuniemi of Hartland, Mich., when Koivuniemi missed a 10 pin spare in the 10th frame. To watch all of the classic PBA Tour championship events on YouTube, click
here
.
 
Motiv Tournament winners Prather, Lorincz to compete on PBA Tour
Former Wichita State University competitor
Kris Prather
(left), 23, of Pensacola, Fla., won the MOTIV Revolution Tournament last week at Thunderbowl Lanes in Allen Park, Mich., and earned a full MOTIV PBA staff contract to compete on the PBA Tour for the next year. Runner-up
Aaron Lorincz
(right) of Saginaw, Mich., a second-year PBA member, also earned a MOTIV PBA staff contract.
MOTIV, a PBA product registered bowling ball company, conducted the special tournament as a 'family reunion…where people from all aspects of the MOTIV family could have a chance to meet face-to-face,'" said company president Scott Wilbur. The tournament was video-streamed around the world, live on PBA's Xtra Frame bowling channel.
 
Upcoming on Xtra Frame: PWBA, PBA50, Striking Against Breast Cancer Doubles
PBA's Xtra Frame schedule
for the final two weeks of July includes three Professional Women's Bowling Association events, the return of PBA50 Tour competition and start-to-finish coverage of the 16th Striking Against Breast Cancer Mixed Doubles event.
PBA's exclusive online bowling channel, Xtra Frame, returns to South Plains Lanes in Lubbock – host of the recently-completed XF PBA Lubbock Sports Southwest Open – July 17-18 for exclusive coverage of the
PWBA Lubbock Sports Open
.
Start-to-finish coverage of the
PBA50 Tour Treasure Island Resort & Casino Open
presented by Roto Grip from Island Xtreme Bowl in Welch, Minn., is set for July 20-22.
Closing out the July schedule will be the
PWBA Wichita Open
from Northrock Lanes in Wichita, Kan., July 24-25, and opening the August schedule will be the PBA/PWBA Xtra Frame
Striking Against Breast Cancer Mixed Doubles
from Palace Lanes in Houston, Texas, July 31-Aug. 2.
 
PBA Regional Update: Stoney Baker wins PBA50 Tri-Region title in Corvova
Stoney Baker
(pictured left) of Canton, Ga., defeated PBA Hall of Famer Walter Ray Williams Jr. of Oxford, Fla., 202-197, to win the first PBA50 Lifestyle Resorts Communities Tri-Region Memphis South Open at Cordova Bowling Center in Cordova, Tenn., Sunday.
Baker posted a 7-5 match play record and a 20-game pinfall total of 4,289, including match play bonus pins, to qualify fourth. He opened the stepladder finals with a 222-190 win over Tony Majcher of Rolling Meadows, Ill., and eliminated Thomas Berish of Cordova in the semifinal match, 228-190, to advance to the title match against Williams, the top qualifier.
Baker earned $2,800 for his win in the tournament for players 50-and-older who live in the PBA South, Central and Midwest Regions.
Keith Doran
of Pomona, N.Y., defeated Jeff Zaffino of Warren, Pa., 175-172, to win the PBA50 Cecil Raymond Memorial presented by Track at Playdrome in Cherry Hill, N.J., Sunday. Doran, who was a PBA member in the 1980s, recently reinstated his membership and was competing in his first PBA50 regional event.
The Cherry Hill tournament, which began in 2004, was renamed last year to honor its sponsor who passed away in January, 2014. Raymond was the 2013 recipient of the East Region's Pat Patterson Award for outstanding contributions to the region.
Zaffino, who had led qualifying, bounced the first ball of the championship game off his ankle, which resulted in an open frame. He struggled on the right lane throughout the game, and failed to strike in the 10th frame which opened the door for Doran who responded with a strike for the win and the $1,500 first prize.
Scott Norton
(right) of Mission Viejo, Calif., defeated Kevin Harlin of Milpitas, Calif., 171-125, to win the PBA Wine Country West/Northwest Open presented by Roto Grip at Double Decker Lanes on Sunday for his 11th PBA Regional title and the $2,000 first prize.
Norton got a free pass into the championship match when Noel Vazquez of Sacramento, Calif., was forced to forfeit the semifinal round match due to an injury, handing Norton a 213-0 decision. Harlin defeated Josh Blanchard of Mesa, Ariz., 221-201, in the other semifinal round match.
PBA's July 17-19 Regional calendar includes the
Fort Sill Southwest Open
presented by Ebonite at Twin Oaks Bowl in Fort Sill, Okla.; the
Boss Snow Plows/Ebonite Central/Midwest Open
at PinHeads Bowling Center in Fishers, Ind., and the
PBA50 AMF Fredericksburg Lanes South Open
in Fredericksburg, Va.
Immediately following the
PBA50 Treasure Island Resort & Casino Open
presented by Roto Grip from Island Xtreme Bowl in Welch, Minn., the PBA Midwest Region will conduct the
PBA50 Treasure Island Resort & Casino Baker Doubles Classic
July 23-24.
The July 24-26 PBA Regional schedule features the
Pure-It Pro Shop East Open
presented by DV8 at Cedar Lanes in Lebanon, Pa.; the
Farmer's State Bank Central Open
presented by Roto Grip at Angola Bowl in Angola, Ind.; the
Poplar Creek Bowl Midwest Open
at Hoffman Estates, Ill., and the
PBA/PBA50 Sands Regency West/Northwest Doubles
presented by MOTIV at High Sierra Lanes in Reno, Nev.
Closing out the July schedule over the July 31-Aug. 2 weekend will be the PBA Xtra Frame
Striking Against Breast Cancer Mixed Doubles
, a PBA Tour-PWBA Tour title event, at Palace Lanes in Houston, Texas; the
Lakewood Bowl Midwest Open
in Richton Park, Ill.; the
PBA/PBA50 Northwest/West Open
from 20th Century Lanes in Boise, Idaho, and the PBA Japan Region's first events of the year, the
DHC Japan Cheetah and Women's Cheetah Opens
at Nagoya Grandbowl in Aichi, Japan.
For complete PBA Regional schedules, rules and entry information, click
here
and open the "schedules" tab and click on Regional Tours to find the event(s) in your area.
 
Quick Notes
Genesis Bowling Products
has upgraded its PBA Product Registration status from Limited to Full Accessories after interest generated at Bowl Expo. For more information on the benefits of Genesis Bowling Products' KMotion kinesiology tape among other products, click
here
.
 
Related Articles
2015 PBA Spare Shots #27
- July 9, 2015
2015 PBA Spare Shots #26
- July 2, 2015
2015 PBA Spare Shots #25
- June 24, 2015
2015 PBA Spare Shots #24
- June 18, 2015
2015 PBA Spare Shots #23
- June 12, 2015
2015 PBA Spare Shots #22
- June 6, 2015
2015 PBA Spare Shots #21
- May 28, 2015
2015 PBA Spare Shots #20
- May 20, 2015
2015 PBA Spare Shots #19
- May 7, 2015
2015 PBA Spare Shots #18
- April 29, 2015
2015 PBA Spare Shots #17
- April 23, 2015
2015 PBA Spare Shots #16
- April 17, 2015
2015 PBA Spare Shots #15
- April 9, 2015
2015 PBA Spare Shots #14
- April 3, 2015
2015 PBA Spare Shots #13
- March 26, 2015
2015 PBA Spare Shots #12
- March 18, 2015
2015 PBA Spare Shots #11
- March 11, 2015
2015 PBA Spare Shots #10
- March 5, 2015
2015 PBA Spare Shots #09
- February 25, 2015
2015 PBA Spare Shots #08
- February 19, 2015
2015 PBA Spare Shots #07
- February 12, 2015
2015 PBA Spare Shots #06
- February 5, 2015
2015 PBA Spare Shots #05
- January 31, 2015
2015 PBA Spare Shots #04
- January 24, 2015
2015 PBA Spare Shots #03
- January 15, 2015
2015 PBA Spare Shots #02
- January 8, 2015
2015 PBA Spare Shots #01
- January 3, 2015
2014 PBA Spare Shots