Mike Scroggins earns top qualifier honors in PBA50 DeHayes Insurance Group Championship
08/12/15
2015 PBA50 Tour #12
Lefties Scroggins and Parker Bohn III, the only two-time winners this PBA50 Tour season, out average the field by 13 pins and more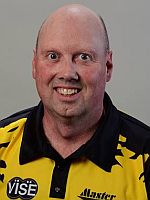 Mike Scroggins
(pictured left) of Amarillo, Texas, averaged 253.88 for 16 games to earn top qualifier honors Tuesday in the PBA50 DeHayes Insurance Group Championship presented by Pro Bowl West and Ebonite.
Scroggins, a PBA50 Tour rookie who started the season in April after a year-long absence from competition because of a serious foot ailment, led a field of 24 players at Pro Bowl West advancing to Wednesday's match play rounds which will determine the top five players for the stepladder finals scheduled for 7 p.m. ET.
The eight-time PBA Tour titlist and 2009 U.S. Open winner, maintained his first round lead finishing qualifying with a 4,062 16-game game pinfall total bowling games of 299, 224, 280, 289, 216, 227, 279 and 215 in Tuesday's second eight-game round.
With his physical game back in order, Scroggins turned his attention to guarding against becoming too complacent after getting off to a fast start in the tournament.
"I didn't want to repeat what I did last week," said Scroggins, who was well up in the qualifying order in the PBA/PBA50 South Shore Doubles only to bowl poorly in the second round to miss the cut.
"I looked at today as a clean slate, as if I had to battle to make the cut. "When I shot the 299 in the first game it was a reminder of what I could do if I just kept my focus. It was a good momentum builder for the rest of the block."
A win in the DeHayes Insurance Group Championship would make Scroggins the season's only three-time winner. His two wins this season came in the
UnitedHealthcare Sun Bowl In The Villages
and the
PBA50 Johnny Petraglia BVL Open
.
Scroggins held a 62-pin lead over PBA Hall of Famer and fellow lefthander
Parker Bohn III
(right) of Jackson, N.J., finishing qualifying with a 4,000 pinfall with the help of two 300 games in the second round.
Bohn, who is also trying for a third title, had games of 279, 204, 195, 257, 300, 280, 300 and 236 Tuesday. Bohn's wins this season came in the
Pasco County Florida Open
and the
Treasure Island Resort & Casino Open
.
By finishing in the top eight Scroggins and Bohn will take advantage of a two-round bye for Wednesday's match play.
Scroggins and Bohn dominated qualifying with Bohn finishing 220 pins ahead of PBA60 bowler
Mike Henry
(left) of Brunswick, Ohio, in third with 3,790; Rounding out the top eight were
Jerry Brunette Jr.
(right), Rochester, N.Y., 3,784; Hall of Famers
Amleto Monacelli
, Venezuela, 3,774, and
Walter Ray Williams Jr.
, 3,741;
Chris Keane
, Cape Coral, Fla., 3,721 and
Lennie Boresch Jr.
, Kenosha, Wis., 3,692.
Players qualifying in positions 25-37th plus the next eight PBA60 players will compete in Wednesday's cashers round to try for eight additional match play spots. The top five after match play will advance to the
stepladder finals scheduled for 6:30 p.m. ET on Wednesday
.
Xtra Frame, PBA's online bowling channel, is providing live coverage of the DeHayes Insurance Group Championship.
 
Related Articles
Mike Scroggins
takes first-round lead in PBA50 DeHayes Insurance Group Championship
2015 PBA50 Tour
Schedule & Champions
 
PBA50 DeHayes Insurance Group Championship - Second Round Standings
Players with position, hometown and 16-game total, top 24 advance to match play, top 8 receive two byes, places 9-24th receive one bye; places 25-37th plus eight PBA60 players (places 38-45th) advance to cashers round; drop all pins; ss-denotes PBA60 players ages 60 and over, a and *-denote amateur.
| | | | | | | | |
| --- | --- | --- | --- | --- | --- | --- | --- |
| Pos | Player | Hometown/Country | Games | Block 1 | Block 2 | Total | Avg. |
| 1. | Mike Scroggins | Amarillo, Texas | 16 | 2033 | 2029 | 4062 | 253.88 |
| 2. | Parker Bohn III | Jackson, N.J. | 16 | 1949 | 2051 | 4000 | 250.00 |
| 3. | ss-Michael Henry | Brunswick, Ohio | 16 | 1938 | 1852 | 3790 | 236.88 |
| 4. | Jerry Brunette Jr. | Rochester, N.Y. | 16 | 1859 | 1925 | 3784 | 236.50 |
| 5. | Amleto Monacelli | Venezuela | 16 | 1824 | 1950 | 3774 | 235.88 |
| 6. | Walter Ray Williams Jr. | Oxford, Fla. | 16 | 1872 | 1869 | 3741 | 233.81 |
| 7. | Christopher Keane | Cape Coral, Fla. | 16 | 1900 | 1821 | 3721 | 232.56 |
| 8. | Lennie Boresch Jr | Kenosha, Wis. | 16 | 1855 | 1837 | 3692 | 230.75 |
| 9. | Pete Weber | St. Ann, Mo. | 16 | 1819 | 1860 | 3679 | 229.94 |
| 10. | Norm Duke | Clermont, Fla. | 16 | 1847 | 1804 | 3651 | 228.19 |
| 11. | Kent Wagner | Bradenton, Fla. | 16 | 1861 | 1783 | 3644 | 227.75 |
| 12. | Mike Dias | Lafayette, Colo. | 16 | 1757 | 1882 | 3639 | 227.44 |
| 13. | ss-Paul McCordic | Sugar Land, Texas | 16 | 1729 | 1908 | 3637 | 227.31 |
| 14. | Jack Jurek | Lackawanna, N.Y. | 16 | 1816 | 1806 | 3622 | 226.38 |
| 15. | Sammy Ventura | Syracuse, N.Y. | 16 | 1847 | 1764 | 3611 | 225.69 |
| 16. | John Brockland | St. Charles, Mo. | 16 | 1813 | 1797 | 3610 | 225.63 |
| 17. | ss-Sam Maccarone | Blackwood, N.J. | 16 | 1870 | 1735 | 3605 | 225.31 |
| 18. | ss-Bill Henson | Westerville, Ohio | 16 | 1748 | 1852 | 3600 | 225.00 |
| 19. | ss-Kerry Painter | Henderson, Nev. | 16 | 1799 | 1800 | 3599 | 224.94 |
| 20. | ss-Gary Kammes | Winfield, Ill. | 16 | 1905 | 1692 | 3597 | 224.81 |
| 21. | ss-Lee Brosius | Ashburn, Va. | 16 | 1852 | 1731 | 3583 | 223.94 |
| 22. | Bryan Goebel | Shawnee, Kan. | 16 | 1807 | 1772 | 3579 | 223.69 |
| (tie) | Bob Learn Jr. | Erie, Pa. | 16 | 1809 | 1770 | 3579 | 223.69 |
| 24. | ss-Ron Profitt | Brookville, Ohio | 16 | 1688 | 1877 | 3565 | 222.81 |
| 25. | Ralph Brunt Jr. | Jensen Beach, Fla. | 16 | 1803 | 1757 | 3560 | 222.50 |
| 26. | Brent Beery | Kansas City, Mo. | 16 | 1812 | 1741 | 3553 | 222.06 |
| 27. | Peter Knopp | Germany | 16 | 1844 | 1702 | 3546 | 221.63 |
| 28. | ss-Willie Wells | Las Vegas | 16 | 1716 | 1826 | 3542 | 221.38 |
| 29. | Brian Cooper | Henderson, Nev. | 16 | 1773 | 1768 | 3541 | 221.31 |
| 30. | Terry Metzner | Kentwood, Mich. | 16 | 1762 | 1776 | 3538 | 221.13 |
| 31. | Brian Miller | Springfield, Ohio | 16 | 1776 | 1751 | 3527 | 220.44 |
| 32. | Todd Kjell | Roscoe, Ill. | 16 | 1861 | 1665 | 3526 | 220.38 |
| 33. | Mark Sullivan* | Indianapolis | 16 | 1776 | 1725 | 3501 | 218.81 |
| 34. | Tracy Teeters | Eugene, Ore. | 16 | 1620 | 1880 | 3500 | 218.75 |
| (tie) | John Conroy | Mahopac, N.Y. | 16 | 1729 | 1771 | 3500 | 218.75 |
| 36. | Brian LeClair | Delmar, N.Y. | 16 | 1774 | 1721 | 3495 | 218.44 |
| 37. | ss-Bill Hewlett | Eagle, Idaho | 16 | 1825 | 1665 | 3490 | 218.13 |
| 38. | ss-Edward Silva | Manteca, Calif. | 16 | 1738 | 1749 | 3487 | 217.94 |
| 39. | ss-Bill Argenbright* | New Hope, Va. | 16 | 1762 | 1716 | 3478 | 217.38 |
| 40. | ss-Thomas Ream | Tampa, Fla. | 16 | 1773 | 1695 | 3468 | 216.75 |
| 41. | ss-Dale Eagle | Laguna Niguel, Calif. | 16 | 1805 | 1660 | 3465 | 216.56 |
| 42. | ss-Phillip Moros | Lombard, Ill. | 16 | 1702 | 1762 | 3464 | 216.50 |
| 43. | ss-Tom Baker | King, N.C. | 16 | 1723 | 1739 | 3462 | 216.38 |
| 44. | ss-Dick Gran | Hartville, Ohio | 16 | 1747 | 1711 | 3458 | 216.13 |
| 45. | ss-Steve Stein | Staten Island, N.Y. | 16 | 1740 | 1707 | 3447 | 215.44 |
| 46. | Bob Spaulding* | Colorado Springs, Colo. | 16 | 1729 | 1753 | 3482 | 217.63 |
| 47. | Rick Zakrajsek | Lorain, Ohio | 16 | 1821 | 1659 | 3480 | 217.50 |
| 48. | Harry Sullins | Chesterfield Twp., Mich. | 16 | 1811 | 1666 | 3477 | 217.31 |
| 49. | Mark Everette | Aliquippa, Pa. | 16 | 1807 | 1666 | 3473 | 217.06 |
| 50. | Ron Mohr | Las Vegas | 16 | 1783 | 1683 | 3466 | 216.63 |
| 51. | Tom Howison | Chillicothe, Ohio | 16 | 1598 | 1866 | 3464 | 216.50 |
| 52. | Robert Brown | Cody, Wyo. | 16 | 1753 | 1710 | 3463 | 216.44 |
| 53. | Darron Peters | Temecula, Calif. | 16 | 1779 | 1683 | 3462 | 216.38 |
| 54. | Don Herrington | Ballston Lake, N.Y. | 16 | 1695 | 1766 | 3461 | 216.31 |
| 55. | John Burkett | Southlake, Texas | 16 | 1691 | 1755 | 3446 | 215.38 |
| 56. | Kevin Foley | Reno, Nev. | 16 | 1689 | 1747 | 3436 | 214.75 |
| 57. | ss-Roy Buckley | Westerville, Ohio | 16 | 1685 | 1746 | 3431 | 214.44 |
| (tie) | ss-Tommy Brodowski | New Hyde Park, N.Y. | 16 | 1714 | 1717 | 3431 | 214.44 |
| 59. | ss-Bill McCorkle | Westerville, Ohio | 16 | 1624 | 1804 | 3428 | 214.25 |
| 60. | ss-Mitchell Vernon | Olympia, Wash. | 16 | 1749 | 1678 | 3427 | 214.19 |
| 61. | ss-Brendan Bierch | Grafton, Mass. | 16 | 1624 | 1784 | 3408 | 213.00 |
| 62. | ss-William Keenan Jr. | Orlando, Fla. | 16 | 1633 | 1767 | 3400 | 212.50 |
| (tie) | ss-John Dudak | Orland Park, Ill. | 16 | 1725 | 1675 | 3400 | 212.50 |
| 64. | Lyle Zikes | Arlington Heights, Ill. | 16 | 1580 | 1815 | 3395 | 212.19 |
| 65. | Dave Flemming | Fairborn, Ohio | 16 | 1757 | 1636 | 3393 | 212.06 |
| 66. | ss-Bill Neumann | Rensselaer, N.Y. | 16 | 1558 | 1824 | 3382 | 211.38 |
| (tie) | ss-Dave Bernhardt | Romeo, Mich. | 16 | 1724 | 1658 | 3382 | 211.38 |
| 68. | ss-Don Sylvia | Daytona Beach, Fla. | 16 | 1612 | 1768 | 3380 | 211.25 |
| 69. | Al Danz Jr. | Escanaba, Mich. | 16 | 1624 | 1746 | 3370 | 210.63 |
| 70. | Ernie Segura Jr. | Taylor, Mich. | 16 | 1703 | 1665 | 3368 | 210.50 |
| 71. | ss-Emilio Mora Sr. | Defiance, Ohio | 16 | 1729 | 1627 | 3356 | 209.75 |
| (tie) | ss-a-Robert Reeder Jr.* | Bellefonte, Pa. | 16 | 1791 | 1565 | 3356 | 209.75 |
| 73. | ss-Tommy Kress | Rochester, N.Y. | 16 | 1649 | 1705 | 3354 | 209.63 |
| 74. | ss-Dale Csuhta | Wadsworth, Ohio | 16 | 1580 | 1765 | 3345 | 209.06 |
| 75. | Rick Woloszyn | Griffith, Ind. | 16 | 1638 | 1696 | 3334 | 208.38 |
| 76. | ss-Bill Idzior | Crown Point, Ind. | 16 | 1687 | 1645 | 3332 | 208.25 |
| 77. | ss-Frank Gallo Jr. | Jacksonville, Fla. | 16 | 1737 | 1592 | 3329 | 208.06 |
| 78. | ss-Lee Rautenberg | Boynton Beach, Fla. | 16 | 1617 | 1697 | 3314 | 207.13 |
| 79. | Warren Burr | Wilmington, Del. | 16 | 1656 | 1657 | 3313 | 207.06 |
| 80. | ss-Mark Scime | Winter Garden, Fla. | 16 | 1678 | 1631 | 3309 | 206.81 |
| 81. | ss-Bob Knipple | Long Beach, Calif. | 16 | 1625 | 1682 | 3307 | 206.69 |
| 82. | ss-Ross McDonald | Clarksville, Md. | 16 | 1628 | 1672 | 3300 | 206.25 |
| 83. | a-Victor VanHentenryck* | Fort Wayne, Ind. | 16 | 1632 | 1661 | 3293 | 205.81 |
| (tie) | a-John Chapman* | Canada | 16 | 1712 | 1581 | 3293 | 205.81 |
| 85. | Robert Harvey | Boise, Idaho | 16 | 1687 | 1592 | 3279 | 204.94 |
| 86. | ss-Tim Pierce | Portland, Ore. | 16 | 1575 | 1696 | 3271 | 204.44 |
| (tie) | a-Gary Gatchell* | Fort Wayne, Ind. | 16 | 1621 | 1650 | 3271 | 204.44 |
| 88. | ss-Marc Lineberry | Camanche, Iowa | 16 | 1616 | 1654 | 3270 | 204.38 |
| 89. | ss-Ted Staikoff | Black Hawk, S.D. | 16 | 1645 | 1619 | 3264 | 204.00 |
| 90. | ss-Darrell Adams | Flintstone, Ga. | 16 | 1629 | 1626 | 3255 | 203.44 |
| 91. | Tommy Martin | Olive Branch, Miss. | 16 | 1669 | 1583 | 3252 | 203.25 |
| 92. | Paul LeMond | Jasper, Ind. | 16 | 1570 | 1680 | 3250 | 203.13 |
| 93. | a-Mark Nance Sr.* | Grove City, Ohio | 16 | 1668 | 1580 | 3248 | 203.00 |
| 94. | ss-Lew Elting | Carlsbad, Calif. | 16 | 1640 | 1592 | 3232 | 202.00 |
| 95. | a-Dave Welch* | St.Louis, Mo. | 16 | 1666 | 1562 | 3228 | 201.75 |
| 96. | ss-Steven Jansson | Barnes, Wisc. | 16 | 1617 | 1608 | 3225 | 201.56 |
| 97. | John Scully | Streamwood, Ill. | 16 | 1554 | 1663 | 3217 | 201.06 |
| 98. | ss-Kerry Fulford | Ft. Worth, Texas | 16 | 1691 | 1520 | 3211 | 200.69 |
| 99. | Don Birkentall | Omaha, Neb. | 16 | 1724 | 1478 | 3202 | 200.13 |
| 100. | Tom Carter | Columbus, Ohio | 16 | 1584 | 1607 | 3191 | 199.44 |
| 101. | ss-Richard Hunt | Valparaiso, Ind. | 16 | 1651 | 1513 | 3164 | 197.75 |
| 102. | ss-Galen Keas | Alda, Neb. | 16 | 1611 | 1530 | 3141 | 196.31 |
| 103. | ss-Mike Moore | Marietta, Ohio | 16 | 1638 | 1490 | 3128 | 195.50 |
| 104. | ss-Steven Banks | Leesburg, Va. | 16 | 1564 | 1560 | 3124 | 195.25 |
| 105. | Kenneth Galitsky | Plainfield, Ind. | 16 | 1554 | 1556 | 3110 | 194.38 |
| 106. | ss-Terry Fronterhouse | Phoenix | 16 | 1593 | 1513 | 3106 | 194.13 |
| 107. | ss-Howard Frostman | Washburn, Wis. | 16 | 1518 | 1574 | 3092 | 193.25 |
| 108. | ss-Edgar Gomez | Colombia | 16 | 1501 | 1585 | 3086 | 192.88 |
| 109. | Robert Michalojko | Pittsburgh | 16 | 1479 | 1520 | 2999 | 187.44 |
| 110. | Ray Johnson | Battle Creek, Mich. | 16 | 1485 | 1501 | 2986 | 186.63 |
| 111. | ss-Glen Nakagawa | Highland Village, Texas | 16 | 1433 | 1510 | 2943 | 183.94 |