Shawn Maldonado wins four straight PBA Southwest Region tournaments
09/23/15
2015 PBA Spare Shots #38
Duke, Malott to defend Roth/Holman Doubles title; Team Fish unveils "Bowl for the Cure" fund-raising project; 2012-13 PBA Tour series now available on YouTube; Next up on Xtra Frame; Eugene McCune wins 21st Regional title
Reigning PBA Southwest Region Player of the Year
Shawn Maldonado
(pictured) of Houston, Texas, outlasted fellow Texans Wes Malott of Pflugerville, Dino Castillo of Highland Park and Mike Scroggins of Amarillo to win the 11th annual PBA Dallas Orthopaedic Trauma Surgeons Southwest Open hosted by Brunswick Zone Watauga in Watauga, Texas, Sunday.
With his victory, Maldonado has won four consecutive PBA Southwest Regional tournaments. While the PBA doesn't maintain such records for regional competition, the 29-year-old Houston two-hander's win in four consecutive regional tournaments is thought to be a first in the PBA Southwest Region.
Maldonado, a third-year PBA member, led Saturday's 10 games of qualifying and won his first two matches of the 16-game round robin finals before losing his next three games. Castillo and Malott took turns atop the leader board before Maldonado won his next 10 matches.
Malott defeated Maldonado in their position round match, 279-218, to narrow Maldonado's final margin of victory to 38 pins and to stay ahead of Scroggins and Castillo.
For his win in Watauga, Maldonado earned a $5,000 first prize along with his seventh career PBA Regional title. He won his first three titles during the 2014 season.
 
Duke, Malott to defend Roth/Holman Doubles title in PBA Fall Classic
Two-time defending Mark Roth/Marshall Holman PBA Doubles champions
Norm Duke and Wes Malott
(pictured, l-r) will begin defense of their
2011
and
2015
titles during the South Point Bowling Plaza PBA Fall Classic which will take place Oct. 19-26 in Las Vegas.
Preliminary rounds of the
Roth/Holman Doubles
event will kick off the Fall Classic, starting with an eight-game qualifying round on Monday, Oct. 19, followed by two six-game match play rounds for the top 12 teams on Tuesday, Oct. 20.
The top five teams after a combined 40 individual games will advance to the ESPN stepladder finals which will be held on Saturday, Dec. 19, at the National Bowling Stadium in Reno as part of the GEICO PBA World Series of Bowling VII.
The finals will air Sunday, Jan. 17, at 1 p.m. ET and will be counted as a 2016 title for each member of the winning team. As of Sept. 23, 48 teams had entered the Roth/Holman doubles event. For a current roster of teams, click
here
.
Following the doubles event, the Fall Classic continues with the PBA Xtra Frame
South Point Las Vegas Open
, a PBA Tour singles event, Wednesday and Thursday. The
PBA South Point West Challenge
, a regional tournament for players who haven't won a PBA title, is set for Friday, Oct. 23.
The inaugural
PBA Team Challenge
, a wide-open five-player team event, is set for Saturday and Sunday with qualifying, Baker format match play and Baker format stepladder finals. For a current roster of teams, click
here
. The
PBA50 Western Open
, a PBA West Region tournament for players ages 50-and-older, will conclude the Fall Classic on Monday.
All of the South Point Bowling Plaza PBA Fall Classic competition will be covered live on PBA's online video-streaming service, Xtra Frame. For subscription information, visit pba.com and click on the Xtra Frame link.
 
Team Fish unveils "Bowl for the Cure" fund-raising project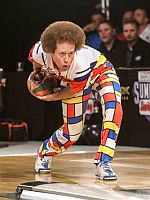 Team Fish
, the group of young PBA members who have banded together for fun and friendship, is adding "fund-raising" to its portfolio.
Led by North Carolina team members Connor Pickford (left) of Charlotte and Kyle Troup (right) of Taylorsville, Team Fish is unveiling a custom-designed t-shirt that will be sold to raise money in support of the efforts to find a cure for breast cancer.
Pickford, who lost his mother Valerie to breast cancer in September 2001, and Troup, whose grandmother died from the disease in 2010 and whose mother is a breast cancer survivor, are leading the Team Fish effort to raise money as part of the national October Breast Cancer Awareness month campaign.
The special breast cancer t-shirt can be ordered through the Team Fish page on Facebook. Orders are now being accepted. All proceeds from the t-shirt sales will be donated to Susan G. Komen for the Cure through the bowling family's Bowl for the Cure program.
 
28-event extended 2012-13 PBA Tour series now available on YouTube
PBA fans now have access to television coverage of the entire extended
2012-13 PBA Tour
schedule on the PBABowling channel on YouTube. The 2012-13 season included a unique 14-month schedule as the PBA was preparing to return to a calendar-year schedule at the start of 2014.
For that reason, the 2012-13 season included two PBA World Series of Bowling (eight animal pattern championships plus two PBA World Championships), along with the 2013 Winter Swing (which included a full schedule of PBA League telecasts), the 2013 Chris Paul PBA Celebrity Invitational, the complete 2013 Summer Swing from Milwaukee, the 2013 U.S. Open and two Round1 Japan Cup finals.
To access the complete schedule of telecasts now available on YouTube, click
here
.
 
Next up on Xtra Frame: Kokomo Shootout, Iowa Midwest Open
PBA action returns to Xtra Frame on Sunday, Oct. 4, with the
Kokomo Central Shootout
presented by Security Federal Savings Bank from Heritage Lanes in Kokomo, Ind., followed by the PBA Xtra Frame
Iowa Midwest Open
from Thunderbowl in Council Bluffs, Iowa, Oct. 10-11, where a projected $10,000 first prize and a PBA Tour title will be at stake.
 
PBA Regional Update: Eugene McCune wins 21st Regional title in Ohio
Top qualifier
Eugene McCune
(pictured left with the trophy) of Munster, Ind. defeated J.R. Raymond of Bay City, Mich., 211-161, to win $3,000 and his 21st PBA Regional title in the PBA Rex & Griffin Bigelow Memorial/BW3's/Nance Construction Central Open presented by MOTIV at Troy Bowl in Troy, Ohio, Sunday.
Raymond defeated Dan MacLelland of Canada, 246-199, to advance to the championship match after MacLelland eliminated Aaron Lorincz of Saginaw, Mich., 211-203, in the opening match.
Rhino Page
(right) of Orlando, Fla., defeated Webber International University competitor Nate Garcia of Port St. Lucie, Fla., 259-170, to win the inaugural PBA Sarasota South Open at Sarasota Lanes Sunday. Page earned $2,300 along with his seventh PBA Regional title.
Page posted a 6-4 match play record and an 18-game pinfall total of 4,257, including match play bonus pins, to qualify first for the stepladder finals. Garcia earned his place in the title match by defeating Scott Newell of Deland, Fla., 211-189, in the semifinal round. In the first stepladder match, Newell defeated Chris Polizzi of Spring Hill, Fla., 238-178.
Amateur
Mike Dole
of Loves Park, Ill., won five of his eight matches and finished with a total of 3,767 pins for 15 games to defeat PBA Hall of Famer Pete Weber of St. Ann, Mo., by 65 pins to win the PBA Budweiser Midwest Open at Cherry Lanes inside Diamond Jo Casino on Sunday.
The win was Dole's first in PBA Regional competition, but he does not get credit for a title because he is a non-member. He earned $2,000 while Weber earned $1,000 for second place.
Brian LeClair
(pictured left with proprietor Mike Tryniski, left) of Albany, N.Y., outscored Sammy Ventura of Syracuse, N.Y., by 182 pins over 17 games to win the PBA50 Lakeview Lanes Eastern Open presented by Brunswick at Lakeview Lanes Sunday in Fulton, N.Y.
LeClair, in his first year of PBA50 competition, trailed Ventura by 91 pins after Saturday's qualifying round, but averaged 254 over the first four games on Sunday to open a 103-pin lead and was never challenged thereafter. Ventura out-dueled Sam Maccarone of Blackwood, N.J., for the runner-up spot, rolling a 257 final game to regain second place.
Next weekend is the final chance to earn PBA and PWBA-PBA Women's Regional Challenge points for 2015. The schedule includes the
PBA and PWBA-PBA Women's Tomball Southwest Open
at Tomball Bowl in Tomball, Texas; the
Battle at Black Oak Casino West Open
at Black Oak Lanes in Tuolumne, Calif.; the
Break Point Alley Member/Non-Member Doubles
presented by MOTIV in Tavares, Fla.; the
Monte Skeels Allstate
and
PWBA-PBA Women's Midwest Open
tournaments at Liberty Lanes in Carpentersville, Ill., and the
PBA50 Mel Westrich Memorial Central/Midwest Open
presented by Storm at Delphos Recreation Center in Delphos, Ohio.
For complete PBA Regional schedules, rules and entry information, click
here
and open the "schedules" tab and click on Regional Tours to find the event(s) in your area.
 
Quick Notes
Bowling fans who may not have had a chance to watch
The Smithfield PWBA Tour Championship
on CBS Sports Network can now watch the final event of the PWBA season on Xtra Frame. Look for the show in the Xtra Frame archives.
 
Related Articles
2015 PBA Spare Shots #37
- September 17, 2015
2015 PBA Spare Shots #36
- September 11, 2015
2015 PBA Spare Shots #35
- September 4, 2015
2015 PBA Spare Shots #34
- August 27, 2015
2015 PBA Spare Shots #33
- August 20, 2015
2015 PBA Spare Shots #32
- August 13, 2015
2015 PBA Spare Shots #31
- August 6, 2015
2015 PBA Spare Shots #30
- July 29, 2015
2015 PBA Spare Shots #29
- July 23, 2015
2015 PBA Spare Shots #28
- July 16, 2015
2015 PBA Spare Shots #27
- July 9, 2015
2015 PBA Spare Shots #26
- July 2, 2015
2015 PBA Spare Shots #25
- June 24, 2015
2015 PBA Spare Shots #24
- June 18, 2015
2015 PBA Spare Shots #23
- June 12, 2015
2015 PBA Spare Shots #22
- June 6, 2015
2015 PBA Spare Shots #21
- May 28, 2015
2015 PBA Spare Shots #20
- May 20, 2015
2015 PBA Spare Shots #19
- May 7, 2015
2015 PBA Spare Shots #18
- April 29, 2015
2015 PBA Spare Shots #17
- April 23, 2015
2015 PBA Spare Shots #16
- April 17, 2015
2015 PBA Spare Shots #15
- April 9, 2015
2015 PBA Spare Shots #14
- April 3, 2015
2015 PBA Spare Shots #13
- March 26, 2015
2015 PBA Spare Shots #12
- March 18, 2015
2015 PBA Spare Shots #11
- March 11, 2015
2015 PBA Spare Shots #10
- March 5, 2015
2015 PBA Spare Shots #09
- February 25, 2015
2015 PBA Spare Shots #08
- February 19, 2015
2015 PBA Spare Shots #07
- February 12, 2015
2015 PBA Spare Shots #06
- February 5, 2015
2015 PBA Spare Shots #05
- January 31, 2015
2015 PBA Spare Shots #04
- January 24, 2015
2015 PBA Spare Shots #03
- January 15, 2015
2015 PBA Spare Shots #02
- January 8, 2015
2015 PBA Spare Shots #01
- January 3, 2015
2014 PBA Spare Shots