PBA50 National Championship added as fourth major for 2016 PBA50 Tour season
01/29/16
PBA50 Tour News
Elkhart, Ind. event to benefit Riley Hospital for Children in finale of 15-tournament schedule
The Professional Bowlers Association has announced the addition of the
PBA50 National Championship
as a fourth major tournament to its 2016 PBA50 Tour schedule for players 50 years of age and older.
The 15-tournament 2016 season will conclude with the PBA50 National Championship to benefit Riley Hospital for Children Aug. 14-17 at Signature Lanes in Elkhart, Ind.
Joining the PBA50 National Championship as majors this season will be the Suncoast
PBA Senior U.S. Open
presented by 900 Global at Suncoast Bowling Center, Las Vegas (May 29-June 3);
USBC Senior Masters
at Sam's Town Bowling Center, Las Vegas (June 19-25), and the Treasure Island Resort & Casino
PBA50 World Championship
presented by Storm at Island Xtreme Bowl, Welch, Minn. (July 17-23).
"A Week for Riley Kids is a natural match for the PBA50 Tour with its long-standing support of great causes," said Signature Lanes proprietor
Roger Brown
.
"Having bowling's legends here helping us support such a great cause is another hallmark of the PBA. I know the entire community is looking forward to making this inaugural year an event most anticipated and exciting for years to come."
The 2016 season begins with the PBA50 Pasco County Florida Open at Lane Glo Bowl in New Port Richey, Fla., April 16-19, and continues with tournaments in The Villages, Fla.; Mooresville, N.C.; Farmingdale, N.Y.; Fountain Valley, Calif.; Brentwood, Calif., Hammond, Ind.; Anderson, Ind., and back-to-back events at Pro Bowl West in Fort Wayne, Ind.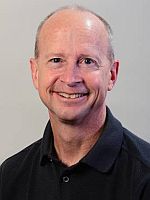 PBA50 Tour events will again be webcast live on PBA's online bowling channel, Xtra Frame. PBA will accept entries for PBA50 Tour events beginning Feb. 1 on pba.com.
"We're looking forward to a great year for our PBA50 Tour players," said PBA50 Tour Director
John Weber
(pictured). "In addition to increasing the number of tournaments, our players will now have four majors to showcase their skills and bowling fans will be able to witness it all live on PBA's online bowling channel Xtra Frame."
The 2016 PBA50 Tour will also determine the top eight players in points who will earn paid entries into
GEICO PBA World Series of Bowling VIII
in Reno where they also will compete in a PBA50 Tour Challenge qualifier.
The top two players from the qualifier will advance to the
PBA Challenge Finals
along with top PBA Regional, PWBA-PBA Women's Regional and Teen Masters contestants. Points awarded for PBA50 majors will be worth one and a half times of those awarded for a standard PBA50 Tour event.
 
Related Articles
PBA adds PBA50 World Championship to
2016 PBA50 Tour Schedule
as third major
 
2016 PBA50 Tour Schedule
2016 PBA50 Tour #1
PBA50 Pasco County Open
Lane Glo Bowl in New Port Richey, Fla., USA (April 16-19, 2016)
2016 PBA50 Tour #2
UnitedHealthcare
PBA50 Sun Bowl in The Villages
presented by Radical
Spanish Springs Lanes in The Villages, Fla., USA (April 23-26, 2016)
2016 PBA50 Tour #3
PBA50 Mooresville Open
presented by Columbia 300
George Pappas Victory Lanes in Mooresville, N.C., USA (May 1-4, 2016)
2016 PBA50 Tour #4
PBA50 Johnny Petraglia BVL Open
presented by Brunswick
Farmingdale Lanes in Farmingdale, N.Y., USA (May 7-10, 2016)
2016 PBA50 Tour #5
(major)
Suncoast
PBA Senior U.S. Open
presented by 900 Global
Suncoast Bowling Center in Las Vegas, Nev., USA (May 29-June 3, 2016)
2016 PBA50 Tour #6
PBA50 Fountain Valley Open
presented by Track
Fountain Bowl in Fountain Valley, Calif., USA (June 5-8, 2016)
2016 PBA50 Tour #7
PBA Northern California Classic
presented by MOTIV
Harvest Park Bowl in Brentwood, Calif., USA (June 12-15, 2016)
2016 PBA50 Tour #8
USBC Super Senior Classic
(for players 60 and over)
Sam's Town Hotel and Gambling Hall in Las Vegas, Nev., USA (June 16-19, 2016)
2016 PBA50 Tour #9
(major)
United States Bowling Congress Senior Masters
Sam's Town Bowling Center in Las Vegas, Nev., USA (June 19-25, 2016)
2016 PBA50 Tour #10
(major)
Treasure Island Resort & Casino
PBA50 World Championship
presented by Storm
Island Xtreme Bowl in Welch, Minn., USA (July 17-23, 2016)
2016 PBA50 Tour #11
PBA50 South Shore Open
presented by DV8
Olympia Lanes in Hammond, Ind., USA (July 25-28, 2016)
2016 PBA50 Tour #12
PBA50 Dave Small's Championship Lanes Classic
presented by Roto Grip
Dave Small's Championship Lanes in Anderson, Ind., USA (July 31-Aug. 3, 2016)
2016 PBA50 Tour #13
PBA50 Pro Bowl West Championship
presented by Ebonite
Pro Bowl West in Fort Wayne, Ind., USA (Aug. 6-9, 2016)
2016 PBA50 Tour #14
PBA60 Dick Weber National Championship
presented by Hammer
Pro Bowl West in Fort Wayne, Ind., USA (Aug. 11-13, 2016)
2016 PBA50 Tour #15
(major)
PBA50 National Championship
to benefit Riley Hospital for Children
Signature Lanes in Elkhart, Ind., USA (Aug. 14-17, 2016)