Ron Mohr dominates Sun Bowl in The Villages qualifying
04/26/16
2016 PBA50 Tour #2
Two-time PBA50 Player of the Year averages 251 to lead 32 players into match play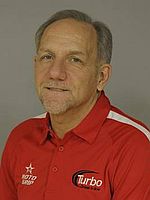 Two-time PBA50 Player of the Year
Ron Mohr
of Las Vegas, averaged 251 to dominate qualifying and lead 32 players who advanced to match play for the UnitedHealthcare Sun Bowl in The Villages presented by Radical at Spanish Springs Lanes in The Villages, Fla.
After a 2,056 eight-game pinfall in Sunday's first round, Mohr followed it up with 1,961 after Monday's second round for a 4,017 16-game overall pinfall. He bowled games of 259, 218, 269, 237, 278, 268, 237 and 195 in the second round.
"When the round started I was having to play the lanes quite a bit deeper than I anticipated but the key is to read the lanes and react," Mohr said.
"I expected a three or four board difference from yesterday but it turned out to be eight to 10. It wasn't a problem because I was able to make the right adjustments and I was able throw the same ball as I did yesterday for the whole round."
Mohr, an eight-time PBA50 Tour winner, is hoping to end a nearly four-year drought without a PBA50 Tour win. His last win came in the
2012 PBA Senior Decatur Open
(pictured above).
He's also looking forward to bouncing back from his 39th-place finish in last week's season opening Pasco County Florida Open.
"I spent some time working on some fundamental things before coming here and I think it's made a lot of difference," Mohr said. "I just need to continue to focus on the things I can control and trust that the results will come."
Mohr holds the PBA50 eight and 16-game qualifying records of 2,160 and 4,243, respectively, which were set in the
2010 PBA Senior Columbus Open
.
Reigning PBA50 Player of the Year Hall of Famer
Pete Weber
(left) of St. Ann, Mo., qualified second with 3,946. He had games of 245, 258, 222, 258, 264, 248, 216 and 279 in his second round.
"I do well here," said Weber, who finished fourth in the Pasco County Florida Open. "I've made the finals here the last two out of three years and I've got a good start in qualifying so I'm where I need to be at this point."
Rounding out the top five after the second round were
Brian Cooper
(left), Henderson, Nev., 3,893;
Kevin Foley
, Reno, Nev., 3,885, and Hall of Famer
Amleto Monacelli
(right) of Venezuela, 3,883.
Pasco County Florida Open winner
Walter Ray Williams Jr.
of Oxford, Fla., finished the day in sixth with 3,811 and defending champion
Mike Scroggins
of Amarillo, Texas, finished tied for seventh with 3,777.
Match play begins Tuesday at 9 a.m. ET. At the conclusion of match play the top five players will advance to the stepladder finals scheduled for 7 p.m. The UnitedHealthcare Sun Bowl In The Villages is streamed live on PBA's online bowling channel Xtra Frame.
Related Articles
Ron Mohr
averages 257 to take first round lead in The Villages
2016 PBA50 Tour Schedule & Champions
 
PBA50 Sun Bowl in The Villages - Second Round Standings
Players with position, hometown and 16-game total; top 32 advance to match play Tuesday; n-denotes non-member, ss-denotes PBA60 player ages 60 and over out of the regular prize list cashing for $1,000
1, Ron Mohr, Las Vegas, 4,017
2, Pete Weber, St. Ann, Mo., 3,946
3, Brian Cooper, Henderson, Nev., 3,893
4, Kevin Foley, Reno, Nev., 3,885
5, Amleto Monacelli, Venezuela, 3,883
6, Walter Ray Williams Jr., Oxford, Fla., 3,811
7, (tie) Mike Scroggins, Amarillo, Texas, and Bob Spaulding, Colorado Springs, Colo., 3,777
9, Sam Maccarone, Blackwood, N.J., 3,736
10, Brian LeClair, Delmar, N.Y., 3,733
11, Johnny Petraglia, Jackson, N.J., 3,731
12, Don Breeden, Clive, Iowa, 3,729
13, Joel Carlson, Omaha, Neb., 3,727
14, Mike Dias, Lafayette, Colo., 3,720
15, Jerry Brunette Jr., Rochester, N.Y., 3,707
16, Parker Bohn III, Jackson, N.J., 3,702
17, Scott Greiner, Platte City, Mo., 3,688
18, Robert Brown, Cody, Wyo., 3,683
19, Dale Traber, Cedarburg, Wis., 3,681
20, (tie) Timothy Regan, East Northport, N.Y., and David Taylor, Largo, Fla., 3,679
22, Lennie Boresch Jr., Kenosha, Wis., 3,666
23, Jack Jurek, Lackawanna, N.Y., 3,662
24, Tom Baker, King, N.C., 3,661
25, Tommy Martin, Olive Branch, Miss., 3,660
26, Darryl Bower, Middletown, Pa., 3,659
27, Chuck Richardson, The Villages, Fla., 3,654
28, Tracy Teeters, Eugene, Ore., 3,650
29, Stoney Baker, Canton, Ga., 3,637
30, Doug Becker, Clermont, Fla., 3,634
31, Bruce Hall, Westborough, Mass., 3,630
32, Stephen Pavlinko, Sewell, N.J., 3,627
Missed Cut:
33, David Williams Jr., Omaha, Neb., 3,624, $1,000
34, Dennis Rakauskas, Apopka, Fla., 3,623, $1,000
35, Bryan Goebel, Shawnee, Kan., 3,616, $1,000
36, Kevin Croucher, Grants Pass, Ore., 3,613, $1,000
37, John Dudak, Orland Park, Ill., 3,611, $1,000
38, Ted Staikoff, Black Hawk, S.D., 3,610, $1,000
39, Craig Auerbach, Sunrise, Fla., 3,607, $1,000
40, Warren Nelson, Middleburg, Fla., 3,594, $1,000
41, Paul LeMond, Jasper, Ind., 3,590, $1,000
42, Emilio Mora Sr., Defiance, Ohio, 3,582, $1,000
43, (tie) Kenneth Bland Jr., Cibilo, Texas, 3,579, and Steve Kenyon, Dade City, Fla., 3,579, $1,000
45, John Dougherty III, Fort Walton Beach, Fla., 3,577, $1,000
45, James Knoblauch, Waukesha, Wis., 3,577, $1,000
47, (tie) Bob Learn Jr., Erie, Pa., 3,567, and Terry Metzner, Kentwood, Mich., 3,567, $1,000
49, Dale Eagle, Laguna Niguel, Calif., 3,564, $1,000
49, Tony Johnson, Canton, Ohio, 3,564, $1,000
51, John Gant, Medford, Mass., 3,550, $1,000
52, Ralph Brunt Jr., Jensen Beach, Fla., 3,542, $1,000
53, Dave Han, Hoover, Al., 3,530, $1,000
54, John Austin Jr., League City, Texas, 3,528
55, Brian Miller, Springfield, Ohio, 3,526
56, James Hansen, Anchorage, Alaska, 3,523
57, Bo Goergen, Sanford, Mich., 3,522
58, (tie) John Donovan, Melbourne, Fla., and Jim Pitts, Elmira, N.Y., 3,512
60, ss-John Pullen, Oyster Bay, N.Y., 3,511, $1,000
61, ss-Roger Kossert, Lithia, Fla., 3,510, $1,000
62, William Peters, Dayton, Ohio, 3,509
63, ss-Mark Scime, Winter Garden, Fla., 3,507, $1,000
64, Rory Peterson, Sacramento, Calif., 3,504
65, Michael Owen, Gainesville, Fla., 3,502
66, Robert Leonard, Lockwood, N.Y., 3,501
67, Sammy Ventura, Syracuse, N.Y., 3,500
68, Todd Haney, Boiling Springs, S.C., 3,498
69, Darin Hays, Wesley Chapel, Fla., 3,493
70, Wayne Bolin, Lumberton, N.C., 3,492
71, n-John Hough, Naples, Fla., 3,489
72, ss-Steve Stein, Staten Island, N.Y., 3,485, $1,000
73, James Lord, Fort Mill, S.C., 3,477
74, Peter Knopp, Germany, 3,475
75, ss-Ron Profitt, Brookville, Ohio, 3,473, $1,000
76, ss-William Keenan Jr., Orlando, Fla., 3,472, $1,000
77, ss-Timothy Kauble, Marion, Ohio, 3,471, $1,000
78, ss-Lee Rautenberg, Boynton Beach, Fla., 3,466, $1,000
79, Lee Brosius, Ashburn, Va., 3,464
80, John Conroy, Mahopac, N.Y., 3,463
81, Don Herrington, Ballston Lake, N.Y., 3,456
82, Ernie Segura Jr., Taylor, Mich., 3,454
83, Pete Arruda, Gilbert, S.C., 3,450
84, Mike Hastings, Millsboro, Del., 3,447
85, David Welch, St. Louis, Mo., 3,440
86, John Burkett, Southlake, Texas, 3,436
87, (tie) Marty Berke, Allentown, Pa., and Bill Henson, Westerville, Ohio, 3,433
89, Joe Scarborough, Charlotte, N.C., 3,431
90, Marc Lineberry, Camanche, Iowa, 3,430
91, Frank Gallo Jr., Jacksonville, Fla., 3,429
92, Don Sylvia, Daytona Beach, Fla., 3,422
93, Dick Gran, Hartville, Ohio, 3,421
94, Harry Sullins, Chesterfield Twp., Mich., 3,418
95, Dave Bernhardt, Romeo, Mich., 3,415
96, Michael Truitt, New Port Richey, Fla., 3,402
97, Antonio Santa, San Juan, Puerto Rico, 3,377
98, Jim Price, Harrrisburg, N.C., 3,372
99, Mike Walden, Stony Point, N.Y., 3,366
100, James Souder, Greeneville, Tenn., 3,363
101, Rich Giragosian, Charlotte, N.C., 3,362
102, Michael Kennedy, Austraila, 3,352
103, Dave Sill, Titusville, Fla., 3,349
104, Ken Waters, Kingsport, Tenn., 3,347
105, Bill Ursillo, Bluffton, S.C., 3,344
106, Dan Schmerbach, St. Joseph, Mo., 3,343
106, Bob Kelly, Dayton, Ohio, 3,343
108, Steven Jansson, Barnes, Wis., 3,336
109, Warren Burr, Wilmington, Del., 3,335
110, (tie) Randy Robertson, Evansville, Ind., and Todd Kjell, Roscoe, Ill., 3,331
112, John DiSantis, Wilmington, Del., 3,321
113, Gary Alstott, Washington, Ill., 3,318
114, (tie) Tom Howison, Chillicothe, Ohio, and Larry Woomer, State College, Pa., 3,317
116, Fred Ferreira, Kings Park, N.Y., 3,309
117, James Deplanche, Taylor, Mich., 3,304
118, Bob Chamberlain, The Villages, Fla., 3,290
119, (tie) Billy Block, Pembroke Pines, Fla., Nick Panicaro, Ocala, Fla., and Kenny Parks, Hammond, Ind., 3,284
122, Steven Grotowski, Ft Lauderdale, Fla, 3,275
123, Doug O'Bryant, Ball Ground, Ga., 3,269
124, n-Adam Colton, Boynton Beach, Fla., 3,263
125, Steve Bova, Massapequa, N.Y., 3,252
126, Christopher Keane, Cape Coral, Fla., 3,246
126, Michael Holden, Victoria, Australia, 3,246
128, George Lord, Lakeland, Fla., 3,245
129, Harry Alchin III, Madeira Beach, Fla., 3,243
130, Greg Wilhelm, Saluda, Va., 3,240
131, William Banks, Laurel Hill, N.C., 3,228
132, (tie) Thomas Ream, Tampa, Fla., and Michael Chrzanowski, Shepherd, Mich., 3,221
134, (tie) Tom Carter, Columbus, Ohio, and Patsy DellaPenna, Palm Harbor, Fla., 3,219
136, (tie) Jon DeLaney, McKinney, Texas, and Edgar Gomez, Colombia, 3,217
138, Darrell Adams, Flintstone, Ga., 3,212
139, John Kidwell, Indianapolis, Ind., 3,197
140, Larry Gross, Ocala, Fla., 3,196
141, John Younger, Winston-Salem, N.C., 3,190
142, Sam Perrotta, Newark, Del., 3,155
143, Paul Mielens, Menomonie, Wis., 3,104
144, Mike Schmid, St. Paul, Minn., 3,099
145, William Medina, Camillus, N.Y., 3,093
146, Lew Elting, Carlsbad, Calif., 3,090
147, Stephen Wood, Naylor, Ga., 3,085
148, Glenn Morgan, Carson City, Nev., 3,079
149, Adrian Eckroth, Ocala, Fla., 3,065
150, Stephen Lippman, Palm Harbor, Fla., 2,978
151, Dan Howsmon, Lutz, Fla., 2,977
152, Larry Montgomery, Safety Harbor, Fla., 2,971
153, Joseph Long, Tarpon, Springs, Fla., 2,969
154, Larry Felts Jr., Moore, S.C., 2,960
155, Lindell Woolard, Tallahassee, Fla., 2,934
156, Bobby Dunn, Augusta, Ga., 2,931
157, Howard Frostman, Washburn, Wis., 2,925
158, Dave Schultz, West Bend, Wis., 2,842
159, Gerald Dost, Hilton Head, S.C., 2,834
160, Peter Brainard, Tampa, Fla., 2,733