USBC selects nominees for United States Olympic Committee Coaching Awards
01/18/07
USBC News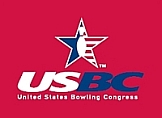 Three certified coaches from California, Ohio and New Jersey are the United States Bowling Congress' nominees for U.S Olympic Committee's 2006 Coach of the Year awards.
USBC certified coaches
Jeri Edwards
(Akron, Ohio),
Jeffrey Frye
(Hackettstown, N.J.) and
Teresa Ross
(Manteca, Calif.) have been nominated for USOC National Coach of the Year, Volunteer Coach of the Year and Developmental Coach of the Year, respectively.
"USBC is proud to nominate Jeri, Jeffrey and Teresa for these prestigious USOC coaching awards," said Director of USBC Coaching Bob Maki. "These three certified coaches have shown incredible commitment to coaching the sport of bowling in 2006."
USBC Team USA head coach
Edwards
led her men's national amateur bowling squad to the Gold medal in the team event of the 2006 Men's World Championships in September in Busan, South Korea (pictured).
It was the first time since 1971 that the U.S. men's team captured gold in that event.
L-R Edwards, a USBC Gold coach, also coached Team USA member and reigning U.S. Amateur champion Diandra Asbaty to the women's title at the 2006 QubicaAMF Bowling World Cup in November in Caracas, Venezuela.
Frye
, a USBC Silver coach and USBC Level I Instructor, volunteers private instruction to league bowlers at Oakwood Lanes in Washington, N.J. In 2006, Frye worked with an autistic youth bowler and helped the young man improve his average from 108 to 164.
In addition, Frye actively advocates the establishment of varsity high school bowling teams in New Jersey. Five schools have started programs and a handful more are seriously considering adding bowling to their athletic programs.
Frye founded the New Jersey Junior Gold Sport Bowling Travel League, which uses challenging USBC Sport Bowling lane oil patterns at its 11 host centers to better prepare the athletes for the demanding Sport lane conditions they will face at the USBC Junior Gold National Championships. Frye is the recipient of the 2007 USBC Kerm Helmer Horizon Award for his efforts to increase USBC Sport Bowling opportunities for high-average youth bowlers through USBC Junior Gold and other competitions.
Ross
, an assistant coach with USBC Junior Team USA, coached several bowlers to high finishes in several prestigious national tournaments such as the USBC Team USA Trials, the USBC Junior Gold National Championships and the Teen Masters. Ross solidified her place among elite bowling coaches by being named one of the "100 Top Coaches" in the world by Bowlers Journal International magazine.
A USBC Silver coach who has been training bowlers for 25 years, Ross recently became certified as a USBC Level 1 instructor, helping increase the number of certified coaches in California.
Overall winners of the three awards will be honored at a special function at a time and place to be announced.
The awards are organized through the USOC Coaching Recognition Program, which seeks to elevate the status of coaching as a profession and recognize the best coaches in the United States. Each Olympic and Pan American sport is invited to nominate coaches for the USOC Coach of the Year awards.