Two-handed bowling: the sport's next revolution?
10/09/07
USBC Coaching
Unconventional style a growing trend with athletes
Athletes over the years have experimented to gain an edge in their sports.
In the 1960s, track and field star Dick Fosbury invented a new technique by rolling over the bar backwards. The "Fosbury Flop" was so successful that it became the standard method for high jumpers.
In tennis, players experimented by hitting backhand shots with both hands on the racquet instead of just one. That gave players more power, and the technique is common practice today.
The sport of bowling also has pioneers.
Today, many young athletes worldwide are shunning the traditional one-handed style and using two hands to swing and deliver the ball, giving them incredible rotation and striking power never seen in bowling.
Two-handed bowlers swing the ball with both hands by one side of their body as they approach the foul line. Inserting just their fingers or their fingers and thumb of one hand in the ball, they support the ball's weight with the other hand. At the release point, their top hand comes away, and they release and follow through with the gripping hand.
One of those young guns is USBC Team USA member
Cassidy Schaub
(pictured left), who will put his two-handed style to the test in the 2007 USBC Masters Oct. 23-28 in Milwaukee.
Schaub - who pocketed $10,000 for finishing third in the Open Division of the Panama Invitational Tournament Oct. 3-8 in Panama City, Panama - and the rest of the field of close to 500 of the world's best bowlers will vie for a chance to compete in the live, ESPN-televised finals at Miller Park on Oct. 28 and take home the $100,000 first prize check.
"When I was 5 years old and started bowling I was too little to carry the ball to the line with one hand, so I carried it up there with two," said Schaub (right), 24, a left-hander from Polk, Ohio, who represented the United States at the 2007 Pan American Games in July in Rio de Janeiro, Brazil. "As I started to grow I developed a back swing and footwork to go with my two-handed delivery."
Two-handers such as Schaub use a traditional heel-toe walking approach while others - like Australia's
Jason Belmonte
and Finland's
Osku Palermaa
- use a short shuffle step late in the approach to create power and momentum.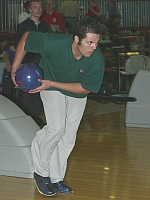 Belmonte (left) has won medals at the AMF World Cup and World Youth Federation Internationale des Quilleurs, competed on the European Bowling Tour and rolled 26 perfect games. Palermaa (right) rolled two perfect games on his way to winning the 2006 AMF World Cup in Venezuela.
"I am pretty much a self-taught bowler," said Belmonte, 24, who started bowling in his parents' bowling center in the provincial city of Orange in New South Wales, Australia.
Jaime Foster
, 2006 National Collegiate Bowling Coaches Association women's rookie of the year, started bowling with one hand, but learned to bowl with two hands after a shoulder injury in a car accident made it difficult to bowl one-handed.
"I learned the style on my own," Foster said. "I put only my two fingers in the ball and don't use my thumb."
Among the younger bowlers to have big success rolling two-handed is
Chaz Dennis
of Columbus, Ohio. On Dec. 21, 2006, Dennis rolled his way into bowling's record books by becoming the youngest bowler ever to throw a perfect game in USBC competition at age 10 years, 2 months, 27 days. Dennis was 20 days younger than the previous record-holder, Michael Tang of San Francisco.
This style offers bowlers the advantage of generating more hook and power than the traditional one-handed delivery. Because two-handers use one hand to roll the ball and the other to support it, they can keep their bowling hand under the ball longer. That positioning lets them generate extra rotation, hook and power on the ball and more options to play the lanes, which can translate to more strikes and higher scores.
"It allows me to generate a lot of revolutions (spin) on the ball, but it also allows my shoulders to stay square to my target without a lot of extra motion from my off arm," Schaub (left) said.
"More power with less effort," Palermaa (right) said.
The two-handed style is somewhat controversial in the sport of bowling.
"I think the style is intriguing," Belmonte (left) said. "Many people watch my style because they either hate it or love it. So I guess it is bringing a touch of debate back into the game."
To accommodate the new crop of bowlers who are electing to use the two-handed delivery, the USBC Coaching program - which trains and certifies bowling coaches - is researching and developing methods for teaching these athletes.
"The two-handed delivery is a hot trend in bowling today," said Rod Ross, head coach of USBC Junior Team USA, the U.S. junior national bowling team. "These kids do it because it comes naturally to them. This is a style to be reckoned with. It's here to stay."
Related article: Solving the mysteries of the two-handed approach delivery By Cary Pon