2009 USBC Women's Championships kicks off in Reno
03/29/09
United States
National Bowling Stadium in Reno, Nev., United States (March 28 - July 5, 2009)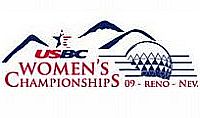 Women bowlers from across the country experienced a flair for the dramatics as they kicked off the opening ceremonies for the
2009 United States Bowling Congress Women's Championships
at the National Bowling Stadium on Saturday.
The 55 teams who helped start the 100-day tournament were treated to an exhibition of flair bartending by
Eric Parker
(pictured right) of the Silver Legacy Resort Casino as well as several skits from the musical "Menopause," which is currently running at the Eldorado Hotel Casino.
Photos by Bryan Haraway, Getty Images
The USBC Women's Championships, which is visiting Reno for the sixth time since 1988, will feature 8,330 teams and more than 41,500 bowlers before the tournament concludes on July 5. The event will have an estimated economic impact of more than $40 million for Reno and its surrounding communities.
"We are thrilled to welcome back the women bowlers to Reno," said
Ellen Oppenheim
, President and CEO of the Reno-Sparks Convention and Visitors Authority. "We not only appreciate your friendship, but also the economic boost you will provide to our community."
Mayors
Bob Cashell
of Reno and
Geno Martini
of Sparks, Nev., were also on hand for the opening festivities. Both proclaimed March 28, 2009 as USBC Women's Championships Day.
"It's great to have this many people visit and help our economy," Martini said.
Cashell and Martini cut the ceremonial ribbon to officially start the event. Oppenheim and USBC Board Member
Barb Chrisman
threw out the official opening balls, which was followed by the traditional mass ball shot (pictured).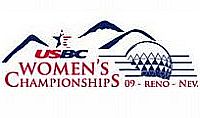 Presenting sponsors for the 2009 USBC Women's Championships are Eldorado Hotel Casino, Silver Legacy Resort Casino and Circus Circus Reno. Other participating sponsors are Kegel, official lane maintenance provider, Atlantis Hotel and Casino, Sands Regency Casino Hotel, Harrah's Hotel and Casino, Club Cal Neva, and Storm Products Inc.