Record scores are final as 2009 USBC Open Championships concludes in Las Vegas
07/25/09
United States
Cashman Center in Las Vegas, Nev., United States (Feb. 21 - July 24, 2009)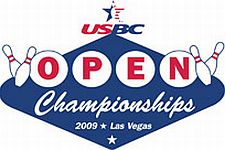 The record run of the 2009 United States Bowling Congress Open Championships came to an end Friday, and the event will be remembered for the performances and personal milestones that rewrote the tournament record books.
Three major scoring records were broken at Cashman Center this year, and an unprecedented 10 bowlers reached the coveted 50-year milestone. The list of champions in 2009 includes 13 first-time winners, while five bowlers added to their legacies on the championship lanes as repeat winners.
Ron Vokes
of Racine, Wis., put on a show when he rolled a record 30 consecutive strikes, including a 300 game, on the way to an 857 singles series. He added 767 in team and 697 in doubles to earn the 2009 Regular All-Events title with a 2,321 total, the highest in 106 years of USBC Open Championships competition. Stephen Hardy of Manchester, N.H., previously held the all-events record with 2,279, which earned him the title in Billings, Mont., in 2002.
"I'm so happy that I was able to hold on for the all-events championship, and I'm very proud," said Vokes, who made his 24th Open Championships appearance and had a previous high all-events total of 1,926. "I knew the tournament ended today, and I was just holding my breath and waiting for the call. I always hoped this would happen, but thought it would've been when I was younger. To have this happen when I'm turning 50 makes it even better. To put three sets together like that is unbelievable."
Vokes had his eye on a second eagle in Regular Singles until
Bo Goergen
of Midland, Mich., bested him with a record 862. Goergen, who competed for the 31st consecutive year, rolled games of 299, 299 and 264 to earn his first Open Championships title. Prior to Goergen's performance this year, John Janawicz of Winter Haven, Fla., owned the tournament's highest series, an 858 effort that earned him the 2004 Regular Singles and Regular All-Events titles.
"This feels absolutely surreal and incredible," said Goergen, who finished third in Regular All-Events this year with 2,190. "These last couple of weeks have been intense, and as much as I wanted to sit back and celebrate, you never know what could happen. I did everything I could to keep myself busy and occupied, but it wasn't easy."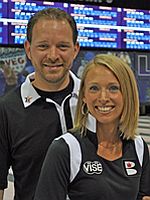 Not to be outdone, first-time winners
Brenda Edwards and Stephen Padilla
of Mansfield, Texas, added their names to the record books with a 1,566 doubles total, which topped the previous record of 1,544, rolled by Jonathan Masur of West Orange, N.J., and Jeffrey Butler of Garfield, N.J., on the way to the win in 2007.
Edwards contributed a 776 total to the winning score and added a 300 game and 785 series in singles. A 571 series in team helped her to a 2,132 all-events total, the highest by a woman at the Open Championships. She also was the sixth woman to roll a perfect game on the tournament lanes and the second, joining USBC Hall of Famer Wendy Macpherson, to win a Regular Division title. Padilla contributed a 790 series on the way to the title.
"I don't know if it will really, truly set in until we get to Reno and see the eagles on the scoreboard and hear them announce it in the squad room," said Edwards, who is a Youth Program Developer for USBC and is in Indianapolis this week working at the USBC Youth Open Championships. "To be able to do this with Stephen and have something like this to share is amazing. I tried not to think about it too much because it felt like we were waiting forever. The last few weeks have been excruciating, but I feel amazing right now."
Rounding things out in the Regular Division was
Linds Limited of Milwaukee
, which topped the 17,200-team field to claim the Regular Team and Team All-Events titles. The five team members now have combined for 141 years of Open Championships experience and 20 titles on the tournament lanes.
This year, the group was led by Lennie Boresch Jr. of Kenosha, Wis., who rolled his second-career 300 at the Open Championships and finished second in Regular All-Events with 2,223. He helped Linds Limited to a 3,449 team score and 10,372 in Team All-Events, the third-highest total since the inception of the category in 1947.
"I've been bowling with these guys for a long time, so to hold on and win again is awesome," said Boresch, who also rolled a perfect game at the 1989 event in Wichita, Kan. "When you look back at the old magazines and see some of the teams from over the years, it gives you goose bumps to think that you're part of that history."
Dale Traber, who went on to win the 2009 USBC Senior Masters in June, added a 2,080 all-events total for Linds Limited this year and was joined by Gary Daroszewski (2,080), Ryan Lever (1,995) and Gus Yannaras (1,994). The highest Team All-Events total in history is 10,425, rolled by Pollard's Bowl of Versailles, Ind., at the 1996 event in Salt Lake City.
The two titles give Daroszewski six for his career, and only seven bowlers in history have more. Yannaras and Traber each earned their fourth titles, while Boresch and Lever now are at three apiece.
"With all of the records falling this year, I didn't know what to expect," said Yannaras, who teamed up with Daroszewski for the 1989 Regular Doubles title and got help from Boresch, Traber and Steven Brinkman to win the Team All-Events crown in 2000. "That made the wait a little harder, and I'm glad it's over. There's something about this team and the support of Jeff Lind that is really special. We are all really comfortable together, and when we go out on the lanes, things just happen. The feeling is indescribable."
In the Classified Division,
Robert Carter and Michael Warren
of Clinton, N.C., swooped in on the 153rd day of the tournament's record 154-day run and grabbed the Classified Doubles title with a 1,250 total. Carter led the duo with a 636 series, while Warren contributed 614. Both were first-time participants.
"I'm sure glad to hear the news," Carter said. "When we came out, I figured we'd probably finish in the middle of the pack somewhere, and I never in a million years thought we'd end up winning."
Bermuda's
Vernon Daniels
rolled games of 236, 224 and 232 for a 692 series and became the first international bowler to win Classified Singles. It was his 12th appearance at the Open Championships.
"I never thought I would ever win anything like this, and I was just eager for the tournament to end," Daniels said. "I really didn't worry too much, and I really thought someone would beat me. I was just hoping to finish in the top five, and I was thrilled to finally get the call. It feels pretty special."
The Classified Team title went to
Exterminators of Camp Springs, Md.
, which posted games of 871, 915 and 963 for a 2,749 total.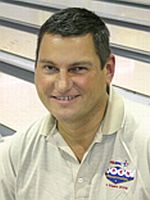 This year's Classified All-Events champion is
Anthony Kastle
of Charlotte, N.C., who rolled a 723 series in doubles, the third-highest set ever rolled in Booster/Classified competition, and added 594 in singles and 517 in team for a 1,834 winning total.
Additional excitement on the tournament lanes this year included the highest triplicate in tournament history.
Kevin Shafer
(left) of Eaton, Ind., rolled three consecutive 248 games on the way to a 744 singles series.
Alan Hardesty of Chicago previously held the triplicate record with 247, which he rolled during singles in 1993.
In May, active participation leader,
Les Berry
(left) of Wooster, Ohio, made his 66th tournament appearance and became the 11th bowler in history to knock down 100,000 pins. Earlier in the tournament, active pinfall leader,
Bill Lillard
(right) of Houston increased his career total to 115,192.
Also, a record 10 bowlers joined the tournament's 50-year Club, bringing the all-time total to 108.
In all, there were 34 perfect games this year, 17 299s, three 298s and six 800 series.
"Every day proved to be filled with the opportunity to meet new faces, become reacquainted with old friends and observe world class bowling," said first-year tournament manager Duane Hagen. "As the final ball was tossed, and I looked back to last February, it feels as if the last 154 days melted away overnight. I am extremely proud of the effort put forth by our extraordinary staff, and I am already tingling with anticipation for the start of the 2010 Open Championships in Reno."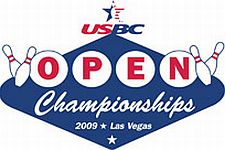 Presenting sponsors for the 2009 USBC Open Championships are the Coast Casinos in Las Vegas and the Eldorado Hotel Casino, Silver Legacy Resort Casino and Circus Circus in Reno, Nev. Other participating sponsors are Kegel, official lane maintenance provider; Brunswick, capital equipment supplier; Storm Products, Inc.; Binion's Gambling Hall and Hotel and Four Queens Hotel and Casino, the official brackets sponsors; Sapphire Gentleman's Club; Golden Nugget Hotel and Casino; MGM Mirage; Jerry's Nugget Casino and Fitzgerald's Casino and Hotel.
 
 
2009 USBC Open Championships
Cashman Center in Las Vegas, Nev. (Feb. 21 - July 24, 2009)
REGULAR DIVISION
Top 10 division leaders with hometown and pinfalls
 
Team
1, Linds Limited (Gus Yannaras, Gary Daroszewski, Ryan Lever, Lennie Boresch Jr., Dale Traber), Milwaukee, 3,449. 2, Sack Toe, Sacramento, Calif., 3,427. 3, Turbo 2-N-1 Grips 1, Madison, Wis., 3,403. 4, Buddy Tierno Senior Tour, Mount Laurel, N.J., 3,335. 5, S and B Pro Shop 2, Sterling Heights, Mich., 3,325. 6, Jr. Team USA Support, New Port Richey, Fla., 3,307. 7, Don Johnson Memorial, 3,306. 8, Northern Lanes Rec, Gaylord, Mich., 3,290. 9, Rock River Lanes, Fort Atkinson, Wis., 3,285. 10, Lodge Lanes 1, Saline, Mich., 3,280.
Doubles
1, Stephen Padilla/Brenda Edwards, Mansfield, Texas, 1,566. 2, Marc McDowell, Monona, Wis./Mike Shady, Fairview, Pa., 1,474. 3, Ron Nelson, Bridgeview, Ill./Bryan O'Keefe, Arlington, Texas, 1,466. 4, Adam Cardwell, Woodbury, Minn./Richard Volhard, Marathon, Wis., 1,460. 5, Jonathan Schalow, Marshfield, Wis./Chad Svendsen, Milton, Wis., 1,458. 6, Jason Guest, Urbandale, Iowa/Scott Wohlwend, Moline, Ill., 1,453. 7, Steve Brinkman, Sussex, Wis./Lennie Boresch, Kenosha, Wis., 1,446. 8, John Brodersen, Helena, Mont./Bruce Steffani, Great Falls, Mont., 1,444. 9. Greg Thompson, Cupertino, Calif./Fero Williams, West Carrollton, Ohio, 1443. 10, Edward Gallagher, Clarksville, Tenn./Ray Edwards, Middle Island, N.Y., 1,440.
Singles
1, Bo Goergen, Midland, Mich., 862. 2, Ron Vokes, Racine, Wis., 857. 3, Rick Perry, Kalispell, Mont., 814. 4, Vincent Yoder, Wooster, Ohio, 810. 5, David Cirigliano, Phoenix, Ariz., 793. 6, Raymond Smarsh, Matawan, N.J., 792. 7, Sean Riccardi, Piscataway, N.J., 789. 8, Joseph Burgio, Buffalo, N.Y., 788. 9, Brenda Edwards, Mansfield, Texas, 785. 10, Hutch Battreall, St. Joseph, Mo., 783.
All-Events
1, Ron Vokes, Racine, Wis., 2,321. 2, Lennie Boresch Jr., Kenosha, Wis., 2,223. 3, Bo Goergen, Midland, Mich., 2,190. 4, Don Burdick, DeKalb, Ill., 2,168. 5, Sean Riccardi, Piscataway, N.J., 2,164. 6, Joe Hostetler, Minerva, Ohio, 2,156. 7, Brett Wolfe, Scottsdale, Ariz., 2,147. 8, Ron Nelson Jr., Bridgeview, Ill., 2,138. 9, Chris Collins, Savannah, Ga., 2,136. 10, Matt Descoteaux, Spokane, Wash., 2,134.
Team All-Events
1, Linds Limited (Gus Yannaras, Gary Daroszewski, Ryan Lever, Lennie Boresch Jr., Dale Traber), Milwaukee, 10,372. 2, Turbo 2-N-1 Grips 1, Madison, Wis., 10,317. 3, Northern Lanes Pro Shop, Sanford, Mich., 10,116. 4, Don Johnson Memorial, Lexington, Ky., 10,056. 5, Jr. Tean USA Support, New Port Richey, Fla., 10,034. 6, Rock River Lanes, Fort Atkinson, Wis., 9,915. 7, Sack Toe, Sacramento, Calif., 9,858. 8, Junior Team USA Support, Orlando, Fla., 9,846. 9, Northern Lanes Rec, Gaylord, Mich., 9,839. 10 (tie), Pepsi/Lanemasters 1, Rochester, N.Y., and Miguel Rosa, Dartmouth, Mass., 9,829.
 
CLASSIFIED DIVISION
Top 10 division leaders with hometown and pinfalls
 
Team
1, Exterminators (Mitchell Smith Sr., Barry Russell, Mark Owens Sr., Charles Simms, Scott Welcher), Camp Springs, Md., 2,749. 2, Malad Gun Club, Malad City, Idaho, 2,745. 3, Kens Old West, Page, Ariz., 2,743. 4, E. Montana Flatlanders, Rio Rancho, N.M., 2,734. 5, Pinboy's Faithful 2, Virginia Beach, Va., 2,708. 6, Fire One, Clearlake Oaks, Calif., 2,703. 7, ATW, New London, Minn., 2,698. 8, Pro Zone 3, Mission Hills, Calif., 2,696. 9 (tie), WebeaFamily, Douglasville, Ga., and Montana Connection 1, Great Falls, Mont., 2,689.
Doubles
1, Robert Carter/Michael Warren, Clinton, N.C., 1,250. 2, Melanie Sweet, Capitol Heights, Md./Lashawn Farrish, Bowie, Md., 1,220. 3, Susan Nixon/Greg Go, Las Vegas, 1,211. 4, Eric Douglass, Goldfield, Iowa/Troy Schultz, Clarion, Iowa, 1,204. 5, Wayne Wada, Alameda, Calif./Vince Baptista, Millbrae, Calif., 1,201. 6 (tie), Donald Braham, Whittier, Calif./Daniel Milstead, Brea, Calif., and Veronica Boone/Luis Boone, Mission Hills, Calif., 1,195. 8, George Marquez, Whittier/ Pete Dumpit, El Monte, Calif., 1,192. 9, Po Ling Klip, San Francisco/Maria Lau, Daly City, Calif., 1,185. 10,Rob Foster, Wamego, Kan./MarySue Gaffke, Council Grove, Kan., 1,184.
Singles
1, Vernon Daniels, Bermuda, 692. 2, Ed Gronski, Mulkeytown, Ill., 687. 3 (tie), Dennis Tomhave, Vermillion, S.D., and Tom Hammack, Jenks, Okla., 679. 5, Kelly Aeikens, Benson, Minn., 677. 6, Joseph Costa, Chicago, 669. 7, Ryan Knutson, Dilworth, Minn., 664. 8, Adam Macleod, Brampton, Ontario, 662. 9, Roy Umehira, Honolulu, 657. 10, Jean Reese, Owatonna, Minn., 654.
All-Events
1, Anthony Kastle, Charlotte, N.C., 1,834. 2, Frank Boehm Jr., Regina, Saskatchewan, 1,818. 3, Dennis Tomhave, Vermillion, S.D., 1,799. 4, Pete Dumpit, El Monte, Calif., 1,798. 5, Richard Ruby, Milford, N.J., 1,796. 6, John Waliczek, Pflugerville, Texas, 1,795. 7, Kenneth Reed, Stone Mountain, Ga., 1,792. 8, Darryl Turner, Mint Hill, N.C., 1,788. 9, Roy Umehira, Honolulu, 1,782. 10, John Strickland, Yucca Valley, Calif., 1,781.