Kim Terrell-Kearney named to Team USA coaching staff
01/16/10
Tean USA News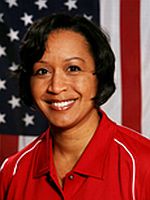 Three-time Team USA member
Kim Terrell-Kearney
(pictured left) of Grand Prairie, Texas, has been named assistant head coach of the Team USA program.
Terrell-Kearney, who will be inducted into the United States Bowling Congress Hall of Fame in May, will work alongside Team USA head coach
Rod Ross
(right). Both coaches will also oversee the Junior Team USA program.
"Kim has tremendous credentials not only as an athlete but also as a coach," said
David Garber
, USBC High Performance Director for Team USA and Coaching. "We will utilize the full resources of our USBC Coaching staff to assist Rod and Kim in coaching Team USA and Junior Team USA."
A 10-time professional champion, Terrell-Kearney's most recent victory came at the 2008 U.S. Women's Open. Her other major victories came in the 2002 USBC Queens and the 2001 U.S. Women's Open.
Terrell-Kearney also serves as assistant head coach of the International Training and Research Center, working with Ross, who is the head coach. Before taking that position, she was the head coach at Delaware State University and an assistant coach for Junior Team USA.
"I'm honored and excited by the chance to work with our country's elite bowlers," Terrell-Kearney said. "With the completion of the training center, I look forward to using our new tools to help coach the players in our state-of-the-art facility."
Team USA and Junior Team USA will compete in several events in 2010, including the World Tenpin Bowling Association World Men's Championships, the WTBA World Youth Championships, the Pan American Bowling Confederation Women's Championships and the QubicaAMF World Cup.
 
Related Articles
Team USA to make
head coach transition
in 2010