2010 USBC Open Championships are underway at National Bowling Stadium in Reno
02/21/10
United States
National Bowling Stadium in Reno, Nev., United States (Feb. 20 - July 5, 2010)
For a record ninth time, the
United States Bowling Congress Open Championships
is underway in Reno.
The 2010 event marks the sixth time the tournament has been held at the 78-lane National Bowling Stadium, and 265 bowlers and their friends and families helped usher in the 107th USBC Open Championships on Saturday afternoon.
Reno mayor
Bob Cashell
, Sparks mayor
Geno Martini
, USBC Hall of Famers
Jim Schroeder
and
Bob Hart
, dignitaries and sponsors took part in the opening festivities, which also included the traditional Mass Ball Shot (right), ribbon cutting (below left) and the crowning of Joe Bowler.
Ted Thomas
(pictured right), 53, of Lafayette, Colo., earned the distinction of Joe Bowler, a tradition that began in 1951, and rolled the ceremonial first ball (a nine count), signifying the official start of the 2010 event. The tournament will run from 7 a.m. until 2 a.m. daily until July 5.
"I actually enjoyed it a lot," said Thomas, who bowls at Coal Creek Sports Center and made his third appearance at the Open Championships. "I was a little nervous, but I felt very privileged. My mother was an officer in the national tournaments, so it was good to see hall of fame bowlers like Bob Hart and Jimmy Schroeder walk out with me. I will be here every year. I like the competitiveness, camaraderie and having a fun time away with the guys."
This year, more than 14,000 five-player teams (70,000 bowlers) will test their skills on the championship lanes. The Open Championships has been held at the Stadium every third year since 1995, and previously was held at the Reno-Sparks Convention Center in 1977, '84 and '90.
On the lanes Saturday,
Pandorum
(pictured left) of Buford, Ga., moved into the top spot in Regular Team with a 3,063 three-game effort. The group put together games of 1,028, 1,042 and 993 to pace the 53-team Opening-Day squad. Although all five bowlers bowl league at Brunswick Zone Lilburn (Ga.), Saturday marked the first time they bowled on a team together.
Mark McClung
led the way for Pandorum with a 682 set and was followed by
Justin Gibbons
(666),
Leigh Trostel
(609),
Settee Johnson
(582) and
Darin Belsito
(524). "We started off slowly, but talked to each other about the adjustments we could make, and it worked out pretty well," said McClung, who made his fourth Open Championships appearance. "We could've finished a little bit stronger, but it still feels good to be in the lead. It was also nice to be a part of the opening and see how everything comes together."
In the Classified Division,
3 Jokers and 2 Queens
(pictured right), also of Buford, Ga., grabbed the early lead with a 2,536 total. The team, which includes three USBC Board members -
Mitch Mitchell
,
Kayla Chick
and
Tommy Gann
- posted games of 809, 788 and 939.
Jason Reynolds
led the way for 3 Jokers and 2 Queens with a 580 series and was followed by Gann, USBC's second vice-president, (538), Mitchell (532),
Susan Pickford
(453) and Chick (433).
"I'm happy and excited, since it's the first time I've ever been a part of the lead in 31 years here," Mitchell said. "We'll cherish the moment while it lasts. Hopefully, it shows that our leadership team is not only made up of good businessmen and women, but some good bowlers as well."
To be eligible for the Classified Division, a team must have a combined average of 900 or less.
It's not too late to enter the 2010 Open Championships. There are still some prime bowling times available. The final entry deadline is April 1.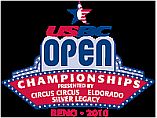 Presenting sponsors for the 2010 USBC Open Championships are Circus Circus, Eldorado and Silver Legacy Hotel/Casinos in Reno, Nev. Other sponsors include Sands Regency Casino Hotel, official brackets sponsor, Kegel, official lane maintenance provider, US Steltronic, official scoring system, and supporting sponsors Storm Bowling Products, UPS, Nationwide Insurance, Atlantis Casino Resort and Spa, Harrah's Reno Casino and Hotel and Peppermill Hotel Casino.
 
Related Articles
New offerings and procedures
for USBC Open Championships
Automated System
to simplify entry process for USBC Tournaments
Entry deadline
extended for 2010 USBC Open Championships
 
107th USBC Open Championships
National Bowling Stadium in Reno, Nev., United States (Feb. 20 - July 5, 2010)
REGULAR DIVISION
Top 10 division leaders with hometown and pinfalls
 
Team
1, Pandorum (Leigh Trostel, Darin Belsito, Settee Johnson, Mark McClung, Justin Gibbons), Buford, Ga., 3,063. 2, Macanudos, Auburn, Ga., 2,961. 3, Bountiful Gardens, Hamlet, N.C., 2,926. 4, TEXA Tonka Lanes-GRN1, Minneapolis, 2,900. 5, The B Team, Wichita, Kan., 2,710. 6, McCroskey Attorney at Law, Newport, Wash., 2,670. 7, Striker's Bowling Center, Rockingham, N.C., 2,640. 8, Head Pin Lanes 11, Weiser, Idaho, 2,623. 9, Zips Lounge 2, Mason, Ohio, 2,600. 10, Terry Elson State Farm Insurance, Casey, Ill., 2,588.
 
CLASSIFIED DIVISION
Top 10 division leaders with hometown and pinfalls
 
Team
1, 3 Jokers & 2 Queens (Mitch Mitchell, Susan Pickford, Kayla Chick, Tommy Gann, Jason Reynolds), Buford, Ga., 2,536. 2, Faribault Food, Cokato, Minn., 2,451. 3, Doug's Tax Service, Corning, Calif., 2,424. 4, Holt Motors, Cokato, Minn., 2,380. 5 (tie), Wipe Out, Evanston, Ill., and San Antonio Mixers 2, Boerne, Texas, 2,369. 7, Can We Bowl?, Orange, Calif., 2,328. 8, A 1 Window Co, Brownwood, Texas, 2,305. 9, Udder Bull, Orange, Calif., 2,234. 10 (tie), Associated Insurance Cent, Pocomoke, Md., and GSR, Reno, Nev., 2,201.