Bowlers overcome obstacles, find success at USBC Open Championships
02/27/10
United States
Ryan Goettsch
(pictured left) of Galva, Iowa, didn't let an injury slow him down as he moved into the lead in two events at the USBC Open Championships on Friday.
Despite excruciating pain in the ring finger on his bowling hand, the 25-year-old right-hander rolled games of 205, 241 and 172 to move into the top spot in Classified Singles with 618, and that effort catapulted him into the Classified All-Events lead with 1,702. Julie Wahman of Dexter, Iowa, previously held the Classified Singles lead with 591, while Lee Baird of Brownwood, Texas, topped Classified All-Events with 1,648.
"I was just on a roll," said Goettsch, who rounded out his seventh Open Championships appearance with 566 in team and 518 in doubles. "The shot was there, and I never really had to move. I just had to repeat shots."
Last summer, Goettsch had a bone chip removed from his ring finger, but the surgery did not help ease the pain. In order to be comfortable on the lanes at the National Bowling Stadium this week, he had to completely wrap the finger. To make things worse, six extra games of practice upon arriving in Reno left his shoulder sore, too.
"My shoulder was hurting, and my finger was hurting," Goettsch said. "I figured, the less shots I throw, the better off I'll be. When I started stringing strikes, I certainly didn't mind."
Goettsch enjoys being able to compete alongside his family each year at the Open Championships, and bowling well just makes it better. This year, he was joined on the lanes by his father, mother and younger sister.
"This is something that I never dreamed of," Goettsch said. "We always try and try at this tournament, so it's good to lead for at least a day. I hope it doesn't get beat, but the experience is one I won't forget."
The Classified Doubles lead also changed hands Friday as
Christine
and
Stephen Stewart
(pictured right) of South Elgin, Ill., combined to shoot 1,098. Charles Horstmann of Howard Lake, Minn., and Jesse Carlson of Belle Plaine, Minn., previously held the lead with 1,079.
The Stewarts, who have been married for 39 years, used their trip to the 2010 Open Championships as a chance to step away from the stress they've been under since a recent fire at their home. Even though they lost a lot of their material possessions, they never thought twice about canceling their trip to Reno.
"We were looking forward to this trip just to get away from all of the stuff back home," said Stephen, 59, who bowled in his 18th Open Championships. "We did have to get new equipment before coming out, and this was the first chance we got to really use it."
Stephen led the duo with games of 187, 188 and 223 for a 598 series, while Christine bowled games of 176, 189 and 135 for 500. Both were surprised to find they had jumped into the doubles lead.
"It was a very nice surprise to find out," said Christine, 58, who competed in the Open Championships for the sixth time. "We have a big group that comes together for the tournament, and we always have a great time, but this is a bonus."
Stephen added 540 in singles and 469 in team for a 1,607 all-events effort, and Christine finished with a 379 series in singles. She did not bowl team, and never has. She makes the trip each year just to bowl in doubles and singles with her husband.
To be eligible for the Classified Division, a team must have a combined average of 900 or less and 360 or less for doubles. Individuals must have an average of 180 or less for singles and all-events.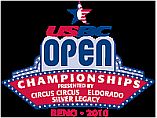 Presenting sponsors for the 2010 USBC Open Championships are Circus Circus, Eldorado and Silver Legacy Hotel/Casinos in Reno, Nev. Other sponsors include Sands Regency Casino Hotel, official brackets sponsor, Kegel, official lane maintenance provider, US Steltronic, official scoring system, and supporting sponsors Storm Bowling Products, UPS, Nationwide Insurance, Atlantis Casino Resort and Spa, Harrah's Reno Casino and Hotel and Peppermill Hotel Casino.
 
Related Articles
Missouri duo
moves into Regular Doubles lead at USBC Open Championships
Bowler wins
10 Million Dollar Jackpot
while in Reno for 2010 USBC Open Championships
Inclement weather
can't stop Georgia bowlers at USBC Open Championships
2010 USBC Open Championships
are underway at National Bowling Stadium in Reno
New offerings and procedures
for USBC Open Championships
Automated System
to simplify entry process for USBC Tournaments
Entry deadline
extended for 2010 USBC Open Championships