Williams' third place finish creates a tie in PBA Player of the Year race
03/31/10
2010 PBA Spare Shots #9
A three-way tie is possible at the conclusion of the Marathon Open
Walter Ray Williams Jr.
(pictured left) finished third in the GEICO Mark Roth Plastic Ball Championship Sunday, losing a 255-237 decision to eventual champion Brian Ziesig, but it earned Williams four points in the 2009-10 PBA Player of the Year race, creating a tie with
Bill O'Neill
(right) heading into the Lumber Liquidators Marathon Open, the final regular-season event this week in Baltimore.
The Player of the Year race may come down to who makes the stepladder finals field Sunday in Baltimore. At stake are 16, 8, 4, 2 and 1 points, respectively, for the top five finishers.
Heading into the Baltimore finale, Williams and O'Neill each had 56 Player of the Year points.
Mike Scroggins
(right) was still in the race in third place with 48 points.
Chris Barnes
and
Tom Smallwood
were fourth and fifth with 32 and 29 points, respectively, but both were mathematically eliminated from contention in West Babylon.
If there is a tie for first place at the conclusion of the Lumber Liquidators Marathon Open, the player with the most Harry Smith Point Leader points will win the title. A three-way tie is possible if Williams and O'Neill both fail to make the finals, and Scroggins finishes second.
If the tiebreaker comes into play, Williams is currently the overall points leader with 214,981. O'Neill is second with 201,519 and Scroggins is fifth with 173,546.
Sunday's ESPN stepladder finals of the Marathon Open will air at 1 p.m. Eastern.
 
Ziesig joins list of first-time champions, but won't get an exemption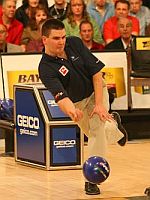 Brian Ziesig
's sudden-death victory over Jason Belmonte to win the GEICO Mark Roth Plastic Ball Championship Sunday in West Babylon, N.Y., was an instant classic, re-airing on ESPN Classic Monday night, and the Levittown, N.Y., etched his name into the PBA record book in a handful of categories.
But he won't receive a PBA Tour exemption for 2010-11 because, under PBA rules, exemptions are awarded only to active PBA members. Ziesig (pictured) is a former PBA Touring member who didn't renew his membership in 2010.
With his victory, however, Ziesig becomes the first non-member ever to win a standard PBA Tour title, and the first amateur to win any PBA Tour title since Brett Wolfe won the 2002 USBC Masters.
Ziesig is the second non-member to reach the TV finals (Anthony LaCaze was the first, in the 2008 Golden Anniversary Classic in Hammond, Ind.) after qualifying through a Tour Qualifying Round and he is the seventh player to win his first PBA Tour singles title during the 2009-10 season.
 
Out-pouring of support makes hard work worthwhile for Mark Roth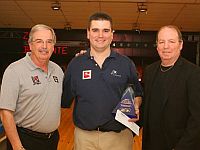 All of
Mark Roth
's (pictured right with fellow PBA Hall of Famer Johnny Petraglia and Brian Ziesig) hard work over the past six weeks to build his strength and regain as much use of his body as possible paid off when he was greeted with an out-pouring of support when the PBA Hall of Famer and wife Denise arrived at the GEICO Mark Roth Plastic Ball Championship, named in his honor.
In addition to the moral support, the 34-time PBA Tour champion was the benefactor of financial assistance from host AMF and others as he continues to face expensive rehabilitation and medical costs in the wake of the stroke he suffered on May 31.
Fans who would like to show their support for the Roth can send direct contributions to: Mark Roth, PO Box 37, Fulton, NY 13069, or they can purchase limited-edition Mark Roth plastic bowling balls just like the ones used during the Mark Roth Plastic Ball Championship. A limited number of Roth balls are still available for $100 each from OnTheBallBowling.com.
 
Related Articles
March 24, 2010
- 2010 PBA Spare Shots #8
March 12, 2010
- 2010 PBA Spare Shots #7
March 3, 2010
- 2010 PBA Spare Shots #6
Feb. 24, 2010
- 2010 PBA Spare Shots #5
Feb. 17, 2010
- 2010 PBA Spare Shots #4
Feb. 4, 2010
- 2010 PBA Spare Shots #3
Jan. 28, 2010
- 2010 PBA Spare Shots #2
Jan. 20, 2010
- 2010 PBA Spare Shots #1
 
2009-10 Lumber Liquidators PBA Tour Stats
Earnings (Events, Total)
1. W.R. Williams Jr. Ocala, Fla., 17, $145,170
2. Bill O'Neill, Southampton, Pa., 17, $143,075
3. Mike Scroggins, Amarillo, Texas, 17, $115,855
4. Chris Barnes, Double Oak, Texas, 17, $110,510
5. Tom Smallwood, Saginaw, Mich., 17, $89,960
6. Rhino Page, Dade City, Fla., 17, $82,360
7. Wes Malott, Pflugerville, Texas, 16, $78,720
8. Jason Belmonte, Australia, 15, $78,440
9. Mike Fagan, Patchogue, N.Y., 17, $76,100
10. Tommy Jones, Simpsonville, S.C., 17, $66,910
Averages (Games, Average)
1. W.R. Williams Jr. Ocala, Fla. 504, 222.86
2. Chris Barnes, Double Oak, Texas, 462, 220.23
3. Wes Malott, Pflugerville, Texas, 418, 219.98
4. Mike Fagan, Patchogue, N.Y. 435, 219.85
5. Ryan Ciminelli, Cheektowaga, N.Y., 342, 219.27
6. Tommy Jones, Simpsonville, S.C. 452, 218.86
7. Bill O'Neill, Southampton, Pa. 453, 218.83
8. Mike Scroggins, Amarillo, Texas, 418, 218.79
9. Rhino Page, Dade City, Fla. 423, 218.34
10. Sean Rash, Wichita, Kan. 400, 217.93
Chris Schenkel PBA Player of the Year Standings (Championship Round Appearance, Points)
Based on championship round finishes only: Standard five-player events = 16, 8, 4, 2, 1 points;
Major four-player events = 24, 12, 8, 4
1. W.R. Williams Jr. Ocala, Fla. 6, 56
(tie) Bill O'Neill, Southampton, Pa. 6, 56
3. Mike Scroggins, Amarillo, Texas, 4, 48
4. Chris Barnes, Double Oak, Texas, 3, 32
5. Tom Smallwood, Saginaw, Mich., 3, 29
6. Ryan Ciminelli, Cheektowaga, N.Y. 4, 26
(tie) Rhino Page, Dade City, Fla. 4, 26
8. Kelly Kulick, Union, N.J., 1, 24
(tie) Jason Belmonte, Australia, 3, 24
(tie) Mike Fagan, Patchogue, N.Y., 2, 24
(tie) Brian Kretzer, Dayton, Ohio, 2, 24
PBA World Ranking Points (Titles, Points)
1. W.R. Williams Jr. Ocala, Fla., 2, 214,981
2. Bill O'Neill, Southampton, Pa., 2, 201,519
3. Jason Belmonte, Australia, 0, 176,432
4. Chris Barnes, Double Oak, Texas, 0, 175,161
5. Mike Scroggins, Amarillo, Texas, 2, 173,546
6. Wes Malott, Pflugerville, Texas, 0, 169,394
7. Tommy Jones, Simpsonville, S.C. 0, 149,54
8. Rhino Page, Dade City, Fla., 1, 148,077
9. Tom Smallwood, Saginaw, Mich., 1, 142,78
10. Jack Jurek, Lackawanna, N.Y., 1, 138,283