U.S. Dream Team ready to take on the world in Germany
08/04/10
2010 MWC
When the Team USA men won four of six gold medals at the 2008 World Men's Championships, it did not come easy against a field of the world's top bowlers. The 2010 edition should prove to be just as challenging.
The United States will send its latest version of bowling's Dream Team to compete at the
2010 World Tenpin Bowling Association World Men's Championships
in Unterföhring near Munich, Germany, from Aug. 12-21 at Dream-Bowl Palace.
Selected to compete are Lumber Liquidators Professional Bowlers Association Tour stars
Chris Barnes
,
Wes Malott
,
Bill O'Neill
,
Tommy Jones
,
Rhino Page
and
Patrick Allen
. It marks the World Championships debut for Malott and O'Neill.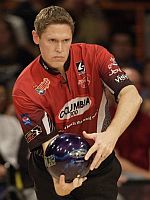 "It will be our goal to win every event, but many teams will also have the same goal," Barnes (pictured right) said. "I think it will be very difficult to match or improve on our success in 2008. Although our team is even deeper this time with the addition of Wes and O'Neill, the short six-game equalizer format with a top four bracket final makes it very difficult."
The United States won the coveted five-player team gold medal with a team of amateur bowlers in 2006 in Busan, South Korea. After a change in WTBA legislation that allowed professional bowlers to compete, the United States sent a team of five pros and one amateur and successfully defended the title at the most recent World Championships in 2008 in Bangkok, Thailand.
Team USA's victory in 2008 did not come easy, however. The Americans took on Korea in the one-game finals and the teams finished tied at 1,084, forcing a roll-off. Page defeated Korea's Kim Tae-Young, 49-39, in the one-player, ninth-and-10th frame roll-off to win the title.
In total, Team USA came away with four gold medals in 2008. The Americans won Doubles (Page and Allen), while Walter Ray Williams Jr. won gold in Singles and Masters.
"I think there are many teams that will be there that don't think we will dominate," Barnes said. "The overall talent worldwide has improved dramatically over the last 15 years. The European teams have always been good, but the Asian teams have been gaining over the past decade quickly with Korea leading the charge. Their work ethic is unmatched, and we were fortunate to beat them in the team event in Thailand."
The six players heading to Munich will meet up at the International Training and Research Center in Arlington, Texas, for a couple days of last minute training before heading to Munich.
"We plan to work hard as a team and fine-tune prior to the World Championships," Team USA and ITRC head coach
Rod Ross
(left) said. "We will be evaluating how some of the new equipment works on the WTBA lane patterns and making our equipment selections for the tournament."
The 2010 WTBA World Men's Championships will feature more than 370 competitors from 68 countries competing for medals in six events – five-player Team, Trios, Doubles, Singles, All-Events and Masters match play.
 
Related Articles
Kegel
to sponsor Men's World Championships live video streaming on Bowlingdigital.com
USBC announces
Dream Team USA
for the 2010 Men's World Championships
2010 Men's World Championship will feature
record 69 countries
German Bowling Federation releases final
Bulletin #2
for WTBA Men's World Championships
Dream-Bowl Palace
, host of the 2010 Men's World Championships, celebrates Grand Opening
Leandersson picks
Swedish team
for 2010 Men's World Championships
German Bowling Federation (DBU) releases
Bulletin No. 1
for the WTBA Men's World Championships in Munich, Germany