Big payday for Wendy Macpherson; wins more than $157,000 in 34th ABS Japan Open
11/16/10
Japan
Shoots 300 on TV in the title match en route to her 8th JPBA title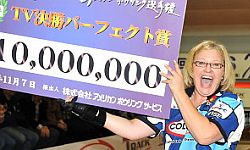 Wendy Macpherson
(pictured) of Henderson, Nev. made history on the Japanese Professional Bowlers Association Tour when she captured the women's title of the 34th ABS Japan Open by rolling a 300 game on TV in the title match.
Macpherson, a star on the Ladies Pro Bowlers Tour and Professional Women's Bowling Association Tour capturing 20 career titles before the Tour folded in the fall of 2003, earned
3,000,000 Yen (approx. US$36,000)
for her third JPBA title of the year and the 8th of her career.
In addition the multiple PWBA Bowler of the Year and Bowler of the Decade (1990s) pocketed
10,000,000 Yen (approx. $121,000)
as a bonus for the 300 game.
 
The 42-year-old right-hander averaged 224.3 to earn the No. 1 seed for the three-player stepladder finals. In the opening match
Mika Sato
, the No. 2 seed, defeated 2009 JPBA Player of the Year
Himeji Urara
, 224-212, for the right to bowl Macpherson for the title.
Sato started the title match with a double, spare, strike and an open frame to trail Macpherson by 54 pins after five frames. Though she added a four-bagger in frames 6-9, the match was decided well before the final frame. The ten-million-Yen question was: Can Macpherson strike out for 300 to win that huge bonus? Yes, she can.
Macpherson, who was using a Columbia 300 Pure Physics for the TV show, went off the sheet to claim the title and to make JPBA history with a 300-235 victory.
Sato received 1,100,000 Yen (approx. $13,200) for second place and Urara got 560,000 Yen (approx. $6,700) for finishing third.
Frame-by-Frame Stepladder Results
(pdf file)
Photo and results courtesy of JPBA