George Lambert IV gets off to hot start at 2011 Bayer USBC Masters
02/09/11
2010-11 PBA Tour #9
Canadian averages 250+ to take opening round lead at National Bowling Stadium
After finishing in a tie and losing a roll-off to advance past the first cut last year,
George Lambert IV
(pictured) came into the 2011 Bayer United States Bowling Congress Masters determined to avoid that situation at all costs.
The Canadian got off to a hot start to the tournament, shooting 1,256 for five games, an average of 251.2, to take the opening round lead Tuesday at the National Bowling Stadium.
Chris Warren
of Grants Pass, Ore., the 1990 Masters champion, sits in second with 1,200 and is followed by 2003 Masters champion
Bryon Smith
, Roseburg, Ore., in third place with 1,168.
Lambert, who finished third at the 2006 Masters, shot an 820 set for his first three with games of 255, 279 and 286 before closing with 203 and 233.
"I tied for the last spot last year, and I remember being lost the last few games," Lambert said. "You have to get what you can get early because it's a shorter format. I definitely didn't want to be fluttering around the bubble tomorrow. I wanted to come out here and get off to a great start."
After Monday afternoon's practice session, Lambert said he was a bit uncomfortable with his ball reaction and entered Tuesday's round unsure of his game plan.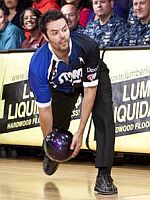 "I came into today pretty nervous because during the practice session my look wasn't very defined," Lambert said. "I didn't know how I was going to play the lanes. I decided to play them a little straighter and it paid off. I caught a couple good pairs and ran with it."
Another five international players were among the top 64 after day one qualifying. Joining Lambert in the top 10 was two-hander
Jason Belmonte
(left), Australia, in eighth place with 1,152.
Martin Larsen
(right), a multiple world champion from Sweden, and Canadian
Dan MacLelland
, who lives in Saginaw, Mich., were tied for 13th place with 1,132. MacLelland made two shows at the PBA World Series of Bowling in November.
Tournament of Champions winner
Mika Koivuniemi
(left), a native Finn who lives in Hartland, Mich., and his fellow countryman
Kimmo Lehtonen
, the 2005 World Ranking Masters Champion, were 25th 36th with 1,108 and 1,091, respectively.
Three women are currently above the cut line for 64th place (
Jerry Gentry Jr.
, Topeka, Kan., 1,052). 2009 TOC winner
Kelly Kulick
(right), Union, N.J., was 38th with 1,087 with
Carolyn Dorin-Ballard
, Keller, Texas, in 40th with 1,086 and
Liz Johnson
, Cheektowaga, N.Y., in 55th with 1,064.
Defending champion
Walter Ray Williams Jr.
(left) is competing in qualifying after a rule change for this year's Masters. Williams will advance to the match-play bracket no matter what, but can earn a higher seed with a good performance.
The 47-time Professional Bowlers Association Tour champion from Ocala, Fla., got off to a shaky start in the first round and sits in 205th place with a total of 914. Should he remain outside of the top 64, he would be placed in the No. 64 spot in Thursday afternoon's bracket.
All 256 players will return Wednesday for five games of qualifying before the field is cut to the top 65 for five final games of qualifying Thursday morning. The top 63 players plus Williams will move on to the double-elimination match-play bracket Thursday afternoon.
The USBC Masters is a major on the Lumber Liquidators PBA Tour and the champion of the event will earn $50,000 for first place. The final four players who survive bracket play will advance to the championship round, which will be televised
live on ESPN at 3 p.m. Eastern on Sunday
.

The Masters, which is a major on the Lumber Liquidators PBA Tour, also is a part of the new
World Bowling Tour
organized by the World Tenpin Bowling Association. The World Tour is a new concept developed by the WTBA to showcase the best bowlers from around the world.
Players who compete in the selected international events and finish among the top three men and top three women in the final points standings will be eligible to compete in the World Bowling Tour Finals, a special televised event with a prize fund of $40,000.
 
Related Articles
Xtra Frame
"Bonus Coverage"
of Bayer USBC Masters begins Tuesday
Pete Weber
sets sights on elusive Masters title, Grand Slam
Walter Ray Williams Jr.
hopes rule change will help him defend Masters title
WTBA World Bowling Tour to feature
USBC Masters
 
2011 Bayer USBC Masters - Qualifying Round 1
Players with position, hometown and 5-game total
1, George Lambert IV, Canada, 1,256
2, Chris Warren, Grants Pass, Ore., 1,200
3, Bryon Smith, Roseburg, Ore., 1,168
4, J.R. Raymond, Saginaw, Mich., 1,167
5, Mathew Jones, Avondale, Ariz., 1,160
6, Mark Scuderi Jr., Rochester, N.Y., 1,159
7, Dino Castillo, Carrollton, Texas, 1,157
8, Jason Belmonte, Australia, 1,152
9, Joshua Kierpiec, Scottsville, N.Y., 1,151
10, Bill O'Neill, Southampton, Pa., 1,150
11, Sean Rash, Montgomery, Ill., 1,145
12, Michael Haugen Jr., Carefree, Ariz., 1,137
13, Martin Larsen, Sweden, 1,132
13, Chris Barnes, Double Oak, Texas, 1,132
13, Dan MacLelland, Saginaw, Mich., 1,132
16, Jason Couch, Clermont, Fla., 1,127
17, Tommy Jones, Greenville, S.C., 1,126
17, Mike Fagan, Patchogue, N.Y., 1,126
19, Anthony Thompson, Redding, Calif., 1,119
20, Lonnie Waliczek, Wichita, Kan., 1,117
21, Jesse Buss, Wichita, Kan., 1,115
22, Pete Weber, St. Ann, Mo., 1,114
22, Jeff Carter, Springfield, Ill., 1,114
24, Ricky Schissler, Henderson, Colo., 1,112
25, Mika Koivuniemi, Hartland, Mich., 1,108
25, Nathan Bohr, Wichita, Kan., 1,108
27, Wes Malott, Pflugerville, Texas, 1,103
28, Ryan Ciminelli, Cheektowaga, N.Y., 1,102
29, Michael Steil, Wheeling, Ill., 1,100
30, James Grago, Rome, N.Y., 1,098
31, Steven Badovinac, Parker, Colo., 1,097
32, Joe Ciccone, Buffalo, N.Y., 1,094
33, Jason Munkberg, Redding, Calif., 1,093
33, Jason Miller, Portland, Ore., 1,093
33, Terrance Bright, Atlanta, 1,093
36, Kimmo Lehtonen, Finland, 1,091
37, Mike DeVaney, Murrieta, Calif., 1,089
38, Kelly Kulick, Union, N.J., 1,087
38, Joe Paluszek, Bensalem, Pa., 1,087
40, Carolyn Dorin-Ballard, Keller, Texas, 1,086
41, Steve Kloempken, Pleasant View, Utah, 1,085
42, Tom Hess, Urbandale, Iowa, 1,083
43, Erik Vermilyea, Mansfield, Texas, 1,081
44, Brian Kretzer, Dayton, Ohio, 1,079
45, Chris Cundiff, Portage, Ind., 1,078
45, Mike Edwards, Tulsa, Okla., 1,078
45, Bob Rudnick, Lancaster, N.Y., 1,078
48, Bobby Hall II, Landover, Md., 1,077
49, David Beres, Waukesha, Wis., 1,076
50, Mason Sherman, Moorpark, Calif., 1,072
51, Jason Polreis, Sioux Falls, S.D., 1,071
52, Paul Bober, Morton Grove, Ill., 1,070
53, Danny Wiseman, Baltimore, 1,068
54, Anthony LaCaze, Melrose Park, Ill., 1,065
55, Liz Johnson, Cheektowaga, N.Y., 1,064
55, Dave Arnold, Dublin, Calif., 1,064
57, Wayne Garber, Modesto, Calif., 1,063
57, Michael Clark Jr, Cleveland, Ohio, 1,063
59, Brandon Kraye, LaHabra, Calif., 1,062
60, Steve Jaros, Yorkville, Ill., 1,061
61, Mike Wolfe, New Albany, Ind., 1,059
62, Ronnie Russell, Marion, Ind., 1,058
63, Kyle King, Glendale, Ariz., 1,053
64, Jerry Gentry Jr., Topeka, Kan., 1,052
65, PJ Haggerty, Roseville, Calif., 1,050
65, Stuart Williams, England, 1,050
67, Cory Simmons, Wichita, Kan., 1,049
68, Rick Steelsmith, Wichita, Kan., 1,048
69, Lennie Boresch Jr., Kenosha, Wis., 1,047
70, Randy Weiss, Columbia, S.C., 1,046
71, Teruyuki Obara, Japan, 1,044
71, Quinton Bohlen, Decorah, Iowa, 1,044
73, Lucas Legnani, Argentina, 1,042
74, Toshiyuki Kaneko, Japan, 1,039
74, Doug Kent, Newark, N.Y., 1,039
76, Tom Smallwood, Saginaw, Mich., 1,038
77, Eddie Lallak, Cheyenne, Wyo., 1,037
77, Rusty Thomsen, Morgan, N.J., 1,037
77, Eugene McCune, Munster, Ind., 1,037
80, Lanndyn Carnate, Glendale, Ariz., 1,036
81, Gary Schrader, Springboro, Ohio, 1,033
81, G. Brett Cunningham, Clay, N.Y., 1,033
83, Jack Jurek, Lackawanna, N.Y., 1,031
84, Michael Machuga, Erie, Pa., 1,028
85, Santiago Mejia, Colombia, 1,027
85, George Brooks, Loveland, Colo., 1,027
85, Ian Willard, Milwaukie, Ore., 1,027
85, Bill Crane III, Mishawaka, Ind., 1,027
89, Brian Valenta, Lockport, Ill., 1,026
90, Missy Parkin, Lake Forest, Calif., 1,025
90, Thomas Ault Jr., Portland, Ore., 1,025
92, Bob Rosenau, Redding, Calif., 1,024
93, Norm Duke, Clermont, Fla., 1,023
93, Alex Cavagnaro, Massapequa, N.Y., 1,023
93, Brad Angelo, Lockport, N.Y., 1,023
96, Chris Westerberg, Derby, Kan., 1,022
96, Garret Ball, Albany, Ore., 1,022
96, Theo Douthit, Phoenix, 1,022
99, Mike Calderon, Phoenix, 1,020
99, Greg Smith, Fort Wayne, Ind., 1,020
99, Ed Smaglik, Flagstaff, Ariz., 1,020
102, Jarrett Mizo, Honolulu, 1,019
103, Scott Boyle, Salida, Calif., 1,015
103, Chris Loschetter, Avon, Ohio, 1,015
105, Patrick Allen, Wesley Chapel, Fla., 1,014
106, Ralph Solan, Huntsville, Ala., 1,013
106, Jon Brandon, Santa Clarita, Calif., 1,013
108, Aaron Ramsden, Pleasant Valley, Mo., 1,010
109, Christopher Collins, Savannah, Ga., 1,009
110, Corey Husted, Milwaukie, Ore., 1,006
111, Matt Freiberg, Simpsonville, S.C., 1,004
111, Biboy Rivera, Philippines, 1,004
113, Ernie Schlegel, Vancouver, Wash., 1,002
114, Keith Dommer, Tucson, Ariz., 999
114, Tony Todd, Myrtle Beach, S.C., 999
116, Richard Wayne, Westland, Mich., 998
117, Derek Gregory, Sonora, Calif., 997
117, Eddie VanDaniker Jr., Essex, Md., 997
117, Donald Barry Jr., Omaha, Neb., 997
117, Adam Ishman, Las Vegas, 997
121, William Bundza, Tucson, Ariz., 996
121, Todd Reichenberger, Barre, Vt., 996
123, Ricky Woods, Whites Creek, Tenn., 994
123, Nikita Koshelev, Russia, 994
123, Scott Kraye, LaHabra, Calif., 994
126, Dennis Brown, Rio Rancho, N.M., 993
126, Billy Young Jr., Edgewood, Md., 993
128, Frank Schmal, Lincoln, Neb., 992
128, Manuel Otalora, Colombia, 992
130, CJ Godizano, San Francisco, 991
130, Stephen Pavlinko, Sewell, N.J., 991
132, Kevin Croucher, Grants Pass, Ore., 990
133, Rick Kouri, Castle Rock, Colo., 988
134, Eric Parvey, Fargo, N.D., 987
135, Rick Bell, Roy, Utah, 986
136, Mitch Beasley, Puyallup, Wash., 985
136, Mike Scroggins, Amarillo, Texas, 985
138, Brian Himmler, Cincinnati, 984
138, Daniel Jackson Jr., Portland, Ore., 984
140, Parker Bohn III, Jackson, N.J., 982
141, Tyler Wilds, Mendon, Mich., 979
142, Tony Reyes, San Bruno, Calif., 978
143, Robert Slayton, Farmington, Minn., 976
143, Edward Cotter, Levant, Maine, 976
143, Bryon Fillmore, Carson City, Nev., 976
143, Frank Rose Jr. III, Bellaire, Texas, 976
147, Scott Norton, Costa Mesa, Calif., 974
148, Andrew Graff, Las Vegas, 973
149, Dave Wodka, Chatsworth, Calif., 972
149, C.J. Pardini Jr., Petaluma, Calif., 972
151, Daniel Miyamoto, Mililani, Hawaii, 971
151, Anthony Pepe, Elmhurst, N.Y., 971
151, Shawn Mosier, Bradford, Pa., 971
154, Joe Salvemini, Henderson, Nev., 970
155, Mike Kanada, Camarillo, Calif., 969
156, Pete McCordic, Katy, Texas, 968
156, Andres Gomez, Colombia, 968
158, Curtis Woods Jr., Santa Rosa, Calif., 966
158, Tim Mack, Indianapolis, 966
160, Bryanna Caldwell, Tucson, Ariz., 965
160, Robert Makino, Wildwood, Ill., 965
160, Martin Pledger, Hot Springs, Ark., 965
163, Greg Thomspon Jr., Dublin, Calif., 963
163, Carmen Salvino, Schaumburg, Ill., 963
165, Dennis Horan Jr., Temecula, Calif., 962
165, Stephen Dunnigan, Palmyra, Pa., 962
167, Brett Spangler, Niles, Ohio, 960
167, Jeffery White, Milton, Fla., 960
169, Adam Miller, Charlotte, N.C., 956
170, Doug Kempt, Arcadia, Calif., 955
170, John Kreyer Jr., Fridley, Minn., 955
172, Brian Voss, Alpharetta, Ga., 952
173, Greg Black Jr., Riverdale, Ga., 949
174, Rhino Page, Dade City, Fla., 946
174, Curtis Messer Jr., Aberdeen, Wash., 946
176, Richard Vitko, Castle Rock, Colo., 943
177, Dwight Burns, Tucson, Ariz., 942
178, Robert Lee, Japan, 940
178, Michael Silva, North Dartmouth, Mass., 940
180, Matt Purkey, Clermont, Fla., 937
181, Bryan Cavallaro, Perry Hall, Md., 935
181, Robert Harmon, Sutter Creek, CA, 935
181, Ivan Yee, San Francisco, 935
184, David Knight, Folcroft, Pa., 934
184, Tony Majcher, Rolling Meadows, Ill., 934
186, Justin Godfrey, Feeding Hills, Mass., 933
186, Jeff Germann, Wheeling, W.Va., 933
186, Ed Szygiel, Mt. Laurel, N.J., 933
189, Mike Dias, Lafayette, Colo., 931
189, Chris Hook, Mira Loma, Calif., 931
189, John Slavich IV, Schaumburg, Ill., 931
192, Tracy Teeters, Beaverton, Ore., 930
193, Don Sylvia, Reno, Nev., 928
194, Andrew Mortensen, Tulsa, Okla., 927
195, George Gohagan III, Austell, Ga., 925
196, David Langer, Brooklyn Park, Minn., 924
196, Ryan Shafer, Horseheads, N.Y., 924
198, Carl Labayan, Long Beach, Calif., 923
199, Gregory Knolton, Memphis, Tenn., 922
200, Anna Orlova, Russia, 919
200, Kenny McPartlin, Reno, Nev., 919
200, Michael Biederman, Post Falls, Idaho, 919
203, Darrell Gilbert Jr., Valparaiso, Ind., 916
204, Austin Kircher, Orangevale, Calif., 915
205, Walter Ray Williams Jr., Ocala, Fla., 914
206, Takashi Kudoh, Japan, 912
207, James Ratliff, Arnold, Mo., 911
208, Zack Jellsey, Moreno Valey, Calif., 907
209, Sabrina Duncan-Rose, Bellaire, Texas, 906
209, Zachary Mangrum, Buffalo, N.Y., 906
211, Duane Bird, Oroville, Calif., 905
211, Charlie Bruno, Deptford, N.J., 905
213, Brian Aldridge, Aberdeen, Ohio, 901
214, Jason Sterner, McDonough, Ga., 900
215, Robert Dessert, New Bedford, Mass., 899
216, Randy Cote, Lebanon, Ill., 898
217, Andy Zumwalt, Albuquerque, NM, 897
218, Danny Tolentino, Central, S.C., 896
219, Jason Smith, St. Bonifacius, Minn., 894
220, Billy Gensch, Englewood, Colo., 892
221, Charles Burns, Sparks, Nev., 890
222, Douglas Sharp, Nashville, Tenn., 887
223, Marvin Nezvensky Jr., Pueblo, Colo., 884
224, Marvin Chappell Jr., Gastonia, N.C., 883
225, Kevin Tade Jr., Oak Forest, Ill., 881
226, Michael Houtz, Myerstown, Pa., 877
227, Glenn Morgan, Seminole, Ala., 874
228, Brandi Wolfe, Chandler, Ariz., 872
229, Tony Ferguson, Brush Prairie, Wash., 871
230, Michael Hartter, Honolulu, 870
231, Donald Brown, Woodbridge, Calif., 869
231, J.T. Jackson, Tarzana, Calif., 869
231, Tetsuya Kobayashi, Japan, 869
234, John Prescott, Coeur D'Alene, Idaho, 867
235, Naoyuki Iguchi, Japan, 862
236, Nicole Ellison, Chatsworth, Calif., 860
237, Alex Dolginov, Russia, 858
237, Scott Newell, Deland, Fla., 858
239, William Hudson, Danville, Va., 857
240, Vincent Caluori, Renton, Wash., 851
240, Timothy Smith, Kaysville, Utah, 851
242, John Reed, Pueblo, Colo., 845
243, Andrew Loose, Chicago, 838
244, Steven Lawson, Maricopa, Ariz., 836
245, Devin Burbank, Reno, Nev., 835
246, Brady Garrett, Irving, Texas, 830
247, Travis Seawell, Virginia Beach, Va., 824
248, Charles Sills, Reno, Nev., 821
249, Rodney Machacek, Lincoln, Neb., 820
250, Alan Mojado, Pala, Calif., 819
251, Matthew Kalkowski, Chico, Calif., 814
252, Bobby Hartshorn, Oroville, Calif., 809
253, Michael Joseph, Roseville, Calif., 794
254, Clyde Kennedy Jr., Campbell, Calif., 761
255, Joe Branco, Hilmar, Calif., 755
256, Roger Koplin, Citrus Heights, Calif., 749