Hiromi Matsunaga wins 33rd Kansai Open Ladies Bowling Tournament
02/21/11
2011 JPBA Ladies Tour #1
Claims her fifth JPBA Title in the 2011 JPBA Ladies Tour season-opener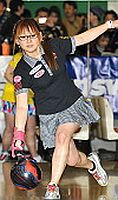 The 2011 Japan Professional Bowlers Association Ladies Tour kicked off with the 33rd Kansai Open Ladies Bowling Tournament from Feb. 18-20, 2011.
Hiromi Matsunaga
(pictured left) of Yamaguchi won her fifth career JPBA title after defeating
Masami Sato
(right) in the title match 247-202.
26-year-old Matsunaga, who has won two titles on the 2010 JPBA Tour and finished in second place in the point rankings, received the 1.5 million Yen first place check (approx. US$ 18,025) and was awarded 800 ranking points.
144 JPBA women professionals and 26 amateurs bowled 12 games of qualifying. The top 28 bowled another six-game block with the top 12 after advancing to the match play portion. The top 4 after round robin made the TV show.
Matsunaga, who earned the No. 1 seed, had to sit and wait for her opponent. In the opening match, Sato seeded fourth, bowled a clean game to eliminate No. 3
Yuko Nakatani
(left), who suffered back-to back open frames in the seventh and eighth, 215-202.
Sato carried the momentum into the semifinal to defeat No. 2
Mitsuko Tokimoto
(right), 202-198. Sato, who held a slim three-pin lead after eight frames, went off the sheet to shut out her opponent and to earn the right to bowl Matsunaga for the title.
In the title match, Sato took the early with a double but tides turned when she suffered an open in frame three after she failed to convert the 4-9 split. Matsunaga, who started with spare-double-spare pulled away with a four-bagger in frames 5-8.
Sato was unable to put any pressure on the top-seed and Matsunaga finished with another double in the tenth to wrap up the title, 247-202.
Sato received 760.000 Yen and 650 points for second place, Tokimoto earned 490.000 Yen and 560 points for third place and Nakatani got 370.000 Yen and 480 points for fourth place.
Junko Harigaya
finished in 15th place overall to become the best amateur in the Kansai Open Ladies Bowling Tournament for the second year in a row.
 
33rd Kansai Open Ladies Bowling Tournament (Feb. 18-20, 2011)
Total Prize Fund: 6 Million Yen
Championship Round:
1. Hiromi Matsunaga, 247 (1 game), 1.500.000 Yen (US$ 18,025)
2. Masami Sato, 619 (3 games), 760.000 Yen ($9,130)
3. Mitsuko Tokimoto, 198 (1 game), 490.000 Yen ($5,890)
4. Yuko Nakatani, 202 (1 game), 370.000 Yen ($4,445)
Playoff Results:
First match: #4 Sato def. #3 Nakatani, 215-202
Second Match: Sato def. #2 Tokimoto, 202-198
Championship: #1 Matsunaga def. Sato, 247-202.
Frame-by-frame results
(pdf file)
Photos and results courtesy of JPBA.