Yachio Kato captures the title in first JPBA Ladies event after the great earthquake
04/26/11
2011 JPBA Ladies Tour #2
Earns her 13th career pro title in the Miyazaki Pro-Am Open Tournament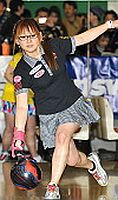 In the first tournament after the great earthquake,
Yachio Kato
(pictured left) of Tokyo captured her 13th career Japan Professional Bowlers Association women's title in the Miyazaki Pro-Am Open Tournament which was held in the Kyushu Region in South Japan from April 21-24, 2011.
The 59-year-old ended a five-year title draught with a 225-217 victory against
Hiromi Matsunaga
en route to earn the 1.200.000 Yen winner's check or approximately US$14,627.
Matsunaga (right), who was targeting for back-to-back JPBA titles after winning the season-opening Kansai Open Ladies Bowling Tournament, received 620.000 Yen ($7,557) for second place.
Matsunaga started the game with an open frame after failing to convert the 4-6-7 split followed by a spare before she reeled off a four-bagger to take a 30-pin lead. Kato alternated strikes and spares in the first four frames, spare a 10-pin in the fifth and countered with a four-bagger to regain the lead.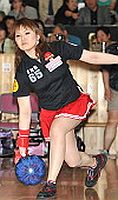 Working on a strike, Matsunaga was unable to connect for a double in the ninth frame, then struck in the tenth but left a 7-pin standing on her next shot failing to force Kato to strike on her first ball in the tenth frame. Needing to mar, Kato spared a 7-pin for the win before the left the 4-6-10 split on her fill ball.
The top 16 players were seeded into two pools (A and B) of eight players each to determine the finalist in single-elimination head-to-head matches. In the final of Pool A, Kato eliminated
Tomoe Yoshikawa
(left), 235-212, while Matsunaga topped
Masami Abe
(right) in the B Pool final, 203-195. Yoshikawa and Abe tied for third place worth 370.000 Yen ($4,510) apiece.
Junia Yoshida of Japan Bowling Promotion reports that the third stop of the 2011 JPBA Ladies Tour, the 2011 Pro Test originally scheduled for March/April, was postponed and is now scheduled for the beginning of May.
Photos and results courtesy of JPBA.
 
Related Articles
Hiromi Matsunaga
wins 33rd Kansai Open Ladies Bowling Tournament
2011 JPBA Ladies and Men's Tour Schedule
 
2011 Miyazaki Pro-Am Open Tournament (April 21-24, 2011)
Total Prize Fund: 5 Million Yen (approx. US$61,000)
Championship Round:
1. Yachio Kato, 1.200.000 Yen (US$14,627)
2. Hiromi Matsunaga, 620.000 Yen ($7,557)
3. Tomoe Yoshikawa, 370.000 Yen ($4,510)
(tie) Masami Abe, 370.000 Yen ($4,510)
Playoff Results:
First match: Matsunaga def. Abe, 203-195
Second Match: Kato def. #2 Yoshikawa, 235-212
Championship: Kato def. Matsunaga, 225-217.
Frame-by-frame results
(pdf file)