Kenny Parks leads after first round in PBA Senior Dayton Classic
08/29/11
2011 PBA Senior Tour #11
Capri Lanes in Kettering, Ohio (Aug., 27-30, 2011)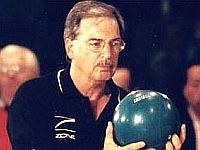 Kenny Parks
(pictured left) of Hammond, Ind., averaged 247.8 to lead the first round of the Professional Bowlers Association Senior Dayton Classic Sunday at Capri Lanes.
Parks had a 1,983 eight-game pinfall total with games of 226, 257, 226, 246, 268, 247, 258 and 255. He leads PBA Hall of Famer
Johnny Petraglia
(right) of Jackson, N.J., in second with 1,953.
"I got off to a pretty good start and then I took a gamble after the second game by changing to a ball that hooked more so I could get a better ball reaction playing inside," said Parks, the 2008 United States Bowling Congress Senior Masters winner. "It turned out that I made the right choice and the right adjustments and matched up well with the condition for the entire round."
Parks' best finish this season was fourth in the recent Senior Lake County Open in his hometown of Hammond, and is hoping to win his second career Senior Tour title in the final event of the 2011 Senior Tour season.
"I've been bowling well all year but things haven't really gone my way in match play," said Parks. "I really hoped to win in Hammond but I've got one more shot here and hopefully I'll make the best of it."
Rounding out the top five after the first round are Hall of Famer and four-time Senior Player of the Year
Tom Baker
(left), King, N.C., 1,940;
Ron Profitt
, Brookville, Ohio, 1,934, and
Ron Mohr
(right), Eagle River, Alaska, 1,931.
Mohr clinched his second PBA Senior Player of the Year crown Thursday by winning a record-tying fourth title of the season in the PBA Senior Jackson (Mich.) Open.
The field of 125 players will bowl another eight-game qualifying round on Monday after which the field will be cut to the top 32 for match play on Tuesday. Round of 8 and championship rounds will get underway at 6 p.m. ET on Tuesday.
PBA.com's
Xtra Frame
video service will provide live coverage Monday beginning at 4 p.m. and will continue all day Tuesday.
 
Related Articles
2011 PBA Senior Tour
Schedule and Champions
 
PBA Senior Dayton Classic -First Round
Players with position, hometown and 8-game total; a indicates amateur.
1, Kenny Parks, Hammond, Ind., 1,983
2, Johnny Petraglia, Jackson, N.J., 1,953
3, Tom Baker, King, N.C., 1,940
4, Ron Profitt, Brookville, Ohio, 1,934
5, Ron Mohr, Eagle River, Alaska, 1,931
6, Charlie Tapp, Kalamazoo, Mich., 1,929
7, Jeff Zaffino, Warren, Pa., 1,920
8, Steve Ferraro, Kingston, N.Y., 1,915
9, Marty Berke, Allentown, Pa., 1,913
10, Ricky Beck, Box Elder, S.D., 1,900
11, Don Sylvia, Reno, Nev., 1,895
12, David Goldenberg, Lake Grove, N.Y., 1,886
13, a-William Peters, Dayton, Ohio, 1,871
14, Todd Kjell, Roscoe, Ill., 1,867
15, Mike Dias, Lafayette, Colo., 1,866
16, (tie) Paul Gerard, Cincinnati, and Vince Mazzanti Jr., Levittown, Pa., 1,862
18, Harry Sullins, Chesterfield Township, Mich., 1,860
19, Dick Gran, Hartville, Ohio, 1,852
20, Darryl Traber, Waterford, Wis., 1,847
21, Michael Henry, Brunswick, Ohio, 1,840
22, Hugh Miller, Seattle, 1,833
23, Kevin Croucher, Grants Pass, Ore., 1,830
24, Keith Sharp, Orlando, Fla., 1,827
25, Kent Wagner, Palmetto, Fla., 1,818
26, Ernie Segura Jr., Taylor, Mich., 1,817
27, John Chapman, Canada, 1,816
28, Peter Knopp, Germany, 1,803
29, Dave Bernhardt, Romeo, Mich., 1,801
30, Scott Lindsey, Omaha, Neb., 1,796
31, Bill Henson, Westerville, Ohio, 1,794
32, Timothy Kauble, Marion, Ohio, 1,793
33, Marc Lineberry, Camanche, Iowa, 1,792
34, Wayne Webb, Columbus, Ohio, 1,790
35, Terry Metzner, Kentwood, Mich., 1,789
36, Patric Donaghue, Honeoye Falls, N.Y., 1,782
37, Guppy Troup, Taylorsville, N.C., 1,781
38, (tie) Henry Gonzalez, Colorado Springs, Colo., and Dale Eagle, Tavares, Fla., 1,778
40, Mark Williams, Beaumont, Texas, 1,774
41, (tie) Ray Johnson, Battle Creek, Mich., and Russ Freeman, Antioch, Ill., 1,773
43, Bill Idzior, Crown Point, Ind., 1,772
44, Perry Keplinger, Amherst, Ohio, 1,771
45, Charlie Tomey, Spartanburg, S.C., 1,769
46, Dennis Psaropoulos, Lake Worth, Fla., 1,767
47, (tie) Gary Hiday, Indianapolis, and Dave Soutar, Bradenton, Fla., 1,764
49, Kerry Painter, Henderson, Nev., 1,760
50, (tie) Dale Traber, Cedarburg, Wis., and Dale Csuhta, Wadsworth, Ohio, 1,758
52, Bobby Johnson, Chillicothe, Ohio, 1,755
53, (tie) Tommy Brodowski, New Hyde Park, N.Y., and Mark Scime, Winter Garden, Fla., 1,754
55, (tie) Larry Popp, Marion, Ohio, and Ted Staikoff, Black Hawk, S.D., 1,753
57, Don Blatchford, Santa Monica, Calif., 1,748
58, Emilio Mora Sr., Defiance, Ohio, 1,744
59, (tie) Steve Stein, Staten Island, N.Y., and George Lord, Lakeland, Fla., 1,741
61, Michael Truitt, Orland Park, Ill., 1,737
62, Walter Ray Williams Jr., Ocala, Fla., 1,733
63, James Souder, Greeneville, Tenn, 1,730
64, Tom Howison, Chillicothe, Ohio, 1,729
65, Les Ash, Centerville, Ohio, 1,727
66, Douglas Weese, Carson City, Mich., 1,726
67, Garry Blanton, Owensboro, Ky., 1,725
68, (tie) Bob Kelly, Dayton, Ohio, and Don Hicks, West Babylon, N.Y., 1,720
70, Mitchell Jabczenski, Novi, Mich., 1,719
71, Christopher Keane, New City, N.Y., 1,717
72, Harley Trumbull, New Boston, Mich., 1,713
73, Tim Stancil, North Augusta, S.C., 1,711
74, (tie) Terry Wellman, Marengo, Ohio, and Bill McCorkle, Westerville, Ohio, 1,710
76, Roy Buckley, New Albany, Ohio, 1,709
77, Kim Kirkpatrick, Rockford, Ill., 1,705
78, Rick Vittone, Canada, 1,703
79, Joel Carlson, Omaha, Neb., 1,699
80, Barry Gurney, West Hills, Calif., 1,698
81, Sammy Ventura, Syracuse, N.Y., 1,694
82, Michael Chrzanowski, Shepherd, Mich., 1,693
83, Jerry Lau, St. Peters, Mo., 1,692
84, Ken Waters, Kingsport, Tenn., 1,690
85, Timothy Regan, East Northport, N.Y., 1,687
86, (tie) Brian Miller, Springfield, Ohio, and Steve Easterday, Strasburg, Ohio, 1,686
88, William Banks, Laurel Hill, N.C., 1,680
89, Mark Glover, Woodbridge, Va., 1,678
90, Tom Carter, Rockford, Ill., 1,674
91, Jim Price, Harrrisburg, N.C., 1,668
92, Dave Sill, Rockledge, Fla., 1,666
93, Warren Blankenship, Ardmore, Okla., 1,664
94, a-Damon Baker, Mt. Sterling, Ky., 1,658
95, Larry Graybeal, Elizabethton, Tenn., 1,653
96, Dannie Hettinger, Circleville, Ohio, 1,646
97, Tim Pierce, Portland, Ore., 1,644
98, Rich Wilkinson, Bennington, Neb., 1,638
99, Dave Dunphy, Canada, 1,635
100, Sal Bongiorno, Hollywood, Fla., 1,630
101, Patrick King, Yankton, S.D., 1,628
102, Randy Robertson, Evansville, Ind., 1,625
103, Robert Teeters, Lapel, Ind., 1,619
104, Dale Holgate, Silver Lake, Ohio, 1,614
105, Mike Walden, Stony Point, N.Y., 1,603
106, Dave Patchen, Oregon, Ohio, 1,592
107, Gary Simon, Philippi, W.Va., 1,579
108, a-Daniel Goodrich, Columbus, Ohio, 1,577
109, Teata Semiz, North Brunswick, N.J., 1,574
110, Ron Glick, Morganville, N.J., 1,573
111, (tie) Daniel Miner, East Moline, Ill., and Fred Augustin, Burlington, Ky., 1,562
113, John Dudak, Orland Park, Ill., 1,558
114, Ronald Gustainus, Lake Worth, Fla, 1,545
115, Robert Harvey, Boise, Idaho, 1,539
116, Andy Anderson, Falls Church, Va., 1,537
117, (tie) Ray Randall, Dearborn, Mich., and a-Ray Searles, Grove City, Ohio, 1,528
119, Dave Schultz, Jackson, Wis., 1,518
120, Matt Bamberg, Winnebago, Ill., 1,499
121, Terry Smith, Sturgis, Mich., 1,483
122, Fred Baldwin, Sturgis, Mich., 1,474
123, Allen Meskan, Addison, Ill., 1,468
124, a-Timothy Stewart, Columbus, Ohio, 1,455
125, Gary Zwiezinski, Elyria, Ohio, 1,085 (WD)
300 Games - Wayne Webb, Guppy Troup