Chinese Taipei spinner Wang Ya-Ting is the early leader in Women's Singles
08/20/13
2013 World Championships
Top four spots including a fourth-place tie belong to bowlers from the Asian Bowling Federation
Wang Ya-Ting
(pictured left) of Chinese Taipei, who uses the helicopter-style a.k.a. "spinner" to deliver the bowling ball, averaged 222.50 Tuesday morning at Sunset Station's Strike Zone in Henderson, Nev., to become the early leader in the Women's Singles competition at the WTBA World Championships.
Wang had games of 213, 227, 246, 180, 233 and 236 for a 1335 series on the 33-feet
Sydney
lane conditioning pattern to take the pole position as 107 out of 214 women have completed their six-game qualifying block.
Ryu Seo-Yeon
(above right) of Korea, formerly known as Hwang Sun-Ok, a multiple World and Asian champion, was 17 pins behind in second place with 1318 (219.67) including high games of 256, 246 and 236.
Australia's
Bianca Flanagan
(left) rebounded from a slow start with 279, 224 and 213 (716) to shoot into third place with 1280 (213.33).
Bernice Lim
(right) of Singapore and
Baek Seung-Ja
(below left) of Korea tied for fourth at 1268 (211.33) after both finished with gig games (Lim 244, Baek 235). In case they would be still tied for fourth place at the end of the qualifying, a one-ball roll-off would be contested to determine the player who advances to the playoffs.
The other 103 players are already out of the race for the medals.
Hayley Rumkee
of England was sixth with 1241 and was followed by Indonesia's
Putty Armein
(in seveneth place with 1225.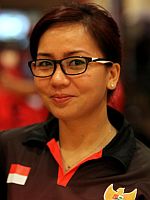 Eighth and ninth place belonged to
Alexis Sy
and
Rachelle Leon
of the Philippines with 1225 and 1222. Rounding out the top 10 was
Sun Hongdou
of China with 1221.
The two bowlers from the host country United States,
Missy Parkin
and
Kelly Kulick
, who made sports history by winning the 2010 PBA Tournament of Champions to become the first woman to win a PBA Tour event, finished in 13th and 35th place, respectively.
Defending Singles World Champion
Jacqueline Sijore
(below right) of Malaysia was 189 pins off the pace for the medals in 62nd place with 1079 (179.83).
Squad B bowlers will complete the qualifying Monday afternoon. The playoffs are scheduled to start at 5 p.m. PDT.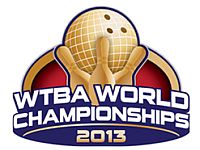 The
World Tenpin Bowling Association World Championships
run from Aug. 16 thru 31, 2013 at Sunset Station's Strike Zone in Henderson, Nev. in the Las Vegas area. The Championships will award medals in six disciplines - Singles, Doubles, Trios, Team, All Events and Masters.
The entire competition will be broadcast live on BOWL.com's BowlTV. Bowling fans will be able to watch live and on demand for free. The schedule is available at
BOWL.com/LiveStream
.
 
Related Articles
Bill O'Neill
starts 2013 WTBA World Championships with victory in Men's Singles
Bodo Konieczny
sets the pace in Men's Singles at the 2013 Bowling World Championships
2013 World Championships kick off Sunday with the
Official Practice
Strike Gold Celebrity Challenge
helps usher in 2013 World Championships
Photos
from World Championships opening ceremony
Championship Preview
More Stories
 
Women's Singles - Qualifying Squad 1
 
Women's Singles - Standings after Qualifying (Squad 1 only)

The top four after six games on short oil will advance to the playoffs
| | | | | | | | | | | | | |
| --- | --- | --- | --- | --- | --- | --- | --- | --- | --- | --- | --- | --- |
| Pos | Player | Country | G1 | G2 | G3 | G1-3 | G4 | G5 | G6 | G4-6 | Pins | Avg. |
| 1. | Wang Ya-Ting | Chinese Taipei | 213 | 227 | 246 | 686 | 180 | 233 | 236 | 649 | 1335 | 222.50 |
| 2. | Ryu Seo-Yeon | Korea | 236 | 246 | 182 | 664 | 178 | 256 | 220 | 654 | 1318 | 219.67 |
| 3. | Bianca Flanagan | Australia | 226 | 162 | 176 | 564 | 279 | 224 | 213 | 716 | 1280 | 213.33 |
| 4. | Bernice Lim | Singapore | 189 | 167 | 259 | 615 | 197 | 212 | 244 | 653 | 1268 | 211.33 |
| (tie) | Baek Seung-Ja | Korea | 190 | 250 | 198 | 638 | 171 | 224 | 235 | 630 | 1268 | 211.33 |
| 6. | Hayley Rumkee | England | 177 | 207 | 240 | 624 | 213 | 192 | 212 | 617 | 1241 | 206.83 |
| 7. | Putty Armein | Indonesia | 225 | 202 | 188 | 615 | 210 | 163 | 237 | 610 | 1225 | 204.17 |
| 8. | Alexis Sy | Philippines | 218 | 233 | 182 | 633 | 199 | 214 | 179 | 592 | 1225 | 204.17 |
| 9. | Rachelle Leon | Philippines | 142 | 189 | 268 | 599 | 189 | 177 | 257 | 623 | 1222 | 203.67 |
| 10. | Sun Hongdou | China | 185 | 182 | 197 | 564 | 290 | 184 | 183 | 657 | 1221 | 203.50 |
| 11. | Chou Chia-Chen | Chinese Taipei | 180 | 183 | 221 | 584 | 214 | 195 | 227 | 636 | 1220 | 203.33 |
| 12. | Tannya Roumimper | Indonesia | 203 | 215 | 157 | 575 | 213 | 246 | 180 | 639 | 1214 | 202.33 |
| 13. | Missy Parkin | United States | 215 | 236 | 209 | 660 | 168 | 194 | 190 | 552 | 1212 | 202.00 |
| 14. | Daria Kovalova | Ukraine | 191 | 180 | 194 | 565 | 202 | 235 | 203 | 640 | 1205 | 200.83 |
| 15. | Sanna Pasanen | Finland | 177 | 221 | 205 | 603 | 177 | 176 | 247 | 600 | 1203 | 200.50 |
| 16. | Autum Chamberlain | England | 169 | 225 | 193 | 587 | 220 | 211 | 185 | 616 | 1203 | 200.50 |
| 17. | Shalin Zulkifli | Malaysia | 209 | 181 | 205 | 595 | 209 | 177 | 221 | 607 | 1202 | 200.33 |
| 18. | Krizziah Tabora | Philippines | 156 | 203 | 173 | 532 | 257 | 191 | 221 | 669 | 1201 | 200.17 |
| 19. | Hannele Impola | Finland | 183 | 209 | 234 | 626 | 185 | 209 | 170 | 564 | 1190 | 198.33 |
| 20. | Yoselin Leon | Puerto Rico | 178 | 168 | 169 | 515 | 194 | 220 | 246 | 660 | 1175 | 195.83 |
| 21. | Cherie Tan | Singapore | 189 | 183 | 177 | 549 | 214 | 217 | 189 | 620 | 1169 | 194.83 |
| 22. | Rebecca Voukolos | Australia | 182 | 221 | 158 | 561 | 217 | 232 | 157 | 606 | 1167 | 194.50 |
| 23. | Wang Yu-Ling | Chinese Taipei | 184 | 236 | 184 | 604 | 191 | 183 | 178 | 552 | 1156 | 192.67 |
| 24. | Lauriane Celie | France | 199 | 183 | 214 | 596 | 181 | 203 | 176 | 560 | 1156 | 192.67 |
| 25. | Janine-Manuela Gabel | Germany | 166 | 256 | 167 | 589 | 143 | 217 | 205 | 565 | 1154 | 192.33 |
| 26. | Siti Safiyah | Malaysia | 204 | 197 | 191 | 592 | 156 | 205 | 200 | 561 | 1153 | 192.17 |
| 27. | Daphne Tan | Singapore | 191 | 200 | 191 | 582 | 233 | 157 | 181 | 571 | 1153 | 192.17 |
| 28. | New Hui Fen | Singapore | 186 | 164 | 226 | 576 | 200 | 210 | 167 | 577 | 1153 | 192.17 |
| 29. | Marie Ramirez | Costa Rica | 201 | 163 | 191 | 555 | 221 | 213 | 161 | 595 | 1150 | 191.67 |
| 30. | Natalia Rico | Colombia | 232 | 151 | 222 | 605 | 170 | 166 | 206 | 542 | 1147 | 191.17 |
| 31. | Nataliya Shcherbinina | Ukraine | 179 | 153 | 202 | 534 | 171 | 217 | 222 | 610 | 1144 | 190.67 |
| 32. | Lisanne Breeschoten | Netherlands | 188 | 206 | 226 | 620 | 172 | 174 | 178 | 524 | 1144 | 190.67 |
| 33. | Ga√ęlle Laplanche | France | 220 | 203 | 187 | 610 | 221 | 162 | 150 | 533 | 1143 | 190.50 |
| 34. | Joan Cheng | Hong Kong | 181 | 219 | 157 | 557 | 148 | 198 | 235 | 581 | 1138 | 189.67 |
| 35. | Kelly Kulick | United States | 219 | 192 | 169 | 580 | 194 | 184 | 179 | 557 | 1137 | 189.50 |
| 36. | Sandra Gongora | Mexico | 179 | 197 | 199 | 575 | 187 | 175 | 193 | 555 | 1130 | 188.33 |
| 37. | Alisha Larasati | Indonesia | 179 | 181 | 155 | 515 | 162 | 242 | 210 | 614 | 1129 | 188.17 |
| 38. | Juliana Franco | Colombia | 211 | 171 | 184 | 566 | 174 | 183 | 204 | 561 | 1127 | 187.83 |
| 39. | Victoria Johansson | Sweden | 191 | 201 | 168 | 560 | 177 | 199 | 191 | 567 | 1127 | 187.83 |
| 40. | Esther Francys Alvarez | Venezuela | 138 | 187 | 257 | 582 | 194 | 160 | 190 | 544 | 1126 | 187.67 |
| 41. | Aida S√°nchez | Dominican Republic | 192 | 180 | 212 | 584 | 187 | 197 | 156 | 540 | 1124 | 187.33 |
| 42. | Amandine Jacques | France | 205 | 160 | 176 | 541 | 168 | 210 | 199 | 577 | 1118 | 186.33 |
| 43. | Nadege Maitre | France | 188 | 184 | 174 | 546 | 185 | 200 | 185 | 570 | 1116 | 186.00 |
| 44. | Alena Korobkova | Russia | 171 | 174 | 158 | 503 | 245 | 174 | 190 | 609 | 1112 | 185.33 |
| 45. | Baiba Baltmane | Latvia | 192 | 121 | 185 | 498 | 179 | 234 | 197 | 610 | 1108 | 184.67 |
| 46. | Varvara Korobkova | Russia | 149 | 179 | 142 | 470 | 208 | 212 | 214 | 634 | 1104 | 184.00 |
| 47. | Lynne Gauthier | Canada | 177 | 170 | 143 | 490 | 213 | 204 | 197 | 614 | 1104 | 184.00 |
| 48. | Sascha Wedel | Denmark | 170 | 212 | 199 | 581 | 151 | 178 | 192 | 521 | 1102 | 183.67 |
| 49. | Ghislaine van der Tol | Netherlands | 191 | 166 | 195 | 552 | 183 | 186 | 180 | 549 | 1101 | 183.50 |
| 50. | Wendy Kok | Netherlands | 146 | 192 | 211 | 549 | 189 | 201 | 162 | 552 | 1101 | 183.50 |
| 51. | Ivana Hie | Indonesia | 172 | 192 | 171 | 535 | 195 | 173 | 197 | 565 | 1100 | 183.33 |
| 52. | Kanako Ishimine | Japan | 138 | 184 | 177 | 499 | 187 | 222 | 189 | 598 | 1097 | 182.83 |
| 53. | Sylvia Villalobos | Costa Rica | 178 | 196 | 191 | 565 | 183 | 173 | 176 | 532 | 1097 | 182.83 |
| 54. | Zandra Aziela | Malaysia | 166 | 214 | 232 | 612 | 149 | 190 | 146 | 485 | 1097 | 182.83 |
| 55. | Rosa Mas | Catalonia | 187 | 181 | 172 | 540 | 204 | 182 | 170 | 556 | 1096 | 182.67 |
| 56. | Yuka Ohshima | Japan | 174 | 171 | 193 | 538 | 182 | 178 | 197 | 557 | 1095 | 182.50 |
| 57. | Tali Itzhak | Israel | 169 | 217 | 202 | 588 | 149 | 181 | 176 | 506 | 1094 | 182.33 |
| 58. | Christine Cheung | Hong Kong | 206 | 147 | 202 | 555 | 150 | 183 | 204 | 537 | 1092 | 182.00 |
| 59. | Li Qing | China | 168 | 143 | 161 | 472 | 186 | 187 | 245 | 618 | 1090 | 181.67 |
| 60. | Jacinta Gilliland | Australia | 136 | 217 | 209 | 562 | 151 | 223 | 151 | 525 | 1087 | 181.17 |
| 61. | Chen Dongdong | China | 174 | 163 | 246 | 583 | 163 | 156 | 182 | 501 | 1084 | 180.67 |
| 62. | Jacqueline Sijore | Malaysia | 177 | 158 | 210 | 545 | 175 | 181 | 178 | 534 | 1079 | 179.83 |
| 63. | Chang Yu-Hsuan | Chinese Taipei | 202 | 183 | 180 | 565 | 217 | 175 | 122 | 514 | 1079 | 179.83 |
| 64. | Shahaf Antin | Israel | 157 | 148 | 188 | 493 | 185 | 182 | 210 | 577 | 1070 | 178.33 |
| 65. | Isabelle Rioux | Canada | 217 | 147 | 194 | 558 | 167 | 181 | 160 | 508 | 1066 | 177.67 |
| 66. | Roser Romero | Catalonia | 163 | 212 | 180 | 555 | 169 | 151 | 190 | 510 | 1065 | 177.50 |
| 67. | Daiva Seleniene | Lithuania | 153 | 183 | 189 | 525 | 186 | 182 | 172 | 540 | 1065 | 177.50 |
| 68. | Maria Jose Rodriguez | Colombia | 181 | 160 | 177 | 518 | 176 | 189 | 180 | 545 | 1063 | 177.17 |
| 69. | Mariangie Colon | Puerto Rico | 171 | 164 | 160 | 495 | 172 | 203 | 188 | 563 | 1058 | 176.33 |
| 70. | Sandra Torrents | Catalonia | 168 | 159 | 179 | 506 | 161 | 201 | 184 | 546 | 1052 | 175.33 |
| 71. | Alyssa Cicconi | Canada | 170 | 170 | 169 | 509 | 187 | 220 | 136 | 543 | 1052 | 175.33 |
| 72. | Rebecca Whiting | Australia | 164 | 193 | 174 | 531 | 193 | 155 | 169 | 517 | 1048 | 174.67 |
| 73. | Veronica Dias De Souza | Macau | 195 | 143 | 211 | 549 | 205 | 145 | 148 | 498 | 1047 | 174.50 |
| 74. | Sandra Matz | Germany | 176 | 135 | 213 | 524 | 174 | 183 | 165 | 522 | 1046 | 174.33 |
| 75. | Peng Rui | China | 208 | 150 | 160 | 518 | 142 | 179 | 206 | 527 | 1045 | 174.17 |
| 76. | Maria Tiragallo | Italy | 149 | 189 | 181 | 519 | 183 | 169 | 174 | 526 | 1045 | 174.17 |
| 77. | Caroline Jonsson | Sweden | 168 | 172 | 145 | 485 | 177 | 201 | 181 | 559 | 1044 | 174.00 |
| 78. | Nicki Ainge | England | 166 | 176 | 167 | 509 | 169 | 200 | 166 | 535 | 1044 | 174.00 |
| 79. | Natalya Stepygina | Ukraine | 182 | 154 | 167 | 503 | 175 | 168 | 194 | 537 | 1040 | 173.33 |
| 80. | Yifat Tal | Israel | 167 | 181 | 176 | 524 | 168 | 156 | 185 | 509 | 1033 | 172.17 |
| 81. | Aseret Zetter | Mexico | 195 | 139 | 180 | 514 | 125 | 171 | 216 | 512 | 1026 | 171.00 |
| 82. | Sarah Young | New Zealand | 191 | 166 | 194 | 551 | 155 | 195 | 125 | 475 | 1026 | 171.00 |
| 83. | Brooke Malone | New Zealand | 147 | 202 | 138 | 487 | 182 | 167 | 188 | 537 | 1024 | 170.67 |
| 84. | Annalisa Balzano | Italy | 164 | 170 | 140 | 474 | 198 | 174 | 175 | 547 | 1021 | 170.17 |
| 85. | Joanne Allsebrook | England | 153 | 134 | 167 | 454 | 219 | 201 | 146 | 566 | 1020 | 170.00 |
| 86. | Eny Diaz | Venezuela | 155 | 143 | 191 | 489 | 184 | 146 | 197 | 527 | 1016 | 169.33 |
| 87. | Stephanie Martins | Brazil | 196 | 132 | 147 | 475 | 174 | 200 | 161 | 535 | 1010 | 168.33 |
| 88. | Inga Malinauskiene | Lithuania | 128 | 180 | 182 | 490 | 174 | 154 | 191 | 519 | 1009 | 168.17 |
| 89. | Joanna Merklejn | Poland | 161 | 126 | 171 | 458 | 168 | 201 | 179 | 548 | 1006 | 167.67 |
| 90. | Roseli Santos | Brazil | 184 | 173 | 192 | 549 | 155 | 148 | 153 | 456 | 1005 | 167.50 |
| 91. | Jo-Ann Sanesac | Canada | 129 | 194 | 184 | 507 | 170 | 133 | 194 | 497 | 1004 | 167.33 |
| 92. | Anggie Ramirez | Colombia | 170 | 185 | 145 | 500 | 180 | 178 | 143 | 501 | 1001 | 166.83 |
| 93. | Pernille Rasmussen | Denmark | 172 | 156 | 145 | 473 | 153 | 176 | 194 | 523 | 996 | 166.00 |
| 94. | Mali Mizrahi | Israel | 113 | 145 | 175 | 433 | 200 | 173 | 180 | 553 | 986 | 164.33 |
| 95. | Chan Weng Hang | Macau | 134 | 182 | 171 | 487 | 174 | 153 | 168 | 495 | 982 | 163.67 |
| 96. | Noelia Rastrero | Catalonia | 137 | 179 | 171 | 487 | 128 | 170 | 190 | 488 | 975 | 162.50 |
| 97. | Daniela Torres | Dominican Republic | 154 | 179 | 131 | 464 | 195 | 175 | 139 | 509 | 973 | 162.17 |
| 98. | Fabiana Baraldi | Italy | 137 | 154 | 150 | 441 | 195 | 181 | 149 | 525 | 966 | 161.00 |
| 99. | Mandy van de Louw | Netherlands | 185 | 181 | 149 | 515 | 155 | 135 | 150 | 440 | 955 | 159.17 |
| 100. | Malgorzata Kiedrowska | Poland | 168 | 201 | 143 | 512 | 158 | 136 | 147 | 441 | 953 | 158.83 |
| 101. | Lucyna Charezinska | Poland | 171 | 161 | 139 | 471 | 143 | 149 | 187 | 479 | 950 | 158.33 |
| 102. | Elizabete Varava | Latvia | 140 | 125 | 149 | 414 | 149 | 173 | 210 | 532 | 946 | 157.67 |
| 103. | Felinda Grzybowska | Poland | 113 | 153 | 183 | 449 | 140 | 186 | 167 | 493 | 942 | 157.00 |
| 104. | Alessandra Morra | Italy | 156 | 154 | 117 | 427 | 168 | 173 | 160 | 501 | 928 | 154.67 |
| 105. | Violeta Musteikiene | Lithuania | 120 | 189 | 151 | 460 | 181 | 122 | 161 | 464 | 924 | 154.00 |
| 106. | Madeline Llamas | Philippines | 155 | 163 | 156 | 474 | 154 | 159 | 136 | 449 | 923 | 153.83 |
| 107. | Jurate Palaimaite | Lithuania | 126 | 151 | 157 | 434 | 160 | 152 | 168 | 480 | 914 | 152.33 |