Eric Helmrich awarded 18th Annual Columbia 300's John Jowdy Scholarship for superb work in Classroom and on Bowling Lanes
07/12/06
Column
By Dick Evans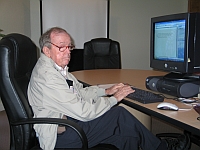 After earning his Black Belt at age 9,
Eric Helmrich
's Mom Susan asked him which indoor sport would he like to try next.
"We were living in South Florida and I'm heat intolerant so he had to pick an indoor sport," said Susan from their home in Saint Leonard, Md.
Eric picked bowling and was struggling with a 120 average when a coach, James Janoff, spotted him and told Susan that he could add 30 pins to Eric's average with a few minor adjustments.
Eric's 1996 season ending average climbed to 152 "and suddenly I was a genius," laughed Janoff, a mortgage banker for Countrywide Home Loans in Greater Miami and an outstanding bowler.
"He's a very bright kid and immediately grasped what I was trying to teach him...Eric deserves all the credit."
Certainly Eric Helmrich proved it in the classroom of Patuxent High School in Lusby, Md., by finishing with a 97.0/100 cumulative grade-point average and graduating No. 17 in a class of 325 students.
Despite excelling in the classroom, Eric found time to play in Patuxent's marching and symphonic bands while achieving bowling averages of 208.8, 209.8, 225.5 and 231.6 over the past four years.
Last April he was presented with the United States Bowling Congress' Star of Tomorrow Award.
But that coveted recognition played no part in the judging as three Hall of Fame bowling writers - John Jowdy, Joe Lyou and Dick Evans - gathered at the Hilton Hotel to select the 18th winner of the Columbia 300 John Jowdy Scholarship.
The committee had a hard time separating Andrew Steadman from Nebraska, Jacob Patterson from Oregon, Kenneth Garvey from Iowa and Deann Michener from Pennsylvania and Helmrich since all five were outstanding students and strong bowlers.
But Helmrich wound up the winner by one point and will receive a $500 Columbia 300 scholarship each year he maintains a 3.0 average in college.
All five will make up the 2006 All-Columbia High School team and will receive jackets from Columbia in recognition of their outstanding achievements in the classroom and bowling centers.
"We base our judging 60 percent on classroom work and 40 percent on bowling ability so seldom do we honor the same student-athlete that other organizations recognize," said Jowdy, Columbia 300's Hall of Fame instructor. "Eric Helmrich was an exception to that rule." Talking at different times to James Janoff in Florida and Eric Helmrich in Maryland was like talking to one person at the same time.
Asked if he had any aspirations for bowling on the Professional Bowlers Association tour, Eric said flatly, "No, not really. I have a long way to go before I could consider myself a potential pro bowler. Besides, living out of a suitcase is not appealing to me and not a lifestyle I want to pursue."
Janoff said, "Eric realizes that there are awful lot of outstanding junior bowlers out there. He has a fantastic mental game, is a bright and level headed young man and nothing rattles him...he's the epitome of a thinking bowler.
"But to be honest, his physical game is not really that great and he realizes that. Unlike a lot of top junior bowlers, he doesn't live in a bowling center...he's not one dimensional."
You wouldn't know that from his bowling resume - high games of 300 and 299 and high sets of 802 and 786.
And Eric has held his own in junior tournaments from Florida to Virginia to Indiana to Texas to Wisconsin to Missouri. Many times Janoff flies in at his own expense to help his young bowling friend.
"Over the past 10 years, our families have become friends...we're no longer coach and pupil," Janoff said.
Janoff thinks his prodigy's finest moment came in 2004 when he was a sophomore in high school.
"Winning tournaments on your own is difficult. However, winning team events defines you as a bowler," Janoff said. "Eric's team won the first Dynothane Baker-Style Team Event held in conjunction with the Junior Gold Championship in 2004. What makes this accomplishment so remarkable was the makeup of the team - three players were still in high school and the other two were college bowlers with no college bowling experience and they were competing against Team USA members and many highly respected college teams."
Eric plans to study engineering at University of Maryland Baltimore County and to participate on the club bowling team.
Ironically, he is the only bowler among the five Columbia 300 finalists not to learn how to bowl from a family member.
Steadman, Garvey and Michener gave credit to their parents for teaching them how to bowl, Patterson praised his father "for teaching me how to make spares."
Neither of Helmrich's parents, Jerry nor Susan, are bowlers but both Eric and Janoff think "Mom" has played a paramount role in his success.
"I enjoy watching him bowl and although I can't tell him how to correct anything, I recognize when he's doing something different that normal," Susan said.
"Mom doesn't know all the details about bowling, but she does know when I'm doing something wrong or different," Eric said in admiration. He should know because Eric spends time coaching younger junior bowlers at Calvert Lanes.
And when things are going sour, Janoff and Eric are on the phone discussing bowling.
After all, that's what friends are for...to help each other.
It will help the Bowling Writers Association of America to know that Jacob Patterson has applied for the Oregon Association of Broadcasters' scholarship before attending Mt. Hood Community College.
The BWAA awards $1,000 scholarships to bowlers who are interested in media-related careers.
The 16 previous Columbia 300 John Jowdy Scholarship winners:
Columbia 300 John Jowdy Scholarship Award winners and their home states:
1990 - David Nagelhaut, New Jersey
1991 - Laura Ross, New Jersey
1992 - Michael Mullin, New York
1993 - Marjorie Tassone, Ariz
1994 - Mark Martin, Oregon
1995 - Kevin Winter, Washington
1996 - Nicholas Hoagland, Ohio
1997 - Michael Pretko, Michigan
1998 - Timothy Frank, Illinois
1999 - Amanda Fritsche- Texas
2000 - Scott Norton (California) and Robby Spigner (Illinois)
2001 - Craig Brown, Ohio
2002 - Amanda Pezzano, New Jersey
2003 - Nicholas Kallner, New York
2004 - Adam Keesling, Kansas
2005 - Rachelle Davis, Arizona
Email address:
[email protected]