Lynne Fishler, Ron Berlov win 2015 Israeli National Championships
05/19/15
Israel
Ron Berlov
(pictured left) of Hutzot club and
Lynne Fishler
of Ramat Gan club won the men's and women's title at the 2015 Israeli National Championships, which concluded May 15 at Gan Shmuel bowling center.
It marks the first individual title for both players, who will represent Israel at the European Champions Cup October 19-26 at Rose'n Bowl in Serravalle, San Marino.
41 players participated in the 26th running of the event. All players bowled 20 games of qualifying over 4 days to determine the top 8 men and top 8 women for the single-elimination finals.
The qualifying leaders, 24-year-old
Ron Berlov
and 17-year-old
Lynne Fishler
earned berth into the men's and women's championship match, while second-seeded
Tair Shechter
and
Sarit Mizrachi
were seeded into the semifinals.
The quarterfinal and semifinal matches were contested in best-of-five format. The championship match featured three games with the total pinfall to determine the winner.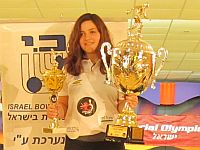 Fishler (right) met No. 2 seed,
Sarit Mizrachi
, a five-time national champion who won the title in 1997, 2002, 2008, 2009 and 2013, and No. 4 seed,
Edva Eliav
, in the women's finals.
Fishler, who bowled a very consistent three-game series with games of 201, 209 and 204, held a comfortable 50-pin lead over Eliav (188, 172) heading into the final game. Eliav finished with a big 247 game but fell seven pins short, 614-607.
Mizrachi ended up in third place with 509. Fishler is the youngest Israeli player ever who became Israeli National Champion.
On the men's side, top-seeded Berlov battled it out for the title with No. 4 seed,
Asaf Morad
, who ousted multiple Israeli champion and European Champions Cup winner,
Or Aviram
in the semifinals (3-1), and No. 6 seed,
Ido Sharet
.
The three finalists were within two pins after the first game, when Berlov pulled away with a huge 285 second game. Morad narrowed the gap to 15 pins with a 230 final game, to finish second to Berlov, 660-645. Like last year, Sharet finished third with 612.
 
Related Articles
Lior Koren, Sara Aviram/Harlap
win individual titles at 2014 Israel National Championships
Sarit Mizrahi, Ben Slutzki
win the titles in 2013 Israeli National Championships
Sara Aviram, Lior Koren
win 2012 Israeli National Championships
Aviv Alfital, Tali Itshak
win 2011 Israeli Individual National Championships
Shahaf Antin, Aviv Alfital
win 2010 Israel National Championship
Or Aviram, Sarit Mizrachi
repeat as Israel's National Champions in 2009
Sarit Mizrachi, Or Aviram
repeat as 2008 Israeli National Champions
 
2015 Israeli National Championships - Men's Finals
Quarterfinals and semifinals in best-of-five format; championship match over three games, total pins
Quarterfinals
#3 Or Aviram (200, 207, 280) def. #8 Nati Volpert (169, 202, 223), 3-0
#4 Asaf Morad (216, 174, 221, 170) def. #7 Tziko Dekel (191, 193, 196, 158), 3-1 #6 Ido Sharet (217, 188, 248) def. #5 Omer Nehushtan (145, 186, 236), 3-0
Semifinals
#6 Ido Sharet (205, 191, 248, 149, 207) def. #2 Tair Shechter (236, 156, 225, 214, 202), 3-2
#4 Asaf Morad (162, 255, 237, 257) def. #3 Or Aviram (238, 238, 236, 226), 3-1
Championship:
1. #1 Ron Berlov, 660 (197, 285, 178)
2. #4 Asaf Morad, 645 (199, 216, 230)
3. #6 Ido Sharet, 612 (197, 212, 203)
 
2015 Israeli National Championships - Women's Finals
Quarterfinals and semifinals in best-of-five format; championship match over three games, total pins
Quarterfinals
#3 Shir Azulay (205, 161, 129, 163, 184) def. #8 Hanna Duanis (189, 155, 189, 202, 143), 3-2
#4 Edva Eliav (211, 190, 204, 193) def. #7 Rotem Vaknin (190, 210, 200, 186), 3-1
#6 Sara Harlap (136, 221, 176, 237) def. #5 Yifat Tal (132, 129, 234, 204), 3-1
Semifinals
#2 Sarit Mizrachi (204, 214, 184, 172, 207) def. #6 Sara Harlap (184, 179, 212, 202, 158), 3-2
#4 Edva Eliav (158, 169, 178, 184) def. #3 Shir Azulay (156, 204, 156, 151), 3-1
Championship:
1. #1 Lynne Fishler, 614 (201, 209, 204)
2. #4 Edva Eliav, 607 (188, 172, 247)
3. #2 Sarit Mizrachi, 509 (149, 172, 188)