IDM Bucharest International Bowling Open 2011 is underway in Romania
11/23/11
Romania
The IDM Bucharest International Bowling Open 2011 got underway Monday with the first three qualifying squads at IDM Club in Bucharest, Romania.
Marius Piticariu
(pictured left) led day one qualifying with 1332 six-game total and an average of 222. Piticariu posted games of 225, 258, 215, 253, 209 and 172 in Squad 2 to overtake Squad 1 leader
Marius Briciu
by 32 pins.
Briciu, who toppled 1300 pins including a high game of 246, was second with Squad 3 leader
Romeo Gagenoiu
(right) in third with 1286 and
Catalin Gheorghe
in fourth with 1272.
The top 4 players from a separate leader board of the qualifying squads conducted Monday through Thursday will earn automatic berths into the finals.
Qualifying continues Tuesday with Squads 4-6 scheduled for 11 a.m., 3 and 7 p.m. local time (CET+1).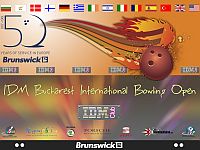 The
IDM Bucharest International Bowling Open 2011
will be held from Nov. 21-27 at IDM Club, a 14-laner with Brunswick equipment, in Bucharest, Romania. The tournament offers total prize fund of 15.000 Euro with 2.500 Euro going to the winner.
A total of 24 players from the qualifying (six games; unlimited re-entries) will advance to the finals on Sunday, Nov. 27: the top 18 qualifiers and the top 4 from a separate standing of the squads conducted Nov. 21-24 plus the top 2 of the one-game Desperado Squad. The top 8 players will receive one bye.
Qualifiers 9-24 will bowl six games scratch. The top 8 meet the top 8 qualifiers in the second round. Those 16 will bowl another six-game series scratch to cut to the top 8, who will advance to match play finals in best-of-three games format.
 
Related Articles
Brian Voss
captures the title in the 2010 Bucharest International
 
Qualifying Standings after Monday, Nov. 21
| | | | | | | | | | | | | |
| --- | --- | --- | --- | --- | --- | --- | --- | --- | --- | --- | --- | --- |
| Pos | Player | Country | G1 | G2 | G3 | G4 | G5 | G6 | Pins | Avg. | Hc | Total |
| 1. | Marius Piticariu | Romania | 225 | 258 | 215 | 253 | 209 | 172 | 1332 | 222.00 | | 1332 |
| 2. | Marius Briciu | Romania | 194 | 224 | 219 | 246 | 204 | 213 | 1300 | 216.67 | | 1300 |
| 3. | Romeo Gagenoiu | Romania | 233 | 194 | 192 | 235 | 192 | 240 | 1286 | 214.33 | | 1286 |
| 4. | Catalin Gheorghe | Romania | 214 | 202 | 232 | 185 | 206 | 233 | 1272 | 212.00 | | 1272 |
| 5. | Viorel Simut | Romania | 172 | 214 | 203 | 182 | 224 | 257 | 1252 | 208.67 | | 1252 |
| 6. | Cristian Calagiu | Romania | 206 | 224 | 151 | 210 | 247 | 212 | 1250 | 208.33 | | 1250 |
| 7. | Marcel Tarase | Romania | 219 | 226 | 250 | 150 | 182 | 222 | 1249 | 208.17 | | 1249 |
| 8. | Odette Piticariu | Romania | 181 | 211 | 222 | 239 | 183 | 156 | 1192 | 198.67 | 48 | 1240 |
| 9. | Florian Mihailescu | Romania | 243 | 216 | 192 | 164 | 222 | 177 | 1214 | 202.33 | | 1214 |
| 10. | Cristian Zamfir | Romania | 203 | 176 | 172 | 175 | 266 | 199 | 1191 | 198.50 | | 1191 |
| 11. | Marius Balan | Romania | 253 | 195 | 199 | 192 | 149 | 200 | 1188 | 198.00 | | 1188 |
| 12. | Alexandru Tariceanu | Romania | 179 | 185 | 212 | 184 | 131 | 258 | 1149 | 191.50 | | 1149 |
| 13. | Ioan Ionescu | Romania | 231 | 196 | 155 | 212 | 187 | 162 | 1143 | 190.50 | | 1143 |
| 14. | Ion Fatu | Romania | 169 | 201 | 189 | 180 | 175 | 217 | 1131 | 188.50 | | 1131 |
| 15. | Bogdan Piciu | Romania | 120 | 181 | 246 | 215 | 159 | 209 | 1130 | 188.33 | | 1130 |
| 16. | Daniel Stefan | Romania | 146 | 191 | 170 | 203 | 197 | 207 | 1114 | 185.67 | | 1114 |
| 17. | Corneliu Antimirescu | Romania | 216 | 155 | 150 | 146 | 213 | 201 | 1081 | 180.17 | | 1081 |
| 18. | Ion Grecu | Romania | 184 | 182 | 204 | 144 | 186 | 166 | 1066 | 177.67 | | 1066 |
| 19. | Andrei Nistor | Romania | 169 | 140 | 195 | 188 | 204 | 132 | 1028 | 171.33 | | 1028 |
| 20. | Mihaita Gogoasa | Romania | 201 | 163 | 152 | 159 | 150 | 168 | 993 | 165.50 | | 993 |
| 21. | Bogdan Stoian | Romania | 159 | 188 | 164 | 193 | 128 | 138 | 970 | 161.67 | | 970 |