Brad Angelo prevails by one pin to win second career title in PBA Viper Championship
11/11/12
2012-13 PBA Tour #2
Top seed defeats Finnish native Koivuniemi, 233-232, in title match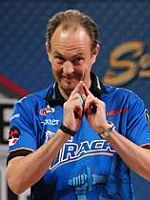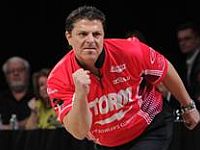 Brad Angelo
(pictured left) of Lockport, N.Y., doubled in the 10th frame to prevail by one pin over Finnish native
Mika Koivuniemi
(right) of Hartland, Mich., to win his second career PBA title and the $20,000 top prize in the PBA Viper Championship, the second event of the fourth GEICO PBA World Series of Bowling.
Angelo, who earned the top berth in the stepladder finals at South Point in Las Vegas, watched the opening match in which Koivuniemi, seeded third, easily defeated No. 4
Mike Fagan
(below left) of Dallas to set up a semifinal clash with PBA Player of the Year
Sean Rash
of Montgomery, Ill.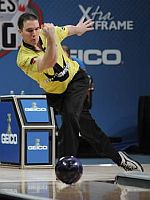 Koivuniemi, the PBA Player of the Year in the 2003-04 and 2010-11 season, took care of five-time champion Rash (right), 258-180, to bowl Angelo for the title.
Koivuniemi received $10,000 for second place. Rash earned $7,000 for third place and Fagan garnered $5,000 for fourth place.
The ESPN stepladder final which was conducted on Saturday, Nov. 10, in the special arena setting in South Point's Exhibition Hall area will air on Sunday, Dec. 23.
 
Related Articles
Brad Angelo
wins No. 1 berth in PBA Viper Championship Finals
Sean Rash
paces qualifying round at PBA Viper Championship
2012-13 PBA Tour Schedule & Champions
 
PBA Viper Championship
South Point Bowling Center in Las Vegas, Nev., United States (Nov. 4, 2012); ESPN finals in South Point Exhibition Hall (Nov. 10, 2012)
Championship Round:
1. Brad Angelo, Lockport, N.Y., 233 (1 game), $20,000
2. Mika Koivuniemi, Finland, 704 (3 games), $10,000
3. Sean Rash, Montgomery, Ill., 180 (1 game), $7,000
4. Mike Fagan, Dallas, 150 (1 game), $5,000
Playoff Results:
First Match: No. 3 Koivuniemi def. No. 4 Fagan, 214-150
Second Match: Koivuniemi def. No. 2 Rash, 258-180
Championship: No. 1 Angelo def. Koivuniemi, 233-232.