Team USA's Barnes, Szczerbinski in top qualifying position after Doubles Squad 1
08/21/13
2013 World Championships
Chris Barnes rolls the fourth perfecto of the Championships and the first 800 series to set the pace in All-Events
John Szczerbinski
and
Chris Barnes
(pictured left, l-r) averaged 228.25 in the Men's Doubles competition of the World Championships en route to lead the first of two qualifying squads Wednesday morning at Sunset Station's Strike Zone in Henderson, Nev.
Barnes, a 15-time PBA champion and defending WTBA World Champion in Team and Masters, led the duo with the squad-best 1502 series (250.33 average) on the 39-feet
Seoul
lane conditioning pattern including the fourth 300 game of the Championships and the first 800 series (245, 300, 264). Szczerbinski contributed 1237.
Barnes and Szczerbinski finished with a huge 481 game for 2739 total to take a 62-pin lead over Canada's
David Simard
and PBA Touring pro
Dan MacLelland
(right, r-l), who closed out with 494 to shoot into second place with 2677 (223.08).
Choi Bok-Eum
and
Kim Jun-Yung
(left, l-r) of South Korea were 18 pins behind the Canadians in third place with 2659 (221.58).
England's
Mike Quarry
and PBA champion
Stuart Williams
(right, l-r) led the 54 doubles after five games between 403 and 492 but slipped to fourth place with 2647 (220.58) due to a final 364 game. The top four duos at the end of the qualifying will advance to the medal round.
The second Korean team in this squad,
Shin Seung-Hyeon
and
Cho Young-Seon
finished the round with 457 and 462 but fell 13 pins short off the top 4 in fifth place with 2634.
Denmark's
Frederik √ėhrgaard
and
Jimmy Mortensen
(pictured with coach Mika Koivuniemi, r-l), who led the field after three games with 1402 (455, 489, 458), finished further seven pins behind in sixth place with 2627.
Singles World Champion
Bill O'Neill
and fellow PBA champion
Tommy Jones
were seventh with 2602.
With the bowlers from Squad 1 having completed 12 out of 24 games in All-Events (combined qualifying results in Singles, Doubles, Trios and Team), Barnes leads with 2866 total and an average of 238.33. O'Neill slipped to second place with 2691 with Korea's Shin in third at 2680.
Squad B bowlers will bowl their six-game qualifying block starting at 3 p.m. PDT. The semifinals and finals are scheduled to start at 6 and 7 p.m. with the award ceremony to follow immediately afterwards.
Bowlingdigital's Photo Album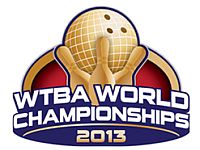 The
World Tenpin Bowling Association World Championships
run from Aug. 16 thru 31, 2013 at Sunset Station's Strike Zone in Henderson, Nev. in the Las Vegas area. The Championships will award medals in six disciplines - Singles, Doubles, Trios, Team, All Events and Masters.
The entire competition will be broadcast live on BOWL.com's BowlTV. Bowling fans will be able to watch live and on demand for free. The schedule is available at
BOWL.com/LiveStream
.
 
Men's Doubles - Chris Barnes 300
Men's Doubles - Qualifying Squad 1
 
Related Articles

Korea's Ryu Seo-Yeon defeats Chinese Taipei's spinners to win Women's Singles title
Chinese Taipei spinner Wang Ya-Ting is the early leader in Women's Singles
Bill O'Neill starts 2013 WTBA World Championships with victory in Men's Singles
Bodo Konieczny sets the pace in Men's Singles at the 2013 Bowling World Championships
2013 World Championships kick off Sunday with the Official Practice
Strike Gold Celebrity Challenge helps usher in 2013 World Championships
Photos from World Championships opening ceremony
Championship Preview
More Stories
 
 
Men's Doubles - Standings after Qualifying (Squad 1 only)

The top four duos after six games on short oil will advance to the Medal Round
| | | | | | | | | | | | |
| --- | --- | --- | --- | --- | --- | --- | --- | --- | --- | --- | --- |
| Pos | Country/Players | G1 | G2 | G3 | G1-3 | G4 | G5 | G6 | G4-6 | Pins | Avg. |
| 1. | United States | 465 | 489 | 438 | 1392 | 416 | 450 | 481 | 1347 | 2739 | 228.25 |
| | John Szczerbinski | 220 | 189 | 174 | 583 | 204 | 216 | 234 | 654 | 1237 | 206.17 |
| | Chris Barnes | 245 | 300 | 264 | 809 | 212 | 234 | 247 | 693 | 1502 | 250.33 |
| 2. | Canada | 391 | 465 | 512 | 1368 | 457 | 358 | 494 | 1309 | 2677 | 223.08 |
| | David Simard | 196 | 244 | 223 | 663 | 228 | 201 | 257 | 686 | 1349 | 224.83 |
| | Dan MacLelland | 195 | 221 | 289 | 705 | 229 | 157 | 237 | 623 | 1328 | 221.33 |
| 3. | Korea | 460 | 494 | 431 | 1385 | 369 | 442 | 463 | 1274 | 2659 | 221.58 |
| | Choi Bok-Eum | 248 | 238 | 203 | 689 | 170 | 249 | 206 | 625 | 1314 | 219.00 |
| | Kim Jun-Yung | 212 | 256 | 228 | 696 | 199 | 193 | 257 | 649 | 1345 | 224.17 |
| 4. | England | 453 | 403 | 469 | 1325 | 492 | 466 | 364 | 1322 | 2647 | 220.58 |
| | Mike Quarry | 212 | 217 | 247 | 676 | 224 | 198 | 175 | 597 | 1273 | 212.17 |
| | Stuart Williams | 241 | 186 | 222 | 649 | 268 | 268 | 189 | 725 | 1374 | 229.00 |
| 5. | Korea | 433 | 449 | 421 | 1303 | 412 | 457 | 462 | 1331 | 2634 | 219.50 |
| | Shin Seung-Hyeon | 217 | 237 | 231 | 685 | 225 | 192 | 213 | 630 | 1315 | 219.17 |
| | Cho Young-Seon | 216 | 212 | 190 | 618 | 187 | 265 | 249 | 701 | 1319 | 219.83 |
| 6. | Denmark | 455 | 489 | 458 | 1402 | 457 | 361 | 407 | 1225 | 2627 | 218.92 |
| | Frederik √ėhrgaard | 198 | 236 | 234 | 668 | 244 | 171 | 182 | 597 | 1265 | 210.83 |
| | Jimmy Mortensen | 257 | 253 | 224 | 734 | 213 | 190 | 225 | 628 | 1362 | 227.00 |
| 7. | United States | 407 | 442 | 421 | 1270 | 418 | 442 | 472 | 1332 | 2602 | 216.83 |
| | Bill O'Neill | 205 | 226 | 217 | 648 | 172 | 226 | 227 | 625 | 1273 | 212.17 |
| | Tommy Jones | 202 | 216 | 204 | 622 | 246 | 216 | 245 | 707 | 1329 | 221.50 |
| 8. | Venezuela | 406 | 456 | 403 | 1265 | 381 | 492 | 448 | 1321 | 2586 | 215.50 |
| | Ildemaro Ruiz | 199 | 209 | 181 | 589 | 205 | 235 | 231 | 671 | 1260 | 210.00 |
| | Amleto Monacelli | 207 | 247 | 222 | 676 | 176 | 257 | 217 | 650 | 1326 | 221.00 |
| 9. | Dominican Republic | 417 | 361 | 396 | 1174 | 528 | 487 | 384 | 1399 | 2573 | 214.42 |
| | Alejandro Prats | 214 | 180 | 217 | 611 | 259 | 246 | 204 | 709 | 1320 | 220.00 |
| | Rolando Sebelen | 203 | 181 | 179 | 563 | 269 | 241 | 180 | 690 | 1253 | 208.83 |
| 10. | Malaysia | 468 | 439 | 429 | 1336 | 417 | 380 | 435 | 1232 | 2568 | 214.00 |
| | Adrian Ang | 253 | 221 | 224 | 698 | 237 | 177 | 222 | 636 | 1334 | 222.33 |
| | Alex Liew | 215 | 218 | 205 | 638 | 180 | 203 | 213 | 596 | 1234 | 205.67 |
| 11. | Germany | 450 | 438 | 451 | 1339 | 399 | 417 | 413 | 1229 | 2568 | 214.00 |
| | Marco Baade | 244 | 224 | 235 | 703 | 170 | 215 | 223 | 608 | 1311 | 218.50 |
| | Bodo Konieczny | 206 | 214 | 216 | 636 | 229 | 202 | 190 | 621 | 1257 | 209.50 |
| 12. | Japan | 443 | 474 | 480 | 1397 | 384 | 372 | 387 | 1143 | 2540 | 211.67 |
| | Daisuke Yoshida | 214 | 245 | 239 | 698 | 147 | 191 | 187 | 525 | 1223 | 203.83 |
| | Shusaku Asato | 229 | 229 | 241 | 699 | 237 | 181 | 200 | 618 | 1317 | 219.50 |
| 13. | Finland | 408 | 445 | 377 | 1230 | 406 | 430 | 473 | 1309 | 2539 | 211.58 |
| | Perttu Jussila | 187 | 189 | 181 | 557 | 205 | 235 | 225 | 665 | 1222 | 203.67 |
| | Tony Ranta | 221 | 256 | 196 | 673 | 201 | 195 | 248 | 644 | 1317 | 219.50 |
| 14. | Netherlands | 410 | 373 | 450 | 1233 | 386 | 464 | 455 | 1305 | 2538 | 211.50 |
| | Jeroen van Geel | 186 | 212 | 228 | 626 | 172 | 205 | 233 | 610 | 1236 | 206.00 |
| | Alex de Vries | 224 | 161 | 222 | 607 | 214 | 259 | 222 | 695 | 1302 | 217.00 |
| 15. | Denmark | 375 | 365 | 477 | 1217 | 418 | 419 | 470 | 1307 | 2524 | 210.33 |
| | Mik Stampe | 181 | 172 | 245 | 598 | 198 | 217 | 213 | 628 | 1226 | 204.33 |
| | Thomas Larsen | 194 | 193 | 232 | 619 | 220 | 202 | 257 | 679 | 1298 | 216.33 |
| 16. | Norway | 363 | 401 | 422 | 1186 | 451 | 454 | 432 | 1337 | 2523 | 210.25 |
| | Glenn Morten Pedersen | 178 | 189 | 184 | 551 | 193 | 211 | 214 | 618 | 1169 | 194.83 |
| | Bj√łrn Einar Rudshagen | 185 | 212 | 238 | 635 | 258 | 243 | 218 | 719 | 1354 | 225.67 |
| 17. | Colombia | 424 | 444 | 402 | 1270 | 436 | 420 | 396 | 1252 | 2522 | 210.17 |
| | Edward Rey | 221 | 228 | 233 | 682 | 178 | 223 | 193 | 594 | 1276 | 212.67 |
| | Oscar Rodriguez | 203 | 216 | 169 | 588 | 258 | 197 | 203 | 658 | 1246 | 207.67 |
| 18. | England | 382 | 455 | 455 | 1292 | 384 | 364 | 479 | 1227 | 2519 | 209.92 |
| | Raymond Teece | 214 | 236 | 225 | 675 | 214 | 184 | 226 | 624 | 1299 | 216.50 |
| | Matt Miller | 168 | 219 | 230 | 617 | 170 | 180 | 253 | 603 | 1220 | 203.33 |
| 19. | Colombia | 408 | 363 | 445 | 1216 | 460 | 470 | 371 | 1301 | 2517 | 209.75 |
| | Santiago Mejia | 218 | 155 | 234 | 607 | 237 | 258 | 170 | 665 | 1272 | 212.00 |
| | Jaime E Gonzalez | 190 | 208 | 211 | 609 | 223 | 212 | 201 | 636 | 1245 | 207.50 |
| 20. | Sweden | 418 | 422 | 415 | 1255 | 394 | 470 | 391 | 1255 | 2510 | 209.17 |
| | Martin Paulsson | 217 | 208 | 174 | 599 | 223 | 247 | 182 | 652 | 1251 | 208.50 |
| | Dennis Eklund | 201 | 214 | 241 | 656 | 171 | 223 | 209 | 603 | 1259 | 209.83 |
| 21. | Singapore | 359 | 352 | 451 | 1162 | 491 | 421 | 434 | 1346 | 2508 | 209.00 |
| | Joel Tan | 214 | 186 | 196 | 596 | 258 | 206 | 182 | 646 | 1242 | 207.00 |
| | Ng Chiew Pang | 145 | 166 | 255 | 566 | 233 | 215 | 252 | 700 | 1266 | 211.00 |
| 22. | Hong Kong | 416 | 340 | 470 | 1226 | 439 | 457 | 382 | 1278 | 2504 | 208.67 |
| | Rickle Kam | 214 | 202 | 228 | 644 | 249 | 243 | 176 | 668 | 1312 | 218.67 |
| | Wicky Yeung | 202 | 138 | 242 | 582 | 190 | 214 | 206 | 610 | 1192 | 198.67 |
| 23. | Malaysia | 409 | 422 | 377 | 1208 | 453 | 427 | 396 | 1276 | 2484 | 207.00 |
| | Syafiq Ridhwan | 205 | 195 | 182 | 582 | 207 | 213 | 214 | 634 | 1216 | 202.67 |
| | Zulmazran Zulkifli | 204 | 227 | 195 | 626 | 246 | 214 | 182 | 642 | 1268 | 211.33 |
| 24. | Singapore | 411 | 365 | 400 | 1176 | 407 | 434 | 448 | 1289 | 2465 | 205.42 |
| | Keith Saw | 198 | 182 | 208 | 588 | 211 | 209 | 181 | 601 | 1189 | 198.17 |
| | Jaris Goh | 213 | 183 | 192 | 588 | 196 | 225 | 267 | 688 | 1276 | 212.67 |
| 25. | Poland | 386 | 413 | 430 | 1229 | 415 | 401 | 418 | 1234 | 2463 | 205.25 |
| | Patryk Preus | 190 | 191 | 213 | 594 | 193 | 178 | 245 | 616 | 1210 | 201.67 |
| | Marek Przezpolewski | 196 | 222 | 217 | 635 | 222 | 223 | 173 | 618 | 1253 | 208.83 |
| 26. | Switzerland | 422 | 374 | 394 | 1190 | 380 | 493 | 394 | 1267 | 2457 | 204.75 |
| | Sandro Ancarani | 236 | 201 | 212 | 649 | 175 | 235 | 202 | 612 | 1261 | 210.17 |
| | Mathieu Berges | 186 | 173 | 182 | 541 | 205 | 258 | 192 | 655 | 1196 | 199.33 |
| 27. | Macau | 380 | 372 | 448 | 1200 | 396 | 406 | 449 | 1251 | 2451 | 204.25 |
| | Lam Iek Long | 175 | 178 | 170 | 523 | 181 | 160 | 224 | 565 | 1088 | 181.33 |
| | Ho Weng Hou | 205 | 194 | 278 | 677 | 215 | 246 | 225 | 686 | 1363 | 227.17 |
| 28. | Greece | 400 | 371 | 443 | 1214 | 432 | 379 | 419 | 1230 | 2444 | 203.67 |
| | Georgios Stefanidis | 194 | 200 | 185 | 579 | 227 | 201 | 198 | 626 | 1205 | 200.83 |
| | Evangelos Krizinis | 206 | 171 | 258 | 635 | 205 | 178 | 221 | 604 | 1239 | 206.50 |
| 29. | UAE | 381 | 452 | 433 | 1266 | 365 | 386 | 409 | 1160 | 2426 | 202.17 |
| | Hussain Al Suwaidi | 206 | 215 | 215 | 636 | 160 | 176 | 172 | 508 | 1144 | 190.67 |
| | Sayed Al Hashemi | 175 | 237 | 218 | 630 | 205 | 210 | 237 | 652 | 1282 | 213.67 |
| 30. | Austria | 411 | 425 | 441 | 1277 | 403 | 388 | 356 | 1147 | 2424 | 202.00 |
| | Roman F√ľrbacher | 187 | 192 | 196 | 575 | 226 | 184 | 195 | 605 | 1180 | 196.67 |
| | Michael Rauscher | 224 | 233 | 245 | 702 | 177 | 204 | 161 | 542 | 1244 | 207.33 |
| 31. | Thailand | 344 | 436 | 399 | 1179 | 410 | 404 | 425 | 1239 | 2418 | 201.50 |
| | Atchariya Cheng | 156 | 243 | 215 | 614 | 197 | 189 | 179 | 565 | 1179 | 196.50 |
| | Atittarat Cheng | 188 | 193 | 184 | 565 | 213 | 215 | 246 | 674 | 1239 | 206.50 |
| 32. | Israel | 433 | 383 | 458 | 1274 | 384 | 344 | 410 | 1138 | 2412 | 201.00 |
| | Ben Fishler | 210 | 203 | 238 | 651 | 162 | 157 | 189 | 508 | 1159 | 193.17 |
| | Meni Mizrahi | 223 | 180 | 220 | 623 | 222 | 187 | 221 | 630 | 1253 | 208.83 |
| 33. | Costa Rica | 380 | 396 | 419 | 1195 | 367 | 440 | 405 | 1212 | 2407 | 200.58 |
| | Fernando Gonzalez | 194 | 206 | 196 | 596 | 192 | 214 | 225 | 631 | 1227 | 204.50 |
| | Diego Rojas | 186 | 190 | 223 | 599 | 175 | 226 | 180 | 581 | 1180 | 196.67 |
| 34. | Mexico | 402 | 417 | 440 | 1259 | 383 | 333 | 428 | 1144 | 2403 | 200.25 |
| | Luis Kassian | 225 | 176 | 182 | 583 | 155 | 164 | 211 | 530 | 1113 | 185.50 |
| | Ricardo Lecuona | 177 | 241 | 258 | 676 | 228 | 169 | 217 | 614 | 1290 | 215.00 |
| 35. | Puerto Rico | 390 | 421 | 406 | 1217 | 409 | 352 | 400 | 1161 | 2378 | 198.17 |
| | Francisco Valiente | 215 | 222 | 159 | 596 | 200 | 189 | 190 | 579 | 1175 | 195.83 |
| | Cristian Azcona | 175 | 199 | 247 | 621 | 209 | 163 | 210 | 582 | 1203 | 200.50 |
| 36. | Indonesia | 415 | 415 | 353 | 1183 | 403 | 366 | 423 | 1192 | 2375 | 197.92 |
| | Diwan Syahril | 201 | 222 | 198 | 621 | 192 | 183 | 170 | 545 | 1166 | 194.33 |
| | Rangga Yudhira | 214 | 193 | 155 | 562 | 211 | 183 | 253 | 647 | 1209 | 201.50 |
| 37. | France | 389 | 403 | 384 | 1176 | 419 | 396 | 381 | 1196 | 2372 | 197.67 |
| | Anthony Fabre | 201 | 221 | 192 | 614 | 215 | 197 | 212 | 624 | 1238 | 206.33 |
| | Kevin Seve | 188 | 182 | 192 | 562 | 204 | 199 | 169 | 572 | 1134 | 189.00 |
| 38. | Sweden | 428 | 391 | 388 | 1207 | 402 | 351 | 400 | 1153 | 2360 | 196.67 |
| | Jesper Svensson | 203 | 221 | 189 | 613 | 212 | 172 | 195 | 579 | 1192 | 198.67 |
| | James Gruffman | 225 | 170 | 199 | 594 | 190 | 179 | 205 | 574 | 1168 | 194.67 |
| 39. | Thailand | 367 | 416 | 344 | 1127 | 407 | 372 | 402 | 1181 | 2308 | 192.33 |
| | Sivakorn Krittslunon | 159 | 190 | 185 | 534 | 202 | 189 | 199 | 590 | 1124 | 187.33 |
| | Phoemphun Yakasem | 208 | 226 | 159 | 593 | 205 | 183 | 203 | 591 | 1184 | 197.33 |
| 40. | Australia | 378 | 392 | 385 | 1155 | 368 | 368 | 406 | 1142 | 2297 | 191.42 |
| | Paul Trotter | 231 | 193 | 218 | 642 | 179 | 190 | 188 | 557 | 1199 | 199.83 |
| | Brendan Meads | 147 | 199 | 167 | 513 | 189 | 178 | 218 | 585 | 1098 | 183.00 |
| 41. | Switzerland | 391 | 323 | 383 | 1097 | 418 | 432 | 348 | 1198 | 2295 | 191.25 |
| | Philippe Huber | 176 | 190 | 169 | 535 | 224 | 239 | 180 | 643 | 1178 | 196.33 |
| | Vasco Mendes | 215 | 133 | 214 | 562 | 194 | 193 | 168 | 555 | 1117 | 186.17 |
| 42. | Brazil | 379 | 365 | 351 | 1095 | 362 | 358 | 455 | 1175 | 2270 | 189.17 |
| | Oscar Marin | 199 | 184 | 169 | 552 | 179 | 226 | 231 | 636 | 1188 | 198.00 |
| | Igor Pizzoli | 180 | 181 | 182 | 543 | 183 | 132 | 224 | 539 | 1082 | 180.33 |
| 43. | Israel | 348 | 407 | 351 | 1106 | 334 | 429 | 400 | 1163 | 2269 | 189.08 |
| | Omer Nechushtan | 173 | 170 | 154 | 497 | 161 | 185 | 216 | 562 | 1059 | 176.50 |
| | Nati Volpert | 175 | 237 | 197 | 609 | 173 | 244 | 184 | 601 | 1210 | 201.67 |
| 44. | Brazil | 308 | 368 | 488 | 1164 | 327 | 415 | 362 | 1104 | 2268 | 189.00 |
| | Fl√°vio Castell√Ķes | 147 | 181 | 279 | 607 | 158 | 226 | 189 | 573 | 1180 | 196.67 |
| | Charles Robini | 161 | 187 | 209 | 557 | 169 | 189 | 173 | 531 | 1088 | 181.33 |
| 45. | UAE | 380 | 352 | 406 | 1138 | 364 | 353 | 399 | 1116 | 2254 | 187.83 |
| | Sultan Mk Al Qubaisi | 206 | 171 | 182 | 559 | 183 | 169 | 181 | 533 | 1092 | 182.00 |
| | Hareb Al Mansoori | 174 | 181 | 224 | 579 | 181 | 184 | 218 | 583 | 1162 | 193.67 |
| 46. | Greece | 376 | 382 | 393 | 1151 | 344 | 371 | 387 | 1102 | 2253 | 187.75 |
| | Leonidas Maragkos | 212 | 191 | 189 | 592 | 158 | 179 | 165 | 502 | 1094 | 182.33 |
| | Stamatios Roros | 164 | 191 | 204 | 559 | 186 | 192 | 222 | 600 | 1159 | 193.17 |
| 47. | Bahrain | 389 | 344 | 397 | 1130 | 390 | 366 | 362 | 1118 | 2248 | 187.33 |
| | Ahmed Fareed | 168 | 168 | 212 | 548 | 157 | 166 | 194 | 517 | 1065 | 177.50 |
| | Ali Al Qaseer | 221 | 176 | 185 | 582 | 233 | 200 | 168 | 601 | 1183 | 197.17 |
| 48. | South Africa | 380 | 326 | 373 | 1079 | 352 | 416 | 394 | 1162 | 2241 | 186.75 |
| | Wayne Jones | 181 | 201 | 209 | 591 | 183 | 216 | 204 | 603 | 1194 | 199.00 |
| | Alan Kewley | 199 | 125 | 164 | 488 | 169 | 200 | 190 | 559 | 1047 | 174.50 |
| 49. | Norway | 414 | 362 | 337 | 1113 | 366 | 344 | 393 | 1103 | 2216 | 184.67 |
| | Fredrik Tjernes | 181 | 143 | 166 | 490 | 151 | 193 | 201 | 545 | 1035 | 172.50 |
| | Svein √Öke Ek | 233 | 219 | 171 | 623 | 215 | 151 | 192 | 558 | 1181 | 196.83 |
| 50. | Kuwait | 359 | 384 | 325 | 1068 | 381 | 376 | 384 | 1141 | 2209 | 184.08 |
| | Mohanid Ebrahim | 174 | 160 | 146 | 480 | 217 | 203 | 194 | 614 | 1094 | 182.33 |
| | Salem Al Hajras | 185 | 224 | 179 | 588 | 164 | 173 | 190 | 527 | 1115 | 185.83 |
| 51. | Venezuela | 335 | 376 | 319 | 1030 | 377 | 423 | 367 | 1167 | 2197 | 183.08 |
| | Luis Eduardo Rovaina | 142 | 182 | 164 | 488 | 184 | 216 | 213 | 613 | 1101 | 183.50 |
| | Eddy Fuentes | 193 | 194 | 155 | 542 | 193 | 207 | 154 | 554 | 1096 | 182.67 |
| 52. | South Africa | 381 | 424 | 356 | 1161 | 360 | 346 | 318 | 1024 | 2185 | 182.08 |
| | Morne v.d Berg | 162 | 212 | 180 | 554 | 185 | 154 | 199 | 538 | 1092 | 182.00 |
| | Garreth Hechter | 219 | 212 | 176 | 607 | 175 | 192 | 119 | 486 | 1093 | 182.17 |
| 53. | Iceland | 343 | 354 | 426 | 1123 | 306 | 363 | 362 | 1031 | 2154 | 179.50 |
| | Gudlaugur Valgeirsson | 199 | 177 | 170 | 546 | 138 | 183 | 162 | 483 | 1029 | 171.50 |
| | Einar Mar Bjornsson | 144 | 177 | 256 | 577 | 168 | 180 | 200 | 548 | 1125 | 187.50 |
| 54. | Poland | 369 | 358 | 368 | 1095 | 343 | 330 | 381 | 1054 | 2149 | 179.08 |
| | Mariusz Musialik | 188 | 176 | 176 | 540 | 167 | 170 | 190 | 527 | 1067 | 177.83 |
| | Zenon Zengota | 181 | 182 | 192 | 555 | 176 | 160 | 191 | 527 | 1082 | 180.33 |