PBA Tour players hold top six places in DHC PBA Japan Invitational after two rounds
01/15/16
2016 PBA Tour #2
PBA Tour players hold the top six spots after two rounds in the
DHC PBA Japan Invitational
currently underway at Tokyo Port Bowl in Tokyo, Japan.
Averaging 239,
John Szczerbinski
(pictured left) of North Tonawanda, N.Y. leads after 16 games of match play with a 12-4 match play record and a 4,191 pinfall including 30 bonus pins for each match won.
Szczerbinski, trying for his first PBA Tour title, holds a 31-pin lead over four-time Tour winner
Dom Barrett
(right) of England in second with a 4,160 pinfall and a 12-4 match play record.
Japan Invitational defending champion and 18-time Tour winner
Chris Barnes
(left) of Double Oak, Texas is in third with a 4,011 pinfall and 10-6 match play record. Barnes is returning to competition for the first time since undergoing back surgery in October.
Rounding out the top six are nine-time Tour winner
Sean Rash
(right), Montgomery, Ill., 3,918 (13-3); three-time Tour winner
Ronnie Russell
(below left), Marion, Ind., 3,898 (11-5), and PBA Hall of Famer
Amleto Monacelli
(below right) of Venezuela, 3,831 (10-6).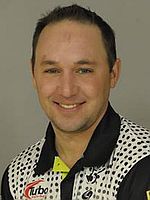 The tournament format includes four eight-game rounds of head-to-head match play leading to a five-player stepladder final that will air on ESPN2 at 2 p.m. ET on Sunday, Jan. 31.
The 32-game round-robin match play competition is being covered live, exclusively by PBA's Xtra Frame online bowling channel, marking the second year in a row Xtra Frame has covered the event for PBA's global audience.
Xtra Frame's live coverage continues with eight-game match play rounds Friday at 8:25 p.m. Friday and Saturday at 1:40 a.m. ET.
 
2016 DHC PBA Japan Invitational - Second Round Standings
Players with position, hometown, W-L-T record and 16-game total, including bonus pins (3ß for each win, 15 for a tie); n-denotes non-member, f-denotes female player
1, John Szczerbinski, North Tonawanda, N.Y., 12-4, 4,191
2, Dom Barrett, England, 12-4, 4,160
3, Chris Barnes, Double Oak, Texas, 10-6, 4,011
4, Sean Rash, Montgomery, Ill., 13-3, 3,918
5, Ronnie Russell, Marion, Ind., 11-5, 3,898
6, Amleto Monacelli, Venezuela, 10-6, 3,831
7, Shota Kawazoe, Japan, 13-3, 3,826
8, Aaron Lorincz, Belleville, Mich., 10-5-1, 3,821
9, Norm Duke, Clermont, Fla., 9-5-2, 3,819
10, Ryan Shafer, Horseheads, N.Y., 8-8, 3,813
11, Isao Yamamoto, Japan, 12-4, 3,801
12, Walter Ray Williams Jr., Oxford, Fla., 10-6, 3,779
13, n-Yuta Saito, Japan, 9-7, 3,724
14, n-Takuya Miyazawa, Japan, 7-9, 3,715
15, n-Takuma Echigo, Japan, 9-7, 3,696
16, Bill O'Neill, Langhorne, Pa., 9-7, 3,664
17, Fujii Nobuhito, Toyko, Japan, 8-8, 3,579
18, f-Liz Johnson, Cheektowaga, N.Y., 9-7, 3,559
19, f-Hiroko Shimizu, Japan, 9-7, 3,553
20, Pat Nolan, Japan, 8-7-1, 3,530
21, f-Yuki Akiyoshi, Japan, 8-8, 3,503
22, f-Danielle McEwan, Stony Point, N.Y., 4-12, 3,403
23, f-Mai Takasaka, Japan, 6-9-1, 3,390
24, f-Hiromi Matsunaga, Japan, 5-11, 3,389
25, Parker Bohn III, Jackson, N.J., 4-12, 3,368
26, f-Yuka Tsuchiya, Japan, 5-11, 3,359
27, Ryan Ciminelli, Cheektowaga, N.Y., 5-10-1, 3,337
28, n-Ryo Yamanaka, Japan, 6-10, 3,305
29, Meen Woo Kim, Korea, 4-12, 3,259
30, Fumihiro Yoshida, Japan, 4-12, 3,215
31, f-Misa Domoto, Japan, 2-14, 3,062
32, f-Yumi Nakajima, Japan, 2-14, 2,734