LeBron James and Jason Couch win inaugural Chris Paul PBA Celebrity Invitational
10/20/08
PBA Tour Pre-season
NBA and PBA stars partner for charity in Sunday's ESPN telecast
Viewers enjoyed a unique treat on ESPN Sunday afternoon as they watched recent Olympic gold medalists and NBA stars
Chris Paul
,
LeBron James
and
Dwyane Wade
headline pairings with stars of the PBA in the inaugural Chris Paul PBA Celebrity Invitational presented by the brands of Ebonite International. The event kicked off the 2008-09 50th Anniversary Lumber Liquidators PBA Tour Season which will air Sundays on ESPN.
Click on the image to enlarge it. All photos: CP3 Foundation/Getty Images.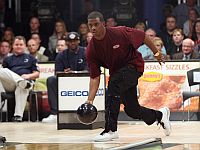 Viewers watched as Cleveland Cavaliers forward
LeBron James
and
Jason Couch
(above with the trophy) won the Invitational by defeating No. 1 seed New Orleans Hornets guard
Chris Paul
(right) and 2007-08 PBA Player of the Year
Chris Barnes
, 214-195 in the championship match.
"I had a lot of fun. I love to bowl and wanted to come out here for a good cause and help out Chris (Paul) with his charity event," James said of the event, which was taped for broadcast Sept. 20 in Paul's hometown of Winston-Salem, North Carolina.
"When I found out that I was going to be a part of this event, I was ecstatic," Couch said. "I love basketball and being able to team up and compete against these NBA players was a dream come true. I'm excited to start off the season with this win, especially after taking almost all of last year off to recoup from knee surgery."
In the stepladder format, No. 4 seed Oklahoma City Thunder forward
Kevin Durant
(left) and teammate
Mitch Beasley
gave the competition a run for its money.
They defeated No. 5 seed Miami Heat guard
Dwyane Wade
(right) and 2005-06 PBA Player of the Year
Tommy Jones
, 199-141, then went on to defeat No. 3 seed Memphis Grizzlies forward
Rudy Ga
y and 2006-07 PBA Player of the Year
Doug Kent
, 190-178, before ultimately falling in the semi-final to No. 2 seed James and Couch, 175-132.
The event was held in conjunction with the Third annual Chris Paul's Winston-Salem Weekend, the signature fundraising event of the CP3 Foundation. Paul, who grew up in Winston-Salem and was an All-American at Wake Forest, is an All-Star guard on the New Orleans Hornets. All of the proceeds from the Invitational and the weekend-long charity event will support a variety of charities and programs in Winston-Salem and New Orleans.
It marks the first time professional athletes from other sports partnered with professional bowlers for a bowling event with a dedicated telecast.
"This gives me an opportunity to show a part of me and it also gives an opportunity for the world to see how big of a sport bowling is," said avid bowler and U.S. Bowling Congress spokesman Paul. "I think a lot of times people see bowling as just something fun that you can go do on Friday night, Saturday night or something like that. But bowling is a competitive sport and something that I'm very, very involved in, and I love it."
Next up for PBA fans is the PBA World Championship in Wichita, Kan., the first of four Majors on the schedule. It kicks off today with Pro-Ams. Competition begins Tuesday featuring approximately 200 entrants from nine countries, with the live finals airing on ESPN Sunday, Oct. 26 at 1 p.m. ET.