USBC Women's Championships to visit Reno for sixth time
03/22/09
United States
National Bowling Stadium in Reno, Nev., United States (March 28 - July 5, 2009)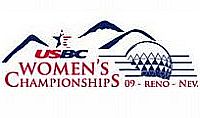 The start of the
2009 United States Bowling Congress Women's Championships
is right around the corner, and the city of Reno, Nev., is ready to host the event for the sixth time.
Beginning March 28, the National Bowling Stadium will become a prime destination for tens of thousands of women bowlers as the first of 8,330 five-player teams (more than 41,500 bowlers) take to the lanes at the one-of-a-kind tournament venue.
Bowlers from all 50 states and several foreign countries will compete in five-player team, doubles and singles competition in five average-based divisions during the 100-day event, which will run each day until July 5.
The official opening ceremonies for the USBC Women's Championships will take place at the National Bowling Stadium on March 28 at 3 p.m.
"This marks our sixth trip to Reno, and we're looking forward to sharing our sport and this event with the Reno community once again," said Jack Mordini, USBC's Vice President of Tournaments and Events. "The competitors in the Women's Championships will get treated to a first-class experience in Reno while competing in one of bowling's greatest venues - the National Bowling Stadium. This has evolved into a great partnership, and we are excited."
The Women's Championships is the highlight of the bowling season for thousands of USBC women members. It's a vacation as well as the opportunity to compete in one of the sport's most prestigious tournaments, which also was held in Reno in 1988, 1997, 2000, 2003 and 2006.
The event was held for the first time in 1916 as the Women's International Bowling Congress Tournament and is widely-recognized as the largest participatory sporting event in the world for women.
The prize fund for the Women's Championships is expected to exceed $2 million.
From a convention and tourism perspective, the influx of approximately 600 bowlers plus family and friends each day is expected to provide an estimated economic boost of approximately $40 million to the Reno area over the course of the event.
The Stadium also will play host to the USBC Queens and USBC Senior Queens from April 25-29.
Each year, the Queens showcases the talents of more than 300 of the world's top-tier women bowlers and features a double-elimination match-play format. The bowlers compete for a $200,000 prize fund and $30,000 top prize.
The Senior Queens, which first was held in 2000, uses a similar format and is open to women age 50 and older.