Bermuda bowlers glad to be part of the action at USBC Women's Championships
05/23/09
United States
National Bowling Stadium in Reno, Nev., United States (March 28 - July 5, 2009)
Every year, five teams of bowlers from Bermuda leave their sub-tropical homes that are surrounded by pink-sand beaches and head to the United States Bowling Congress Women's Championships.
The Bermudian bowling teams were part of the success story on including women beyond the continental U.S. borders in the Women's Championships. Marjorie McGregor Correia (bottom row, second from left) was instrumental in that move during the 1960s.
This year, the trip to Reno's National Bowling Stadium was 10 hours by plane plus stopovers, but the bowlers don't mind the time or the distance because the excitement of the USBC Women's Championships is well worth the effort.
"I just love the game," said group organizer Marjorie McGregor Correia. "I think I have bowling pins running in my bloodstream. Bowling is also the only sport that has no age limitations. As long as you are physically able to, you can do it."
A third-generation Bermudian, Correia has been involved in bowling and tournament trip planning for more than 30 years.
She also was instrumental in getting this British overseas territory, as well as a few other countries beyond the continental U.S., admitted into the Women's International Bowling Congress in the early 1960s, which led to inclusion in the Women's Championships. Bermuda is made up of 138 islands that share a variety of cultures. It is situated 556 miles east of Cape Hatteras, N.C., enjoys good relations with the U.S., and plays a pivotal role in protecting the coastline, thanks to its key location.
As one of Bermuda's chief cheerleaders, Correia will celebrate 25 years with the Women's Championships in 2010. Her first tournament was in 1967 in Rochester, N. Y., but it is the 2004 event in Wichita, Kan., that stands out for her.
"Wichita felt very welcoming for all the bowlers with the way the hotels were decorated and all the attention to detail, including the nice people," Correia said.
It's quite a feat to get five teams prepared each year for international travel, but Correia has it down pat, and also credits her team captains for their help. Starting each September, she books flights and hotels, coordinating all arrivals for the same day, while allowing for differing departure dates. She also uses her own credit card and fax machine to complete the job.
"I check back periodically with each captain to see how we are progressing before the actual trip, but of course, sometimes there are last-minute problems," Correia said. "This year, we had to allow for two missing bowlers due to an unexpected surgery and other issues, but things usually just roll along well. The only requirement I make is that all bowlers must dress alike."
In addition to wearing identical attire, each team is named for a different Bermudian feature. The Bermuda Cedars are named for the home trees, the Corals for the island component, also the reason for the pink sand, the Lilies for a favorite island flower, the Longtails for the national bird and the Onions for a popular vegetable.
"You know how people call the English sailors Limies and the Americans, Yanks?" Correia said. "Well, some people call Bermudians, Onions."
Correia's Division 2 team, the Bermuda Onions, had a 2,117 total, led by Cathee Tumbridge (528), who was followed by Marilyn Simmons (430), Ann Mitchell (403), Correira (394) and Betty Lespere (362).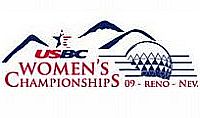 Presenting sponsors for the 2009 USBC Women's Championships are Eldorado Hotel Casino, Silver Legacy Resort Casino and Circus Circus Reno. Other participating sponsors are Kegel, official lane maintenance provider, Atlantis Hotel and Casino, Sands Regency Casino Hotel, Harrah's Hotel and Casino, Club Cal Neva, and Storm Products Inc.