Chris Barnes takes lead in PBA Tournament of Champions heading into final match play round
01/23/10
2009-10 PBA Tour #10
Red Rock Lanes, Red Rock Casino in Las Vegas, Nev. (Jan. 19-24, 2010)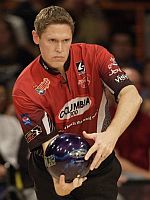 Averaging 225.3 and compiling a 13-3 record after two rounds of match play, 2007-08 Professional Bowlers Association Player of the Year
Chris Barnes
(pictured left) of Double Oak, Texas, vaulted into the lead in the 45th PBA Tournament of Champions Friday at Red Rock Lanes.
Barnes, the 2006 Tournament of Champions winner, has a 9,403 40-game overall total and holds a 30-pin lead over PBA Hall of Famer and 1987 Tournament of Champions winner
Pete Weber
, who is in second heading into Friday evening's final eight-game match play round.
Barnes started the tournament in 37th after the first eight-game qualifying round on Wednesday.
"One of my strengths is that I'm able to do a lot of different things to adjust," said Barnes, who owns 12 career Lumber Liquidators PBA Tour titles. "I just don't always pick the right one.
"I've been getting better at attacking the lanes here in the later rounds. I got off to a slow start so I decided to take a few risks and it has paid off."
Weber, a 34-time PBA Tour titlist, is trying for his ninth major. He is currently tied for second with Mike Aulby in career majors with eight. Earl Anthony is the all-time leader with 10 major titles.
Trailing Barnes and Weber are
Tony Reyes
(left) in third with 9,332, followed by reigning PBA Player of the Year
Wes Malott
(right) in fourth with 9,308 and
Rhino Page
in fifth with 9,264.
Kelly Kulick
, the 2009 PBA Women's World Championship winner and the only woman competing in the tournament, is in sixth place with 9,235. She is making a bid to become the first woman to win a PBA Tour event but will have to finish in the top four after this evening's match play round for a chance to accomplish the feat.
The top four after the third match play round advance to the stepladder finals on Sunday which will be televised live by ESPN at 1 p.m. Eastern (10 a.m. Pacific).
 
Related Articles
Tony Reyes
makes steady climb to PBA Tournament of Champions lead
Kelly Kulick
making impressive showing as only woman in PBA Tournament of Champions
Rhino Page
continues to lead in PBA Tournament of Champions after Round 2
Rhino Page
leads after first round in PBA Tournament of Champions
PBA.com's Xtra Frame
to provide unprecedented Tournament of Champions coverage
Elusive PBA Tournament of Champions crown still missing from
Walter Ray Williams Jr.'s resume
45th PBA Tournament of Champions
showcases Tour's elite
 
PBA Tournament of Champions - Standings after Match Play Round 2 (fifth round overall)
Players with position, hometown and 40-game total including match play records and bonus (30 per win).
| | | | | | | | | | |
| --- | --- | --- | --- | --- | --- | --- | --- | --- | --- |
| Pos | Player | Hometown | Games | Pins | Ave. | W-L-T | Bonus | Total | Pins back |
| 1. | Chris Barnes | Double Oak, Texas | 40 | 9013 | 225.33 | 13-3-0 | 390 | 9403 | - |
| 2. | Pete Weber | St. Ann, Mo. | 40 | 9073 | 226.83 | 10-6-0 | 300 | 9373 | - |
| 3. | Tony Reyes | San Bruno, Calif. | 40 | 9062 | 226.55 | 9-7-0 | 270 | 9332 | - |
| 4. | Wes Malott | Pflugerville, Texas | 40 | 9038 | 225.95 | 9-7-0 | 270 | 9308 | - |
| 5. | Rhino Page | Dade City, Fla. | 40 | 9054 | 226.35 | 7-9-0 | 210 | 9264 | -44 |
| 6. | Kelly Kulick | Union, N.J. | 40 | 8980 | 224.50 | 8-7-1 | 255 | 9235 | -73 |
| 7. | Mika Koivuniemi | Hartland, Mich. | 40 | 8901 | 222.53 | 10-6-0 | 300 | 9201 | -107 |
| 8. | Sean Rash | Wichita, Kan. | 40 | 8859 | 221.48 | 10-6-0 | 300 | 9159 | -149 |
| 9. | Mark Williams | Beaumont, Texas | 40 | 8812 | 220.30 | 10-6-0 | 300 | 9112 | -196 |
| 10. | Tommy Jones | Simpsonville, S.C. | 40 | 8852 | 221.30 | 7-9-0 | 210 | 9062 | -246 |
| 11. | Mike Fagan | Patchogue, N.Y. | 40 | 8878 | 221.95 | 6-10-0 | 180 | 9058 | -250 |
| 12. | Jason Couch | Clermont, Fla. | 40 | 8720 | 218.00 | 10-5-1 | 315 | 9035 | -273 |
| 13. | Walter Ray Williams Jr. | Ocala, Fla. | 40 | 8712 | 217.80 | 9-7-0 | 270 | 8982 | -326 |
| 14. | Brad Angelo | Lockport, N.Y. | 40 | 8646 | 216.15 | 8-8-0 | 240 | 8886 | -422 |
| 15. | Dave Wodka | Chatsworth, Calif. | 40 | 8603 | 215.08 | 8-8-0 | 240 | 8843 | -465 |
| 16. | Harry Sullins | Chesterfield Twp., Mich. | 40 | 8555 | 213.88 | 8-7-1 | 255 | 8810 | -498 |
| 17. | Anthony LaCaze | Melrose Park, Ill. | 40 | 8584 | 214.60 | 6-10-0 | 180 | 8764 | -544 |
| 18. | Wayne Webb | Sacramento, Calif. | 40 | 8671 | 216.78 | 3-13-0 | 90 | 8761 | -547 |
| 19. | Danny Wiseman | Baltimore | 40 | 8445 | 211.13 | 10-6-0 | 300 | 8745 | -563 |
| 20. | Bryan Goebel | Shawnee, Kan. | 40 | 8507 | 212.68 | 7-8-1 | 225 | 8732 | -576 |
| 21. | Joe Ciccone | Buffalo, N.Y. | 40 | 8421 | 210.53 | 9-7-0 | 270 | 8691 | -617 |
| 22. | Ritchie Allen | Columbia, S.C. | 40 | 8494 | 212.35 | 4-12-0 | 120 | 8614 | -694 |
| 23. | John Nolen | Grand Blanc, Mich. | 40 | 8462 | 211.55 | 5-11-0 | 150 | 8612 | -696 |
| 24. | Parker Bohn III | Jackson, N.J. | 40 | 8418 | 210.45 | 4-12-0 | 120 | 8538 | -770 |