Business and sports icon Dave Brandon to speak at 2012 Bowling Summit
11/17/11
BPAA News
Director of Athletics at University of Michigan named as Keynote Speaker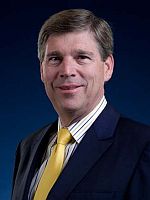 The Bowling Proprietors' Association of America (BPAA) has announced today that
David Brandon
(pictured left), Director of Athletics at University of Michigan and former chairman and chief executive officer of Ann Arbor-based Domino's Pizza, Inc., will deliver the "Thought Leader" keynote address at the 2012 Bowling Summit in Napa, California on Tuesday, January 24, 2012 at 10:15 a.m. local time.
Brandon previously served as CEO of Domino's Pizza, and also CEO of Valassis, for twenty-two years consecutively. During his tenure as CEO at Domino's, Brandon developed an award-winning culture, executed highly-successful initial public offerings - including the largest IPO of a restaurant company in history - and created billions of dollars of shareholder value.
He currently serves as non-executive chairman at Domino's. In addition to his professional success, Brandon serves numerous non-profit organizations in a variety of capacities, including the Purple Rose Theater Company, Gerald R. Ford Foundation, C.S. Mott Children's Hospital and David A. Brandon Foundation.
"David Brandon is a true visionary who has competed successfully on the biggest playing fields there are - from the hypercompetitive QSR category to leading the legendary University of Michigan sports program. He brings a tremendous range of experience and wealth of knowledge on how to create an incredible customer experience while generating results that build the bottom line," said
Steve Johnson
, executive director of the BPAA.
"We're honored to welcome Dave as our "Thought Leader" keynote speaker where he will share best practices and anecdotes from his more than twenty-five years experience leading two of America's most prolific brands."
Brandon's "Thought Leader" keynote session is part of the newly revamped education series and conference schedule at the annual Bowling Summit. The new Summit format aims to reduce and most efficiently utilize the time required for proprietors to be away from their centers.
During his keynote address, Brandon will share valuable insights on the importance of improving the customer experience based upon his tenures as CEO of major organizations and as Director of Intercollegiate Athletics at the University of Michigan.
His extensive experience with Wolverines athletics goes far beyond his current title; it actually began in the 1970s when Brandon was recruited to be a student-athlete at U of M, where he was a member of three Big Ten Championship football teams coached by the legendary Bo Schembechler.
BPAA's Bowling Summit is the premier annual strategic midwinter conference for bowling center proprietors, managers and industry leaders, offering education, networking and industry insights on new and upcoming products.
The 2012 Bowling Summit will be held January 22-24 at the Meritage Resort in Napa, California. Registration for the 2012 Bowling Summit has been reduced to $99 for BPAA members until December 19, 2011.
To register or receive additional information, please visit
bpaa.com/summit
.
 
Related Articles
Former Apple Senior Executive
Jeff Martin
to speak at 2012 Bowling Summit
BPAA to unveil first of its kind
CRM Database
at 2012 Bowling Summit
Bowling industry veteran
Rick Heim
to kick off 2012 Bowling Summit's Learning Lab