Spiros Vlachos, Greece, shoots into lead in qualifying at Bucharest International Open
11/25/11
Romania
England's Steve Miller cracks top in last squad on Thursday; cut for 18th place is currently 1233
Spiros Vlachos
(pictured left) of Greece had five games between 233 and 257 in Thursday's Squad 13 to shoot into the qualifying lead of the IDM Bucharest International Bowling Open 2011.
Vlachos had games of 233, 246, 256, 188, 257 and 234 to overtake previous leader
Viorel Simut
, Romania, by 69 pins with 1414 total and an average of 235.67 for six games. Simut slipped to second place with 1345 and was followed by compatriot
Marius Piticariu
in third place with 1332.
England's
Steve Miller
(right) led the last Squad on Thursday evening to crack the top 4 with 1307. The top four after the first four qualifying days - Vlachos, Simut, Piticariu and Miller - have secured berths into the finals as they will be automatically seeded in the finals if they don't finish among the top 18.
Just outside the top four was
Marius Balan
, Romania, in fifth place with 1300 and
Matt Miller
, England, in sixth place with 1295.
16th placed
Odette Piticariu
, Romania, is the lone of five women in the 65-player field among the top 18 with 1240 including 48 pins handicap. Squad 12 leader
Takis Karetsos
, Greece, is 17th with 1235 and
Florian Mihailescu
, Romania, holds the 18th and last spot to advance to the finals with 1233 or an average of 205.50.
Qualifying continues Friday with Squads 15-18 scheduled for 9 a.m., 12.30, 4.30 and 8.30 p.m. local time (CET+1).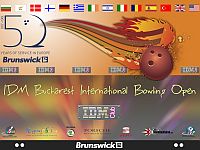 The
IDM Bucharest International Bowling Open 2011
will be held from Nov. 21-27 at IDM Club, a 14-laner with Brunswick equipment, in Bucharest, Romania. The tournament offers total prize fund of 15.000 Euro with 2.500 Euro going to the winner.
A total of 24 players from the qualifying (six games; unlimited re-entries) will advance to the finals on Sunday, Nov. 27: the top 18 qualifiers and the top 4 from a separate standing of the squads conducted Nov. 21-24 plus the top 2 of the one-game Desperado Squad. The top 8 players will receive one bye.
Qualifiers 9-24 will bowl six games scratch. The top 8 meet the top 8 qualifiers in the second round. Those 16 will bowl another six-game series scratch to cut to the top 8, who will advance to match play finals in best-of-three games format.
 
Related Articles
Marius Balan
moves into fourth place in qualifying in Romania
Viorel Simut
overtakes qualifying lead in IDM Bucharest International
IDM Bucharest International Bowling Open 2011
is underway in Romania
Brian Voss
captures the title in the 2010 Bucharest International
 
Qualifying Standings after Squad 14/22
| | | | | | | | | | | | | |
| --- | --- | --- | --- | --- | --- | --- | --- | --- | --- | --- | --- | --- |
| Pos | Player | Country | G1 | G2 | G3 | G4 | G5 | G6 | Pins | Avg. | Hc | Total |
| 1. | Spiros Vlachos | Greece | 233 | 246 | 256 | 188 | 257 | 234 | 1414 | 235.67 | | 1414 |
| 2. | Viorel Simut | Romania | 211 | 237 | 233 | 180 | 269 | 215 | 1345 | 224.17 | | 1345 |
| 3. | Marius Piticariu | Romania | 225 | 258 | 215 | 253 | 209 | 172 | 1332 | 222.00 | | 1332 |
| 4. | Steve Miller | England | 243 | 213 | 234 | 187 | 198 | 232 | 1307 | 217.83 | | 1307 |
| 5. | Marius Briciu | Romania | 194 | 224 | 219 | 246 | 204 | 213 | 1300 | 216.67 | | 1300 |
| 6. | Matt Miller | England | 159 | 257 | 212 | 257 | 205 | 205 | 1295 | 215.83 | | 1295 |
| 7. | Marius Balan | Romania | 245 | 257 | 160 | 209 | 220 | 198 | 1289 | 214.83 | | 1289 |
| 8. | Romeo Gagenoiu | Romania | 233 | 194 | 192 | 235 | 192 | 240 | 1286 | 214.33 | | 1286 |
| 9. | Catalin Gheorghe | Romania | 214 | 202 | 232 | 185 | 206 | 233 | 1272 | 212.00 | | 1272 |
| 10. | Joonas Jähi | Finland | 243 | 201 | 214 | 223 | 218 | 170 | 1269 | 211.50 | | 1269 |
| 11. | Kostas Kyriakou | Cyprus | 168 | 236 | 204 | 219 | 232 | 204 | 1263 | 210.50 | | 1263 |
| 12. | Ivanov Kaloyan | Bulgaria | 232 | 172 | 204 | 215 | 223 | 212 | 1258 | 209.67 | | 1258 |
| 13. | Cristian Calagiu | Romania | 206 | 224 | 151 | 210 | 247 | 212 | 1250 | 208.33 | | 1250 |
| 14. | Marcel Tarase | Romania | 219 | 226 | 250 | 150 | 182 | 222 | 1249 | 208.17 | | 1249 |
| 15. | Valentin Fatu | Romania | 208 | 169 | 214 | 170 | 245 | 236 | 1242 | 207.00 | | 1242 |
| 16. | Odette Piticariu | Romania | 181 | 211 | 222 | 239 | 183 | 156 | 1192 | 198.67 | 48 | 1240 |
| 17. | Dimitris Karetsos | Greece | 229 | 192 | 186 | 200 | 194 | 234 | 1235 | 205.83 | | 1235 |
| 18. | Florian Mihailescu | Romania | 200 | 223 | 194 | 177 | 192 | 247 | 1233 | 205.50 | | 1233 |
| 19. | Ion Fatu | Romania | 194 | 214 | 214 | 187 | 176 | 246 | 1231 | 205.17 | | 1231 |
| 20. | Alexandru Tariceanu | Romania | 193 | 205 | 206 | 200 | 214 | 210 | 1228 | 204.67 | | 1228 |
| 21. | Marina Stefanova | Bulgaria | 178 | 217 | 169 | 195 | 206 | 203 | 1168 | 194.67 | 48 | 1216 |
| 22. | Corneliu Antimirescu | Romania | 180 | 190 | 235 | 212 | 219 | 178 | 1214 | 202.33 | | 1214 |
| 23. | Ion Bejan | Romania | 170 | 201 | 234 | 206 | 206 | 192 | 1209 | 201.50 | | 1209 |
| 24. | Lars Linder | Denmark | 172 | 181 | 219 | 169 | 231 | 234 | 1206 | 201.00 | | 1206 |
| 25. | Bogdan Piciu | Romania | 178 | 167 | 221 | 210 | 192 | 237 | 1205 | 200.83 | | 1205 |
| 26. | Mihaita Gogoasa | Romania | 188 | 197 | 201 | 213 | 185 | 216 | 1200 | 200.00 | | 1200 |
| 27. | Ioan Ionescu | Romania | 157 | 195 | 204 | 211 | 247 | 185 | 1199 | 199.83 | | 1199 |
| 28. | Cristian Zamfir | Romania | 224 | 212 | 183 | 177 | 192 | 203 | 1191 | 198.50 | | 1191 |
| 29. | Bogdan Obada | Romania | 211 | 167 | 200 | 222 | 182 | 201 | 1183 | 197.17 | | 1183 |
| 30. | Gabriel Anghelescu | Romania | 194 | 146 | 200 | 186 | 256 | 200 | 1182 | 197.00 | | 1182 |
| 31. | Lars Nielsen | Denmark | 212 | 174 | 226 | 188 | 218 | 162 | 1180 | 196.67 | | 1180 |
| 32. | Robert Lupu | Romania | 180 | 246 | 218 | 169 | 198 | 164 | 1175 | 195.83 | | 1175 |
| 33. | Paris Alvanos | Greece | 156 | 243 | 225 | 164 | 168 | 215 | 1171 | 195.17 | | 1171 |
| 34. | Alexandru Telejman | Romania | 174 | 173 | 228 | 205 | 213 | 177 | 1170 | 195.00 | | 1170 |
| 35. | Kostas Lirantzis | Greece | 181 | 200 | 234 | 208 | 164 | 176 | 1163 | 193.83 | | 1163 |
| 36. | Branislav Sergievski | Bulgaria | 203 | 179 | 202 | 180 | 204 | 190 | 1158 | 193.00 | | 1158 |
| 37. | Lucian Paraschiv | Romania | 189 | 235 | 181 | 162 | 160 | 225 | 1152 | 192.00 | | 1152 |
| 38. | Daniel Stefan | Romania | 189 | 203 | 168 | 175 | 200 | 213 | 1148 | 191.33 | | 1148 |
| 39. | Mihai Ionescu | Romania | 180 | 167 | 227 | 243 | 168 | 159 | 1144 | 190.67 | | 1144 |
| 40. | Michalis Bouzas | Greece | 194 | 181 | 229 | 179 | 173 | 177 | 1133 | 188.83 | | 1133 |
| 41. | Roxana Pisaltu | Romania | 166 | 178 | 180 | 195 | 139 | 221 | 1079 | 179.83 | 48 | 1127 |
| 42. | Dimitrov Nikolay | Bulgaria | 176 | 217 | 190 | 180 | 157 | 203 | 1123 | 187.17 | | 1123 |
| 43. | Marco Cesare | Italy | 220 | 175 | 198 | 159 | 178 | 188 | 1118 | 186.33 | | 1118 |
| 44. | Gabriel Deaconu | Romania | 181 | 190 | 189 | 218 | 183 | 156 | 1117 | 186.17 | | 1117 |
| 45. | Andreea Baducu | Romania | 191 | 196 | 148 | 179 | 172 | 174 | 1060 | 176.67 | 48 | 1108 |
| 46. | Mihai Anton | Romania | 152 | 191 | 218 | 193 | 138 | 211 | 1103 | 183.83 | | 1103 |
| 47. | Dorel Bucurescu | Romania | 158 | 208 | 190 | 168 | 177 | 202 | 1103 | 183.83 | | 1103 |
| 48. | Rune Christiansen | Denmark | 149 | 177 | 205 | 225 | 183 | 158 | 1097 | 182.83 | | 1097 |
| 49. | Costin Preda | Romania | 153 | 182 | 154 | 193 | 189 | 224 | 1095 | 182.50 | | 1095 |
| 50. | Henrik Jensen | Denmark | 206 | 217 | 182 | 160 | 159 | 163 | 1087 | 181.17 | | 1087 |
| 51. | Florian Popescu | Romania | 208 | 211 | 146 | 166 | 193 | 159 | 1083 | 180.50 | | 1083 |
| 52. | Valentin Piros | Romania | 161 | 168 | 190 | 200 | 193 | 166 | 1078 | 179.67 | | 1078 |
| 53. | Ion Grecu | Romania | 184 | 182 | 204 | 144 | 186 | 166 | 1066 | 177.67 | | 1066 |
| 54. | Henrik Klujeff | Denmark | 161 | 158 | 184 | 180 | 199 | 179 | 1061 | 176.83 | | 1061 |
| 55. | Andrei Nistor | Romania | 168 | 165 | 162 | 210 | 172 | 181 | 1058 | 176.33 | | 1058 |
| 56. | Lichev Todor | Bulgaria | 193 | 128 | 175 | 184 | 171 | 200 | 1051 | 175.17 | | 1051 |
| 57. | Catalin Predescu | Romania | 199 | 152 | 174 | 124 | 198 | 201 | 1048 | 174.67 | | 1048 |
| 58. | Bogdan Stoian | Romania | 234 | 151 | 161 | 148 | 178 | 175 | 1047 | 174.50 | | 1047 |
| 59. | Raluca Gindac | Romania | 165 | 183 | 191 | 144 | 167 | 147 | 997 | 166.17 | 48 | 1045 |
| 60. | Henrik Jorgensen | Denmark | 145 | 163 | 187 | 191 | 145 | 207 | 1038 | 173.00 | | 1038 |
| 61. | Todor Lichev | Bulgaria | 196 | 120 | 171 | 179 | 169 | 166 | 1001 | 166.83 | | 1001 |
| 62. | Alexandru Arbanas | Romania | 214 | 192 | 137 | 160 | 146 | 152 | 1001 | 166.83 | | 1001 |
| 63. | Mihai Cadinoiu | Romania | 160 | 166 | 148 | 166 | 170 | 138 | 948 | 158.00 | | 948 |
| 64. | Dragos Dumitrascu | Romania | 202 | 159 | 158 | 126 | 173 | 114 | 932 | 155.33 | | 932 |
| 65. | Claudiu Istrate | Romania | 168 | 140 | 151 | 129 | 144 | 117 | 849 | 141.50 | | 849 |