Ron Mohr takes over lead after second round qualifying at Suncoast PBA Senior U.S. Open
06/06/13
2013 PBA50 Tour #6
2011 Senior U.S. Open winner leads 53 players into Thursday's cashers round
Two-time PBA50 Tour Player of the Year and 2011 Senior U.S. Open winner
Ron Mohr
(pictured left) of Eagle River, Alaska, averaged 218.4 to lead after second round qualifying Wednesday in the Suncoast PBA Senior U.S. Open presented by Storm at the Suncoast Bowling Center In Las Vegas.
Mohr finished the day with a 3,495 16-game pinfall total leading PBA Hall of Famer
Randy Pedersen
(right) of Clermont, Fla., in second, by eight pins. In Wednesday's eight-game round, Mohr had games of 202, 211, 209, 232, 224, 197, 195 and 277.
"Bowling on the fresh condition I had to work to find an angle to the pocket because I couldn't play anywhere outside," said Mohr of his second round. "My spare shooting has been acceptable but I've missed three single pin spares and you can't throw pins away like that in the U.S. Open."
Pedersen, who won in his PBA50 Tour debut in
Dayton, Ohio
three weeks ago, had games of 195, 186, 235, 192, 224, 207, 258 and 266 in his second round and finished with a 3,487 pinfall. He also stressed the importance of making spares in the Senior U.S. Open.
"I've been fortunate that shots that haven't been perfect were still getting to the pocket," said the PBA Tour's telecast color analyst and 13-time Tour champion. "I've only missed one spare so it's been the right combination of making spares, make the right adjustments and keep the ball in play."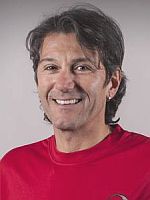 Mohr led a field of 53 players who advanced to Thursday morning's third round which will determine the top 24 players for round-robin match play beginning Thursday afternoon. Match play continues on Friday to determine the four players who will advance to the stepladder finals at 4 p.m. PT on Friday.
Finishing third after the second round with a 3,461 pinfall was defending Senior U.S. Open champion
Amleto Monacelli
(left) of Venezuela. The Hall of Famer is hoping to join Wayne Webb and Tom Baker as two-time Senior U.S. Open champions.
Finishing the day in fourth with 3,448 was three-time PBA50 Tour winner
Harry Sullins
(right) of Chesterfield Township, Mich., who has best Senior U.S. Open finishes of third in 2011, fifth in 2010 and fourth in 2009.
Sammy Ventura
of Syracuse, N.Y., won a roll-off for 53rd place by defeating Phil Prieto of El Paso, Texas, 223-200 advancing to the third round.
PBA's online bowling channel Xtra Frame is providing start-to-finish coverage of the Senior U.S. Open.
 
Related Articles
PBA50 Tour rookie
Jack Jurek
sets the early pace in Suncoast PBA Senior U.S. Open
Amleto Monacelli
hopes to repeat as Senior U.S. Open champion
2013 PBA50 Tour
Schedule & Champions
 
Suncoast PBA Senior U.S. Open presented by Storm - Second Round Qualifying
Players with position, hometown and 16-game total. The top 53 advance to third round. a indicates amateur, s-super seniors out of the regular prize fund cashing for $700.
1, Ron Mohr, Eagle River, Alaska, 3,495
2, Randy Pedersen, Clermont, Fla., 3,487
3, Amleto Monacelli, Venezuela, 3,461
4, Harry Sullins, Chesterfield Twp, Mich., 3,448
5, a-Roger Kossert, Lithia, Fla., 3,440
6, Mark Williams, Beaumont, Texas, 3,439
7, Wayne Webb, Columbus, Ohio, 3,438
8, Bryan Goebel, Shawnee, Kan., 3,425
9, Jack Jurek, Lackawanna, N.Y., 3,412
10, Bo Goergen, Sanford, Mich., 3,408
11, Peter Knopp, Germany, 3,372
12, a-Bob Markiewicz , San Diego, 3,367
13, Dale Traber, Cedarburg, Wis., 3,352
14, Ron Winger, Las Vegas, 3,337
15, Walter Ray Williams Jr., Ocala, Fla., 3,336
16, Kevin Croucher, Grants Pass, Ore., 3,330
17, Bob Learn Jr., Erie, Pa., 3,328
18, Rick Minier, Houston, Texas, 3,326
19, (tie) Hugh Miller, Seattle, and Kerry Painter, Henderson, Nev., 3,324
21, Lennie Boresch Jr., Kenosha, Wis., 3,319
22, Marv Sargent, Temecula, Calif., 3,312
23, Michael Tryniski, Fulton, N.Y., 3,311
24, Dale Eagle, Tavares, Fla., 3,300
25, a-Jeff Suma, Auburn Hills, Mich., 3,298
26, a-Barry Zimmerman, Grand Forks, N.D., 3,295
27, Terry Metzner, Kentwood, Mich., 3,293
28, Jeff Richgels, Madison, Wis., 3,292
29, Rob Rice, Sunnyside, Wash., 3,291
30, Jerry Sikora, Wisconsin Rapids, Wis., 3,277
31, (tie) Robert Harvey, Boise, Idaho, and Nick Morgan, Sacramento, Calif., 3,276
33, Eric Forkel, Las Vegas, 3,275
34, Doug Kempt, Monrovia, Calif., 3,274
35, Mike Edwards, Tulsa, Okla., 3,273
36, Tom Baker, King, N.C., 3,267
37, a-Michael Lucente, Warren, Mich., 3,262
38, a-Pete Thomas, Oklahoma City, Okla., 3,259
39, (tie) John Kirker, Taftville, Conn., and Kent Wagner, Palmetto, Fla., 3,243
41, a-Robin Romeo, Newhall, Calif., 3,236
42, Ted Staikoff, Black Hawk, S.D., 3,219
43, John Dudak, Orland Park, Ill., 3,216
44, Rick Woloszyn, Griffith, Ind., 3,199
45, Paul McCordic, Sugar Land, Texas, 3,197
46, Ed Roberts, Braintree, Mass., 3,186
47, a-Henry Dawson, Elma, Wash., 3,185
48, Brad Snell, Mount Prospect, Ill., 3,183
49, Charlie Tapp, Kalamazoo, Mich., 3,182
50, Edward Silva, Manteca, Calif., 3,180
51, Emilio Mora Sr., Defiance, Ohio, 3,178
52, Robert Lawrence, Austin, Texas, 3,177
53 (tie) Sammy Ventura, Syracuse, N.Y., 3,169
Ventura defeated Prieto in one-game roll-off for 53rd place, 223-200.
Missed Cut:
54, s-Phil Prieto, El Paso, Texas 3,169, $700
55, Johnny Petraglia, Jackson, N.J., 3,161, $700
56, (tie) a-Chip Pettiford, Los Angeles, a-Dan Winter, Rockford, Ill., and
Todd Kjell, Roscoe, Ill., 3,160
59, s,a-Darwin Wimer, Mesquite, Nev., 3,159, $700
60, s,a-Howard Partell, Las Vegas, 3,151, $700
61, Jim Gordin, Modesto, Calif., 3,143
62, Mike Dias, Lafayette, Colo., 3,130
63, (tie) a-Dick Baker, Henderson, Nev., and s-Matt Surina, Puyallup, Wash., 3,127, $700
65, s-Henry Gonzalez, Colorado Springs, Colo., 3,125, $700
66, (tie) Joe Salvemini, Silt, Colo., and s,a-Jim Moran, Las Vegas, 3,124, $700
68, s-Don Sylvia, Lady Lake, Fla., 3,117, $700
69, Tish Johnson, Colorado Springs, Colo., 3,115
70, (tie) Noel Vazquez, Sacramento, Calif., Kevin Foley, Reno, Nev., and
Mike Kanada, Camarillo, Calif., 3,114
73, Don Moser, Murrieta, Calif., 3,111
74, s-Gerald Calvin, Thousand Oaks, Calif., 3,110, $700
75, (tie) Joel Carlson, Omaha, Neb., Bill McCorkle, Westerville, Ohio, and
Paul Nilsen, Murrieta, Calif., 3,101
78, a-Michael Clemence, Las Vegas, 3,100
79, a-Jeff Garrison, Hawthorne, Calif., 3,099
80, Robert Callari, Bloomfield, N.Y., 3,094
81, Steve Davis, Manteca, Calif., 3,089
82, a-Jeff Jamison, Boulder City, Nev., 3,087
83, a-Louis Moretti, Las Vegas, Nev., 3,082
84, a-Terry Leong, Las Vegas, 3,080
85, a-Philip Meinke , Germany, 3,079
86, Rohn Morton, Vancouver, Wash., 3,074
87, a-Mike Schmid, St. Paul, Minn., 3,065
88, John Conroy, Mahopac, N.Y., 3,063
89, Bill Henson, Westerville, Ohio, 3,055
90, Jorge Gutierrez, Las Cruces, N.M., 3,049
91, Christopher Keane, Cape Coral, Fla., 3,048
92, Marc Lineberry, Camanche, Iowa, 3,037
93, David Axon, Bellevue, Neb., 3,036
94, a-Harry Mickelson, Yakima, Wash., 3,034
95, (tie) Bob Amoruso, Glenview, Ill., and Rodney Garrick, San Francisco, 3,030
97, Tom Carter, Rockford, Ill., 3,024
98, Daniel Miyamoto, Mililani, Hawaii, 3,023
99, Scott Hansel, Stockton, Calif., 3,021
100, Tommy Martin, Arlington, Tenn., 3,017
101, Bob Kelly, Dayton, Ohio, 3,003
102, Doug O'Bryant, Jasper, Ga., 3,001
103, Rudy Garcia, Fort Worth, Texas, 2,998
104, Garry Blanton, Owensboro, Ky., 2,997
105, a-David Cullen, Las Vegas, 2,995
106, Thomas Ream, Tampa, Fla., 2,993
107, a-Scott Rygol, Henderson, Nev., 2,977
108, Danny Gould, Palm Bay, Fla, 2,973
109, (tie) Don Blatchford, Santa Monica, Calif., and Glenn Morgan, Carson City, Nev., 2,972
111, Ross McDonald, Clarksville, Md., 2,965
112, Frank Gallo Jr., Jacksonville, Fla., 2,959
113, Rich Wilkinson, Bennington, Neb., 2,953
114, Sal Bongiorno, Hollywood, Fla., 2,952
115, Marvin Nezvensky Jr., Pueblo, Colo., 2,941
116, Jack Wofford, Flagstaff, Ariz., 2,939
117, Steven Jansson, Barnes, Wis., 2,934
118, Jeff Schrum, Cherryville, N.C., 2,930
119, a-George Corpuz, Sacramento, Calif., 2,924
121, Paul Lemond, Jasper, Ind, 2,921
122, Kevin Fatherree, Northridge, Calif., 2,918
123, (tie) Ray Cobb, Highland, Calif., and Don Hicks, West Babylon, N.Y., 2,916
125, (tie) a-Kevin Sabado, North Las Vegas, Nev., and a-Ron Hosler, Denver, Colo., 2,914
127, a-Pete Toth, Simi Valley, Calif., 2,912
128, (tie) a-Dave Washburn, Las Vegas, and a-David Graber, Las Vegas, 2,911
130, Michael Henry, Brunswick, Ohio, 2,905
131, Lew Elting, Carlsbad, Calif., 2,903
132, Don Lane, San Francisco, 2,898
133, Glen Smith, Seattle, Wash., 2,887
134, (tie) Gary Morgan, Marietta, Ga., and John Shreve Sr., Elyria, Ohio, 2,881
136, Rod Michael, Florissant, Mo., 2,877
137, Dale Ballou, Seaside, Ore., 2,871
138, (tie) Larry Grandt, Lake Bluff, Ill., and a-Tim Maiseroulle, Buford, Ga., 2,868
140, Larry Jordan, Lebanon, Ore., 2,866
141, a-Lee Taylor, Las Vegas, 2,865
142, a-Howard Loosbroock, Henderson, Nev., 2,861
143, (tie) a-Edgar Gomez, Colombia, and Mark Scime, Winter Garden, Fla., 2,855
145, Gary Palma, Binghamton, N.Y., 2,837
146, Galen Keas, Alda, Neb., 2,833
147, Ed Cutter, Manassas Park, Va., 2,832
148, a-Kenneth Daily, San Leanardo, Calif., 2,829
149, a-Donald Kilgore, Las Vegas, 2,818
150, aDale Rider, Las Vegas, 2,815
151, a-Rick Darnell, Las Vegas, 2,812
152, George Lord, Lakeland, Fla., 2,811
153, a-Frank DeFilippo, Las Vegas, 2,810
154, Stan Winters, Simi Valley, Calif., 2,798
155, Timothy Bates, Orlando, Fla., 2,785
156, a-Gary Bessette, Summerdale, Ala., 2,780
157, Ken Gibson, Greenville, S.C., 2,773
158, Joe Beck, Montgomery, Ala., 2,772
159, a-Larry O'Neill, Alexandria, Va., 2,768
160, Fred Cole, Visalia, Calif., 2,765
161, Donald Breihan, Columbia, S.C., 2,761
162, a-Randy Turner, Lubbock, Texas, 2,760
163, Van Fenner, Reno, Nev., 2,755
162, a-Max Shellabarger, Layton, Utah, 2,752
164, a-John Reed, Pueblo, Colo., 2,748
165, Jim Heintz, St. Charles, Mo., 2,734
166, a-Tim Livingston, Las Vegas, 2,717
167, (tie) a-JamiLynn Fox, Toledo, Ohio, and Tim Pierce, Portland, Ore., 2,716
169, Darrell Adams, Flintstone, Ga., 2,713
170, Don Michaelsen Sr., Plant City, Fla., 2,700
171, a-Thomas Smith, San Bernardino, Calif., 2,695
172, Doug Thompson, Aberdeen, S.D., 2,692
173, Dave Gualeni, Roswell, N.M., 2,684
174, Rick Salyer, Kingsport, Tenn., 2,678
175, Rich Kleinman, Reno, Nev., 2,673
176, Willie Tunson, Las Vegas, 2,628
177, Jim Clay, Las Vegas, 2,619
178, a-Mike Locorriere, Las Vegas, 2,604
179, a-Lenny Guccione, Broomfield, Colo., 2,552
180, Lee Rucker, Fort Myers, Fla., 2,844 (withdrew)
181, Kenny Parks, Hammond, Ind., 2,763 (withdrew)
182, Mike Raleigh, Clyde, Mich., 2,078 (withdrew)
183, a-Murray Hickman Sr., Las Vegas, 2,064 (withdrew)
184, Randy Niehaus, Rockford, Ill., 1,360 (withdrew)
185, Lauri Karppala Jr., Folsom, Ca, 1,243 (withdrew)