213 players to compete in inaugural WTBA World Senior Championships
08/08/13
2013 WSrC
124 men and 89 women from 33 countries to compete in Singles, Doubles, Team, All Events and Masters at Red Rock Lanes from August 10-16, 2013
The
1st WTBA World Senior Championships
, which will be held from Aug. 10-16, 2013 at 72-lane Red Rock Lanes in Las Vegas, Nev., United States, will draw 213 players - 124 men and 89 women - from 33 countries according to the World Tenpin Bowling Association.
To participate in the first edition of the championships for men and women 50 years of age or above, players must be
born December 31st, 1963 or before
.
Women's Division (89 players from 27 countries):
Australia - Jeanette Baker, Robyn Flynn, Jill Morris, Heather Robertson
Austria - Gabriele Bruckner, Christine Gablek, Gabriele Loos, Herta Perschy
Brazil - Marlene Bonacina, LĂ©a Castro, Sarah Gutermann, LĂșcia Vieira
Canada - Jill Friis, Cathy Harvey, France Joubert, Sharon Tataryn
Chile - Filomena Arenas, Maria Contreras, Cleo Quintanilla, Veronica Rajii
China - Li Xiaolin, Wang Daqiang
Colombia - Yira Perea
Czech Republic - Blanka Hanusikova, Dana Hanusova, Eva Stefkova, Dagmar Stulikova
England - Angie Brown, Jan Hodge, Tricia Lloyd, Jan Steiner
Finland - Aira Helaakoski, Riitta Nikupeteri, Raija Pöntinen, Tuula Tamminen
Germany - Ursula Diekhoff, Gisela Insinger, Ingrid Rux, Marett Schiller
Israel - Sara Aviram Harlap, Hana Duanis, Rhona Gill
Japan - Chieko Hirata, Misako Karatsu, Nobuko Miyake, Michiyo Teramura
Mexico - Veronica Berumen, Teresa Piccini, Margarita Ramos, Fransuesa Sacre
Netherlands - Marga Kruemmel
New Zealand - Natalie Adams, Lyanairre Churchill, Donna Flechter, Alison Hayward
Norway - Sylvi Bergtun Berge, Gerd Brandett, Ragnhild Elisabeth Kristoffersen, Merethe Nilsen
Panama - Lissette Abood, Elia Bennett, Sherlie Charles, Nereyda Mock
Puerto Rico - Ana Bermudez, Myrna Flores, Marta Ramos, Nora Serracin
Russia - Tatiana Sherstneva, Tatiana Sheshenya
Scotland - Margaret Rae
Sweden - Christel Carlsson, Ann-Ki Larsson Carlsson, Susanne Olsson, Lena Sulkanen
United States - Anne Marie Duggan, Tish Johnson, Robin Romeo, Lucy Sandelin
Uruguay - Silvia Juarez
Venezuela - Mariela Alarza, Suzanne Algernon, Milda Dos Ramos, Ivette Gonzalez
Virgin Islands - Juanita Lambert, Winona Lester, Elaine Springer, Sheryl Williams
Wales - Pauline McDonald, Angie Morgan
Men's Division (124 players from 33 countries):
Australia - Robert Chinner, Warren Stewart, Mick Talevski, Bob Whybrow
Austria - Christian Broinger, Dusan Kometter, Manfred Panzenböck, Wolfgang Wondratsch
Brazil - Jamil Sales, Paulo Soares, Marco TĂșlio, MĂĄrcio Vieira
Canada - Jack Brace, Randy Kostenuck, Russell Serwetnyk, Ray Vervynck
Chile - Guillermo Blanco, Enrique Fernandez, Jorge Mandiola, Fernando Pena
China - Luo Jinhua, Ding Tianbao, Qin Xiaogang, Zhu Yongqiu
Colombia - NĂ©stor Barrantes, Edgar GĂłmez, David Romero, NicolĂĄs Ruiz
Czech Republic - Frantisek Brokes, Jan Fleischmann, Jaroslav Moravek, Petr Tomasek
Dominican Republic - Domingo Castro, Jose Luis Infante, Hilton Nunez, Rolando Sebelen
England - Gary Barlow, Geoff Brown, Mark Fullbrook, Ian Lee
Finland - Pentti Laine, Timo MÀkelÀ, Teemu Raatikainen, Esa SievÀnen
Germany - Erich Behrends, Jochen Diekhoff, Arthur DĂ€hn, Karl-Heinz Gaiser
Israel - Eliezer Shienman, Izhak Dekel, Meir Cohen, Mordechai Levy
Italy - Sergio Fabbietti, Lorenzo Fiorentin, Gastone Pertegato, Santo Provenzi
Japan - Satoru Ando, Kokichi Itagaki, Takeo Murakami, Tadashi Ogata
Kazachstan - Sergey Kuzovkin
Mexico - Isaac Amkie, Manuel Garcia, Jesus Guitierrez, Victor Mar
Netherlands - Jan de Bruijn, Harold Jablonski, Paul Kruemmel, Hans Sommer
New Zealand - German Ebue, Delfin Guzman, Gregorio Nicholas, Alan Vermaak
Norway - Per E Fjordheim, Ingar Gabrielsen, Robert Lind, Tom Nilsen
Panama - Eric Lanuza, Alexis Moreno, Jorge Quintero, Jose Zambrano
Puerto Rico - Edward Roncoli, Edgardo Ruiz, Antonio Santa, Antonio Velez
Romania - Corneliu Antimirescu, Marcel Tarase, Florian Mihailescu, Valentin Fatu
Russia - Salavat Adiatulin, Oleg Kozyrev, Iurri Sizov, Revkat Vakhidov
Scotland - Alan Keddie
Slovakia - Milan Cepregi, Peter Pargac
Sweden - Christer Danielsson, Jan Nordberg, Christer Pettersson, Stefan Yngström
Ukraine - Aleksej Asajewicz, Sergii Diachuk, Fedir Mitsyk, Mykhaylo Scherbinin
United States - Del Ballard Jr. Hugh Miller, Ron Mohr, Ed Roberts
Uruguay - Fernando Alfonzo, Denis Arbulo, Gustavo Garcia, William Rodriguez
Venezuela - Pedro Cardozo, Arturo Hernandez, Alejandro Nieto, Antonio Ochoa
Virgin Islands - Vincent Ebbersen, Valencio Jackson, Hugo Moorehead Jr. Jackie Ross
Wales - Graham Dalton, Richard Morgan, Terry Richards, Gareth Roberts
The
World Tenpin Bowling Association
, tenpin bowling's governing body, and co-host Red Rock Resort and Casino have released two Bulletin, which contain the Preliminary Schedule (see the revised schedule below); Information about Red Rock Resort & Casino; Information about Red Rock Lanes and oiling conditions; Various facilities and services; Various Fees; Flags and national anthems; Registration form for administration; Unofficial practice; Activities August 16-17; and Forms and deadlines.
Click
here
to download Bulletin No. 2 (MS document).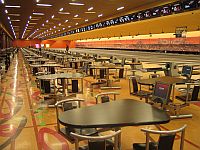 "This will be the first opportunity for senior bowlers to win world champion medals," WTBA President and CEO
Kevin Dornberger
said. "Red Rock is one of the most stunning bowling centers in the entire world, and we look forward to them hosting the best senior bowlers in the world."
The format on the World Senior Championships will pattern after the WTBA World Youth Championships, with four men and four women eligible from each country. The competitors will face off for medals in Singles, Doubles, Team, All-Events and Masters.
Red Rock Lanes opened in 2007 to much fanfare as one of the most expensive bowling centers ever built. Red Rock Vice President
Bryan Lindsey
said they look forward to hosting the World Senior Championships.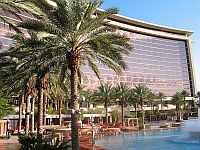 "When the top senior bowlers in the world descend upon Las Vegas for the World Senior Championships, they will have a world-class experience at Red Rock Resort," Lindsey said.
Click on the image to enlarge it.
"Red Rock Lanes is second to none with cutting edge technology, sharp decor and one-of-a-kind VIP lanes. In addition to bowling, Red Rock Resort offers more than a dozen dining options ranging from a quick bite to upscale, state-of-the-art gaming, movie theaters and stunning pool area. This will be more than a competition, it will be a complete travel experience for competitors and their guests."
The World Tenpin Bowling Association, which is made up of 112 bowling federations, governs the sport throughout the world. For more information on WTBA, go to
WorldTenpinBowling.com
.
 
Related Articles
Last chance to register
for the 1st World Senior Championships in Las Vegas
U.S. team
named for 1st World Senior Championships
World Tenpin Bowling Association releases
Bulletin No. 1
for 1st World Senior Championships
Inaugural
World Senior Championships
to be held August 2013 in Las Vegas
 
2013 World Senior Championships - Schedule of Events
Red Rock Lanes in Las Vegas, Nev., USA (Aug. 10-16, 2013)
Sunday, Aug. 11, 2013
09:30-10:30 Lane maintenance
10:30-12:00 Official practice (squad A)
12:30-13:30 Lane maintenance
14:00-15:30 Official practice (squad B)
16:00-17:00 Opening ceremony
Monday, Aug. 12, 2013
07:30-08:30 Lane maintenance
08:30-12:00 Men's and Women's Singles (Squad A)
12:00-13:00 Lane maintenance
13:00-16:30 Men's and Women's Singles (Squad B)
16:30-17:00 Lane maintenance
17:00-18:00 Men's and Women's Singles Semifinals and Finals
18:00-18:30 Singles Medal Ceremony
Tuesday, Aug. 13, 2013
07:30-08:30 Lane maintenance
08:30-12:00 Men's and Women's Doubles (Squad A)
12:00-13:00 Lane maintenance
13:00-16:30 Men's and Women's Doubles (Squad B)
16:30-17:00 Lane maintenance
17:00-18:00 Men's and Women's Doubles Semifinals and Finals 18:00-18:30 Doubles Medal Ceremony
Wednesday, Aug. 14, 2013
08:00-09:00 Lane maintenance
09:00-12:00 Men's and Women's Team (first block)
12:00-14:00 Lane maintenance 14:00-17:00 Men's and Women's Team (second block)
Thursday, Aug. 15, 2013
08:00-09:00 Lane maintenance
09:00-11:00 Men's and Women's Team Semifinals and Finals
11:00-11:30 Team Medal Ceremony
11:20-12:30 Lane maintenance
14:00-16:30 Men's and Women's Masters Round 1
16:30-17:00 All-Events Medal Ceremony
Friday, Aug. 16, 2013
07:30-08:30 Lane maintenance
08:30-11:00 Men's and Women's Masters Round 2
11:00-12:00 Lane maintenance
12:00-13:00 Men's and Women's Masters Semifinals and Finals
13:00-13:30 Masters Medal Ceremony
14:30 Farewell Celebration
19:00 Opening ceremony for 2013 Combined World Championships (Sunset Station)